Posted on | March 3, 2015 | 1 Comment
How do you get the look of solder without a soldering gun? With Iced Enamels it is easy and Chantal Johnson from the ICE Resin Design Team is here to show you how!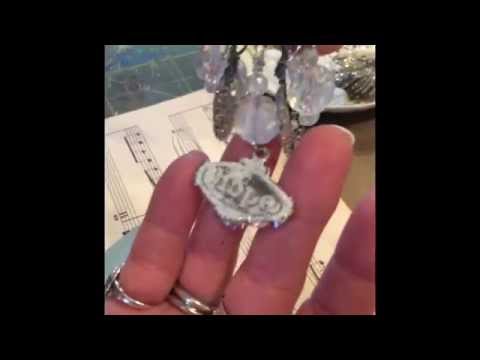 Posted on | February 25, 2015 | 1 Comment
It is so much fun to recycle things that would normally find themselves in the trash bin. Have you played with soda cans? They are thin aluminum that doesn't rust, is thin enough to cut with simple scissors, and a die cut machine easily turns them into all kinds of shapes. You can see how with a few simple techniques you can make great jewelry pieces with soda cans.
Posted on | February 24, 2015 | 1 Comment
Here's a couple of ideas to jump start your creativity to use ICE Resin for all your collage projects! Join me, Susan M. Walls, as I adhere paper to re-cycled soda cans and beyond!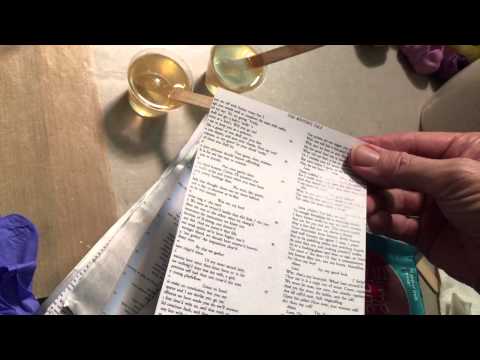 Another tip: Paper fibers absolutely adore resin, so if you want to seal your paper first, it will soak in less resin.
Posted on | February 20, 2015 | 2 Comments
Join Susan Lenart Kazmer and Jen Cushman for an immersion workshop where students will have the opportunity to dig deep into their work by exploring innovative design concepts and honing their metalworking skills. Relics found at Paris flea markets prior to the workshop or treasured objects brought from home will be re-imagined into Talisman pieces of unique jewelry during the week at La Cascade.
A full range cold connection and wire working techniques will be taught, as well as color on metal, Resin Alchemy and Susan's innovative fiber-and-wire connections.  We'll also create a forged wire and resin paper journal so students can capture all the new design ideas and stunning beauty the South of France has to offer. Healthy and delicious meals are prepared fresh each day by French chef Nese Pelt, and dinner is served each evening family style with much joy and laughter. 
$3,200 includes double occupancy bedrooms at La Cascade, meals, instruction and a comprehensive kit to build your pieces. Space is limited. $1800 deposit secures your spot.
 CLICK HERE TO RESERVE YOUR SPACE >>–>
Susan and Jen usually get into Paris the Friday before the workshop  (often joined by a few students) and  attend the flea markets Saturday and Sunday in search of found objects and kick around Monday just enjoying Paris. Jen keeps everyone informed of the itinerary and meeting places and times and everyone is welcome to join them or go explore on their own or in pairs/small groups. For example one year a small group wanted to do the Louvre museum. Susan and Jen had seen it a bunch, so they wanted to hang out a Les Deus Maggots (a famous outdoor café) and go to the vintage clothing shops. Others wanted to walk the city and see the love locks on the bridges. Everyone spent a lovely Monday going our separate ways for the day and then met up for dinner and a sunset boat ride on the Seine.
Tuesday is a travel day to Durfort and we take the train. Tuesday evening is the first family style meal (All meals are fresh and we eat family style.) at La Cascade and students unpack their work spaces. The workshop starts Wednesday and goes through Monday. Saturday is a big market day in Revel, the next town over and it's wonderful and amazing. Small community Flea Markets pop up while we are there and Susan and I learn about them at arrival. We all go check them out in the mornings as they appear for a couple of hours.
Jen says:
"We'll be doing lots of high end resin work and metalworking and enameling. Susan takes everyone through their work and helps each person dig deeper into their work in order to really help hone in and influence change and growth. I'm always there for support and help in the studio during some of the off hours."
"Pretty soon, I will open a private Yahoo group where we can all meet each other and I can give information without clogging up everyone's emails. We "talk" lots on this group so it seems like fast friends once we all arrive. Again, as the space is limited to only 12 people we become pretty tight pretty quickly."
 CLICK HERE TO RESERVE YOUR SPACE >>–>
Posted on | February 19, 2015 | 5 Comments
The world has lost an amazing artist and we've lost a talented member of our ICE Resin Creative Team.
Sending love and light to Joanna's family,
Susan Lenart Kazmer and Jen Cushman
Posted on | February 18, 2015 | 1 Comment
By The ICE Prince, John Creighton Petersen
With St. Patrick's Day quickly approaching, I decided to get creative with some of my favorite ICE Resin® supplies to make a fun Celtic bezel necklace that could be worn anytime of the year besides March 17th. I've been working with embossed, colored metals lately in my work and thought I would share this with everyone on the blog. This technique can be easily changed using different embossing folders that are used with die cutting machines, and it's simple enough to use different colors with this project.
Instructions:
1. Cut metal down to shape – for this bezel, I used a circle die through a die cutting matching that's the same size of the bezel. If you cut after the metal has been embossed, the pattern will be flattened out.
2. Use the Celtic Knot embossing folder to emboss the cut piece of metal.
3. Color the metal using StazOn inks with GlazOn layer protectant. With an InkBlusher, color the entire piece of metal with StazOn Cactus Green and allow to dry. Apply a thin layer of GlazOn. Repeat (alternating StazOn followed by GlazOn) with Emerald Green and Forest Green, then highlighting with Metallic Gold.
4. Mix ICE Resin® following instructions.
5. Use stir stick to apply a thin layer into the bottom of the bezel. Coat the back of the colored metal piece with a light layer of resin and then place into the bottom of the bezel.
6. With a brush, apply a thin coat onto the inner sides of the bezel.
7. Sprinkle inner sides of the bezel with Chartreuse German Glass. Tap off excel and allow to set.
8. Mix a second batch of resin, enough to fill the bezel.
9. Apply a thin coat of resin onto the back of your inclusion and place into the bezel.
10. Fill the bezel with ICE Resin® and sprinkle with Gold Glitter. Allow to cure.
11. Embellish bottom of bezel and add to necklace chain.
You can change the look of your bezel very easily simply by changing the colors used. Instead of a gold bezel, switch to a silver colored bezel. Once the same green StazOn colors were used to color the metal, slightly sand off some of the color to expose the metal.
Supplies:
ICE Resin®: ICE Resin®, ICED Inclusions Chartreuse and German Silver, ICED Inclusions Gold Glitter, Susan Lenart Kazmer's Art Mechanique®  Circle Hobnail Bezel Medium sized, stir sticks and measuring cups
IMAGINE Crafts featuring Tsukineko: StazOn (Cactus Green, Emerald City, Forest Green, Metallic Gold), GlazOn, InkBlushers, Fantastix
Celtic Knot embossing folder, circle die cut
Other Supplies: rivet and brad (inclusion used in project), ball and chain with DMC floss for necklace
Posted on | February 17, 2015 | No Comments
Learn how to make this Celtic themed bezel with your favorite ICE Resin® supplies, complete with an embossed metal background with layers of color on metal.
Posted on | February 15, 2015 | No Comments
Caging, Forging, Resin and Ancient Artifacts
Susan Lenart Kazmer
Art Expedition: Wednesday 22 to Friday 24 April, 2015
As a silversmith and artist of 20 years, Susan creates pieces that reference history, as well as contemporary urban life. Her work tells stories of real people living real life through the use of silver, metal, glass, resin, wood and other mixed-media materials.
Join Susan to dig deep within and discover new ways to express yourself, take your jewelry skills over the moon, and have a fabulous time learning with this internationally-recognized mixed-media jewlery artist, silversmith and teacher.
Caging Common Objects in Metalwork
Learn the art form of forging wire jewelry pieces by creating open bezel forms using square wire and metal. Students will finish one pendant or ring and In addition, explore the cage shape and its uses as a container to hold objects.
You will learn:
to anneal, shape and solder together a ring or pendant form.
proper metalworking techniques for soldering, shaping and clean up.
short cuts and ideal techniques for teaching soldering in a class room.
WIRE- Ancient techniques on New Frontiers- Forging + Brazing
Wire and fiber has been a prominent medium in ethnographic jewelry and adornment for centuries and used for binding, connecting, decorating and building of components.
You will learn:
to make your jewelry stronger, more interesting, unique, and personal by exploring new ideas for soldering, shaping, finishing and building of multiple components.
to think beyond traditional jewelry design to create jewelry that is both sculptural and wearable while attaining techniques for hand hammering, flattening and forging of round wire.
to control with appropriate tools, safety and shaping techniques with correct stance and posture when hammering. Sheet metal and wire used.
Resin, Relics and Ancient Artifacts
Focus on new works in jewelry and Resin as it has never been presented before….sand, scratch, cast and scraffitto your way into creating unique objects and ancient artifacts in jewelry in combination with metal.
You will learn:
• to build with resin using multiple thin layers
• new techniques and application for scratching, crackling, engraving, transferring of imagery, making marks and coloring surface.
• to set your finished components with filigree bezel wire…brazing presented.
Each student will leave with a few pendants and components, a journal full of ideas and a whole new direction to focus your work.
Kits and Supply List:
Caging Kit – $30.00 – Druzy stone, bronze square 16 gauge wire, 22 bronze sheet metal (you can upgrade to silver for a fee bring some in) solder materials, sandpaper, object, expendables
Wire Kit fee -$24.00 – wire -10, 16, 18 and 20 gauge wire and 24 gauge sheet metal in bronze or copper, druzy stone, (please bring your own silver if you would prefer it) expendables
Resin Kit fee $25.00 – includes bronze sheet metal, rubber silicone, a few bezels, 1 oz resin and resin to use in class, mica flakes, powders and cold enamels, solder, sand paper, wire and expendables.
Three Day Supply List:
Wire snips
round needle nose pliers
chain nose pliers
wire snips
small hammer
anvil
vice
awl
jeweler saw, size 3 blad
bench pin or tin snips
burnishing tool
sandpaper
small file
Optional:
Flexible shaft + small wood block to drill onto, metal files, hot 60 watt bulb and lamp, ( this is for drying resin so we can build in layers.), rusted found bezel such as coco lid, jar lid or any type of cup shape, meaningful small objects such as photos, inclusions such as text, leaves, sticks, herbs, sand, dried flowers. Objects to cast, (I will have some as well).
I will supply fire bricks, torches, soldering material, 2 flexible shaft, drill bits.
Ready to advance your metal and resin skill? CLICK here to register for Caging, Forging, Resin and Ancient Artifacts with me at Art Is You, Art Expedition, April 22-24, 2015.
Posted on | February 11, 2015 | 1 Comment
One of my favorite things about Iced Enamels is the amazing ability to transform plain ordinary things into special one of a kind pieces of art.  Today's project focuses on transforming plain metal beads into special accents. Iused Garnet and Ivory Relique Powders because this was a Valentine theme.
Sandy Martin, Sweet Pea Jewelry
For this project you will need the items pictured plus assorted beads and findings, and of course, tools:
Disposable Brush, Craft Cup and Stir Stick, craft heat gun, stick pins,  Iced Enamels medium, and a non-stick craft mat.
Instructions:
I used mixed metal beads with side holes as my base for these darling hearts.
Brush on Iced Enamel Medium and then sprinkle Ivory Relique Powder on top (or you can dip your bead into the powder).
Use your craft heat gun an inch or so from the surface of the bead until you see the Relique start to melt.
Allow your bead to cool completely before embellishing with a Sharpie marker.
TIP: I used a straight pin to ensure the side holes remained open.
Mix ICE Resin per manufacturer instructions.
Brush on a thin layer of ICE Resin and let dry for 8 to 10 hours.
Now you are ready to string. I tied a bit of ribbon in between the beads for accent and used an open-back heart bezel with a toggle for the clasp.
Happy Valentine's Day!
Posted on | February 10, 2015 | 3 Comments
Inspiration for this necklace came from my experimenting with patinas. Susan Lenart Kazmer's Art Mechanique Silhouettes make a great surface to play around. Use your favorite colors and make one for each day of the week!!
Sandy Martin, Sweet Pea Jewelry
Materials:
ICE RESIN®
Oil paints-white, pink, red
Gilders paste-patina
16 G bronze wire
Organza ribbon
Small Rhinestones
Small wooden heart
Art Mechanique House Silhouette
Non-stick craft mat
E 6000
Technique:
I started by roughing the surface of the house with sandpaper. I then painted layers of oil paint, letting each layer dry between colors. Once the paint was dry, I used sand paper to remove some layers. I painted both sides of the house.
Mix Ice Resin per package instructions. Take a small amount of resin and place it in a second mixing cup. Add a small amount of gilders paste to the ice resin to color. (you can use oil paint, pastels, acrylic or ink to color the resin) I scrape a small amount of gilders paste with my Popsicle stick then use the stick to mix the color. Using the Popsicle stick, drop a small amount onto the wooden heart and set aside to dry. Use the clear resin to cover the back side of the house and let dry.
Once the house and the heart are dry, Glue the heart to the front of the house. Just use a dab of glue to hold the heart in place. You only need enough glue to hold it in place, not to secure it, the Ice resin will do that!. Mix a small amount of Ice Resin and cover the entire piece. Place a small rhinestone on the heart. The resin will secure it in place.
Once the piece is dry, drill a hole in the top. If the resin has spilled over, you can clean it up easily with an xacto knife.
Cut a 3 to 4 inch piece of 16G wire. You can ball one end for added interest. Hammer wire flat. Create a loop at the top and wrap wire the remaining wire. Create another loop and thread it through the hole in the house. You can ball the other end of the wire at this point if you like, finish wrapping the remaining wire. Using the E 6000, glue a few rhinestones onto the flat wire.
I created the necklace from torn organza ribbon and a piece of leather. I tied the ends to a handmade hook and eye clasp. You can use a pre-made ribbon, chain or wire necklace if you like.
keep looking »