Posted on | April 15, 2015 | 5 Comments
I wanted to create something cute to go on my dresser, but as is with everything for me it has to have a dual purpose other than to look good. I am very particular about my things being able to do more than just look good. For this months challenge I decided to create a secret trinket box that would house one of my addictions, creating perfume. I must admit, working out the clasp with the wire was quite a time consuming process but thankfully I have worked that all out for you!
I really hope you enjoy my project today, please leave me a comment to let me know what you think or to let me know if there is anything you might want me to try out for you!
Thanks for visiting
Supplies:
Iced Enamels™: Relique Powder Amethyst, Medium.

Art Mechanique®: Medium Circle Hobnail Bezel, Circle Silhouette, 20 Gauge Copper Wire.
Mixing cup, wood stirrer, disposable brush.
Other Supplies: Pliers, Self clamping tweezers, Heat tool, Watch Crystal, Dried Roses, Stazon Black, Metal Sheers, File, Fine Sandpaper, Quick Dry Glue.
1: Cut the loop from the circle Silhouette off with metal sheers.
2: File and sand the circle to a smooth shape.
3: Place the watch crystal inside the bezel, place the disk on top.
4: Wrap the copper wire loosely around both the rings on the outside of the bezel. You might need to squeeze it together with pliers and help shape it.
5: Carefully remove the wire keeping its shape.
6: Brush the medium on the inside of the bezel and the top of the disk.
7: Sprinkle the Amethyst Relique all over both pieces and tap off excess returning it to the pot.
8: Wipe the edge of the disk off so the enamel is slightly away from the edge. Heat set both with a heat gun.
9: With self clamping tweezers clamp the wire to the middle of the disk.
10: Re heat the enamel so the shaped copper wire sinks into the molten enamel.
11: While still molten, sprinkle more enamel over the top of the wire, re heat if necessary.
12: Once cool, dry brush Stazon Black ink around the edge of the disk and the edge of the bezel, let dry.
13: Mixe ICE Resin to manufacturers instructions.
14: Drizzle a thin layer of resin into the bottom the bezel, insert the watch crystal.
15: Top up the resin so it is level with the lowest point, either the top of the bezel or the top of the watch crystal. Make sure no resin goes inside the watch crystal.
16: The watch crystal will float in the resin, place the Iced Medium bottle inside the watch crystal to weight it down while drying.
17: With quick dry glue, place the roses in a pleasing manner on top of the disk, let dry.
18: Brush resin all over the flowers so they are coated and drizzle resin on top to cover the whole disk. You will need to use something under the rose disk to make it flat. I used my tweezers.  You may repeat this step depending on thickness of resin required.
19: Once your resin has set you can create your solid perfume and pour into the watch crystal.
20: Level your solid perfume off with a knife, attach the lid and enjoy!
Posted on | April 14, 2015 | No Comments
You may have used chipboard in mixed media collage and scrapbooking project, but have you ever used it to make faux stained glass pieces? Heather Widener of the ICE Resin Design Team shows you how! With 11 base colors of Iced Enamels Relique Powders and your imagination  the possibilities are fantastic!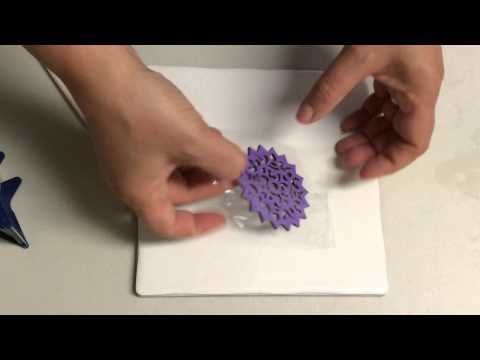 Posted on | April 9, 2015 | No Comments
Classes with Susan Lenart Kazmer happen June 2, 3, and 4:

Wire-Ancient Techniques on New Frontiers — Forging + Brazing B151965
Description: The use of wire and fiber has been a prominent medium in ethnographic jewelry and adornment for centuries, and are used for binding, connecting, decorating, and building of components. Through many years of this instructor's research and ethnographic repair, Susan has employed these same ideas to build her own unique body of work, influenced by her fashion experience in forged wire. Make your jewelry stronger, more interesting, unique, and personal by exploring new ideas for soldering, shaping, finishing, and the construction of multiple components.
Students will Learn: How to think beyond traditional jewelry design to create jewelry that is both sculptural and wearable while learning techniques for hand hammering, and flattening and forging of round wire; control with appropriate tools; safety and shaping techniques with correct stance and posture when hammering.
Enamels, Sgraffito + Symbolism – Making Your Own Mark B151962
Description: Express yourself in jewelry created using carbon pencils, enamel crayons, and decal transfers. You'll paint, scratch, draw and layer your ideas onto copper as you build your vocabulary with enamel techniques and patterns.
Students will Learn: Wet and dry enamel techniques; stenciling, rubber stamping, and pressing objects; marking into wet enamel.
Resin, Relics, and Ancient Artifacts B151968
Description: Focus on new works in jewelry — resin in combination with metal — as it has never been presented before! Sand, scratch, cast, and sgraffitto your way into creating unique objects and ancient artifacts in jewelry. Set your finished components with filigree bezel wire — brazing presented. Each student will leave with a few pendants and components, a journal full of ideas, and a whole new direction to focus your work.
Students will Learn: Casting of resin; working in dimensional forms; layering, scratching, and sgraffito on resin; how to add color and inclusions; shaping and forming; brazing.
Sign up here for Resin and Relics.
Classes with Jen Cushman happen June 3 and June 5:
Beguiling Beauty Cuff B151817
Description: A fold-formed copper cuff is the backdrop of a cold-enameled, beguiling butterfly bezel. This packed-with-techniques class will quickly hone your jewelry-making skills and have you designing outside the box.
Students will Learn: How to texture, fold form, and patina a copper cuff base; how to cold-enamel a resin bezel; cold connections to the cuff using micro nut and screw rivets.
Project will be completed in class.
Chevron Drops Necklace B151812

Description: This necklace proves that metalworking needn't be complicated or expensive. Round sterling silver and bronze wire is turned into an organically fabulous mixed-metal necklace. Humble wire is forged, annealed, and formed into a rustic chevron design that's fashion forward.
Resin Collage — Layers and Depth B151806

Description: If you've mastered the basics of resin, then it's time to take your work to the next level by learning how to achieve the lovely look of layers and depth. Students will take design principals of collage and apply them to jewelry making by creating three to five focal pendants.
Posted on | April 8, 2015 | 1 Comment
Butterflies in My Pocket –Sewing with handmade and ICE Resin® Paper
The butterfly counts not months but moments, and has time enough. – Rabindranath Tagore
Just as the bird sings or the butterfly soars, because it is his natural characteristic, so the artist works. – Alma Gluck
Nature calls us to see beauty. For some it is the beauty of the ocean, the height of mountains, the depth of the soil or the fleeting of the butterfly. Nature is the artist's playground. The colors, textures and the life in it give us inspiration.
So with a project prompt of Nurture and Nature, I began to work (I say that with a smile, as for me it is my heart at play). My inspiration for this project seems to have come from tidbits of handmade paper and ICE Resin® paper that I had laying around, the butterfly as the symbol of change and also the color green- I think in the winter we long for the green that has disappeared and is just waiting till we think it has gone for good. Then to our surprise and delight, the seedling of spring comes bursting forth. The butterfly evokes such beautiful images from their colors to the smooth movements of its wings and the hope of becoming. It was the natural choice for the embellishments. This project also incorporates my love for paper, sewing and sentiments along with the wonderful transformation with ICED Enamels on the butterfly and the heart. Sewing with ICE Resin® paper, gives permanence and strength to the pockets and pouches and creates a transparency that is an ethereal element. The techniques in this project can be used in so many art forms. For the paper artist, it is a chance to use Resin paper in a new way, for the seamstress it is a way to add the Resin paper to tiny totes or gift bags. For the jewelry artist, it could be sewing tiny pouches for a necklace.
Gather a little bit of nature's inspiration, and take a moment to create Butterflies in my pocket and your artist's wings will soar.
Gather
ICE Resin® and supplies needed
Plastic trash bag or craft mat, plastic gloves
ICED Enamels medium
Art Mechanique German Glass Glitter
Small heart bezel
Metal butterfly
Butterfly punch
Handmade paper or mulberry paper
Decorative paper
Vintage Paper
Canvas Paper
Ribbon
Wire
Pliers
Muslin words or stickers with words
Sizzix dies – Pocket with scallop edge, Photo Box Folder
Sewing Machine, thread, scissors
Bull nose clips for holding paper while sewing.
Glue stick
Adhesive of choice (I use E6000)
Make
With the Sizzix dies and the canvas paper, cut out Photo box folder (we are making this the pocket). Set aside
To create ICE Resin Paper
1. *Spread out plastic trash bag onto table surface. Layout vintage paper to be resined.
*Mix equal parts of ICE Resin® A & B. Stir for 2 minutes, set aside for 5 minutes.
*Wearing disposable gloves and using a small sponge, sponge ICE RESIN® onto the paper beginning with the backside, coating the whole page. Turn over and lay paper on the bag and coat the front side of the paper.
*Let dry 8-10 hours.
* Once dry, peel the bag from the paper to insure that your paper doesn't tear. It is now ready to use.
2.  With handmade paper, tear a piece for the front of the pouch. With Resin paper, cut a smaller square to layer on the                       handmade paper.
Using the butterfly punch, punch two butterflies to create the transparent outline. Save the punched butterflies for another project.
With sewing machine, sew the resin-punched paper to the handmade paper. To secure while sewing, use bull nose clips to keep secure.
Cut out smaller rectangles of varying sizes (this will depend on your word sentiments)
Using just a smidge of glue, secure words to rectangles.
Place the layered collage from step 4 onto front pouch. Sew in place. Add the rectangles and sew, connecting them through a continuous sewn line.
Once the front pouch is finished, sew the pouch together with 2 side seams.
To create the ICED Enamel butterfly
*Brush the ICED Enamel medium onto the metal butterfly
*Pour the ICED Enamel powder over the butterfly, coating all areas. Shake off excess.
*Using a heat gun, melt the powder until it is smooth.
*Set aside to cool.
*Once cooled, Mix ICE Resin according to directions and brush on a thin coat onto the butterfly. Sprinkle German Glass Glitter onto the Resin.
*Let dry for 8-10 hours.
To create the Enameled heart
*Brush interior of heart with ICED Enamel Medium.
*Pour ICED Enamel powder in the heart, Shake out excess.
*Heat as with the butterfly.
*Once, cooled, carefully fill the heart with ICE Resin®. Sprinkle German Glass Glitter if desired.
With adhesive, adhere the butterfly to top corner of the layered collage.
Tie Ribbon around the lower portion.
Using wire, secure the heart around the ribbon. Once the heart is secure, you might need to add a little adhesive to the ribbon to keep it in place.
Chantal Johnson is a mixed media artist/teacher living in Rowlett, Texas. She is married and has three children. She is currently on the 2015 ICE Resin design team. Her work has been featured in Haute Handbags, Belle Armoire, Sew Somerset, Apronology, Somerset Home, Green Crafts and Somerset Studio. For teaching engagements, you may contact her directly at chantal515@verizon.net. Visit her blog at chantaljohnson.blogspot.com
Posted on | April 7, 2015 | No Comments
Shattered Opal, a holographic plastic adds, dimensions to you ICE Resin project and captures the color (s) placed under it.
Sandy Martin form the ICE Resin Creative Team shows you how lovely it can be!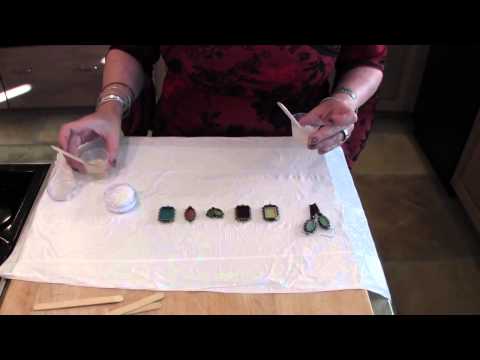 Posted on | April 1, 2015 | 1 Comment
Late winter in my area brings lots of snow melting from the Rocky Mountains.   The ICE Resin inclusions Shattered Opal reminds me of the beautiful snow melting into cold blue water.  I made a pair of earrings to remind me of this beautiful time all year long!!
For this project, I used Ice Resin, Opal Shattered Inclusions, hobnob oval bezels, 2 inches sterling wire, blue nail polish, Craft Cup and Stir Stick, a non-stick craft mat, ear wires, 4 inches leather.
Instructions:
Using a color behind the shattered opal inclusions helps create depth and increase the holographic effects of this awesome product.  I painted the insides of the hobnob bezels with blue nail polish.
While waiting for the nail polish to dry, Mix ICE Resin per package instructions.   Separate half the Ice Resin into a clean mixing cup.  Using a clean mixing stick as your "spoon" add 2 heaping sticks of the Shattered Opal Inclusions in half of the resin.
Mix the inclusions thoroughly.  Using the stir stick, fill the hobnob bezels with the resin.  (you can use the remaining clear resin for another project or make resin paper for a later project)
Allow Bezels to completely dry.
 Cut Two one inch pieces of silver wire.  For added texture, you can draw beads on either end with a torch and hammer the wire flat.  Cut two pieces of 2 inch leather.  Thread leather through one of the loops on the hobnob bezel.  Wrap the silver wire around the leather to secure. Connect the bezel to the ear wires and enjoy your new earrings!!
TIP: Using different colors as your background will change the effect of the shattered opal inclusions.  Its beautiful with purple, pink, green….well you get the picture!
You can find more of my work at  www.Sweetpeajewelry1.blogspot.com
Posted on | March 31, 2015 | 7 Comments
Poured a bezel you did not like after it dried?
Sandy Martin from the ICE Resin Design Team shares how to get the resin out so you can re-use your bezel.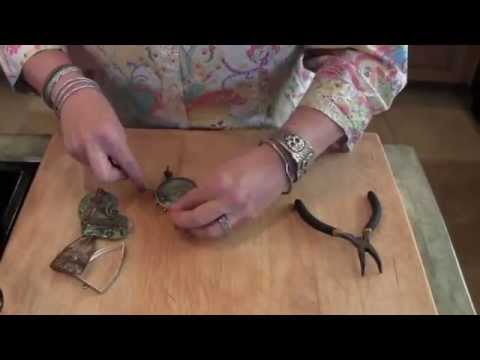 Posted on | March 26, 2015 | No Comments
Make Art in L.A. on Friday, April 10, and Saturday, April 11, 2015 and Resinate during 2 workshops with artistic storyteller Jen Cushman.
Day 1 – Create and Resinate – sign up here
In the morning, make three collage bezels and resin paper
In the afternoon, create an art journal page and cover with resin
Join Jen for this fast-moving and fun technique-based workshop where we learn the basics and well beyond of working with a two-part epoxy — jeweler's grade resin that stays crystal clear forever. Learn how to mix, pour, color with paint, color with spices, embed charms and objects, use organics, and collage three beautiful bezels.
Learn how to make resin paper — a creative technique that's a key to opening the door into a new world of possibilities. We'll also spend some time painting an 8 1/2″ x 11″ mixed media art journal page that we'll cover in resin to add a final "pop" that only this medium can truly provide.
You'll leave with new techniques and a head spinning with possibilities for how you'll be incorporating resin into your favorite art form.
Instructor provides all supplies…just bring a few items below and enjoy your day!
Day 2 – Resin Casting: Real vs Faux – sign up here
Molding found objects and casting
Surface treatment
FInishing a necklace
Journal cover with cast hardware
We will be making molds of hardware and other found objects that we'll cast in ICE Resin. Luscious surface treatment techniques will be used to transform our plain castings into little works of tromp l'oeil ("fool the eye") art where you and others will not be able to tell the real objects form the newly-made ones.
Our cast hardware will get finished off into a mixed media necklace that is easy to execute but looks complicated. If you've never made jewelry before, don't worry…now is the time to learn!
We'll also be embellishing a journal cover using our castings.
For those who take both days of the workshop, please bring your resin papers and items from Day 1 to incorporate into your journal.
Instructor provides all supplies…just bring a few tools below and enjoy your day!
Posted on | March 25, 2015 | 1 Comment
By The ICE Prince, John Creighton Petersen
When I think of Winter, snowflakes are the first thing to come to mind! And for this project, I wanted to create a layered look that resembled an icy covered window with lots of layers showcasing the natural beauty found during winter time. I've also included a great tutorial for how to use Iced Enamels™ as an adhesive when layering metal pieces together, in this case the metal snowflake which is the base of this piece with the Large Oval Hobnail Bezel.
Supplies used in this project:
ICE Resin®: ICE Resin®, ICED Enamels™ Medium, ICED Enamels™ Relique Powder Turquoise, ICED Enamels™ Inclusions: Shattered Inclusions Opal, German Glass Glitter Sky Blue; Large Oval Hobnail Bezel, brush, stir sticks, measuring cups
IMAGINE Crafts® featuring Tsukineko®: Vertigo™ Taffeta, SHEET Metal™, irRESISTible™ Texture Spray: Wedding Dress, Bahama Blue; GooseBumps™ Texture Spray Shimmer, StazOn®: Midnight Blue, Blue Hawaii; InkBlushers, Craft Mat
Spellbinders®: 2013 Snowflake Pendant, Grand Calibur Machine
Miscellaneous: Swarovski flat back rhinestones, heat tool, wire and related tools (for making jump ring), necklace
Instructions:
1. Die cut one large snowflake from a piece of SHEET Metal to create the base of this bezel piece.
2. Paint on ICED Enamels Medium along the side edge of the large oval bezel. Sprinkle with ICED Enamels Relique Powder Turquoise, tap off excess and heat set.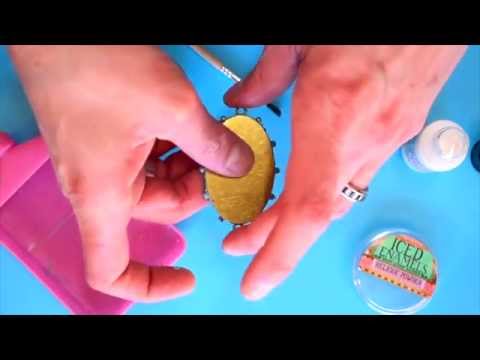 3. Watch the video (above) to see how to use ICED Enamels Relique Powders as an adhesive to hold the two metal pieces together. Once these two pieces have been joined, apply at least one thin coat of ICE Resin to the enameled parts of the snowflake and bezel.
Optional Step If you like the look of the contrasting metals (above left) after joining the snowflake and bezel together, you would only have to add resin to the front side of the piece described above. You can finish the backside of the bezel with ICED Enamels (above right), adding multiple layers of Relique powder to make the backside of the bezel completely smooth. If this is your preference, remember to also set the backside of the piece with a couple of layers of resin.
4. Cut a piece of Vertigo film to fit inside the bezel. Click here to see an awesome tutorial by Clare Horner on how to use your bezel as a stencil to get the perfect fit.
5. Color the backside of the Vertigo using an InkBlusher with StazOn Blue Hawaii.
6. On the opposite (plain side) of the Vertigo, spritz with irRESISTible Wedding Dress followed by Bahama Blue, allowing each color to dry completely. You can use a heat tool to speed up the drying time.
7. Spray a thick layer of GooseBumps Shimmer over the entire piece and heat with a heat tool just to the point that the GooseBumps lightly bubbles. This gives the "ice" effect and you can do this multiple times to achieve different looks.
8. Mix a small batch of ICE Resin. Set the Vertigo piece into the bottom of the bezel using the resin as an adhesive.
9. Add a layer of resin on top of the Vertigo background and sprinkle with ICED inclusions. Allow to set.
10. Die cut two (different) small snowflakes from SHEET Metal. Color using ICED Enamels Relique Turquoise, then spritz with irRESISTible sprays. Edge with StazOn Midnight Blue.
11. Add one of the snowflakes on top of the first layer of set resin. Add more inclusions (as desired) with this second layer of resin and allow this layer to set.
12. For the last layer of resin, add the remaining snowflake along with inclusions; allow to set.
13. Using ICE Resin as an adhesive, add flat back rhinestones onto the piece for added bling.
Posted on | March 24, 2015 | No Comments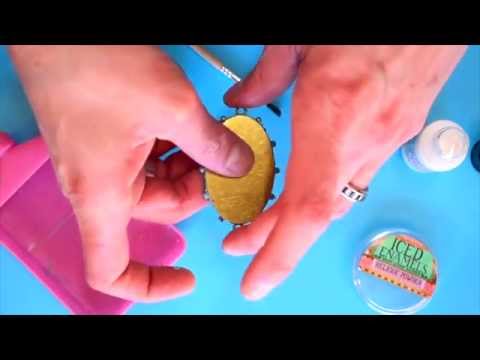 keep looking »