Posted on | March 31, 2015 | 3 Comments
Poured a bezel you did not like after it dried?
Sandy Martin from the ICE Resin Design Team shares how to get the resin out so you can re-use your bezel.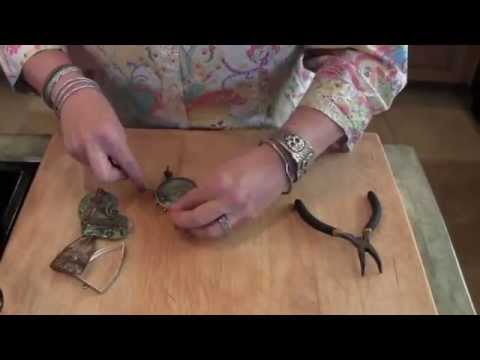 Posted on | March 26, 2015 | No Comments
Make Art in L.A. on Friday, April 10, and Saturday, April 11, 2015 and Resinate during 2 workshops with artistic storyteller Jen Cushman.
Day 1 – Create and Resinate – sign up here
In the morning, make three collage bezels and resin paper
In the afternoon, create an art journal page and cover with resin
Join Jen for this fast-moving and fun technique-based workshop where we learn the basics and well beyond of working with a two-part epoxy — jeweler's grade resin that stays crystal clear forever. Learn how to mix, pour, color with paint, color with spices, embed charms and objects, use organics, and collage three beautiful bezels.
Learn how to make resin paper — a creative technique that's a key to opening the door into a new world of possibilities. We'll also spend some time painting an 8 1/2″ x 11″ mixed media art journal page that we'll cover in resin to add a final "pop" that only this medium can truly provide.
You'll leave with new techniques and a head spinning with possibilities for how you'll be incorporating resin into your favorite art form.
Instructor provides all supplies…just bring a few items below and enjoy your day!
Day 2 – Resin Casting: Real vs Faux – sign up here
Molding found objects and casting
Surface treatment
FInishing a necklace
Journal cover with cast hardware
We will be making molds of hardware and other found objects that we'll cast in ICE Resin. Luscious surface treatment techniques will be used to transform our plain castings into little works of tromp l'oeil ("fool the eye") art where you and others will not be able to tell the real objects form the newly-made ones.
Our cast hardware will get finished off into a mixed media necklace that is easy to execute but looks complicated. If you've never made jewelry before, don't worry…now is the time to learn!
We'll also be embellishing a journal cover using our castings.
For those who take both days of the workshop, please bring your resin papers and items from Day 1 to incorporate into your journal.
Instructor provides all supplies…just bring a few tools below and enjoy your day!
Posted on | March 25, 2015 | 1 Comment
By The ICE Prince, John Creighton Petersen
When I think of Winter, snowflakes are the first thing to come to mind! And for this project, I wanted to create a layered look that resembled an icy covered window with lots of layers showcasing the natural beauty found during winter time. I've also included a great tutorial for how to use Iced Enamels™ as an adhesive when layering metal pieces together, in this case the metal snowflake which is the base of this piece with the Large Oval Hobnail Bezel.
Supplies used in this project:
ICE Resin®: ICE Resin®, ICED Enamels™ Medium, ICED Enamels™ Relique Powder Turquoise, ICED Enamels™ Inclusions: Shattered Inclusions Opal, German Glass Glitter Sky Blue; Large Oval Hobnail Bezel, brush, stir sticks, measuring cups
IMAGINE Crafts® featuring Tsukineko®: Vertigo™ Taffeta, SHEET Metal™, irRESISTible™ Texture Spray: Wedding Dress, Bahama Blue; GooseBumps™ Texture Spray Shimmer, StazOn®: Midnight Blue, Blue Hawaii; InkBlushers, Craft Mat
Spellbinders®: 2013 Snowflake Pendant, Grand Calibur Machine
Miscellaneous: Swarovski flat back rhinestones, heat tool, wire and related tools (for making jump ring), necklace
Instructions:
1. Die cut one large snowflake from a piece of SHEET Metal to create the base of this bezel piece.
2. Paint on ICED Enamels Medium along the side edge of the large oval bezel. Sprinkle with ICED Enamels Relique Powder Turquoise, tap off excess and heat set.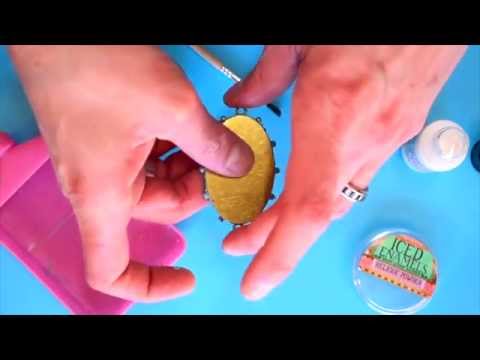 3. Watch the video (above) to see how to use ICED Enamels Relique Powders as an adhesive to hold the two metal pieces together. Once these two pieces have been joined, apply at least one thin coat of ICE Resin to the enameled parts of the snowflake and bezel.
Optional Step If you like the look of the contrasting metals (above left) after joining the snowflake and bezel together, you would only have to add resin to the front side of the piece described above. You can finish the backside of the bezel with ICED Enamels (above right), adding multiple layers of Relique powder to make the backside of the bezel completely smooth. If this is your preference, remember to also set the backside of the piece with a couple of layers of resin.
4. Cut a piece of Vertigo film to fit inside the bezel. Click here to see an awesome tutorial by Clare Horner on how to use your bezel as a stencil to get the perfect fit.
5. Color the backside of the Vertigo using an InkBlusher with StazOn Blue Hawaii.
6. On the opposite (plain side) of the Vertigo, spritz with irRESISTible Wedding Dress followed by Bahama Blue, allowing each color to dry completely. You can use a heat tool to speed up the drying time.
7. Spray a thick layer of GooseBumps Shimmer over the entire piece and heat with a heat tool just to the point that the GooseBumps lightly bubbles. This gives the "ice" effect and you can do this multiple times to achieve different looks.
8. Mix a small batch of ICE Resin. Set the Vertigo piece into the bottom of the bezel using the resin as an adhesive.
9. Add a layer of resin on top of the Vertigo background and sprinkle with ICED inclusions. Allow to set.
10. Die cut two (different) small snowflakes from SHEET Metal. Color using ICED Enamels Relique Turquoise, then spritz with irRESISTible sprays. Edge with StazOn Midnight Blue.
11. Add one of the snowflakes on top of the first layer of set resin. Add more inclusions (as desired) with this second layer of resin and allow this layer to set.
12. For the last layer of resin, add the remaining snowflake along with inclusions; allow to set.
13. Using ICE Resin as an adhesive, add flat back rhinestones onto the piece for added bling.
Posted on | March 24, 2015 | No Comments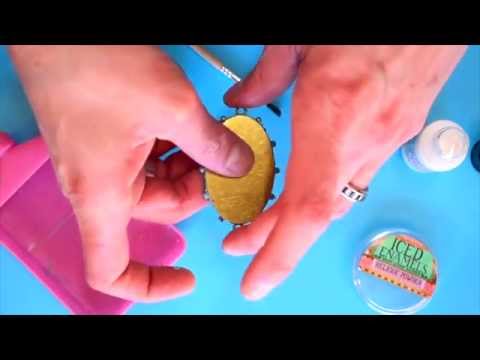 Posted on | March 18, 2015 | 1 Comment
Do you love winter? Or are you counting the minutes until spring arrives? For this project, I wanted to capture some of the beauty of a winter wonderland, but also celebrate the transition of spring, which will be here before we know it, even if it doesn't seem like it right now! In my last project, I introduced my technique for creating window layers with laminating plastic. This project also features layers, topped with a frame decorated with multicolored flowers.
Supplies
Art Mechanique™ Mixed Metal Hobnail Rectangle Bezel, large
ICE Resin®
Iced Enamels™ in Ivory Relique & Turquoise Relique
Iced Enamels™ Shattered Inclusions in Opal
Art Mechanique™ Paper Sealer
Iced Enamels™ Medium
Colored paper or cardstock in an assortment of colors
Laminating plastic
Permanent marker
Mixing cup & stir stick
Disposable paintbrush
Scissors
Opaque Silk Ribbon Bundles (sari ribbon)
Bronze jump rings
Brass hook clasp
To get started, make a template that fits the inside of the bezel. Using the template, cut a piece of light blue card stock, which will serve as the background — or bottom — layer of the bezel; the light blue represents the sky. Coat the paper with Art Mechanique™ Paper Sealer, painting it on both sides and all edges to keep resin from absorbing into the paper.
When the paper dries, paint irregular shapes of Iced Enamels™ Medium onto it, and sprinkle with a mix of Iced Enamels™ in Turquoise Relique and White Relique to add texture and suggest clouds. You do not need to heat the Iced Enamels™ for this project.
Using the template, cut a piece of purple cardstock to fit the bezel. Use the permanent marker to draw a simple mountain design. Cut outside the drawn line; coat all sides and edges with Paper Sealer, and let dry.
Cut a piece of dark green cardstock to fit the template, and draw simple triangle shapes to represent pine trees. Cut outside the lines, and seal with Paper Sealer. When dry, paint the tops of the trees with Iced Enamels™ Medium and sprinkle lightly with the Iced Enamels™ Shattered Opal Inclusions to simulate snow.
Using as many or as few colors of cardstock as you want, draw and cut out small flower shapes, which will be used to "frame" the winter image. Coat each flower with Paper Sealer, and set aside to dry.
Mix a small amount of ICE Resin® according to the package directions, and paint a thin layer inside the bezel. Place the blue paper layer in the bezel. Add a very thin layer of ICE Resin® on top of the blue layer and place the purple mountain layer on top of the first layer.
When the first two layers have set up a bit, add a thicker layer of resin.
Once the thicker layer has set up a bit, place the paper trees on top of the thicker layer. The thicker resin layer helps to create dimension between the layers.
While the thicker tree layer sets up, use the template to cut a piece of laminating plastic to fit the bezel. Paint a "frame" of Paper Sealer around the edges of the plastic and press the flowers onto the Paper Sealer, creating a frame for the bezel image.
Paint a thin layer of Paper Sealer on top of the flowers to create a strong seal for the flowers. When it dries, trim the flowers to ensure they do not go beyond the edge of the plastic.
Add a thicker layer of resin to the bezel, on top of the tree layer, and place the flower frame layer on top. Press the edges down very gently, helping an air bubbles to move to the edges and release. Let the resin set for a few hours.
Once the frame layer is secure, add additional resin as desired on top of the flower frame layer to create a domed top.
Incorporate the completed bezel into a finished necklace or bracelet, and enjoy this celebration of the beauty of winter and spring!
For more about my work, go to:
My blog: http://gemfabulous.com/
Website: http://www.huwbijoux.com/
Facebook: https://www.facebook.com/huwbijoux
Instagram: https://instagram.com/huwbijoux
Twitter: https://twitter.com/huwbijoux
Posted on | March 17, 2015 | No Comments
As you patiently, or perhaps impatiently wait for Spring to arrive, here is a lovely layered bezel technique for you to try!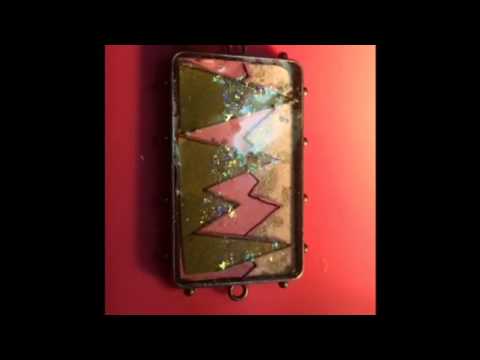 Posted on | March 13, 2015 | No Comments
Caging, Forging, Resin and Ancient Artifacts
Susan Lenart Kazmer
Art Expedition: Wednesday 22 to Friday 24 April, 2015
As a silversmith and artist of 20 years, Susan creates pieces that reference history, as well as contemporary urban life. Her work tells stories of real people living real life through the use of silver, metal, glass, resin, wood and other mixed-media materials.
Join Susan to dig deep within and discover new ways to express yourself, take your jewelry skills over the moon, and have a fabulous time learning with this internationally-recognized mixed-media jewelry artist, silversmith and teacher.
Caging Common Objects in Metalwork
Learn the art form of forging wire jewelry pieces by creating open bezel forms using square wire and metal. Students will finish one pendant or ring and In addition, explore the cage shape and its uses as a container to hold objects.
You will learn:
to anneal, shape and solder together a ring or pendant form.
proper metalworking techniques for soldering, shaping and clean up.
short cuts and ideal techniques for teaching soldering in a class room.
WIRE- Ancient techniques on New Frontiers- Forging + Brazing
Wire and fiber has been a prominent medium in ethnographic jewelry and adornment for centuries and used for binding, connecting, decorating and building of components.
You will learn:
to make your jewelry stronger, more interesting, unique, and personal by exploring new ideas for soldering, shaping, finishing and building of multiple components.
to think beyond traditional jewelry design to create jewelry that is both sculptural and wearable while attaining techniques for hand hammering, flattening and forging of round wire.
to control with appropriate tools, safety and shaping techniques with correct stance and posture when hammering. Sheet metal and wire used.
Resin, Relics and Ancient Artifacts
Focus on new works in jewelry and Resin as it has never been presented before….sand, scratch, cast and scraffitto your way into creating unique objects and ancient artifacts in jewelry in combination with metal.
You will learn:
• to build with resin using multiple thin layers
• new techniques and application for scratching, crackling, engraving, transferring of imagery, making marks and coloring surface.
• to set your finished components with filigree bezel wire…brazing presented.
Each student will leave with a few pendants and components, a journal full of ideas and a whole new direction to focus your work.
Kits and Supply List:
Caging Kit – $30.00 – Druzy stone, bronze square 16 gauge wire, 22 bronze sheet metal (you can upgrade to silver for a fee bring some in) solder materials, sandpaper, object, expendables
Wire Kit fee -$24.00 – wire -10, 16, 18 and 20 gauge wire and 24 gauge sheet metal in bronze or copper, druzy stone, (please bring your own silver if you would prefer it) expendables
Resin Kit fee $25.00 – includes bronze sheet metal, rubber silicone, a few bezels, 1 oz resin and resin to use in class, mica flakes, powders and cold enamels, solder, sand paper, wire and expendables.
Three Day Supply List:
Wire snips
round needle nose pliers
chain nose pliers
wire snips
small hammer
anvil
vice
awl
jeweler saw, size 3 blad
bench pin or tin snips
burnishing tool
sandpaper
small file
Optional:
Flexible shaft + small wood block to drill onto, metal files, hot 60 watt bulb and lamp, ( this is for drying resin so we can build in layers.), rusted found bezel such as coco lid, jar lid or any type of cup shape, meaningful small objects such as photos, inclusions such as text, leaves, sticks, herbs, sand, dried flowers. Objects to cast, (I will have some as well).
I will supply fire bricks, torches, soldering material, 2 flexible shaft, drill bits.
Ready to advance your metal and resin skills? CLICK here to register for Caging, Forging, Resin and Ancient Artifacts with me at Art Is You, Art Expedition, April 22-24, 2015.
Posted on | March 11, 2015 | 1 Comment
I have so enjoyed making this month's project theme: A Late Winters Tale. It was quite a challenge, I wanted to make a piece on the theme but something you can wear all year round and not just for winter! I will happily admit it took a while to think of this one, but the end result turned out more than perfect for me. When I started to gather the components for this piece and laid them all out together pre-resin to make sure that it would work, it quickly morphed into what it is, and not just because I put the image in upside down, another reason to build it all up before you stick it all down! Placing the un-stuck image in the bezel upside down actually looked great and what lead me to make the brooch. I think the heart would look equally as good with a different coloured German Glass Glitter if you want to add a pop of colour to the piece.
Thanks for Visiting
Supplies:
ICE Resin®
Iced Enamels™: German Glass Glitter Silver

Rue Romantique: Large Botanical Oval Bezel, Rhinestone Chain
Art Mechanique® Small Hobnail Heart Bezel, Paper Sealer
Other Supplies: pliers, connectors, small leaves on chain, image, brooch back.
I have written the instructions separately but please create both parts at the same time. To create the faux druzzy hanging heart:
1: Mix the ICE Resin to the manufacturers instructions.
2: Drizzle a thin layer of mixed resin into the bottom of the small heart, about 1/16th of an inch deep.
3: Pour a generous amount of silver glass glitter on top and set aside for 6 to 8 hours to dry or over night.
4: Once dry, tap the excess glass glitter back into its pot. You actually use relatively little for the faux druzzy effect.
To create the main focus:
1: Size your image to fit the bezel and cut out.
2: Coat the front back and sides of the image with the paper sealant.
3: Glue the image down into the bezel making sure the loop is at the bottom.
4: Size up the rhinestone chain and cut accordingly.
5: When the glued image has dried, seal with paper sealer again just in case.
6: Once dry, drizzle a small amount of resin into the bezel. Place the rhinestone chain on top guiding with a toothpick.
7: Fill the centre of the bezel with more resin being careful not to go over the the rhinestones.
8: Set aside to dry for 8 to 10 hours or over night.
9: Assemble with your connectors.
10: Glue on a brooch back using strong glue or ICE Resin.
Posted on | March 10, 2015 | 1 Comment
ICE Resin's creator, Susan Lenart Kazmer, has been making faux druze stones as part of her artwork for many years.
Clare Horner is going to place this faux druze in a hobnail heart dangle on tomorrow's "Deer to My Heart" necklace, but for now you can watch to video of how to make it.
What color of German Glass Glitter will you choose?
Posted on | March 6, 2015 | No Comments
These gorgeous new Milan bezels were designed by world-renowned metalsmith Susan Lenart Kazmer shaped as hearts, teardrops, squares, circles, rectangles, triangles, and ovals. Each are cast in small, medium, and large are available in your choice of white bronze or warm yellow bronze.
The elegance of the MILAN line of bezels doesn't stop with the Talisman shapes.
The textured edges are a design element in their own right, or use them as a surface to add Iced Enamels or perhaps, rhinestones.
Another striking visual element is the ribbon-like edge of the seam that fully encloses each shape. 
The open back allows light to shine through when you are working with ICE Resin® .
The loops at both ends on many of the bezel shapes make them possible to use to create amazing necklaces with the motion of a bead, wire or fabric dangle as well as easy to use to make beautiful bracelets. 
The Milan Line is attractively ranged in price from $8 to $16. Retail only.
keep looking »