JoAnnA Pierotti never makes the same piece twice. She likes switching from mixed media jewelry to home décor to whatever strikes her fancy when she is creating in her studio.
She used ICE Resin®, found objects and our bezels, cage tassel, hobnail and raised square, to create this whimsical mobile.
The men in her life provided JoAnnA's design inspiration.
"The G stands for Guys. I was thinking of my husband and my father, the most influential men in my life,  the providers," she says. (The men in the photos are someone's guys from an age gone by.)
Why a mesh rose? "Because guys are the ones who we love to receive flowers from."
The pastry tin is one of several tins JoAnnA repurposed as the hanger is one she found in while antique shopping.
Using Found objects, JoAnnA  hung them from an old pastry tin.
Catch up with JoAnnA on her Moss Hill Studio blog.
Photo sharing… I think we have all done it at one time or another. I keep a file  of photographs that inspire me on my computer. I have a couple of apps on my phone that have photo backgrounds for download and when I am waiting somewhere, (Patience does not come naturally) I listen to music and daydream with those pictures/graphics.
ICE Resin is a company of artists. We try hard to always attribute the artist. And now, I am going to do something naughty and not attribute this first pic.
The blue building is somewhere in Oregon or maybe Washington. I think. It was sent to me a year or so ago in an email and I can't recall who sent it. It is also a lesson in immediately naming your photos or photo folders so your grey matter down't submerge the info.
Blue Domeland… I picture it underwater as a dwelling for the folk in the picture below.
"Moon Mermaid" posted this on The Fireland Phoenix Faerie Festival's facebook feed some time ago. I am flapping my fins on the water three times, suspending my disbelief that the chlorine of that pool is not going to wreck havoc on those scales.
Now tell me artsy reader, what kind of jewelry would you make out of ICE Resin®  for a mermaid?
Terri O of Super Simple and the ICE Queen got together at CHA to talk about how easy it is to create jewelry and decor using ICE Resin® along with paper, mica, bezels, fiber and putty (for molds).
Brenda Sue Lansdowne is our rock star this week. We applaud her mixed-media jewelry designing talents and appreciate her patience. Check this out:
Web site: B'sue Boutiques 
We specialize in American made brass stampings in six high end, designer finishes.
Etsy:  bsueboutiquesupplies
Blog:  Jewelry Making Outside the Box
Medium:  mixed media, metal, wire, collage/assembly
Your Book(s):  working on that!  I've got a few in me, just looking for a publisher.  It'll come, one day!
Facebook URL: B'sue Boutiques Facebook Fan Page
Twitter Name: bsueboutiques
I teach in a very crazy, real, loose style on my  YouTube channel.
Q: If you could learn to create art in any medium you have not tried (or have not mastered), what would it be?
A: I'd like to loose my fear of soldering.  I do know how…..and also the jeweler's saw.   I stink at both.  I sat at Linda and Opie O'Brien's house all day, one day to learn to saw.  None of us were satisfied with my newly acquired 'expertise'…oh HA.   I just couldn't get into that ZEN moment.   I hate the saw.    As for soldering, sheesh, I use a torch all the time.  All ya gotta do is flux the dang thing and put your  solder bits in and…heat it!  JUST DO IT.  Hmmm.  Maybe I'll do it today.   Ya never know.
Q:What artist you would like to study with (living or dead) and why?
A: Hmmm.  There's a call.   A really good wire wrapping teacher.  Who do you recommend?  But really….I took a two day class with Susan a year and a half ago ,and was transfixed.   My dream would be to go to France for her week-long class and listen to her laugh, which is like JOY out of a champagne bottle.   I can think of nothing more inspiring for an artist than THAT.   France and Susan….oh good night, what a thought.   And…I'd like to spend a day with Jen Cushman and pick up some tricks from her, too.  But then, she'd be in France with Susan.
Q: What key piece of advice have you learned in your creative journey that you share with others?
A: Do not judge your work based on anyone else's.  Be inspired but only COPY one piece, as a learning experience.  That one goes in a drawer for a rainy day.  You never sell it.   This journey is about finding YOUR style, who YOU are, and then building a body of work to define it.  It's not about your competition, your teachers, your peers.  It's YOUR journey.  ENJOY IT.
Q:What adornment could you not go without?
A: Well…..WOW.   I started in the antique jewelry trade many moons ago, before I ever made jewelry.   So my old vintage pieces by Miriam Haskell (and I only have a few) are things I would never sell.   Those, too, are teaching pieces.  I have a lot of pieces that I have made over the years that I also will never sell, they each carry their own little bag of memories.   But as for me, I'm such a slob when I'm here in my workshop, I have to remember to put on earrings.   It's more about adorning OTHER people for me, and then…..as they say, art for art's sake.   Adorning *me* takes TIME!  LOL
Q: What 5 items do you have in your studio that you use nearly every day?
A: ICE Resin®,  American Made Brass Stampings, my bench block and hammer, rivets, my drill, and polymer clay….ooops.  That's six.    We sell ICE at B'sue Boutiques, as well as Jen's book.  I preach it as the only resin worth your time…and I preach it every day.  People keep trying those cheaper resins, and then they fuss that they didn't work.   The biggest reason for that was, well…it was the cheaper resin.  It wasn't ICE.
Is is the blue of a Montana sky at twilight? The blue of a courageous sea? The Smokey Mountains? Ah… we love this hue…
Blue Beauty was designed and created by Cindy Cima Edwards.
The focal is a Vintaj Arte Metal 2 hole plate coated in Ranger alcohol inks, a bit of mica flakes and covered with ICE Resin®.
We featured Cindy on an earlier Flickr Friday  post: http://wp.me/p1MCno-AO and you can find out more about Cindy on her Live To Design web site.
You're invited to become a member of our ICE Resin® Flickr Group. If you want us to publish your work, be sure to make it so we can download the image. (You may need to reset the photo license to "attribution no derive creative commons" so we can pull more than a thumbnail. We understand how important your designs are to you and will always credit you on the blog. If you provide a link to your website or blog, we'll be sure to add that to the posts too.
We dream of flight and flights of fancy. ICE Resin® Creative Team member Catt Ker brings us two precious necklaces:
Faeries, fairys, the fey, sidhe, angels with a sense of humor, whatever you call the winged creatures that live in our mythic tales and imaginations, the flittering fluttering creatures that some say are guides, they add whimsy to our lives.
More specifically in this case, Cat says of her "CoMe FlY wiTh mE" mixed media necklace: "I found the words first and I quickly realized I needed to make a fairy!"
Tis true that Cat trapped her fairy in ICE Resin, but don't worry, fairies have a way of leaving their marks then flitting off to inspire the next person.
The rub-ons "floating" between layers of resin add a 3D look to the fairy looking out of a hobnail bezel where a pretty wire wrap holds her on the necklace for all the ooh and aah over.
Butterflys are bejeweled insects that morph from catterpillar to chrysalis to a wonder of nature. To the ancient Greeks the butterfly represented the human soul. To the Chinese and Japanese the butterfly means peace and happiness.
Whe she came across the vintage image she knew just what she would create.
Cat Kerr's "I SEe YoU" necklace hangs from gossamer ribbons stitched together.
The triangle bezel fetchingly offsets the rhinestones and die-cut wings.
Lovely. May winged creatures grace your daydreams!
To discover more about Cat, visit her In the Light of the Moon.
She is nameless yet well-traveled from the grey matter in my head to my Ohio studio to several sunny California locales where her hat and skirt of ribbons can float on a spring breeze.
Her face, arms and legs are of cast resin. My sister Linda molded the ballerina's face.
She is about motion, and freedom, and the lightness of being as she swings from her chandelier. The base of her swing is stacked paper, riveted.
Hammered metal, and cold joins over soldered joins lend strength and gracefully contained action at her kinesthetic core. Boxes are about protection. In the prayer box at her is is holy earth from Chimayo, Mexico.
I love putting things inside light bulbs and other glass structures. On the scroll inside her belly are important notes about her wishes… my wishes… about living the life I want.
She is imperfect, incomplete but I brought her out anyway. Monet would go into museums and touch up his work so I am in good company.
She'll have a French name and more friends as there is a tightrope walker and at least four other figures in the circus.
When she is fully realized she will swing from her chandelier and with the spotlight on her, her shadow will dance on the wall.
A whirlwind of stylish energy entered our booth at CHA and her name was Traci Bautista. In point of fact, her name still is Traci Bautista. She is our Super Star this Saturday, here to  tell you about herself and her new book, "Doodles Unleashed".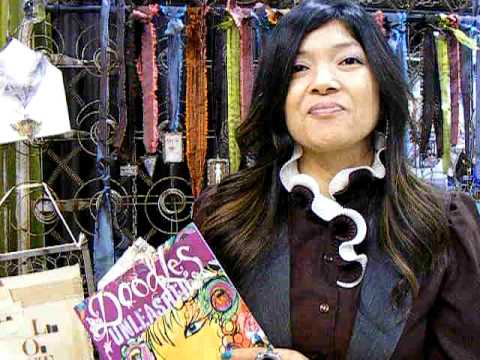 If you want to know more about how Traci dreams big, check out her web site.
Julia created this simply cute Wizard of Red pendant.
She says: "The Dorothy shoes were taken from a larger digital drawing I produced in 2008 – apart from the shoes, the drawing never "worked" for me – however, when I was looking for imagery to place inside a large (30x40mm) oval bezel the dorothy shoes fitted perfectly."
Thanks Julia! Be sure to say "hi" to everyone at home for us!
You can become a member of our ICE Resin® Flickr Group. If you want us to publish your work, be sure to make it so we can download the image. (You may need to reset the photo license to "attribution no derive creative commons" so we can pull more than a thumbnail. We understand how important your designs are to you and will always credit you on the blog. If you provide a link to your website or blog, we'll be sure to add that to the posts too.
Romance does not just happen on Valentine's Day, it is part of our stories and our jewelry. In her first book, "Tales of Adornment, Techniques for creating romantic resin jewelry", Kristin Robinson leads us her process of alchemy and invention with resin.
Kristin is our ICE Resin Creative Team Coordinator. You can order your signed copy of "Tales of Adornment" direct from Kristin by clicking here. Her book is also available at the regular internet shops, but it you buy it there, it won't be signed especially for you!
keep looking »