Hi Everyone! It has been an extremely busy couple of weeks, (nay, month!) for me and here at the ICE Resin office!  I've been filming new mixed media kits for my Industrial Chic line in Michael's stores. The new ephemera rolls out the end of May/first part of June.
This is me with Julie McGuffee (right) and Julie Fei Fan Balzer (left)
at the taping of their program, Scrapbook Soup. It was so incredibly awesome!
I'll let you know when the show airs!
This is me with Mike Murphy at Scrapbook Soup–what a great guy!
Ooooh! How many of you reading this blog also write? I know I (Carol) am coveting this necklace created by Annette in Oz.
"Patience" was formed using a handmade brass bezel, vintage papers, and old tin-type photo and a pen nib sealed in ICE Resin®.
Reminds me of an Emily Dickinson's poem.
Part Three: Love
 XXXIII
I HELD a jewel in my fingers And went to sleep. The day was warm, and winds were prosy; I said: "'T will keep."
I woke and chid my honest fingers,— The gem was gone; And now an amethyst remembrance Is all I own.
Annette used a backnut as a bezel on here etched brass cuff and filled it with Ice Resin® over a vintage image.
Inspiration
Rosy began when the theme of "Sticks & Stones" was announced, from there it didn't take long for an idea to "bloom".  I have a pretty little needlepoint footstool that was my main source of inspiration for design elements and color palette.  My backyard and basement provided me with additional supplies beyond the ICE Resin® items that I used.  It's amazing what is already lying around the house that can be turned into jewelry!  Rose bush branches painted pink made a great addition to the neckpiece while a dusty old piece of packing tape found on my basement floor made an interesting pattern to the backside of the oval bezel.
The ICE Resin® items that I used in Rosy were: oval hobnail bezel, shield hobnail bezel, two small round closed back bezels, bronze wire, silver wire, Ice Resin, glass glitter(Carnivale), ribbons(Carousel), steel screws/nuts, and a variety of washers.
Additional items beyond the packing tape and sticks were: pebbles, paint, paper, beads, sheet brass, and chain.
To view items that inspire me check out my Pinterest Board titled Andrea's current inspiration.
If you are like me…you do not like to waste any left over resin. Here's a quick video to give you some ideas on what you can do, to save that precious liquid gold.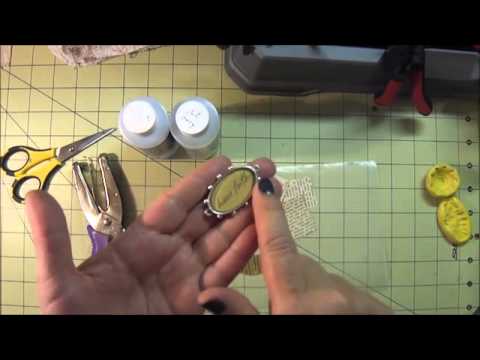 Paris; this April sunset completely utters
utters serenely silently a cathedral
before whose upward lean magnificent face
the streets turn young with rain,
spiral acres of bloated rose
coiled within cobalt miles of sky
yield to and heed
the mauve
of twilight (who slenderly descends,
daintily carrying in her eyes the dangerous first stars)
people move love hurry in a gently
arriving gloom and
see! (the new moon
fills abruptly with sudden silver
these torn pockets of lame and begging colour)while
there and here the lithe indolent prostitute
Night, argues
with certain houses
e e Cummins (1894 -1962)
Susan and Jen will be spending time in Paris the weekend before Runis, Relics and Resin workshop to gather vintage materials at the world-renowned Parisian Flea markets. Students are encouraged to join us in our adventures of shopping and dining before arriving in Durfort.
Is art school for you? I can't answer that, except to tell you that it gave me a different perpective.
I went to the Art Institute of Chicago for one year. I loved it! I talk about it a lot because it truly was something amazed me; it was a different way of thinking, certainly a contrast to my classes at Southern Illinois University where I later graduated.
At art school I loved exploring materials, not getting a grade. I loved putting myself and my work so far out there and not thinking of being practical. Those are the things that were most important to me at art school. Then after a small period of time I got tired of not a lot of structure, not a lot of training with technique… art school was really about ideas.
If you talk with people who are craftsmen, they are about making the perfect join, and getting their work perfect, where as an artist if you want to express chaos, your work is chaos, if it is about tidiness, your work is tidy. It is not necessarily about the most beautiful piece, unless that is what you are trying to express.
SLK talks candidly about her experience doing museum exhibits in the Smithsonian and Huntington Museums, and shares her hopes for her dream exhibit of the future.
Follow your passion. Meld with a mentor. Be of service. Open Christine Mason Miller's book, Desire to Inspire, Using Creative Passion to Transform the World, and you will find a brightly colored idea for letting your light shine and envelop others.
Ms. Miller interviewed artists and entrepreneurs for Desire to Inspire. She pulled meaningful quotes from a diverse group of women telling stories of creative actions big and small… helping war refugees (Marianne Elliot), celebrating the joy of the ordinary in video (Amy Krouse Rosenthal), acknowledging that light and inspiration come out of our failures, our vulnerable moments (Christen Olivarez) and many more.      There are lovely and through provoking illustrations and photographs on just about every page. One of my favorite photographs is of Ms. Miller by Jen Gray Blackburn. "You are a creative force of nature" is written on Miller's arms, yet her left arms is wrapped around herself in a protective gesture while her right hand covers her face, eyes closed, head slightly forward as if she can't face the power of her own creative self. Ever feel like that? I know I do.      Miller writes, "Your wongs already exist. All you have to do is fly."      Fly.      Here and now you are good enough is a message that runs through the book. Sharing our gifts. our light, our unique way of being in the world makes us stronger.      Each chapter has creative exercises for finding your creative passion, so for readers it is simply a question of which one you resonate with today. I found the Giving Jar, created by Mindy Tsonas, to have immediate appeal. She writes: "What is it that you most want in your life? Make it your practice to give just that."      I think this is a great read when you can't quite begin, or you are feeling stuck. It is certainly food for thought as to who inspires you and who might you be an inspiration to?      It's Earth Day (Happy Earth Day!) How will you let your light shine today? Maybe upcycling is one of the ways you set your creative passion free… Maybe it's time spent watering your garden of posies and vegetables… Perhaps letting your light shine for others on this Big Blue Marble it is making that art journal or mixed media necklace you've been dreaming about. I'm going to weed out my books for an upcoming book sale to support literacy in my community. (I'm keeping Desire to Inspire! – not ready to pass it forward just yet!)      Celebrate your inspiration because you are a force for good. Happy weekend!
Legend has it that a man looked into the water of an evening and mistook the moon's reflection for a wheel of cheese.
Was it green? Blue? White? Yellow?
Whatever flavor or hue you appreciate cheese and for all you moon lovers, we invite you to delight in these funky "Man in the Moon" earrings created by Terry Matuszyk.
Too fun!
Terry began with ICE Resin® cabs filled with agate chips, then used additional resin to adhere the cabs to vintage plastic dangles. She enhanced the earrings with a little touch of chocolate ox brass in the form of the moons.
She thought fashion. He thought superhero. Two visions, one ring.
When the ring first arrived we had two different concepts. The Cat was drawing current inspiration from big and bold couture jewelry, with a touch of BOHO.  Jack was thinking Superman and his ice lair AKA Fortress of Solitude. Creating the type of a ring that would be found in the pages of a kid's comic book from the 1940's. At the time we were playing with ideas of how best to repurpose Ice Resin® pieces left over from previous molded projects.   We cut slivers, shards and chunks from a block of colored ice resin, arranged the pieces into the bezel, creating height and texture.
We removed the roughness of the shards, created a high shine and secured the pieces to one another by coating them with a fresh coat of Ice Resin®.
The result: Superhero Couture! A collaboration of high fashion and comic book glam.
Thanks for reading everyone.
All the best,
keep looking »