The humble button has been helping us stay dressed since at least the Bronze Age of civilization.
My grandma taught me to play Button, Button, Who Has My Button?
In life (or the sport of Curling) you can be "On the Button".
If you deal poker, you get to wear a fancy button.
And if your style of creation is mixed media, you have probably used a button to embellish your project a time or two.
Here are some colorful modern buttons that made us smile.
And, for those of you talented with a needle and thread ~~I admire you, because about all I have the patience for is sewing on the button that fell off ~~ here are a couple of cool button projects by Diane Gillaland: Dorset and Singleton.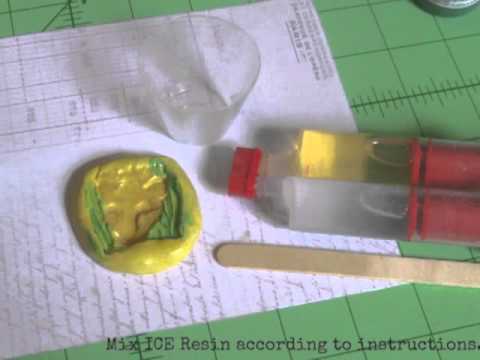 I am thrilled to be a part of the ICE Resin Technique Tuesday series this week! I love to combine mixed-media products to create unique projects. This technique combines two of my current favorites – ICE Resin and Jacquard Lumiere 3D paint. The adhesive quality of the paint enables it to stay in place in the mold rather than pooling or puddling, allowing for a light all-over application. When the ICE Resin is poured into the painted mold, the paint adheres to the resin itself, and the result is an all-over metallic coloring that still maintains the translucent quality of the resin. By adding black paint to the back of a color frosted ICE Resin piece, a different effect is achieved. I can't wait to see what other mixed-media products will work well with my stash of ICE Resin products! Until next time – keep creating and remember to "Dare to be Different!"
Cindi Bisson
Behind These Eyes
fatcatcreations.blogspot.com
Operation Write Home is a project that has brought over a million and a half handmade cards to veterans since 2007. These are blank cards the vets will be able to write a message in and send to a loved one.
Get in on the fun this weekend and join people from all over the country making cards (A2 size).
Operation Write Home has  provided a complete set of templates and instructions for your card making pleasure, click right HERE.
Here is one our social media gal Carol made:
Happy Memorial Day!  Thank a veteran for his or her service to our great country!
The reason to participate in OPERATION WRITE HOME's card making extravaganza is a win in itself. Operation Write Home is a non-profit that encourages others to make cards that our men and women serving the military overseas, often in combat zones, can send back home to their loved ones for birthdays, anniversaries, graduation, I love you and all those other reasons that people send still send cards.
Need a carrot? The ICE Queen is sweetening the pot with a drawing for an ICE Resin® plunger, an SLK bezel and an image pack! Make a card (or cards) snap a pic and e-mail it to Carol@iceresin.com. She will chose one winner at random as the winner and post a collage of pics on a future ICE Queen Zine.
We can't stress this enough, be sure to check the FAQs on the OWH site about card making and safety We mistakenly added some bling to a card we made and then found out it was not allowed (we took it off!) because night vision goggles can see glitter.
It's a long holiday weekend so no excuses.
Check out our blog early tomorrow morning for all the details!
Beetique's Paris ring came about when she listed it on Etsy. It was made with a bamboo bezel, Painted Paris stampings and rhinestones from B'Sue Boutique and ICE Resin®.
When a customer purchased the ring, she asked if Beetique had any other Paris rings so she made this one.
Beetique wrote: "I really like working with ICE Resin. I saw it when B'Sue had a video on it. I also like to coat my finished pieces with ICE for protection and so the inks or paints won't run."
And she made matching earrings!
A hand full of sand, to most, slips out and through the fingers without the slightest of thought, but to me these tiny little precious fragments stay and linger, leaving me to examine the absolute of my own insignificance.
A gift.
A reminder.
An answer.
That we as a whole can move mountains.
As individuals, we can turn the human heart to kindness.
Materials used: Rectangular Stick Bezel, Medium , Ice Resin, fabric scrap, assorted size seed beads, flat stone beads, chain, sewing machine.
More on Cat's work, shops and teaching schedule visit her at In the Light of the Moon.
Adding dimension to a resin filled bezel can be achieved very easily and can be fun. By using a plastic bag and almost-cured-to-the-touch resin, you can create a multitude of textures. Leave the resin clear for a vintage effect or experiment by adding color and white pigment to create a slag-glass or stained glass look. The key is to just have fun and enjoy the process. To gather more creative tips stop by my blog.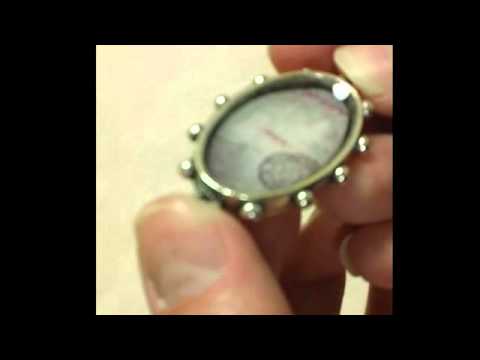 One of the fun things about connecting with people on our Flickr page is meeting people from different countries.
Fabrício Herzog Loureiro d'Avila aka "SanSa" sent us an e-mail about his Card.
Around six years ago he was using a lot of cards in his art and when he rediscovered one of those cards a few months back he dropped several layers of almost dry ICE Resin on the card. His intention was to make a "floating"card.
SanSa invites you to check out more of his work on his Facebook page. (I happenlike his double ring.)
It's springtime…a time of new beginnings. All around me I've been hearing faint chirping sounds coming from the baby birds nestled high up in the treetops. One determined mama even managed to build her nest in the rafters of the indoor building where I play tennis! When I go to serve, I can hear her babies cheering me on to victory or at least reminding me that the long damp winter is over and the promise of a warm summer is just around the corner.
I encased the letters N-E-S-T in resin and wired them onto blue satin ribbon.
I created a "nest" using wire "twigs", blue pearl "eggs" and a cage bezel and used a hook clasp to hang it from the ribbon.
I finished the piece with another hook clasp and a pearl "egg" dangle. Supplies can be found online at www.ICEResin.com  – ICE Resin®, White Bronze Cage Tassel Bezel, Set of Four Tiny Square White Bronze Hobnail Bezels, One Pair of White Bronze Hook Closures, Blue Satin Ribbon, Copper Wire,
More ideas can be found on my blog. I'd love to have you stop in for a visit!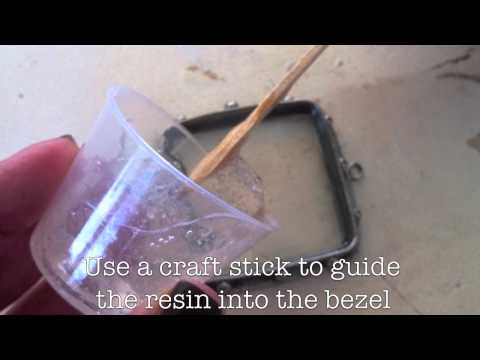 While an open back bezel might seem like a bit of a challenge or even a mystery I am happy to share that there really is an easy way to create a faux backing. With a little packing tape, a bone folder and of course ICE® Resin a masterpiece can be created in a wee amount of time. Take a peek and then go CREATE.
Quick Tip: For an added bit of flare and history I created a mass of bubbles within my resin and let it sit for about 10 minutes I then whipped it again and poured this will allow a bit of the bubbles to remain suspended within the resin – the result a luscious layer of resin that resembles Victorian glass panes. To learn more about this technique pick up my book Tales of Adornment.
Bonus project!
Kristen's Adore Wall Hanging instructions
keep looking »