Native American artist Lisa Patencio's wheels of bling necklace made with ICE Resin is not only on our flickr page, her piece was picked up by the Stagecoach Gallery In Douth Dakota.
Hello! Cindy here.
I had this great wooden purse in my stash of items I wanted to re-use one day. It was already decorated by another designer who had passed it on to me when organizing her studio, which lead to a few challenges – but with my ICE Resin® products and Spellbinders™ Nestabilities® label dies, Impressabilities® and Grand Calibur® machine, it all came together to give this purse a new life. (Spellbinders and ICE Resin are cross promotional partners.)
Materials:
ICE Resin® (www.ICEResin.com)
ART Mechanique Flip Book: Belles Dames Francaise
ART Mechanique 2" Round Hobnail Bezel
Spellbinders™ Grand Calibur® machine (www.SpellbindersPaperArts.com)
Spellbinders™ Nestabilities® Labels Twenty-Four dies
Spellbinders™ Impressabilities® – Paisley
Wooden purse
Plaid foil glue (www.PlaidOnline.com)
Metallic leafing
Copper sheets
Copper mesh screen sheets
Westcott® Titanium Bonded® scissors (www.WestcottBrand.com)
Dew Drops embellishments (www.RobinsNest-Scrap.com)
Floral button (www.BlumenthalLansing.com)
ImpressART® metal stamps and tools – lowercase Newsprint alphabet (www.ImpressART.com)
Jacquard Turquoise Lumiere 3D Dimensional Paint and Adhesive, and pink Lumiere Acrylic Paint (www.JacquardProducts.com)
Krylon® silver and gold leafing pens (www.SherwinWilliams.com)
Coordinating patterned paper
E-6000 Adhesive
Instructions:
For the mixed-media flower –
Cut two 5" x 5" squares of copper mesh screening. Cut one 4" x 4" square of copper metal sheet and one 3" x 3" square. (Westcott® Titanium Bonded scissors will easily cut metal sheets and screening.)
Following manufacturer instructions, use Spellbinders™ Grand Calibur®, cut large Labels Twenty-Four shape from each of the copper mesh squares. Cut one 3 1/4" label from 4" square of copper, and one 2 1/2" label from 3" square.
Use Paisley Impressabilities® to add embossing to die cut copper mesh pieces and larger of two copper sheet pieces.
To create "petals," bend each section of each label upward then roll inward on a pencil.
When each petal is complete, gently fold outward again and bring end up to create petal shape as shown.
For smallest piece of die cut copper sheet, cut into four sections, one for each "petal."
Use ImpressART® metal alphabet stamps to stamp "bloom" onto each petal. To make lettering stand out, apply a small amount of Turquoise Lumiere 3D Dimensional Metallic Paint and Adhesive over lettering, then wipe with soft cloth to remove paint from around letters. Fold petals as above.
Select sheet of paper from flip book. Cut one label using largest die. Cut into four sections to create petals. Apply gold leafing pen to outside edges of each petal. Set aside.
To create center of flower, remove hanging bail from round hobnail bezel. Trace bezel onto sheet of paper from flip book, cut and place into bezel. Arrange Dew Drop embellishments as desired. Add floral button accent, allowing petals of button to extend onto rim of bezel.
Follow manufacturer instructions and mix ICE Resin®. Apply thin coat of ICE Resin® to both side of each paper petal, set aside to dry. Fill hobnail bezel with resin. Allow to cure approximately 3 hours, then gently add additional Dew Drops over surface of original Dew Drops to add dimension. Let cure. Accent clear petals on button flower with light coat of pink Lumiere metallic paint.
Assemble flower by arranging two copper mesh labels to form flower base, followed by paper petals, then embossed copper sheet label, and finishing with letter stamped petals as shown. Use E-6000 Adhesive to mount all layers, and to mount finished flower center to flower. Set flower aside.
For the purse –
For the front of the purse, select a sheet of paper from the Belles Dames Francaise flip book. Mount to front of purse.
Apply foiling glue to to left corner and right outer edge of purse front as shown. Apply leafing.
Measure and cut coordinating patterned paper for all four sides of cover. The paper for this purse was cut to allow approximately 1/8-1/4" inch on either side of wood to show after the paper was applied. Mount.
Apply silver leafing pen to open wooden space between side paper and cover paper.
For sides of back of purse, measure and cut copper metal sheet to fit around left, right and bottom.
I left approximately 1/8" of space between the copper and the sides of the purse itself. Emboss with Paisley Impressabilities® using Grand Calibur®. Mount using E-6000 Adhesive to purse. Let dry.
While removing some of the elements used on the first design of the purse was simple (paper, flowers, etc.) the back of the purse had been decorated with patterned paper featuring tall grasslike designs. Many of the strands of the "grass" had been detailed with microbeads. Removing those was not an easy option.
I loved the texture these beads added, but the color of the paper did not coordinate with my color palette for the project, so I decided to use foiling glue over the entire surface, then apply assorted colors of metallic leafing. If starting with a new purse, simply add the leafing to the back of the purse.
Apply silver leafing pen to wooden area between copper sheet strips and leafed background, and top of back of purse.
The inside back and front of the cover of the purse were also lined with patterned paper.
Mix ICE Resin® according to instructions. Apply thin layer of resin over outside surface of purse, covering paper, silver leafing pen and metallic leafing flakes on front and back (do not cover embossed copper on sides). Let cure.
Measure and cut piece of copper metal sheet to fit between handle of purse. Use letter stamps to spell out "bloom where you are planted" and then stamp flower image in a circle to create a flower next to verse. Apply Turquoise Lumiere 3D as above to make lettering and flower stand out. Add Dew Drop center to flower. Use E-6000 to mount to top of purse between handles.
Use E-6000 to mount finished flower to bottom right corner of front of purse. Let dry.
Designed by:
Cindi Bisson – Behind These Eyes™
Mixed-Media Artist
http://www.fatcatcreations.blogspot.com
(919) 208-7777
The creative journey for this piece began when I saw a blog post announcing that ICE Resin® had a call out for designers to submit ideas to become part of their 2011-2012 Creative Team. I had never used any resin prior to that time but didn't want to pass up on a great opportunity.
I knew I would have to create something that was completely "out of the box" if I wanted to capture their attention. So I headed to the thrift store for some ideas and came home with a pair of overalls, a gauge and some old register buttons from a mechanic's garage. The summer issue of Belle Armoire Jewelry features the project that came t life on my workbench.
I cut a clasp and zipper away from the overalls and took apart the gauge. Once all the parts and pieces were disassembled, it was time to make them look like they had spent years out on the road. I added some "rust" with brown acrylic paint and a light spray of copper metallic.
I put all the bits and pieces together and filled the gauge/bezel with ICE Resin®. I used packing tape to back the clasp, filled it with resin and added the gas, oil and chg buttons. Once the resin was cured, I added the zipper.
I added a handmade copper chain consisting of funky links bringing this piece to its final destination.
You can find "Road Trip" in the summer issue of Belle Armoire Jewelry and on my blog.
Thanks for following along with me on this creative journey!
Kathy
Check out Lead Fiskateer Tami Bayer doing a make n take with SLK and visitors at the ICE Resin® Winter CHA.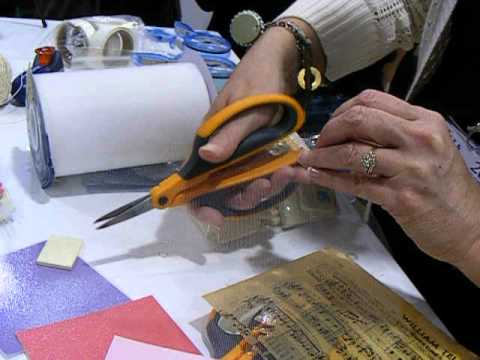 The good stuff:
A Rummikub tile
Sheet Music coated with ICE Resin® and Jenni Bowlin FLIGHT Squeeze Punch
A ¼" HEART Hand Punch with pink paper
Glue dots
A bit of tulle
Hemp string
Craft glue
Pin back
Assemble:
Use the FLIGHT punch on the resin paper and make a bird.
Use the heart punch to make a heart
Gather a bit of tulle and tie a bow with a hemp string
Attach to Rummikub tile with glue dots (You can do it on the number side or the plain back side.)
Attach pinback with craft glue to the other side.
Thanks Tami!!
You'll find Tami over at her Peace, Tea, Ink blog.
Posting these as a prayer for sorely needed rain–the monsoons can't come soon enough in Arizona where 2 members of the ICE Resin team live.
Sexy umbrellas produced by Guy de Jean produced a line of sexy umbrella for for Chantal Thomass, 2006-2008
Cool birds and flowers fly underneath this paper umbrella. Wonder how it closes…
This brolly features constantly pasing multicolored LED lights.
Carol swears she will buy this the next ime an umbrella breaks!
Painting:  Renoir's famous Les Parapluies (The Umbrellas 1883)
Kristen Robinson came out to the Midwest and we shot a Baubles, Beads and Jewels segment, ate good food and were giddy in Michael's. Too fun!
Sukiyaki hosted the ICE Resin segment. It airs in December. We'll keep you posted!
Kristen helped design the current chains for my Industrial Chic line in Michels Craft Stores! We we giddy and when Kristen asked a startled lady to take our picture, and I said, "This is my line!" She scarcely believed me. Guess I should have been wearing my cream cod lace!
Giddy at the Avon Michels!
Mary Hettsburgman , Kristen and I ate at a Japanese restaurant.   Kristen and I had a lot of saki (rice wine) squirted into our mouths by the chef! the cooking fire was awesome.
Here we are at a restaurant on Lake Erie. Kristen is getting ready to leave and I already miss her!
These pretty flowers were pick and pressed by Maro on December 2011. She made this lovely pendant with Ice Resin® on February 11, 2012. Captured as they are in ICE, they won't fade.
Maro wrote on her Flickr page: "I use Ice Resin for all of my resin designs because of the great quality of the product."
Thanks Maro!
Hi! It's Tina Schiefer from the ICE Resin Creative Team.
I've created a very sweet, Tres Jolie, wall hanging. Perfect for a romantic home, studio or boudoir, using a primarily purple theme, a color I rarely use, but think is beautiful.
Spellbinders is ICE Resin's new cross-promotional partner.
Spellbinders" Grand Caliber die cut machine with Nestabilities dies and SLK Belles Dames Franscaises flip-book images make creating such a breeze! Add a touch of tinted ICE Resin and watch your beautiful designs come to life. Just cut, mold, cast, layer and hang.
Supplies/Materials used:
. Spellbinders Grand Caliber Die Cut Machine
. Spellbinders Nestabilities Lacey Ovales – three sizes
. SLK Belles Dames Francaises flip-book papers
. ICE Resin®
. Silicone Molding Compound
Other supplies:
scrapbook paper, upholstery fabric, brads, tulle, cord, mini-clothespins, mini-hanger
For Tres Jolie wall hanging, I began by molding an antique key with two-part silicone molding compound and casting purple tinted ICE Resin. Once cured, I drilled out the key hole to enable embellishment with a small strip of tulle and natural cord.
While the cast key was curing, I used the largest Lacey Ovales die to cut the section of the Belle Dames Francaises with the purple words, Tres Jolie. Using the purple-tone reverse side of another sheet from the flip-book, I simply created a torn edge for the bottom.
Then using the second to the smallest die, I cut out an opening to frame a butterfly image cut using the smallest die. Both were then layered over a small section of purple velour upholstery fabric.
The main body and focal layers are created using a graphic scrapbook paper and a larger section of upholstery fabric. A small strip of purple toile-like paper from the flip book and three silver brads were added as accents.
The final assembly was attached to a mini-wire hanger using mini-clothespins.
Feel free to visit my blog for more creative design ideas.
Patina Marie shows you how to repair a fingerprint in ICE Resin®.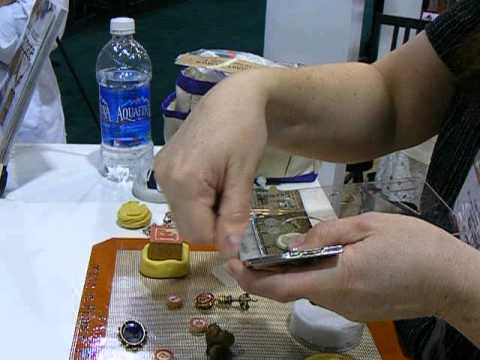 Flat is not always dull, but textures certainly increase the fun!
Love the silver and blue of robo fish from the London Aquarium swims with his flesh and blood carp counterparts.
Best Designs brings us high resolution tree bark textures. Free to print and use according to the blog.
Oh La La! This lace comes from the fashionable French bligidyblog.
We found this nest on Kristie Straten of Place Textiles's site.
Grass comes in many textures. Did you roll down grassy hills for pleasure as a child, uncaring of the itchiness that inevitably followed? Bobtail cat in the grass. Her name is Kiko and we hope someone loving adopted her!
keep looking »