Lisa Patencio  wanted a sculpture that looked like my painting. This is DAS clay with ice resin (she wrote on our Flickr page: "I bought some resin from Michaels. All I can say is "NEVER AGAIN"! I am an ice resin girl."
Christina Bothwell's work inspired Lisa to create this figure.
She colored her ICE. Here is a link to the technique!
Inspired by a recent trip to Maui, I've created a travel journal to document my thoughts and recollections of time spent in the South Pacific. A tropical place where the water is deep blue against the white sand beaches; the cool breeze, having travelled miles across the open ocean, is the freshest to ever fill my lungs; and each lingering day ends with a sunset that is beyond breathtaking.
"Standing at a northern precipice of the island, surrounded by craggy fields of black lava rock,
I spot a length of huge rope floating in the churning surf far below.
I spend almost an hour mesmerized watching as it's tossed to and fro, floating on the surface, without ever coming close to the shoreline below.
I let my mind wander, as my eyes gaze over the horizon,
and I imagine a 3-masted tall ship crashing through the waves so many years ago. What a majestic sight that must have been.
The full white sails aflutter. I envision the beautiful, craftsmanship of the wooden hull and the intricately engineered rigging.
Then I'm struck with the thought of the risks those early seafaring men took to get to shore and discover these islands for the first time.
As I continue to watch the rope in action, I am in awe."
Feel free to visit my blog, for assembly instructions and more creative design and inspirational ideas using ICE Resin and Spellbinders products.
Products used:
ICE Resin®
Spellbinders dies (Spellbinders is an ICE Resin cross promotional partner.)
wall paper
brown paper bag
cotton lace
soldered glass vial of pearls
jump rings w/pearls
gear
rusty binder clip
brass luggage key
chain
Crop A Dile punch
Mod Podge
oh, and a brown ink pad!!! :-)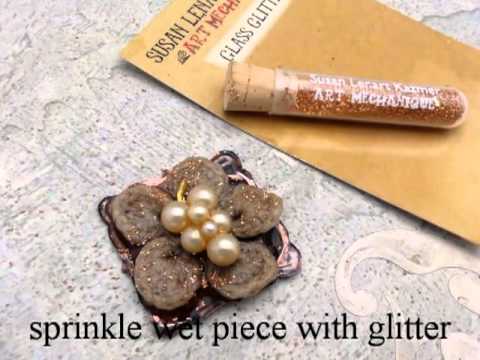 Products used:
Spellbinders Grand Calibur and smallest square die from Labels 15,
ICE Resin®
sheer ribbon
German Glass Glitter
Plus: muslin, fusible interfacing, thread, vintage jewelry, snaps, and an embroidered flower.
Here is a little taste of one of my metalsmithing classes at Art Unraveled.
Flimsy tables and little anvils mean noise in the classroom. But FUN nonetheless!
Handmade brass bezel + vintage image + Ice Resin  = Specimen #1 pendant by Annette in Oz
If you aren't a metalsmith, the Art Mechanique line has a  caged tassel bezel.
How could you not want to make something with these gorgeous ribbons?
My goal was to use all the length of these two ribbons so an award type brooch immediately came to mind.
I love connections and was excited to be able to connect this entire piece including the pin catch together using the two mini screws/bolts.
The Art Mechanique items that I used for this are: Ice Resin, ribbons, mini screws, nuts and bolts.
Additional items used were: a jar lid, book pages, paint, chipboard letter A, copper and steel wire.
Andrea
Discover Andrea at Amuck Design!
All you need to do to find fun new items to fill with Ice Resin is …
Walk through the Hardware Store!!
These Wonderful metal house numbers caught my eye and as I rang them up at the register I smiled and thought…
Who ever said house numbers needed to ONLY go on a house….NEVER used Ice Resin!
Materials used: ICE Resin, German Glass Glitter, Metal House Numbers, Clear packing tape, Book text, rub-ons, assorted hole punches
To see what else Cat Dreams up, visit her at http://inthelightofthemoon.blogspot.com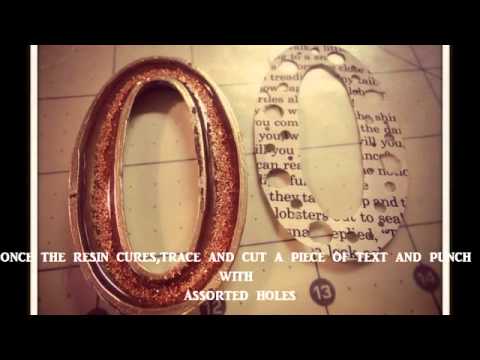 Maggie Zee made these artful earrings using Susan's bronze stick bezels with beads, sequins and dead ladybugs in ICE Resin®.
Awesome Maggie! May your garden be filled with delights! (And your jewelry studio too!)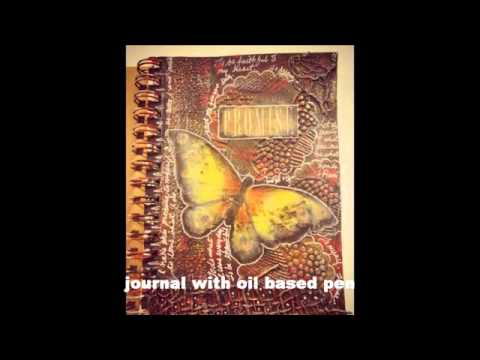 For the last 20+ years I have written in a Journal. These Journals sheltered my hopes and my dreams and daily moments of Gratitude. Recently I decided to give something new a try…After looking at all the wonderful

Art

Journals my friends are keeping I thought what a perfect way to display my Creative Journey…
But one thing you need to keep in mind when working on an Art Journal Page…is texture!
"Promise"
A "Promise" to myself to …
be faithful to my heart…
to be…who I am and love what I do…
To…play and get my fingers dirty…
To…work with those that love the craft of Art as much as I do…
To…always…DREAM.
Discover more of the ways Cat brings art into the world at In the Light of the Moon.
Liz Hicks over at MY CRAFT CHANNEL invited us to be a part of her Blog Blitz. Thanks Liz!
Liz has created seven projects and will share how you can make them on Tuesdays through September 25.
Her show features a variety of different crafting techniques that you could use in a multitude of crafting outlets as well as alternative uses for everyday craft items.
Here is the line-up:
August 14- ICE Resin® 
August 21- ICE Resin® and Clearsnap
August 28- Prima and Clearsnap
September 4- Graphic 45 and Clearsnap
September 11- Spellbinders and Clearsnap and Creative Imaginations
September 18- Prima and Clearsnap
September 25- Finale featuring all companies
Best of all, their are some really fun prizes to be won each week plus a grand prize when the Blog Blitz wraps.
Comment on the ICE Resin® show at My Craft Channel for a chance to win!
keep looking »