2013 is going to be exciting and busy, full of ICE Resin classes, mixed media and jewelry projects, eBooks, products and contests, and most importantly, creative people – both those I work beside, customers and those I have yet to encounter!
My warmest thanks for letting me, my fine staff and wonderful creative teams members, share 2012 with you!
May 2013 excite your creative muse as never before.
Susan Lenart Kazmer
The new Beads, Baubles & Jewels series #1700 sizzles this December. Kristen Robinson, ICE Resin Creative Team Director was invited to be one of the guests on "Mixing Shapes" and "Hot Motifs". Viewers can plug their zip codes into the website here to find local viewing times.
1713: Hot Motifs, Airs Dec. 28, 2012
Being a designer involves being able to look around and recognize what might be changing not only in jewelry but fashion, home decor and just general overall trends. This episode looks at some of the hot motifs that are just starting like friendship bracelets – they're back! Next, Kristen Robinson shows how to embed botanicals in resin. Then, Erin Madsen explores some shortcuts to simple stylish jewelry – quick and easy is always trendy. Finally, Cynthia Deis demonstrates a ruched fiber necklace.
Episode 1704: Mixing Shapes, Aired Oct. 26, 2012 and can be viewed online now. Kristen showed how to use transparencies within bezels.
SNEAK PEEK! The bezel you see pictured is part of Kristen's new Rue Romantique line of bezels available in January on ICEResin.com and licensed through Susan Lenart Kazmer, LLC.
You can see that she's formed of ICE Resin, not snow…
Yet as it shines through her eyes, her heart, it's aglow!
Buttons and lace and ribbon her body adorn.
In JoAnnA Pierotti 's studio she was born.
Joy of the Holidays is the necklace Cindi Bisson created…
Abundant Joy
is what the ICE Resin team wishes you this Christmas and throughout the year!
A cast ICE Resin crystal, a found object rosette and Jen Crossley made an ornament fit to grace any Christmas tree!
Check out the crackle!
You can find ICE Resin, and casting supplies here, although you'll have to hunt for your own found rosette.
And Jen blogs at A Mark in Time
Santa's visit is right around the corner! Here, the jolly head elf is encased in ICE Resin and glass.
What kind of cookies will you be leaving out?
My inspiration for this ring was my love for wildlife. I have always liked moose. This guy seems like he would make a good party guest!
He seems like he's a bit quiet at first, but after a few glasses of wine, he's the life of the party.
Sandy Martin
p.s. watch for more projects in the new year that use our jewel's grade, 2-part molding putty and ICE Resin.
When Fall approaches, I'm always full of childlike enthusiasm for the colors to change, the leaves to fall and to decorate the house in warm jewel tones. The smells waft through our homes smelling of pumpkin, the season change in the air and fires places burning. These earrings were inspired by that love Autumn, and for the wish that it could last just a little bit longer.
Lexi Grenzer
The earrings use Belle Dames Francaise paper covered in ICE Resin.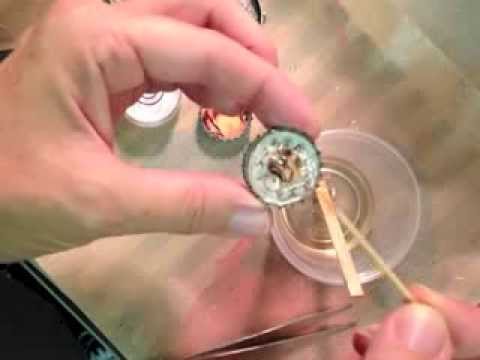 Toothpicks, sandwich sticks, craft sticks, long flat sticks (cut in half) are Susan M. Walls' favorite tools for placing, dripping and nudging ICE Resin exactly where she wants it to go in a bezel.
You can discover more about Susan on her Charming Trinkets blog.
Why round nose pliers are Cindy's go-to jewelry tool–tiny round loops, large round loops and great connections.
Cindy's blog is Live to Design!
Also, it is DOUBLE TECH TUESDAY! Post a comment below and then post a comment here.
One lucky, randomly chosen winner will be sent a pair of bezels!
keep looking »