Talented Thespa McLaughlin was part of our Creative Team in 2012 and we were lucky enough to run across this "lost" video.
Watch Thespa share how she preserves dried 4 leaf clovers with ICE Resin!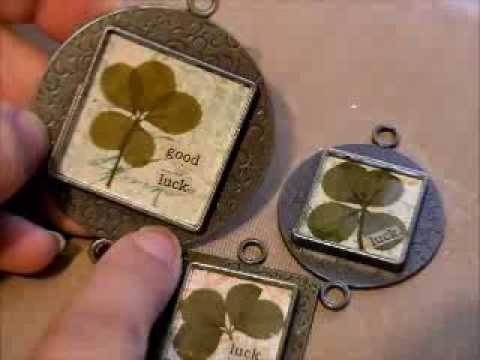 Discover more about Thespa on her Vintiquities blog.
As a trend researcher, I find mixed metals and use of vibrant gemstone cabochons or faux gemstones set in cool metals like silver to be the trends in the upcoming season. Combining both these trends, I have created a design which can be made even by a beginner in jewelry making with no metalsmithing or gem setting experience whatsoever.
Divya,  www.jewelsofsayuri.com
Materials
ICE Resin® (resin – Part A & B, mixing cup, stick)
Art Mechanique Hobnail Shield bezel
Flat artistic wire – gold color
Acrylic metallic paints in copper sulphate blue, green, orange, pink
Art Mechanique German Glass Glitter – Gold
8mm Green glass beads – 6
Maroon glass cylinders – 2
6mm Blue crystal rondrells – 2
3mm Bronze crystals – 4
gold tone eyepins – 10
Brass link chain – 16"
Gold tone Jump rings -7
Lobster clasp – 1
Tools
Round Nose pliers or step pliers
Flat nose or chain nose pliers
wire cutters
Paint brush
Black sharpie marker
Method
Cut 5" of artistic wire and using step pliers or bail pliers curve the wire such that it make partitions in the bezel when set in it
Place the wire shape in the bezel and trace its outline with a sharpie
Apply dabs of acrylic paint inside the lines in the bezel to create a marbled look. Color the sides of the bezel too. Sprinkle some Gold German Glass Glitter for shine. Let dry
Mix equal quantities of Part A & B in a cup as per instructions
Apply a thin layer of resin on one end of the wire and glue it in the bezel following the trace. Hold for a while.
Pour resin gently on top to cover the entire bezel right till the edge of the wire, just sealing it in. Cover with a dust cover and set to dry and cure for 24 -72 hours
Loop the following beads individually with simple loop:
Green bead (6 times), bronze-maroon-bronze combo (twice), blue crystals (twice)
By opening and closing the loops on the beads connect them in the following pattern – one green bead followed by 2" of chain, another green bead, maroon set, green bead, 1" of chain, blue crystal and then a jump ring. Repeat to make the other side.
Cut the remaining chain into two and add the clasp in the center with jump rings.
Connect the other ends of the chain to the beads via jump rings.
Connect the bezel to the green beads with jump rings.
What vibrant color pairings do you favor?
Divya N describes her style as "Indian Contemporary", and her jewelry is "Designed to please your soul".
Her longing for pretty baubles led her through a degree in design to stepping out into her own with business, Sayuri. (Click to learn all bout what that word means to Divya.)
Her blog posts are thoughtful and give the reader insight into another culture and what it is to be an artist and vibrant colors adorn her work. You can check out her blog:  www.jewelsofsayuri.com
Pahlakhara Necklace
Phalak means a slab or colored glass and Phalakhara refers to a traditional mutlistrand bead necklace which was connected with slabs of glass and was popular in the Satvahana Empire in ancient India. As a design educator and a history buff, I have always been drawn to costumes and jewelry worn in the ancient times so here I have recreated a traditional design with modern materials and a contemporary approach.
Materials
ICE Resin® (resin – Part A & B, mixing cup, stick, old brush)
Hobnail rectangular bezels small- 2
German Glass Glitter – sky blue
German Glass Glitter – amethyst
Green ceramic beads
12mm Green glass beads -2
8mm Hot pink compressed glass beads – 2
Cedarwood copper beads -2
Beading wire
Textured gold tone bead cap – 2
Gold tone eyepins – 4
Altered clasp*
Crimps
Nose pliers
Nippers or wire cutters
The antique brass clasp was altered by applying Nail polish (pink and blue) color on it and then sealed with resin
Method
Mix equal quantities of Part A & B in a cup as per instructions
Apply a thin stroke of resin in the bezels and fill one half with blue inclusions and the other half with amethyst. Pour resin gently on top to cover. Cover with a dust cover and set to dry and cure for atleast 24 hours
String 19 small green beads onto the beading wire and crimp both sides to a gold tone eyepin each. Repeat with 21 and 23 beads on a line each ending up with a cluster of 3 strings.
Add a bead cap each on either side and make a wrapped loop and connect to one side loop of the altered bezel. Repeat for the other side
Loop one 12mm green bead, followed by a pink bead on a gold tone eyepin connecting to the bezel. Repeat for the other side
String 14 small green beads onto a piece beading wire, first connected to the looped beads, followed by one copper bead and crimp ends to the clasp. Repeat for the other side
Discover more about Divya N:   Facebook page – www.facebook.com/JewelsofSayuri     Twitter – @jewelsofsayuri   Etsy Store – www.etsy.com/in-en/shop/JewelsofSayuri
THANK YOU!
It is always so difficult to say goodbye to our outgoing team members. They have worked tirelessly for ICE Resin and have inspired thousands and thousands of people with their unique voices and design aesthetic. Thank you Jen Crossley, Jennifer Wynn Cabic, Polly Hendrickson, Kathy Cano-Murillo, Tatiana Allen, Kim Mallet Williams, and Baerbel Born  for your dedication and commitment. You all rock in every way!
Jen Cushman, ICE Resin VP
As ICE's content manager it has been my pleasure to work with each of you. Thanks for bringing beauty to light, and sharing your gifts!
Carol La Valley
Jen Cushman is excited to announce that she'll be participating as an artist in
Creative JumpStart (CJS) 2015
, run by Nathalie Kalbach. If you're not familiar with CJS, it's a one-of-a-kind online event to fire up your creativity in Jan 2015.
Learn techniques, discover new materials, and connect with artists and crafters.
Throughout January participants get 25 videos from 23 featured artists. I'm proud to be one of those artists, called "JumpStarters." See for yourself:
You get 25 videos for just $25 (USD).
Here's a coupon code for $5 off to sweeten the deal!
The coupon code cannot be combined with any other coupon codes out there for CJS :) The code is good
until Jan 15,2015
CJS 2015 is proudly sponsored by Liquitex.
keep looking »