Roses always end up wilting so why not make one that never will. I loved how I could use the crafting supplies I had in my stash to create this eclectic, steampunk inspired necklace.
Supplies:
ICE Resin®
Art Glitter
Heart hobnail bezel
Rue Romantique™ Flip Book (Projects & Clip Art)
Flowers and leaf
Vintage linked chain, Watch pieces
A few paper scrapbooking roses and ICE Resin® make for the perfect pair. I used one of the hobnail heart bezels and accented it with art glitter, Rue Romantique™ papers, and filled the bezel with ICE Resin®. Once it set I used resin to adhere my vintage watch piece on top.
The flowers and leaf were dipped in ICE Resin® then adhered to the watch piece. I finished the bezel with a few gear pieces and a linked chain.
Jamie Dougherty
I love milagros and even more – I love to make them myself. I made a mold of my favorite milagros from Mexico and use ICE Resin® to create them in clear, or I'll add pigment powder to create other colors. I like to leave them clear, because then I can add designs on the back so it shows through. But in this case for my necklace, I left them clear!
In my artful world, hearts and the concept of love is a 24/7/365 thing. I'd say in 99% of my pieces, you'll always see a heart somewhere, I can't help it, I like to spread love! I made this necklace the weekend following Valentine's Day. It's a reminder that the sacred heart and its eternal flame of hope are always there to give give us inspiration, peace, hope and faith!
For this piece, I used chipboard and metal as my foundations, and added Iced Enamels™ on the borders of each, then filled in with ICE Resin®.
For the middle piece, I did something a little different. I started with a metal frame, and working on wax paper, I only added a bit of resin (tinted with pigment powder) around the edges to give it a frame. Then after it cured, I glued the picture from behind. I love the result – it is very dimensional and has a cool pink framed look around the image. For the dangles, I used a mini chipboard bezel filled with glitter and my image, next I made my own resin milagro.
Kathy Cano-Murillo, CraftyChica.com
All those pretty spoon jewelry pieces I saw last year made me think how I can adapt them to my personal taste.
My mother hoarded some vintage silver spoons and I have been lucky to get some from her. I added paper flowers and moss, both bathed in ICE Resin before adding it to the spoon. This makes all embellishments sturdy and long-lasting. I covered the inside of the spoon with Iced Enamels 'Relique Glitz Silver' for a shimmering base, then poured resin in the mold and added the embellishments. The spoon works like a bezel for me and holds all the findings I want to expose.
Materials:
ICE Resin®
Iced Enamels™ Relique Glitz Silver
Rue Romantique™ ribbons
dried moss, paper flower, pearls, rhinestones.
My tip: If you work with ICE resin, always keep some findings near, like the moss or the flower. With the remaining resin you always can cover the embellishments and save for later use. The hardened charms can be used right away in any future project.
Baerbel Born, Inspire
You are lucky in love!
You get to construct an accordion-style mixed-media book in this video tutorial by our "ICE Prince" John Creighton Petersen.
A delightful Valentine's gift with Iced Enamels Raspberry Relique, Art Mechanique bezels, paper and embellishments.You will need 3 hobnail bezels–a heart and 2 rectangles.
Even if you have never used ICE Resin before, John makes this project accessible!
Let's get started.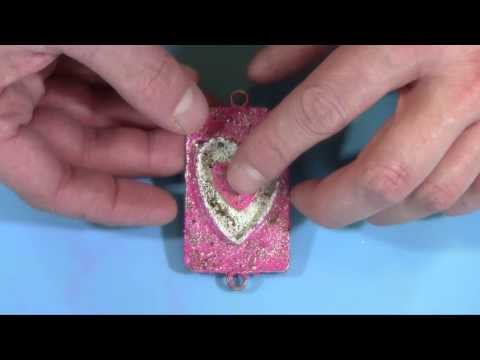 You can see more of John's work right HERE.
I love finding ways to use ICE Resin in my paper-crafting projects. I received this beautiful box and spray painted it with Glimmer Mist to give it a deep walnut effect then added some old circa 1900 papers that were covered earlier in ICE Resin. Then added a new piece of circa 1909 accountants page to the top and covered entirely with ICE Resin again. I added a few small watch parts to give it a vintage look.
Candy Rosenberg, The Altered Life
Tools and Materials:
ICE Resin
Wood Box (Walnut Hollow)
Glimmer Mists
Vintage Papers
Watch Parts
Technique:
1. Measure and mix 1/2 oz. ICE Resin
2. Cover top of wooden box once paint has dried.
3. Add papers and watch parts while resin is still wet. Let dry.
ICE Resin is thrilled to announce that Kathy Cano-Murillo has joined our 2014 Creative Team!
Kathy Cano-Murillo is a writer, artist and founder of the award-winning site, CraftyChica.com. Her "Mexi-boho" style crafts have been carried by hundreds of retailers, including Bloomingdales, Target, and Michaels.
She is a former entertainment reporter for The Arizona Republic, and has authored nine books, including Crafty Chica's Art de la Soul and the novels, Waking Up in the Land of Glitter and Miss Scarlet's School of Patternless Sewing.
She has been profiled in The New York Times, The Washington Post, USA Today and NPR, and now has an extensive Crafty Chica product line.
Kathy lives in Phoenix, AZ, with her husband, two kids and four Chihuahuas. Her mission is to spread positivity through creativity!
It's pretty easy to discover more about the Crafty Chica:
Her Website: http://www.craftychica.com/site/
Facebook: https://www.facebook.com/kathycanomurillo
Twitter: https://twitter.com/craftychica
You Tube: http://www.youtube.com/craftychica
Pinterest: http://pinterest.com/craftychica
Instagram: http://instagram.com/craftychica
Tumbler: http://craftychica.tumblr.com/
A delicately imprinted card with buttons still stitched on it magically appeared on my workbench. I am sure it was thrift store find at some point in my travels. I liked the card so much I wanted to use just as it was.
I thought the architectural connection between the Rue Romantique Jet Fire Polish chain and the plain brass chain gave the necklace another antique element.
The woman in the photo must be dreaming. Is it a lost love? OR maybe the man who tipped his hat to her in the park?
Of course in years gone by people did not smile in the photo because it was easier to hold a straight face for the second it took to process the plate, than to smile. Do you ever look at old photos and wonder what the person would look like if only they smiled?
Jen Crossley, A Mark in Time
To make the pendant in this piece you will need: ICE Resin, an Art Mechnique large square hobnail bezel, a card of buttons, a small ornate bezel as a frame and a photograph.
Layer the card of buttons and the small bezel with the photo already glued into it inside of the hobnail bezel. Mix ICE Resin per manufacturer instructions and drip into bezel with your craft stick. Let dry.
Tip: Because of the layers in this project you will need to watch that air bubbles do not get trapped as you pour. Use your craft stick to nudge the resin into any nooks and crannies. You can pop any trapped bubbles that appear with a toothpick.Enjoy!
Jewelry Affaire  published my necklace ART in the Winter 2014 issue and I have a double sided bracelet and my necklaces "Shattered" and "Studio" are  is in The Romance of Mixed Media Jewelry ebook by Kristen Robinson and ICE Resin.
I found this old brass corner piece from a cabinet and I loved the shape of it. I knew it would make an interesting piece of jewelry, and chose to make it the focal point for a necklace. It is both ornate as well as rustic, and it immediately drew my attention because of the interesting details of the piece. I love using old and rusty or vintage pieces that you wouldn't normally find in a necklace, and I knew this metal corner would add unique interest. The scroll shape of the metal reminded me of something romantic that you would find on a women's dressing table in days gone by. I immediately knew that I wanted to use Iced Enamels in my piece, and maybe a piece of an old letter. I also love to use words and phrases in my jewelry, and the words "Be True" from the Rue Romantique Flip Book of Projects and Clip Art were perfect. It ties into the Romantic theme I wanted. I decided to include a heart, and I added a few pieces of Raspberry Organza Ribbon. I also decided to make it a choker style instead of a pendant, again to tie into the Romantic theme.
Polly Hendrickson, Polly Hendrickson Jewelry Design
Products, Materials and Tools:
Iced Enamels Relique German Silver
Bronze Sheet Metal, 22 gauge
Iced Enamels Relique Turquoise
Jump Rings
Iced Enamels Relique Glitz Copper
Aqua Rhinestone Chain
Iced Enamels Medium
Rustic piece of Brass Metal
Rue Romantique Flip Book of Projects and Clip Art
Torch
Paper Sealer
Heat Gun
Mixed Metal Hobnail Shield Bezel
Antique Bronze Texturing Hammers
Organza Ribbons: Raspberry
Chain and Round Nose Pliers
One Lamp Work Glass Bead in Iced Blue
Metal File
2 small Silver Washer Beads
Wire Cutters
Bronze Wire,
20 gauge Drill with Bit or Metal Punch Pliers
Metal Saw or Snips
2 small Disposable Paint Brushes
Steel Wool, 4 Ott
Sharpie Marker, Black
Choker Necklace, Industrial Chic
Instructions:
1) Begin by cleaning your piece of metal with Steel Wool. This will remove any residue, and prepare the surface for the Iced Enamels Medium.
2) Paint a thin coat of Iced Enamels Medium on the piece of metal, and cover it completely.
3) Once your metal piece is dry, sprinkle a light coating of the Iced Enamels Relique in German Silver all over the areas you want to cover on the metal piece. Any excess you have can be added back into the jar.
4) Using your Heat Gun, melt the Enameling Powder. You can always add more, so start with the coverage you think you will need. (Leave the edges around the metal piece exposed if you like a more rustic look).
5) Add a small amount of Iced Enamels Medium to the places you want to add the next color, and sprinkle the Iced Enamels Relique Turquoise over the Medium using just enough to add a touch of color over the German Silver.
6) Repeat step number 5, only this time sprinkle the Iced Enamels Relique Glitz in Copper over the metal, again very lightly, just enough to highlight the German Silver with some sparkle.
7) Set your metal piece aside and choose some paper from the Rue Romantique Flip Book of Projects and Clip Art. You will need a piece to go on top of the Iced Enamels on the metal piece, as well as the "Be True" words for the Bezel.
8) Use a Sharpie Marker to darken the edges of the torn paper, and cover the paper with Paper Sealer on both sides of each piece of paper.
9) Drill or punch holes in the edges of the metal piece to hang the Jump Rings from. File the edges using the Metal File until smooth.
10) Add the beads to the Bronze Wire, and thread one end of the wire through the bottom hole in the metal piece. Keeping the beads and metal piece far from the flame, use your torch to ball each end of the Bronze Wire. Once the wire has cooled, twist and wrap it using your Pliers, or just with your hands. Make a loop at the top (to hang the wire with the beads from), and be sure to add the empty Bezel to hang from the bottom loop as a dangle.
11) Using your Jeweler's Saw or your Metal Snips, cut the Bronze Sheet Metal into a Heart shape. File the edges to smooth, and use your Texturing Hammers to texture the Heart. Rub the Heart with Steel Wool to smooth out and clean it.
12) Color your heart all over with your Black Sharpie Marker and once dry, use the Steel Wool to remove the marker. The marker will be permanent in the textured crevices in the Heart, but will come off where the Steel Wool is used. Repeat this process until you are pleased with the results.
13) Using your Pliers, attach one of the Jump Rings to the top of the metal piece, and to the bottom of the Heart. Attach the other Jump Ring to the top of the Heart and to the Choker Necklace.
14) Mix the ICE Resin according to manufacturer's directions. Using your disposable Paint Brush, lightly brush the back of each piece of the sealed paper, and attach the letter piece to the enameled area on the metal piece, and the "Be True" words into the Bezel.
15) Cut 3 of the Aqua Rhinestones and brush the back with a small amount of ICE Resin and place them inside the top of the Bezel over the paper. Repeat this process with one more Rhinestone and place it at the bottom of the Bezel.
16) Lightly brush a thin coating of ICE Resin over all of the Iced Enamels and the paper on the metal piece. This will protect the Iced Enamels and make them permanent.
17) Slowly drip the ICE Resin into the Bezel, covering the paper and the Rhinestones completely until full. Add a few extra drops very slowly and carefully for a nice doming effect.
18) Let dry at least six hours in order for the ICE Resin to set properly. It will be completely cured in 3 days.
19) Cut 3 pieces of the Raspberry Organza Ribbon. Cut 2 pieces about 2 inches each, and the third piece cut 1 inch.
20) Tie the two inch pieces to the loop just above the Bezel, one at a time and in opposite directions for more dimension. Tie the one inch piece to the Jump Ring just below the Heart.
"Promise", "Fanciful" and "Memories" are three of my jewelry pieces that are feature in the ebook published by Interweave, the Romance of Mixed Media Jewelry by Kristen Robinson and ICE Resin.
Boy oh boy, I am so excited to share my first Creative Team Wednesday post! When working with Ice Resin the possibilities are endless so it was hard for me to narrow down what to create as my first official Team piece.
After putting some heart felt thought into it, I was reminded of what a friend said to me after finding out I had been chosen to be on the 2014 Ice Resin Creative Team. She told me she thought I might find a bit of a platform in Ice Resin to show the world what I was made of.
This wonderful soul sister of mine also warned me that there would be challenges of sorts to stay true to myself. Her advice to me was "Be you."
So there you have it. The inspiration for this piece is me finding my platform while staying true and being me.
Supplies:
house shaped box
ICE Resin®
red & white striped paper
cardboard
ruler paper
Gel Medium
Art Mechanique™ Diamond Frame Silhouette
Iced Enamels™ Medium
Iced Enamels™ Garnet (available mid March 2014)
E6000
bee charm
game piece monkey
blue lace
Instructions:
1.Trace outside dimensions of your house shaped box onto the striped paper.
2. Cut those pieces out as well as pieces to fit the inside of the box.
3. Measure width & depth of the box's base and add a 1" border for stage height.
4. Use those measurements to cut the ruler paper and cardboard to size.
5. Glue ruler paper down to the cardboard with some Gel Medium.
6. Draw a 1" border all the way around and fold cardboard on the line.
7. Cut out the 4 corner pieces and tape the inside to hold the stage together.
8. Empty 2 entire 1 oz. ICE Resin® syringes into a cup and mix for 2 minutes.
9. With a disposable brush cover entire house inside and out with ICE Resin®.
10. On a plastic bag apply ICE Resin® to back of each piece of striped paper.
11. Attach papers to house one by one and brush ICE Resin® to front sides.
12. Insert the stage to the bottom of house and cover in ICE Resin® as well.
13. Allow piece to cure for 72 hours, in a clean/dust free environment.
14. Brush the Diamond Frame Silhouette with Iced Enamels™ Medium.
15. Sprinkle it with the red Iced Enamels™ and fuse with a heat gun.
16. Snip off the bottom of the frame and glue a bee onto the top with E6000.
17. Use the E6000 to attach the blue lace to monkey and monkey to the stage.
18. Also glue down the game letters "YOU" and Diamond Frame to roof top.
Wishing you smiles and sunshine,
Tatiana, Crafty Cutie
p.s. Check the ICE Queen Zine on Friday when one of my creative works is a part of the ICE Resin Walnut Hollow Blog Hop.
My Mum was gifted for Christmas the most beautiful decorative tin box full of fancy biscuits. As soon as I saw the yellow and gold baroque style pattern I knew I wanted to cut it up and make lots of pretty things from it. She very kindly gave me the tin after we all helped her eat the fancy biscuits. After reading the wonderful new book, Resin Alchemy and planning to use the technique on page 135, Resin Druzy Stones a plan popped into my head. I wondered what a bracelet would look like with a druzy stone and some enamelled pieces together. I had to differ slightly from the instructions in the book as it would not fit my needs for the plan I had.
Once I had the pieces in front of me I decided I would like it to match the fabulous new boots I received from my other half for Christmas, a match made in heaven. My bracelet looks fantastic with my new boots so I plan to make a matching necklace, earring's and maybe a ring also. The best part about using the fancy tin means when it flips over as I move the back side is almost as pretty as the front from the decorative pattern on the tin.
Thanks for visiting
Clare Horner, Got Paint in My Hair
Tools and Materials:
ICE Resin®
Iced Enamels™ Turquoise Relique
Iced Enamels™ Medium
Decorative biscuit tin
Doming block
Disc Cutter 1/2inch 3/4inch
Hammer
Glass glitter
Jump rings
Toggle clasp
Heat gun
Chain from stash
Pliers
1.5mm hole punch
Technique:
1: Using a disk cutter and a doming block cut and dome two ½ inch and one ¾ inch circles from a decorative tin box.
2: With a brush paint the two ½ inch pieces with Iced Enamels Medium and cover with Iced Enamels Turquoise Relique powder. Shake the excess back in the tub. Heat both pieces from underneath until the powder has turned into enamel.
3: Mix ICE Resin to the manufacturers instructions
4: Using the mixing stick or a sponge coat the two enamelled pieces with resin, adding a small pool in the centre and set aside to cure in a level area with a dust protector covering them.
5: Scoop some resin into the smaller domed piece of tin so it is half full making sure all the sides are covered in resin. Shake on a generous amount of glass glitter. Set with the others to cure.
6: Pour any leftover resin in a mould or wipe onto book page so it is not wasted.
7: Let cure for 6 to 10 hours.
8: Once cured, mark all pieces equally on the back and punch 2 holes opposite each other. Attach to chain at desired length and wear it.
I used an antique copper coloured chain and toggle as it highlights the coppery coloured parts of the turquoise Relique enamel.
keep looking »