Late winter in my area brings lots of snow melting from the Rocky Mountains.   The ICE Resin inclusions Shattered Opal reminds me of the beautiful snow melting into cold blue water.  I made a pair of earrings to remind me of this beautiful time all year long!!
For this project, I used Ice Resin, Opal Shattered Inclusions, hobnob oval bezels, 2 inches sterling wire, blue nail polish, Craft Cup and Stir Stick, a non-stick craft mat, ear wires, 4 inches leather.
Instructions:
Using a color behind the shattered opal inclusions helps create depth and increase the holographic effects of this awesome product.  I painted the insides of the hobnob bezels with blue nail polish.
While waiting for the nail polish to dry, Mix ICE Resin per package instructions.   Separate half the Ice Resin into a clean mixing cup.  Using a clean mixing stick as your "spoon" add 2 heaping sticks of the Shattered Opal Inclusions in half of the resin.
Mix the inclusions thoroughly.  Using the stir stick, fill the hobnob bezels with the resin.  (you can use the remaining clear resin for another project or make resin paper for a later project)
Allow Bezels to completely dry.
 Cut Two one inch pieces of silver wire.  For added texture, you can draw beads on either end with a torch and hammer the wire flat.  Cut two pieces of 2 inch leather.  Thread leather through one of the loops on the hobnob bezel.  Wrap the silver wire around the leather to secure. Connect the bezel to the ear wires and enjoy your new earrings!!
TIP: Using different colors as your background will change the effect of the shattered opal inclusions.  Its beautiful with purple, pink, green….well you get the picture!
You can find more of my work at  www.Sweetpeajewelry1.blogspot.com
Poured a bezel you did not like after it dried?
Sandy Martin from the ICE Resin Design Team shares how to get the resin out so you can re-use your bezel.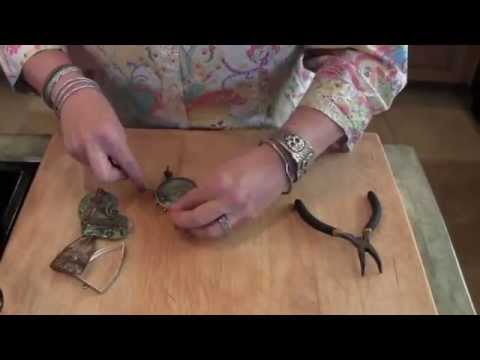 By The ICE Prince, John Creighton Petersen
When I think of Winter, snowflakes are the first thing to come to mind! And for this project, I wanted to create a layered look that resembled an icy covered window with lots of layers showcasing the natural beauty found during winter time. I've also included a great tutorial for how to use Iced Enamels™ as an adhesive when layering metal pieces together, in this case the metal snowflake which is the base of this piece with the Large Oval Hobnail Bezel.
Supplies used in this project:
ICE Resin®: ICE Resin®, ICED Enamels™ Medium, ICED Enamels™ Relique Powder Turquoise, ICED Enamels™ Inclusions: Shattered Inclusions Opal, German Glass Glitter Sky Blue; Large Oval Hobnail Bezel, brush, stir sticks, measuring cups
IMAGINE Crafts® featuring Tsukineko®: Vertigo™ Taffeta, SHEET Metal™, irRESISTible™ Texture Spray: Wedding Dress, Bahama Blue; GooseBumps™ Texture Spray Shimmer, StazOn®: Midnight Blue, Blue Hawaii; InkBlushers, Craft Mat
Spellbinders®: 2013 Snowflake Pendant, Grand Calibur Machine
Miscellaneous: Swarovski flat back rhinestones, heat tool, wire and related tools (for making jump ring), necklace
Instructions:
1. Die cut one large snowflake from a piece of SHEET Metal to create the base of this bezel piece.
2. Paint on ICED Enamels Medium along the side edge of the large oval bezel. Sprinkle with ICED Enamels Relique Powder Turquoise, tap off excess and heat set.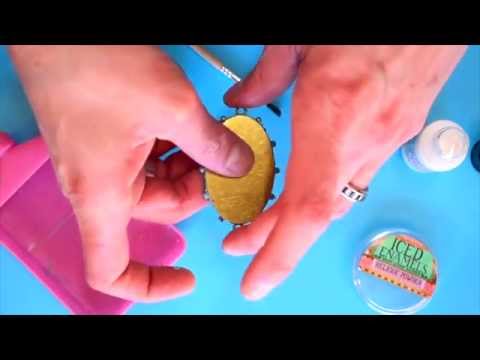 3. Watch the video (above) to see how to use ICED Enamels Relique Powders as an adhesive to hold the two metal pieces together. Once these two pieces have been joined, apply at least one thin coat of ICE Resin to the enameled parts of the snowflake and bezel.
Optional Step If you like the look of the contrasting metals (above left) after joining the snowflake and bezel together, you would only have to add resin to the front side of the piece described above. You can finish the backside of the bezel with ICED Enamels (above right), adding multiple layers of Relique powder to make the backside of the bezel completely smooth. If this is your preference, remember to also set the backside of the piece with a couple of layers of resin.
4. Cut a piece of Vertigo film to fit inside the bezel. Click here to see an awesome tutorial by Clare Horner on how to use your bezel as a stencil to get the perfect fit.
5. Color the backside of the Vertigo using an InkBlusher with StazOn Blue Hawaii.
6. On the opposite (plain side) of the Vertigo, spritz with irRESISTible Wedding Dress followed by Bahama Blue, allowing each color to dry completely. You can use a heat tool to speed up the drying time.
7. Spray a thick layer of GooseBumps Shimmer over the entire piece and heat with a heat tool just to the point that the GooseBumps lightly bubbles. This gives the "ice" effect and you can do this multiple times to achieve different looks.
8. Mix a small batch of ICE Resin. Set the Vertigo piece into the bottom of the bezel using the resin as an adhesive.
9. Add a layer of resin on top of the Vertigo background and sprinkle with ICED inclusions. Allow to set.
10. Die cut two (different) small snowflakes from SHEET Metal. Color using ICED Enamels Relique Turquoise, then spritz with irRESISTible sprays. Edge with StazOn Midnight Blue.
11. Add one of the snowflakes on top of the first layer of set resin. Add more inclusions (as desired) with this second layer of resin and allow this layer to set.
12. For the last layer of resin, add the remaining snowflake along with inclusions; allow to set.
13. Using ICE Resin as an adhesive, add flat back rhinestones onto the piece for added bling.
Do you love winter? Or are you counting the minutes until spring arrives? For this project, I wanted to capture some of the beauty of a winter wonderland, but also celebrate the transition of spring, which will be here before we know it, even if it doesn't seem like it right now! In my last project, I introduced my technique for creating window layers with laminating plastic. This project also features layers, topped with a frame decorated with multicolored flowers.
Supplies
Art Mechanique™ Mixed Metal Hobnail Rectangle Bezel, large
ICE Resin®
Iced Enamels™ in Ivory Relique & Turquoise Relique
Iced Enamels™ Shattered Inclusions in Opal
Art Mechanique™ Paper Sealer
Iced Enamels™ Medium
Colored paper or cardstock in an assortment of colors
Laminating plastic
Permanent marker
Mixing cup & stir stick
Disposable paintbrush
Scissors
Opaque Silk Ribbon Bundles (sari ribbon)
Bronze jump rings
Brass hook clasp
To get started, make a template that fits the inside of the bezel. Using the template, cut a piece of light blue card stock, which will serve as the background — or bottom — layer of the bezel; the light blue represents the sky. Coat the paper with Art Mechanique™ Paper Sealer, painting it on both sides and all edges to keep resin from absorbing into the paper.
When the paper dries, paint irregular shapes of Iced Enamels™ Medium onto it, and sprinkle with a mix of Iced Enamels™ in Turquoise Relique and White Relique to add texture and suggest clouds. You do not need to heat the Iced Enamels™ for this project.
Using the template, cut a piece of purple cardstock to fit the bezel. Use the permanent marker to draw a simple mountain design. Cut outside the drawn line; coat all sides and edges with Paper Sealer, and let dry.
Cut a piece of dark green cardstock to fit the template, and draw simple triangle shapes to represent pine trees. Cut outside the lines, and seal with Paper Sealer. When dry, paint the tops of the trees with Iced Enamels™ Medium and sprinkle lightly with the Iced Enamels™ Shattered Opal Inclusions to simulate snow.
Using as many or as few colors of cardstock as you want, draw and cut out small flower shapes, which will be used to "frame" the winter image. Coat each flower with Paper Sealer, and set aside to dry.
Mix a small amount of ICE Resin® according to the package directions, and paint a thin layer inside the bezel. Place the blue paper layer in the bezel. Add a very thin layer of ICE Resin® on top of the blue layer and place the purple mountain layer on top of the first layer.
When the first two layers have set up a bit, add a thicker layer of resin.
Once the thicker layer has set up a bit, place the paper trees on top of the thicker layer. The thicker resin layer helps to create dimension between the layers.
While the thicker tree layer sets up, use the template to cut a piece of laminating plastic to fit the bezel. Paint a "frame" of Paper Sealer around the edges of the plastic and press the flowers onto the Paper Sealer, creating a frame for the bezel image.
Paint a thin layer of Paper Sealer on top of the flowers to create a strong seal for the flowers. When it dries, trim the flowers to ensure they do not go beyond the edge of the plastic.
Add a thicker layer of resin to the bezel, on top of the tree layer, and place the flower frame layer on top. Press the edges down very gently, helping an air bubbles to move to the edges and release. Let the resin set for a few hours.
Once the frame layer is secure, add additional resin as desired on top of the flower frame layer to create a domed top.
Incorporate the completed bezel into a finished necklace or bracelet, and enjoy this celebration of the beauty of winter and spring!
For more about my work, go to:
My blog: http://gemfabulous.com/
Website: http://www.huwbijoux.com/
Facebook: https://www.facebook.com/huwbijoux
Instagram: https://instagram.com/huwbijoux
Twitter: https://twitter.com/huwbijoux
ICE Resin's creator, Susan Lenart Kazmer, has been making faux druze stones as part of her artwork for many years.
Clare Horner is going to place this faux druze in a hobnail heart dangle on tomorrow's "Deer to My Heart" necklace, but for now you can watch to video of how to make it.
What color of German Glass Glitter will you choose?
These gorgeous new Milan bezels were designed by world-renowned metalsmith Susan Lenart Kazmer shaped as hearts, teardrops, squares, circles, rectangles, triangles, and ovals. Each are cast in small, medium, and large are available in your choice of white bronze or warm yellow bronze.
The elegance of the MILAN line of bezels doesn't stop with the Talisman shapes.
The textured edges are a design element in their own right, or use them as a surface to add Iced Enamels or perhaps, rhinestones.
Another striking visual element is the ribbon-like edge of the seam that fully encloses each shape. 
The open back allows light to shine through when you are working with ICE Resin® .
The loops at both ends on many of the bezel shapes make them possible to use to create amazing necklaces with the motion of a bead, wire or fabric dangle as well as easy to use to make beautiful bracelets. 
The Milan Line is attractively ranged in price from $8 to $16. Retail only.
I think fondly of childhood winters, sleds flying down snow capped hills, snowball fights and bundles of wet clothes piled in the entry way as we came in from playing in the snow as my mother handed us a mug of hot cocoa. I loved those days. I reminisce about those days. However, as I write these words, I know that there are many snowed in, watching more snow fall down and thinking 'When will this end?"   Take heart, spring is around the corner but if you would like it now, then my Blooms in winter project is just what you need to rid your creative heart of the wintertime blues and create a soldered inspired necklace with thoughts of spring and the colors of a cool white winter.
First my thought for this project was of a snowy white bracelet with beads and iced enameled buttons but when I began something was a miss. It was too wintery, too much of what everyone is seeing right now. So my thoughts turned to flowers- what we all long for in the dead of winter. I had a piece of chipped china in my studio, just waiting to be used. It called out to me and I began to chip away at ideas. Then I turned to the beautiful ICED Enamels. German silver was just the ticket to get the look of soldering without soldering. I do love to solder but I do know that not everyone has the tools or the desire to delve into the world of silver, flux and an iron. So with the new direction, I began to hammer away at the plate until I found a shape that held enough interest. With the chipped piece in hand, a little filing made the edges ready for the ICED Enamel. Two layers (cooling time in-between) of the silver and the soldered look was achieved.   After sealing the enamel with ICE Resin®, the next step was to embellish the piece. Using a part of a metal medallion, beads, vintage French wired leaves and ICED Enamel coated word of "HOPE" the necklace came together. Finishing with a beaded chain, the shimmery white from the beads took me back to the snow filled days but the focal point of the enameled china piece takes me to the future where blooms and hope spring eternal
Gather
Hammer
Towel
Chipped china
Goggles
Metal file
Enamel medium
Disposable brush
ICED Enamel™ – German Silver Relique
Piece of scrap paper
Heat tool
Craft mat or tile
ICE Resin®
Disposable cup/brush
Plastic gloves
Adhesive – such as E6000
Bail, Metal medallion
Tin snips
Wire – head pins,
Crystal beads
Embellishments
– optional such as French-wired beads, charms
Chain or ribbon for necklace
Create
Wearing goggles, place plate between towel and hammer until the desired size and shape is achieved.
2. Using the metal file, file all sides until smooth so that there are no rough edges.
3.  With disposable brush, brush on the ICED Enamel medium along edges and brushing over the edges on the front of                      china piece.
Place piece of china on a scrap piece of paper and pour or spoon the German silver over the piece. Tap off excess from china piece. Pour excess back into jar.
Place china piece on craft mat or tile, using the heat gun, heat till the color has melted together and created the look of solder. Once cooled, repeat if desired
Mix a small amount of ICE Resin® according to directions and coat china piece with resin using a small brush. Allow to dry for 12 hours.
Snip medallion to desired size, if necessary. With beads and wire, create dangles and attach to medallion. Add other embellishments if desired.
Adhere bail and medallion to back of the enameled china piece with adhesive.
Once set, add chain or ribbon for necklace.
Wear a little spring even in the midst of winter.
***To enamel the metal word Hope, coat the metal with ICED Enamel medium and apply the Ivory ICED Enamel or the color of your choice. Heat until melted. Let cool. Sand the metal until the word or image is visible and then seal with ICE Resin®.
This project may look a bit familiar as I did one similar to it last time I was on the ice Resin team back in 2013. But this time I wanted to showcase how versatile ICE Resin is as an adhesive and a collage material.
It is so much fun to recycle things that would normally find themselves in the trash bin. Have you played with soda cans? They are thin aluminum that doesn't rust, is thin enough to cut with simple scissors, and a die cut machine easily turns them into all kinds of shapes. You can see how with a few simple techniques you can make great jewelry pieces with soda cans.
Ingredients:
Part one:
Soda cans cleaned
Pages from a vintage book
Metal shears
Safety glasses
Work or leather gloves
Cuttlebug or Sizzix or Artisan Xplorer die cut machine
Heart and butterfly cutting dies in two sizes
ICE Resin and appropriate supplies for mixing
Small sponge brush
Latex gloves
Garbage bag
Collect some cans and make sure to rinse them out. REMEMBER: use your safety gear! Safety glasses and gloves are a must for this project! With those in place use your heavy metal shears and clip off the top of the can. I clipped through the drinking hole into the softer metal then maneuvered around to clip off the entire top. Then cut down the seam or towards the back and clip off the bottom. Now you have a flat piece of metal. Rinse or clean as necessary and be careful the edges are sharp. (Use a medium grit sand paper to remove any loose pieces or sharp burrs)
Mix up your resin according to instructions. While you wait for the bubbles to clear lay out a garbage bag for your wet pieces, grab your gloves, sponge brush, and your vintage pages. Pour or dip your brush into the resin and onto the can metal sheets. Be sure to coat all the way to the edges then press your pages down on top. Pour more resin and using the brush coat liberally. Lay on your bag to dry. Continue with all your can sheets until done.
Leave to dry for 24 hours. (You just collaged paper to metal with ICE resin!!)
When dry ready your die cut machine with heart dies and cut a minimum of five large petals and three medium sized for the flower pin. Cut a few butterflies from any extra collaged can pieces.  Your medium grit sandpaper can be used to remove sharp edges.
Iced Enamels in Carnelian, Turquoise, and Ivory
Iced Enamels Medium
Small paintbrush
Heat gun
Small round hobnail bezel
Clipart
Small hole punch
Metal hole punch
Micro screw
Medium grit sandpaper
Three Tim Holtz ideaology pen nibs
White glue, like ModPodge, for paper sealing
More ICE Resin
Starting with the larger petals place five onto the micro screw. Follow with three of the  medium petals. Punch holes in your pen nibs and place those on top. (I used a Cropodile) Screw the nut into place, I used jewelry pliers, as tightly as you can get it. The nibs may bed bending to fit into the petals. I also bent the petals with my fingers to mimic flower petals.
Brush some medium onto the flower petal edges and dip in the enameling powder. Heat with embossing gun until melted. Continue with all your petals. With the butterflies I did some edges and some of the can designs to hide them, picking enamel colors that I liked as I went.  (I actually did my enameling after I assembled the pieces. You can do either, before or after.)
Now you're ready to mix up another batch of ICE Resin. With a sponge brush seal all your enameling and pour resin into your bezel piece. Also coat the butterflies and you can also use the resin to glue the pin backs in place. Just dribble a bit on the butterfly and place your pin. The resin will do the rest! You can also put some resin in the center of the flower piece then drop your bezel into it. For my example I used some tiny heart shapes,which I added last, to steady the bezel piece while it dried.
Voila! You have lovely recycled butterflies and a flower pin to show off your love of the literary!
Until next time,
Susan M. Walls
Here's a couple of ideas to jump start your creativity to use ICE Resin for all your collage projects! Join me, Susan M. Walls, as I adhere paper to re-cycled soda cans and beyond!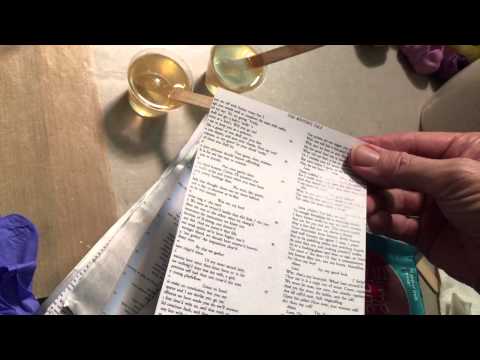 Another tip: Paper fibers absolutely adore resin, so if you want to seal your paper first, it will soak in less resin.
Join Susan Lenart Kazmer and Jen Cushman for an immersion workshop where students will have the opportunity to dig deep into their work by exploring innovative design concepts and honing their metalworking skills. Relics found at Paris flea markets prior to the workshop or treasured objects brought from home will be re-imagined into Talisman pieces of unique jewelry during the week at La Cascade.
A full range cold connection and wire working techniques will be taught, as well as color on metal, Resin Alchemy and Susan's innovative fiber-and-wire connections.  We'll also create a forged wire and resin paper journal so students can capture all the new design ideas and stunning beauty the South of France has to offer. Healthy and delicious meals are prepared fresh each day by French chef Nese Pelt, and dinner is served each evening family style with much joy and laughter. 
$3,200 includes double occupancy bedrooms at La Cascade, meals, instruction and a comprehensive kit to build your pieces. Space is limited. $1800 deposit secures your spot.
 CLICK HERE TO RESERVE YOUR SPACE >>–>
Susan and Jen usually get into Paris the Friday before the workshop  (often joined by a few students) and  attend the flea markets Saturday and Sunday in search of found objects and kick around Monday just enjoying Paris. Jen keeps everyone informed of the itinerary and meeting places and times and everyone is welcome to join them or go explore on their own or in pairs/small groups. For example one year a small group wanted to do the Louvre museum. Susan and Jen had seen it a bunch, so they wanted to hang out a Les Deus Maggots (a famous outdoor café) and go to the vintage clothing shops. Others wanted to walk the city and see the love locks on the bridges. Everyone spent a lovely Monday going our separate ways for the day and then met up for dinner and a sunset boat ride on the Seine.
Tuesday is a travel day to Durfort and we take the train. Tuesday evening is the first family style meal (All meals are fresh and we eat family style.) at La Cascade and students unpack their work spaces. The workshop starts Wednesday and goes through Monday. Saturday is a big market day in Revel, the next town over and it's wonderful and amazing. Small community Flea Markets pop up while we are there and Susan and I learn about them at arrival. We all go check them out in the mornings as they appear for a couple of hours.
Jen says:
"We'll be doing lots of high end resin work and metalworking and enameling. Susan takes everyone through their work and helps each person dig deeper into their work in order to really help hone in and influence change and growth. I'm always there for support and help in the studio during some of the off hours."
"Pretty soon, I will open a private Yahoo group where we can all meet each other and I can give information without clogging up everyone's emails. We "talk" lots on this group so it seems like fast friends once we all arrive. Again, as the space is limited to only 12 people we become pretty tight pretty quickly."
 CLICK HERE TO RESERVE YOUR SPACE >>–>
keep looking »