This project was a long time coming. There were so many individual components that excited me; I'd been waiting for the perfect project in which to incorporate them for months. The theme "contrast" drove the design inspiration, with a black-and-white palette. I really wanted to use one of the new Milan bezels, with its graphic, linear texture, which was a no-brainer to combine with the jasper beads and washi tape, yet another material I'd been wanting to use with ICE Resin®.
Supply List
ICEResin®
Iced Enamels(TM) Medium
Iced Enamels(TM) in Ivory Relique
Milan bezel
Washi tape in black or gray
Copier paper
Disposable paintbrush
Mixing cup & stir sticks
Small scissors
Heat-resistant work surface (small ceramic tile)
Heat gun
Packing tape
Cut a piece of the copier paper to fit in the bezel. Paint a thin layer of the Iced Enamels(TM) Medium on the paper, and sprinkle the Ivory Relique Iced Enamels(TM) on the paper.
With the paper on your heat-resistant surface, use the heat gun to melt the Iced Enamels(TM)-coated paper.
Apply packing tape to the back of the bezel, and burnish thoroughly. Prepare a small amount of ICEResin® for the first pour into the bezel.
Pour a small bit of ICEResin® into the bezel, filling it only enough to cover the bottom and inside bottom edge of the bezel.
Place the Iced Enamels(TM)-coated paper into the bezel, and push the edges and corner down into the resin.
Let the paper and first ICE Resin® layer set for 45 minutes, then mix another small batch of ICE Resin® and fill the bezel up to nearly the top edge of the bezel. Let the second pour cure overnight.
After curing overnight, the ICE Resin® should be quite firm. Prepare your washi tape; cut the strips into narrower strips as desired, and affix each strip to the resin.
Mix a small batch of ICE Resin® and pour to coat and seal the washi tape layer.
Let the ICE Resin set for 45 minutes or longer, and then apply as many additional layers as you need to create the dome height you desire. I like a high dome, so I applied another two layers of ICE Resin®. Let the resin cure fully, and incorporate in a piece of jewelry or mixed media project.
Thanks for visiting! For more about my work, go to:
Website: http://www.huwbijoux.com/
Facebook: https://www.facebook.com/huwbijoux
My blog: http://gemfabulous.com/
Instagram: https://instagram.com/huwbijoux
Twitter: https://twitter.com/huwbijoux
2015 Design Team Member Heather Widner shows us a fabulous video for getting a high contrast pop of black and white using Iced Enamels Ivory Relique Powder and strips of washi tape.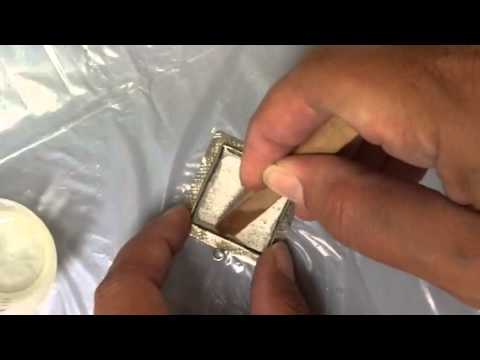 Thanks for visiting! For more about Heather's work, go to:
Website: http://www.huwbijoux.com/
Facebook: https://www.facebook.com/huwbijoux
My blog: http://gemfabulous.com/
Instagram: https://instagram.com/huwbijoux
Twitter: https://twitter.com/huwbijoux
Contrast, contrast, contrast!!
What comes to mind? For me it will always be black and white. I love it!
Ingredients:
Paper, pencil, and eraser for sketching out your designs
White shrink plastic prepared for use
Scissors
Circle punch
Ice Resin
3 Mixing cups, stir sticks, and toothpicks
Acrylic paint in white
Adirondack alcohol ink in Pitch Black
Packing tape
Cotton cord
Silk ribbon
Jewelry findings
Working with one of my favorite materials, shrink plastic, I was inspired, not only by the prompt but, but by graphic shapes.
I started by sketching and coming up with a template. Tracing that onto the plastic cut it out twice. Perfect circles were a must so I grabbed a 3/4″ circle punch.
Shrink your designs in a toaster oven or using a heat gun.
Allow to cool. Paint each one on one side only.
Using the packing tape place each onto a slightly larger piece. Fold over the side of the tape to give yourself easy handles for lifting and moving around. Burnish the back with a stir stick around your openings to insure you won't have any leaks.
Mix Ice resin according to instructions. Separate some of the resin into your extra cups.
Add drops of your ink into one for black, white paint into the other cup. Mix until incorporated.
Very carefully with a toothpick drop your white resin into the holes of the black piece and the black resin into the holes on the white piece. Do not overfill as the resin will overflow and the trick is to keep the resin inside the openings.
Let cure overnight or at least 12 hours. Once cured you can remove the tape and paint the backs of your pieces.
Gather your jewelry findings and assemble two necklaces. Or make it into one! Let your creativity reign!
If you've been following the ICE Queen eZine for a while now, you will know that our amazing Design Team members are always pushing the envelope with this magical, jeweler's grade medium. In today's video Susan Walls challenges you to think outside the box. Take a peek and let us know how is your favorite way to use ICE Resin?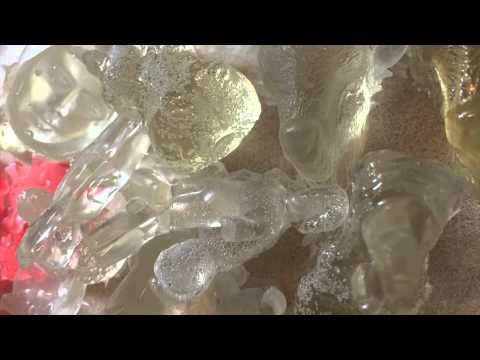 Susan creates and travels with her wearable art company Charming Trinkets and you can find her blog at: Susan's Art Circus Blog!
Do you have a love of re-purposing found object metals? 2015 Design Team Member Chantal Johnson shows how to use multiple colors of Iced Enamels Relique powders to get a contrasting cold enameling look for a stunning heart focal.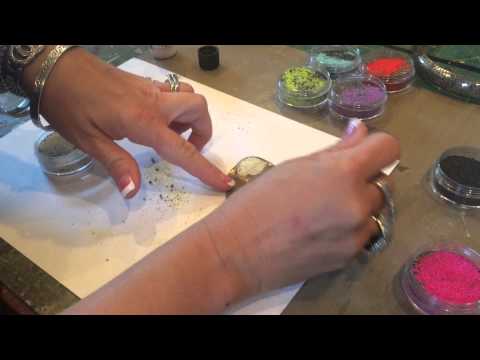 Want to see more of Chantal? Visit her blog at chantaljohnson.blogspot.com or become her friend on Facebook to see her latest inspirations and see the joy in daily living.
keep looking »