Dichroic glass has a truly unique look, with solid colors blended with metallic and iridescent accents of color. I love the look, but I don't work with glass nor own a large kiln. Today I'm sharing with you this fabulous technique for creating faux dichro pieces that I used to create this blazing sun piece that's set inside of a bezel. You can use this technique for a variety of projects and you'll soon be addicted to using this for many future projects!
With plain white tissue paper, use StazOn inks to color directly onto the tissue paper with the inkpad. For the orange (lighter) piece I used StazOn Orange Zest to color both sides of the paper. For the darker piece of tissue paper, I colored one side with Orange Zest and the opposite with Black Cherry. Dry the tissue paper with a heat tool.
Gently crinkle the colored tissue paper and spread open flat. Add a few drops of StazOn Metallic Gold ink to an InkSweeper and apply to the wrinkled paper of the paper to highlight. Apply a thin layer Creative Medium Iridescent Green randomly across the tissue paper to add the iridescent effect. Heat set the paper to dry completely.
Cut out shapes to form the 'rays' of the sun. I decided to use two different shapes for the 'rays', one thats larger with a rounded point and then smaller triangular shapes as well. Place the cut out pieces onto a non-stick craft mat and apply ICE Resin directly onto the pieces. I found using a DoodleStix works great for this because it allows you to control where the resin will be placed because for best results you need the resin to stay only on the tissue paper. As the resin soaks into the paper, the pieces will become translucent and the metallic and iridescent colors will really begin to be seen. Allow the resin to cure completely.
Once the resin has cured, turn over all of the pieces and apply a layer of resin to the back side. To add stability to the pieces, I like to have at least two layers of resin on each side of the pieces.
While the 'ray' pieces are curing, create the base of the bezel by applying a thin layer of resin into the bottom and along the sides of a Large Circle Hobnail Bezel and generously sprinkle Opal Inclusions into the bezel, followed by a light dusting of orange glitter. The opal color in the inclusions will help bring out the green iridescent color in the 'rays." Repeat this process for creating the centerpiece of the sun, made from a domed blank button form.
Once all of the 'rays' have cured completely, begin adding them into the bezel using red line double stick tape (or something similar) to hold them into place while adding all of the pieces. Refer to the images above for placing the pieces into the bezel. In total I created 3 layers for a truly dimensional look. To keep the pieces permanently in place, carefully add resin into the base of the bezel. Use the resin to add the centerpiece of the sun into place and allow to cure completely.
Supplies:
ICE Resin® ICE Resin, Opal Inclusions, Large Circle Hobnail Bezel
Imagine Crafts featuring Tsukineko StazOn (Orange Zest, Black Cherry, Metallic Gold), Creative Medium Iridescent Green, Fantastix, DoodleStix, Ink Sweeper, Craft Mat
Other  tissue paper, red line double sided tape, heat tool, orange glitter, domed blank button form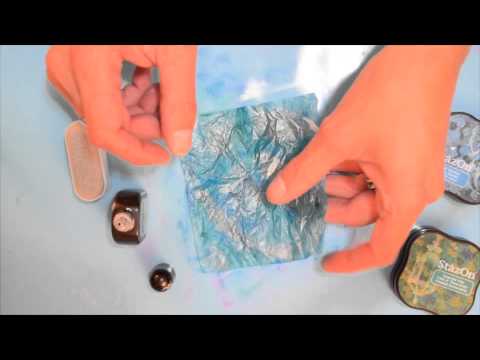 Well…it's been over 100 degrees here with humidity and the July muses would like us to focus on the summer heat. Not much of a stretch.
But there are only a couple of things that I obsess about once the days are this hot…ice cubes and the pool. So that's what I decided to mix together and make. Ice cubes (literally) and pool colored ice cubes! (okay a couple are not the color of my pool but they are cool looking!)
For this you will need:
ICE Resin and the appropriate mixing supplies
extra cups, mixing sticks, and toothpicks
silicone mold (I purchased mine from a professional mold maker)
Alcohol ink (here I used Ranger Adirondack in Lettuce)
acrylic paint (as shown in Golden High Flow in Teal)
sandpaper in various grits
Dremel tool with small drill bit
tiny eye screws
miscellaneous jewelry chain and findings
I also used some ice-like beads to fill in the piece
Ready an area with a non-stick surface then mix up your resin according to instructions. Once the resin is ready separate into two cups. Being with the alcohol ink dropping just a few drops into the cup. Stir slightly but not completely. For this project we are going for a swirled appearance.
You can see how transparent it is. Do the same in the second cup with the acrylic paint.
When I prepped for these cubes I poured the resin directly into the mold then dropped my ink and paint. You can do this either way.
Allow your cubes to cure overnight. The next day you can pop them out. Aren't they gorgeous!!
The swirls of alcohol ink almost look like moss!
And the paint stays in tiny droplets. I coated the cube on the left with a bit more resin. The unmixed paint can sit inside the bubbles and still be wet the next day. No big deal…just another coat of resin will seal it! Using the different grits of sandpaper, starting with the heaviest grit, sand down any imperfections. Sand continuously to the smoothest paper to polish your edges.
Now I molded for several days…maybe a week. Once you have as many cubes (I cheated and also made globes) sanded and prepared you can drill into them with your Dremel and a small drill bit. Use a small sharp screw to pierce the resin where you will want to drill. this will keep the bit from jumping around.
Place your eye screws and create your jewelry piece to your liking. This piece is about 18″ long as a necklace but if wrapped around twice it is also a bracelet! It can be worn two ways! Now lets go get in the pool for real…it's hot!!
In the summer many of us wish for sweater weather and snow days, here in Texas our forecast doesn't change much until maybe November. It's summer and it's hot!! That's not to say on occasion, we've had 39 degrees in May and snow and ice in March but usually it's only for a day or two. The saying is true…if you don't like the weather in Texas wait a day it will change– except for the months of June through -September.   So what's a Texas gal to do in this heat—play with ICE®.
This project features summertime BBQ's and picnics with a lot of ICE- ICED Enamels and ICE Resin® with a dash of decoupage and charming embellishments. The ideas for this project came from various elements of our summertime in Texas. Even though it is hot, we still grill/barbeque nearly everyday, we are invited for outdoor dinners by the pool and a cool glass of Lemonade or Sweet Tea is always on hand. And of course ICED Enamels and ICE Resin® are perfect all year round.
Using wood tags and a wood mason jar as the base and summertime napkins as our decoupage papers, this created an ensemble of a hostess gift, pitcher and glass markers and a recipe or menu cardholder. With ICED Enamels giving color and definition to the wood and ICE Resin® giving a dimensional finish, this wood based project is elevated beyond just decoupage. Adding a wire wrapped ICE Resined charm, metal embellishments, beads; ribbon and an ICED Enamel star charm complete the perfect addition to your picnic. These summertime elements will last many a' summers even in this Texas heat. Take a summer afternoon and whip up a batch of ICE Resin® tags and enjoy a cool glass of Lemonade.
Gather
ICE Resin®,
Disposable brush, stirrer, gloves, plastic bag/craft mat
ICED Enamels paper sealer
ICED Enamel medium, disposable brush
ICED Enamels Relique powder – Ivory or color of choice
Heat gun
Wood mason jar, tags of various sizes – available at your local big box craft store
2 clothespins
Decorative napkins
Sponge brush
Thin paper adhesive/ collage type glue
Bone folder
Ribbon
Wire, head pins, wine charm loops/rings
Small metal bezel
Decorative paper
2-4 pearls, beads
Metal charms – such as spoon, fork and star or charms of choice
Make
Separate the napkin. -Laying the white layers aside and only using the top layer of the napkin, spread a thin layer of adhesive onto the wood shape and then gently place the napkin on top. Let dry for a few minutes.
Napkins are very thin and will stick to anything, be sure your fingers are free of glue.
Once dry, gently tear or cut away excess and burnish the edges with your finger or a bone folder.
Using a small disposable brush, apply ICED Enamels medium to the areas of your choosing for the Relique powder.
Over a piece of paper, Sprinkle the powder on the ICED Enamels medium area of your tag. Tap off excess back into the jar. Set aside. Repeat step 3 and 4 on all other tags.
With heat gun, heat the enameling powder until it all has melted and looks smooth without a grainy look. Repeat this step for all tags.
Keep the heat gun moving over the powder. If you keep it on one place, there is a potential to overheat this one area
Once tags are cooled, prepare ICE Resin®. Pour equal amounts of Part A and Part B into disposable cup. Gently stir/fold for 2 minutes and then let rest for 2 -5 minutes.
With gloves on, spread the ICE Resin® with the stirrer onto the tags as if frosting a cake. Set aside to dry 8-12 hours. Repeat on all tags.
To create a depth for the ICE Resin®, I applied 2 coats of ICE Resin® allowing the drying time of 8 hours in between each layer.
Once the tags are dry, cover the back with decorative paper and seal with ICED Enamels paper sealer
Once the back is dry, begin to embellish with wire, charms, beads and pearls.
*To create the ICED enameled star, brush ICED Enamels medium onto star. Pour relique powder onto the star and tap off excess. Heat with the heat gun until the powder is melted and smooth. Seal with a layer of ICE Resin®
To create the recipe/menu cardholder, adhere two clothespins to the back level with the bottom, as this will allow the wooden tag to stand up.   Allow to dry.
To create a hostess gift, attach ribbon around a package of napkins with the same design. Wire wrap a loop onto the larger tag and slip onto the ribbon
Chantal Johnson lives in Rowlett, Texas and is married to Scott. They have three children, 3 dogs and 6 sweet little hens. Her work has been published in Somerset Studio, Somerset Home, Sew Somerset, Apronology, Haute Handbags, Belle Armoire and Green Craft.   She is currently on the ICE Resin® 2015 Design Team. For teaching engagements, you may contact her directly at chantal515@verizon.net. Visit her blog at chantaljohnson.blogspot.com or become her friend on Facebook to see her latest inspirations and see the joy in daily living.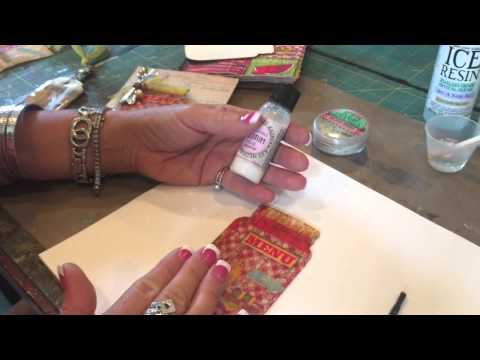 keep looking »