Roses always end up wilting so why not make one that never will. I loved how I could use the crafting supplies I had in my stash to create this eclectic, steampunk inspired necklace.
Supplies:
ICE Resin®
Art Glitter
Heart hobnail bezel
Rue Romantique™ Flip Book (Projects & Clip Art)
Flowers and leaf
Vintage linked chain, Watch pieces
A few paper scrapbooking roses and ICE Resin® make for the perfect pair. I used one of the hobnail heart bezels and accented it with art glitter, Rue Romantique™ papers, and filled the bezel with ICE Resin®. Once it set I used resin to adhere my vintage watch piece on top.
The flowers and leaf were dipped in ICE Resin® then adhered to the watch piece. I finished the bezel with a few gear pieces and a linked chain.
Jamie Dougherty
Greetings and salutations!
When Jen Cushman and Mixed-Media Artist and Designer Donna Salazar got to chatting at CHA (the Craft and Hobby Association trade show in January), Donna was wearing a necklace that intrigued Jen.
It was Donna's "word of the year" to live by…
what Susan Lenart Kazmer might refer to as a Talisman…
what some people might refer to as a lucky charm.
When Susan traveled the world in the early 1990s collecting, studying and selling beads and later helped to found the Greater Chicago Bead Society, she learned that in all cultures, humans adorn themselves for some type of symbolical representation. These studies led her to create jewelry from her own culture from found objects. Her work in Talismans, amulets and gypsy magic and healing has been a large focus of Susan's work for the past 20+ years. You will see the word Talisman used often at ICE Resin. It's because we believe that words have power, and meaning. Words, combined with ICE Resin and imagery and our bezels helps others to create powerful personal artifacts — Jewelry — that can be used to help the wearer feel focused or protected or even loved in some magical way.
So begins the ICE Resin Talisman project, starting with none other than designer Donna Salazar! Thanks Donna!  Link: Discover STRENGTH necklace.
What is your Talisman?
This piece was inspired by Anais Nin's quote "And the day came when the risk to remain tight in a bud was more painful than the risk it took to blossom."
Supplies:
wooden base
background paint colors
collapsible metal colander
Iced Enamels™ Medium
Iced Enamels™ Orange Citrine
Iced Enamels™ Rasberry
Iced Enamels™ Garnet
Heat gun
yellow oil stick
clock door knob
wooden bird
Instructions:
1.  Add texture and paint to your wooden base to resemble a sky.
2.  Open colander and push down every other "petal" towards the center.
3.  Brush the outside/open petals with a thin layer of Iced Enamels™ Medium.
4.  Sprinkle the Garnet Iced Enamels™ over all of them and fuse with a heat gun.
5.  Brush the inside/closed petals with a thin layer of Iced Enamels™ Medium.
6.  Sprinkle the Citrine Iced Enamels™ center petals and fuse with a heat gun.
7.  Drill a hole for the knob wherever you want to attach your flower.
8.  Align the hole in the center of your colander with the hole in the base.
9.  Screw the door knob through both holes and secure with a locknut.
10.  Create a stem and leaves out of a zipper and wooden wing cut outs.
11. Paint a grassy area along the bottom and attach a painted wooden bird.
This project is made with 2 of the new hues in the Iced Enamels Line. The colors will be available the first of April and in addition to the Citrine and Garnet above the ICE Resin Creative Team will be sharing projects made with Amethyst and Torched Copper! Are you ready?!
Tatiana Allen, Crafty Cutie
Give Kristen Robinson bezels, fibers and pearl and a bit of studio time and she floats into creative mode.
She is a guest artist over on the Stampington blog:
http://stampington.com/blog/index.php/2014/02/10/kristen-robinson-adore-wall-hanging-tutorial/
"It is always a pleasure to share my work with others as it brings me great joy!" Kristen says.
All those pretty spoon jewelry pieces I saw last year made me think how I can adapt them to my personal taste.
My mother hoarded some vintage silver spoons and I have been lucky to get some from her. I added paper flowers and moss, both bathed in ICE Resin before adding it to the spoon. This makes all embellishments sturdy and long-lasting. I covered the inside of the spoon with Iced Enamels 'Relique Glitz Silver' for a shimmering base, then poured resin in the mold and added the embellishments. The spoon works like a bezel for me and holds all the findings I want to expose.
Materials:
ICE Resin®
Iced Enamels™ Relique Glitz Silver
Rue Romantique™ ribbons
dried moss, paper flower, pearls, rhinestones.
My tip: If you work with ICE resin, always keep some findings near, like the moss or the flower. With the remaining resin you always can cover the embellishments and save for later use. The hardened charms can be used right away in any future project.
Baerbel Born, Inspire
You are lucky in love!
You get to construct an accordion-style mixed-media book in this video tutorial by our "ICE Prince" John Creighton Petersen.
A delightful Valentine's gift with Iced Enamels Raspberry Relique, Art Mechanique bezels, paper and embellishments.You will need 3 hobnail bezels–a heart and 2 rectangles.
Even if you have never used ICE Resin before, John makes this project accessible!
Let's get started.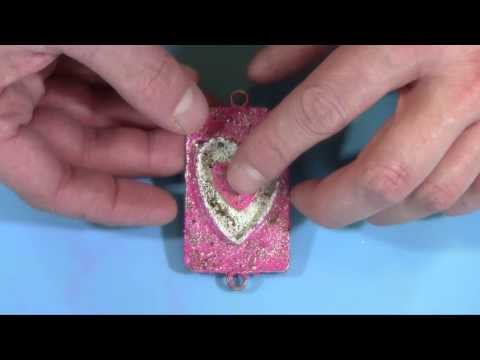 You can see more of John's work right HERE.
Susan Lenart Kazmer LLC is pleased to announce a brand new collaboration between Vaiva Style™ and Susan Lenart Kazmer™. These two visionary fashion designers and businesswomen have teamed up to bring the couture jewelry of Susan Lenart Kazmer on the runway at Trump Tower as part of New York Fashion Week Winter 2014.
Vaiva Tuckuviene is well-known in the exciting and intricate world of fashion, both as a designer and show producer. Born in Lithuania, Vaiva began modeling began in 1991 while visiting New York, where her grace and beauty landed her a contract with Total Model. While signed, she was introduced to runway and the business side of modeling. Her independent and entrepreneurial nature led her to establish her own modeling agency, Vaiva Studio, in Lithuania in 1994, where she quickly opened studio branches in several cities. She became the official representative in Lithuania for Metropolitan Model Agency in Paris, France. Vaiva Studio was more than a modeling agency, but a successful clothing design studio as well. Her modeling agency, Vaiva Models, is now based in Los Angeles, California, as well as her newest business venture Vaiva Style, where she represents up and coming designers. She's also authored her first book, "The Road to Modeling Success."
Vaiva Style is the official representative of the innovative and exciting couture jewelry of Susan Lenart Kazmer, a formally trained silversmith and internationally known mixed-media artist, author and instructor. Trained in fashion and conceptual art at the prestigious Art Institute of Chicago, Kazmer's work is found in museum holdings and private collections throughout the world. Her piece titled "The Energy Talisman" was part of a traveling art exhibition with the Smithsonian Museum of Art in 2004, and in 2006 she was awarded "Most Innovative Use of the Medium" by Bead International. For the past decade, Kazmer has been a beloved art educator, author and inventor of ICE Resin®, a jeweler's grade resin used by artists and jewelers throughout the world. She is the author of "Resin Alchemy" and "Making Connections; A Handbook of Cold Joins for Jewelers and Mixed Media Artists". Her work is inspired by her travels in the early 1990s to Southeast Asia, Central America, Costa Rica and Africa where she bought rare and indigenous beads made by tribal artisans and brought them America for study and documentation of cultural Talisman and sacred objects. Attracted to spiritual studies, she infuses her work with positive energy, sacred symbology, gypsy magic and healing. Not only do her collectors look amazing, but they feel extraordinary wearing Susan's unique and distinctive original jewelry.
This collaboration between these two visionary women is sure to bring fresh excitement and energy to the Fashion industry.
*For more information, please visit the websites of vaivastyle.com and susanlenartkazmer.net
I love finding ways to use ICE Resin in my paper-crafting projects. I received this beautiful box and spray painted it with Glimmer Mist to give it a deep walnut effect then added some old circa 1900 papers that were covered earlier in ICE Resin. Then added a new piece of circa 1909 accountants page to the top and covered entirely with ICE Resin again. I added a few small watch parts to give it a vintage look.
Candy Rosenberg, The Altered Life
Tools and Materials:
ICE Resin
Wood Box (Walnut Hollow)
Glimmer Mists
Vintage Papers
Watch Parts
Technique:
1. Measure and mix 1/2 oz. ICE Resin
2. Cover top of wooden box once paint has dried.
3. Add papers and watch parts while resin is still wet. Let dry.
Front row: Pamela Hawkins, Editor, Bead design Studio Magazine, Phyllis Giberson, Allison Hammond-Murray. Back row: Linda Hartung from A La Carte and designer Christi Friesen, Susan Lenart Kazmer and Bruce Olgivy from Garlan Chain..
For the past year and issues of Bead Design Studio Magazine, artists across the country have hones their jewelry, metal work, beading and mixed-media skills as they created a necklace  following the techniques of the 25+ years metalsmith Susan Lenart Kazmer.
 Bead Design Studio Magazine wrapped up the SLK Contest this morning (Sunday, Feb.2) at SLK's (Susan Lenart Kazmer's Resin Alchemy Class.
To follow what fabulous jewelry Bead Design Studio Magazine  is  showcasing next, subscribe HERE.
To follow what Susan Lenart Kazmer is doing or attend a class she teaches, you can look HERE and HERE.
If you are interested in taking one of Susan's classes at To Bead True Blue you can sign up directly at the ICE Resin booth at the bead show!
FIRST Place: Phyllis Giberson 
SECOND Place: Allison Hammond-Murray
We would like to give a shout out to Gold Sponsor: Garlan Chain
Bronze Sponsors: Parawire, T Beads, and Elephant Eye Beads
Jewel Sponsors: Bead My Love, Kabela Design, and the Urban Beader
Product Sponsors: Create Your Style with Swarovski Elements, ICE Resin, Spellbinders, WireLuxe, Alacarte Clasps & Wire Lace, Tsukineko, Tierra Cast, JHB, MyElement, christi friesen, Lisa Pavelka, Impress Art Metal Stamps, and The Lilac Wind Lampwork Beads
These generous jewelry products companies supplied treasures that went into each winner's basket.
ICE Resin is thrilled to announce that Kathy Cano-Murillo has joined our 2014 Creative Team!
Kathy Cano-Murillo is a writer, artist and founder of the award-winning site, CraftyChica.com. Her "Mexi-boho" style crafts have been carried by hundreds of retailers, including Bloomingdales, Target, and Michaels.
She is a former entertainment reporter for The Arizona Republic, and has authored nine books, including Crafty Chica's Art de la Soul and the novels, Waking Up in the Land of Glitter and Miss Scarlet's School of Patternless Sewing.
She has been profiled in The New York Times, The Washington Post, USA Today and NPR, and now has an extensive Crafty Chica product line.
Kathy lives in Phoenix, AZ, with her husband, two kids and four Chihuahuas. Her mission is to spread positivity through creativity!
It's pretty easy to discover more about the Crafty Chica:
Her Website: http://www.craftychica.com/site/
Facebook: https://www.facebook.com/kathycanomurillo
Twitter: https://twitter.com/craftychica
You Tube: http://www.youtube.com/craftychica
Pinterest: http://pinterest.com/craftychica
Instagram: http://instagram.com/craftychica
Tumbler: http://craftychica.tumblr.com/
keep looking »