Iced Enamels™ are such a roaring success they received the CHA Hot 20 seal of approval at the 2014 Mega Show and we could not be more thrilled at the honor!
Iced Enamels are the heart of our Cold Enameling Program–Medium, Relique Powders and ICE Resin® create a permanent bond of color on metal.
Artists and crafters can easily achieve the look and feel of traditional torch fired and kiln-fired enameling with these products and an array of mixed-media techniques.
New! Amethyst, Carnelian, Garnet and Torched Copper join seven other Relique Powders and are part of  a unique, custom formulated, proprietary Cold Enameling system. 
It's Friday and we have something special in store for you!
Here is a sneak peak to the wonderful bracelet bezels our Creative Team made. It is ironic, because if you follow the ICE Queen Zine you know each of these incredible designers' styles are so different, yet something serendipitous occurred on their workbenches.
Great minds think alike….
Or do they?
Check out the differences, some are quite subtle, as you hop on over to each blog. Click on the names to go to the blogs. Happy Friday!
Thespa McLaughlin

Lesley Venable

Lexi Grenzer
Jen Crossley
I really love the new ivory ice enamels ,I wanted the bracelet too look like typewriter keys the white ones which are hard to find.
Supply List:
Iced Enamels Ivory
IceEnamel Medium with Paint Brush
ICE Resin
Rub ons – 7 gypsies
Sari Silk
Beads and crystals
Head pins and Jump rings
Using the Medium, apply with a small paint brush to the inside of bezels. Shake in your color of Iced Enamels I used Ivory shake out extra powder and return excess to the container of iced enamels. Using a heat gun, allow the powder to melt thoroughly. Next I added my Rub ons. Mix up equal amounts of Ice resin part A and B stir well for 2 minutes then let it sit for 5 minutes so the air bubbles will disappear, then I poured in ICE Resin into the bezels .
When the resin has fully dried, you can then add embellishments. I added some beads and sari silk to make it pop.
If you are at the Bead and Button Show in Milwaukee, Wisconsin between now and Sunday June 9, 2013 be sure and stop by the IICE Resin Booth (901). We have the blank bezels our jewelry team created so you can make an awesome bracelet in your style –just $5.95.
ICE Resin® is at Stitches in the UK and we are so incredibly excited!
Here are just a few of the jewelry, ATC cards and mixed media samples we sent to our friends at Indigo Blu. (We can hardly wait to see wait they made!)
Covering "flitter" with ICE Resin® was a brilliant pairing. Lancashire Rose, Winter Dawn and Gin & Tonic are Jen and Carol's faves thus far. Jen likes the shaped stamps and Carol the flowers. That is the beautiful thing about making jewelry and mixed media-something for everyone's style and imagination.
If you are at Stitches, you can also check out the Personal Impressions booth with the Spellbinders®  Media Mixáge™ Line licensed and designed by Susan Lenart Kazme™r.
ICE Resin / Susan Lenart Kazmer, LLC are please to announce our preferred partnership with E6000.
E6000 is a wonderfully versatile glue for atists and crafters, in fact, it is the designer or our new Rue Romantique line, Kristen Robinson's favorite glue. It is the one she used when placing images in her bezels and for all her mixed media art projects.
She and Teresa Morgan from E6000 had a nice vist at the recent Craft and Hobby Association Show and Teresa showed off the new E6000 spray. It is water based, has no harsh chemicals, and won't smell up your studio space.
You can discover more about E6000 HERE.

Elena the Traveling Princess of Charity Wings stopped by the ICE Resin booth and did a live stream with Susan Lenart Kazmer, Jen Cushman, and Kristen Robinson.
In case you missed it, CLICK HERE for the show.
We had a fabulous, awesome time at Winter CHA!
We debuted our first designer line, Rue RomantiqueTM by Kristen Robinson, and our new line of Iced EnamelsTM.
Spellbinders® revealed their Media Mixage™ Line with bezels and blanks designed and licensed by Susan Lenart Kazmer™. (Tip: Iced Enamels + Media Mixage Blanks = way too much fun!)
Jen Cushman signed copies of her new book, Making Metal Jewelry.
Creative, Special Projects and Mixed Media Team Members Lexi Grenzer, Susan M. Walls, Cindy Cima Edwards, Cindi Bisson and JoAnna Pierotti gave demos. To all the gentlemen who offered to help us move boxes of stuff for our booth down the parking garage stairs and held doors open for us – we send you thanks. You were chivalrous and sweet.
We met wonderful people face to face, some renewed friendships and some new. Thanks to our customers, wholesalers, team members and friends for your contributions to our success!
Theresa  at E6000 (our newest preferred partner) and the lovely folks in her office who made certain we had our class supplies, and the wonderful folks at Staz-on, Impress Art, the woman from Bazzil who kindly shared a booth tip, and Joan B. who  shared her  awesome salad recipe and lunch table!
A billboard on the night drive home through Indio, CA made Jen, Samie and Carol chuckle. It proclaimed: "We buy broken jewelry." Carol said, "We do too!" Because even with our new lines, there is always room for found objects and repurposed jewelry.
Internationally acclaimed metalsmith and award-winning Mixed-Media Artist Susan Lenart Kazmer is pleased to present two new products lines for her company ICE Resin® this weekend at the annual Craft and Hobby Association Winter 2013 trade show.
As a master metalsmith with a long history in kiln-fired and torch-fired enameling, Susan is thrilled to the debut Iced Enamels™, the heart of our Cold Enameling program, an innovative new method to bring color to metal. Artists and crafters can easily achieve the look and feel of traditional enameling with our new Iced Enamels™ products and an array of mixed-media techniques. ICE Resin® Designers will give demos of the new cold enameling program at our booth #2576 throughout the event.
In addition, Susan Lenart Kazmer™ ICE Resin® will debut its first designer line, Rue Romantique™ by Kristen Robinson. The line is a gorgeous collection of Victorian bezels that have been re-imagined to meet the needs of today's jewelry designers while staying true to the romantic sentiments of a more genteel era. Kristen will give demos and showcase her line at the booth throughout CHA Winter.
Members of the press are welcome to visit our booth to see the new lines and also collect a physical press kit with samples of bezels and ICE Resin®. ICE Resin® is Susan Lenart Kazmer's signature product. It is a jeweler's grade, non-toxic-when-cured, ultra clear, epoxy resin. ICE Resin® is the preferred resin art medium for professional artists who sell their mixed-media jewelry and art work because it will not fade or yellow over time. Crafters who wish to create heritage jewelry are also pleased with the beautiful clarity ICE Resin® makes it possible for them to achieve and preserve.
Check out Lead Fiskateer Tami Bayer doing a make n take with SLK and visitors at the ICE Resin® Winter CHA.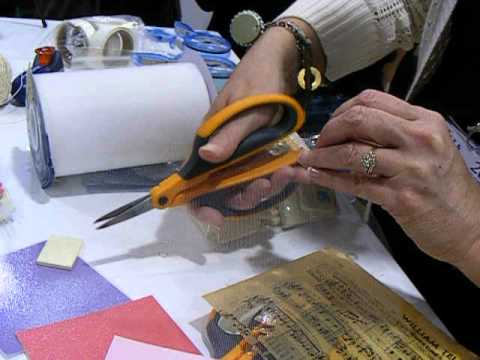 The good stuff:
A Rummikub tile
Sheet Music coated with ICE Resin® and Jenni Bowlin FLIGHT Squeeze Punch
A ¼" HEART Hand Punch with pink paper
Glue dots
A bit of tulle
Hemp string
Craft glue
Pin back
Assemble:
Use the FLIGHT punch on the resin paper and make a bird.
Use the heart punch to make a heart
Gather a bit of tulle and tie a bow with a hemp string
Attach to Rummikub tile with glue dots (You can do it on the number side or the plain back side.)
Attach pinback with craft glue to the other side.
Thanks Tami!!
You'll find Tami over at her Peace, Tea, Ink blog.
What fun we had in our ICE Resin® booth at the Bead and Button Show.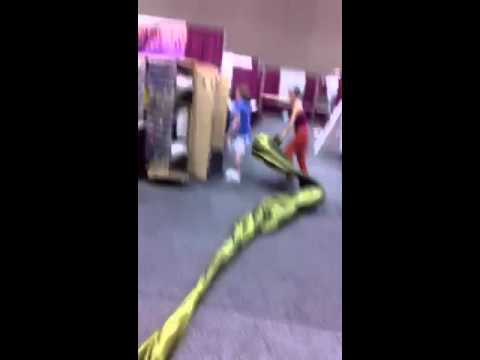 And, if you missed the fashion show, check out this past Sunday's post.
Paris; this April sunset completely utters
utters serenely silently a cathedral
before whose upward lean magnificent face
the streets turn young with rain,
spiral acres of bloated rose
coiled within cobalt miles of sky
yield to and heed
the mauve
of twilight (who slenderly descends,
daintily carrying in her eyes the dangerous first stars)
people move love hurry in a gently
arriving gloom and
see! (the new moon
fills abruptly with sudden silver
these torn pockets of lame and begging colour)while
there and here the lithe indolent prostitute
Night, argues
with certain houses
e e Cummins (1894 -1962)
Susan and Jen will be spending time in Paris the weekend before Runis, Relics and Resin workshop to gather vintage materials at the world-renowned Parisian Flea markets. Students are encouraged to join us in our adventures of shopping and dining before arriving in Durfort.
keep looking »