Let your true self roar for you are amazing!
Now go forth and make art!
Beginning at noon( Eastern) on Friday, November 14, Beads, Baubles and Jewels episode 2005: Get Creative with Resin and Wire will be on the Beads, Baubles and Jewels website. It will run for 7 days.
Mixed media artist Susan Lenart Kazmer demonstrates making faux stones with glass glitter, inclusions and resin, and then she shows cold surface work to mimic enameling on metal. Today's Beading Lesson is on knotting with leather.
She had a grand time with host, Katie Hacker.
You hold the key to your highest aspirations!
What fills your dreams?
When Susan Lenart Kazmer teaches metalsmithing techniques she draws on her 25+ years of experience from the height of your anvil to the tips and tricks that make it fun to hone your skills.
This 2012 episode of Beads Baubles and Jewels will give you an idea of her style.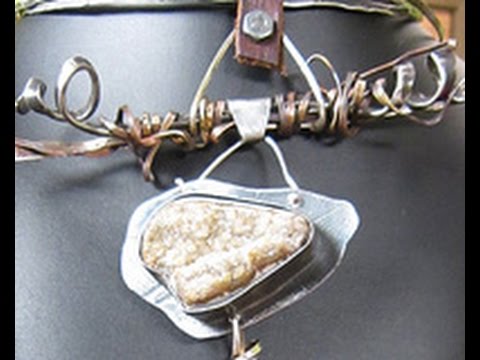 Want more from our friends at Beads Baubles and Jewels? Find out the latest!
See where Susan is teaching next: CHA in Anaheim, California and To Bead True Blue in Tucson, AZ.
Is your art journal filled with painted pictures? sketches? doodles? fabric? tags? letters? numbers?
When you open it, is it to look at yourself or to share with others?
Art journals are full of intentions and desires.
Care to share what creating an art journal means to you?
Experience the opera with Susan Lenart Kazmer via her "Opera Singer"…
The people waiting expectantly for the lush heavy curtains to rise and part, the richly hued costumes, the lavish sets, the thrill of the first note when the opera singer sets her voice free.
The "Opera Singer" is backstage  in her dressing room fretting about what hat to wear in her performance tomorrow. Which one do you suggest?
Did you notice that all these hats double as rings?
Susan Lenart Kazmer created her Opera Singer as a jewelry holder.
Susan wears wire.
Do you?
What captures your attention?
Color (soft pinks and red that go with 2015 spring color predictions)?
The thrill of a eureka moment (the lightbulb bezel prayer box-a truly advanced metalsmithing skill that takes a delicate touch)?
Movement?
A sense of joy?
The spirit of fun?
keep looking »