In this Iced Enamels technique video, John Creighton Petersen will show you his method for adding ICE Resin to the back and sides of a bezel.
The directions for the dragonfly using Amethyst Relique live HERE. The directions for the steampunk bezel using Torched Copper Relique are right  HERE.
This is what Amethyst and Torched Copper Reliques look like before they are melted and set with ICE Resin in our Cold Enameling process.
Do you embellish the back of your bezels?
Dive in as Jamie Dougherty makes a blue ocean with some paint, a found object, ICE Resin, Shattered Micas: Silver and Chartreuse, and Shattered Fire Opal!
Jamie Dougherty shares how you can include feather with ICE Resin® to create an organic touch in your jewelry.
Supplies: ICE Resin® Iced Enamels Relique Powders: Tarnished Bronze and German Silver, Iced  Enamels Medium, Art Mechanique Rectangle hobnail bezel, a paint brush, and a feather.
Tip: Paint a little bit of ICE Resin on the front and back of the feather so as not to create air bubbles.
Jamie liked the organic look of her piece.
What color combinations of Relique Powders and feathers would you choose?
Looking for some quick, simple bezels to compliment your Art Mechanique hobnail or Rue Romantique bezel collection? These quick and easy bezels are made of copper pipe from the hardware store and shell casings from bullets.
Jennifer Cabic shows you how to make 'em!
Have you ever used ICE Resin to make a flat button beveled?
Candy Rosenberg shares how in this video!
Gather your supplies:
ICE Resin® Plunger
Cup with a Stir Stick
Heart Bezel & Wire
Belles Dames Francaise paper
Transparent Ribbons & Glitter
Art Mechanique Sealer
Tools: Round Nose Pliers
Scissors & a Wire Cutter
Bezel instructions:
Finished bezels.
Instructions for wire wrapped attachment:
Clasp instructions:
When rhinestones sink into ICE Resin they will loose some of their lustre. The German Glass Glitter keeps the sparkle and reflects every sun ray perfectly fine, even when covered with resin. Check Baerbel Born's video for the amazing glitter effect.
What color is your favorite?
What colors would it please your eye to mix?
Clare Horner shares how she uses bezels as stencils for patterned papers.
Trust me, you will love how easy this technique makes cutting out paper or pictures perfectly!
Wooden buttons come to a colorful end in this video.
Imagine them sewn as details on a favorite blouse or a pair of crop pants!
Make sets and give a set as a gifts to the women on your Nice List?
Grab your:
Extra large wooden buttons
Glitter
A photo or image from Art Mechanique paper pack one or two
ICE Resin
Paint
Liner brush
Dry brush
Tacky glue
…and follow along with Kathy Cano Murillo.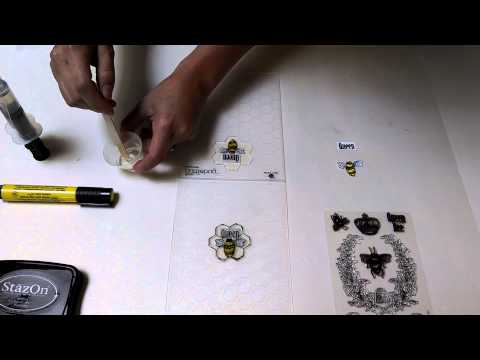 Here is the full project with the BEE, just in case you missed it!
keep looking »