There is still time to make a beautiful heritage necklace for your mom, grandmother or special woman who's made a difference in your life. People are always so touched when presented with personalized gifts that show how much the giver loves and is thinking about them.
Over on the Ranger blog today, Jen has a stepped out tutorial on how to make a Mother's Day necklace using the brand new Susan Lenart Kazmer Large Milan Heart bezels. Remember, this same process holds true for almost any type of image you'd want to use with ICE Resin. So whether it's your own art, vintage images or photographs of loved ones, follow these steps for guaranteed success every time.
Take a peek over on the Ranger Ink blog today to see me (Jen) showing how to use molding putty of make molds of found objects for resin castings. I also wax poetic a little bit about my love for the Susan Lenart Kazmer Studio Sheets from Ranger. Seriously, they are the bomb diggity when using with ICE Resin. Nothing else quite works as well as these studio sheets.
And as a little additional eye candy, here are some finished cast resin work from Susan Lenart Kazmer and myself. A few years ago, Susan cast a lock and when I saw it, I went crazy for the technique. This photo is a piece of SLK fabulous jewelry she did for her bestselling book Resin Alchemy. She is teaching this technique in her workshops this year called Casting: Resin, Relics and Artifacts. The second photo is a lock I recently made for a mixed media journal workshop called Peep Pie Journal that I'm teaching.

I hope you give mold making and resin casting a try. What are you inspired to create today? 
In today's video tutorial I show you how I created a solid sheet of ICE Resin from a rubber stamp. This simple process can be used in many ways. My full finished project can be seen in the previous blog post published on the 5th of January 2016. I love to see what you create too so don't forget to share what you have made with this technique.  I hope you enjoy my video and leave me a comment.
Thanks for visiting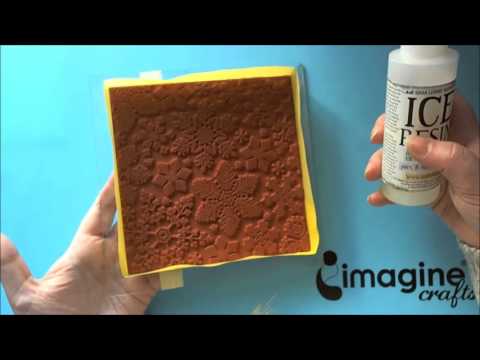 Like most people, my husband and I have quite a few holiday parties to attend every year during the holiday season. I'm always looking for an opportunity to wear my ICE Resin jewelry because invariably people will ask me what I do. When I tell them I'm Education Director for ICE Resin, the very next question that follows is "What's ICE Resin?" This is when I point to my necklace or bracelet or earrings and respond "This is something I made with ICE."
I was working out a few ideas in my studio when I came across a box of Christmas cards that I saved for holiday art projects. One card, in particular, jumped out at me because it was from my parents. My dad passed away in June this year, and as I looked at his scribbled "Love Dad" on the card, I felt tears well up in my eyes. Then I turned the card over and looked at the vintage looking image of Santa Claus. I grabbed a large shield hobnail bezel and held it up to the image. It only worked if I turned the shield upside down and made it a shrine shape. Since I was using my the card from my father, it felt appropriate to make it  shrine. I chose to keep the imagery simple — just the card and a small amount of silver glass glitter to mimic snow under ICE Resin.
When the bezel was dry, I drilled a hole into the now top of the shrine to create a place for attachment. The bottom loop was the perfect place to add a charm (sweet little bear on a ball that looks like something Santa would deliver to a child) and then some recycled sari ribbon in green and red for holiday color. I added a little more color to the top with beads and hung it on a simple rolo chain. The necklace is a lovely long, 36 inches to complement my holiday outfits.
Before you throw away those holiday cards this year, take a peek through them to see what images might be wonderful to upcycle into next year's mixed-media jewelry.
Here's wishing you a truly joyful holiday season from Susan and myself (Jen Cushman) and everyone here at Team ICE.
Welcome to the ICE Resin portion of the Handmade Holiday's Blog Hop! I am please to be up first and hope you are all excited and invigorated by all the projects that have been already showcased and the ones yet to come. My wonderful team mates, I am sure, will thrill and amaze you with there many talents this coming holiday season so I hope you tune back in with us over the next two days to see what they have created for you.
Today I have created for you a wonderful tree ornament, that could easily be given as a thoughtful gift to friends and relatives with as simple a change of image personalized to each person you are gifting. In my example I use a rub on but add in the instructions required for a printed photo in case you want to switch it up.
Have a wonderful Holiday Season and let me know what you think of my project!
Supplies:
ICE Resin®
Iced Enamels™: Relique Glitz Copper.

Art Mechanique®: Hobnail Bezel, paper sealer.
Rue Romantique: Rhinestone Chain.
Other Supplies: Vintage image, mixing cup, stick, findings, bits to dangle, lace.
Tools: Pliers, scissors.
Instructions:
1: Mix resin to manufacturers instructions.
2: Add in a generous amount of Copper Relique Glitz.
3: Fill the bezel to half full with the mixture, leave to dry for 8 to 10 hours or overnight.
4: Fussy cut the image close to the people.
5: If using a printed image, seal well front back and edges with paper sealer.
6: If using a rub on, press image lined up where you want it into the dry resin, rub gently into place.
7: If using a printed image glue into place with a small amount of white glue and let try thoroughly.
8: Mix resin to manufacturers specifications.
9: Fill bezel to top, do not dome.
10: Leave to dry for 8 to 10 hours.
11: Mix resin to manufacturers specifications.
12: Cut the rhinestone chain to size and balance on the edge where its final placement will be.
13: Flood the centre of the bezel with resin, it will naturally flood out to the edges of the chain and set it in place.
14: Leave to dry for 8 to 10 hours or overnight.
15: Add lace, findings and dangles. Display on your tree.
Thanks for taking the time to check out today's Handmade Holiday project. Now it's time to hop on over to other great manufacturers and designers who are all part of this year's event.
Also, we are having a giveaway of over $600 in craft supplies to help you make this holiday handmade. Enter to win using the widget below:
keep looking »