In this Iced Enamels technique video, John Creighton Petersen will show you his method for adding ICE Resin to the back and sides of a bezel.
The directions for the dragonfly using Amethyst Relique live HERE. The directions for the steampunk bezel using Torched Copper Relique are right  HERE.
This is what Amethyst and Torched Copper Reliques look like before they are melted and set with ICE Resin in our Cold Enameling process.
Do you embellish the back of your bezels?
Dive in as Jamie Dougherty makes a blue ocean with some paint, a found object, ICE Resin, Shattered Micas: Silver and Chartreuse, and Shattered Fire Opal!
Sheet music and paper from the Rue Romantique Project Book, vintage bottles and charms,  combine under Polly Hendrickson's hands to make beautiful, decorative bottles for your vanity.
In this project ICE Resin acts as glue as well as protecting and making your paper luminous.
Tip: Use Staz-On Ink to distress the edges of the paper to give your bottles additional dimension.
Tip: Smaller bottles are great additions to necklaces!
Looking for some quick, simple bezels to compliment your Art Mechanique hobnail or Rue Romantique bezel collection? These quick and easy bezels are made of copper pipe from the hardware store and shell casings from bullets.
Jennifer Cabic shows you how to make 'em!
Have you ever used ICE Resin to make a flat button beveled?
Candy Rosenberg shares how in this video!
When rhinestones sink into ICE Resin they will loose some of their lustre. The German Glass Glitter keeps the sparkle and reflects every sun ray perfectly fine, even when covered with resin. Check Baerbel Born's video for the amazing glitter effect.
What color is your favorite?
What colors would it please your eye to mix?
Clare Horner shares how she uses bezels as stencils for patterned papers.
Trust me, you will love how easy this technique makes cutting out paper or pictures perfectly!
Wooden buttons come to a colorful end in this video.
Imagine them sewn as details on a favorite blouse or a pair of crop pants!
Make sets and give a set as a gifts to the women on your Nice List?
Grab your:
Extra large wooden buttons
Glitter
A photo or image from Art Mechanique paper pack one or two
ICE Resin
Paint
Liner brush
Dry brush
Tacky glue
…and follow along with Kathy Cano Murillo.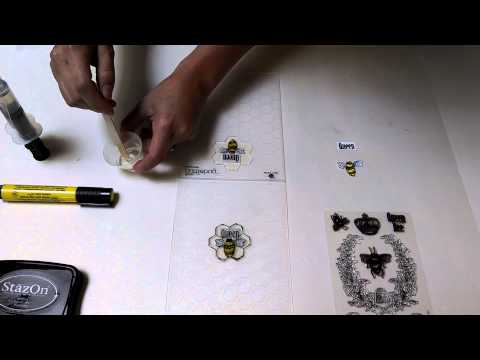 Here is the full project with the BEE, just in case you missed it!
We are a month away from summer solstice and for many of us, summer means beach! So grab the shells and sea glass you collected last summer and watch how Polly Hendrickson uses ICE Resin with similar treasures!
There is also a blog hop going on with ICE Resin and Faber Castell! Here are today's links:
ICE Resin: Jennifer Priest 
Faber Castell: Jen Matott
keep looking »