Grab your Bracelet Mandrel and follow along as Jen Crossley shares tips for making the focal piece of a bracelet using a bezel from Kristen Robinson's Rue Romantique Line.
Jen Crossley, A Mark in Time
JoMama shares how to make a darling Christmas tree with ICE Resin paper triangles.
You will need beads, a star button, a wire, paper, ICE Resin and oil pastels.
A third hand. We have all wished for one at one time or another while in the process of making. Sandy Martin shares why her "third hand" is a fave go-to tool when working with bezels and ICE Resin and Rue Romantique chain oh my!!
Sandy Martin, Sweet Pea Jewlery
Leave it to JoMama to come up with such a unique organic Halloween cuff. It's guaranteed that no-one at any haunting you attend will have anything as wonderfully scary as this eye! Bet you look at bark differently for a while. What kind of jewelry will you make with your found object?
Lexi aka The Shabby Calevera, shares a "soft", "easy" technique for wire wrapping ribbon and sari silk to incorporate them into your mixed media jewelry.
She says: "You are going to have serious wire addiction!"
 You may recognize the necklace just above from a few weeks ago. Lexi's post about Frieda is here. If you want to see the cute Valentine necklace that matches the top photo, it's here.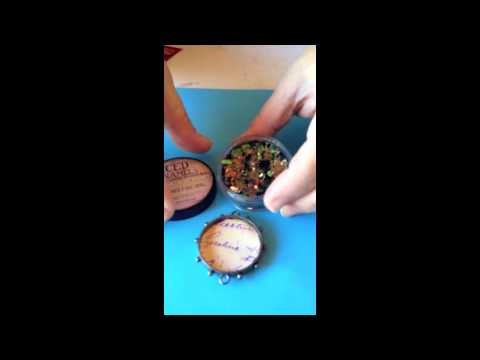 Opal and Fire Opal Shattered Inclusions are now at Hobby Lobby! They sparkle under our crystal clear ICE Resin® and look fantastic when placed on top of Iced Enamels™.
Jen Cushman will show you how to use this product.
Want to follow along?
You will need:
a bezel and Shattered Inclusion of your choice
ICE Resin, a cup and a stir stick
Ready, set, resinate!
Jen Crossley shared tips within tips to make a Rue Romantique bezel designed by Kristen Robinson into a bracelet instead of a pendant.
The tools and supplies you will need when the video is over and you are ready to make your own bracelet are: patina solution, a mandrel, a rubber mallet, scissors, an image, ICE Resin and of course whatever bezel your heart desires.

Go behind the scenes with Team ICE!
There are only 1,000 seats at the live event, so be sure to register early!
It's all about the torch today on Technique Tuesday!
Jomama  talks about why it's her fave tool because she can anneal, solder, enamel, and more!
Now you just have to decide whether your fave term is "patina" or "firescale".
Jen Crossley loves "junking", seeking out old found objects and incorporating them into her mixed media jewelry — and if found objects are your thing, you will surely oh and ah over the ones you'll see on her workbench in Australia. Jen found some of them on her travels teaching this past summer in the US.
Watch as she makes a mother of pearl buckle into something entirely different!
The found object Carol covets came from the stash of another of our designers. Which one do you covet?
The paper you see in the video is Rue Romantique.
Today, Lesley Venable will help you discover just how easy it is to use a staple bezel to create a double sided pendant.
Scissors and jewelry pliers are the only tools you'll need.
keep looking »