Transform your ICE Resin® bezel projects into mini accordion books that can also be added to a chain to be worn as a necklace! John Creighton Petersen will show you how.
Learn how to add solder to a bezel to create a gilded focal piece.
You can even use rubber stamps to create texture.
Sweet little charms are nice to have handy for your mixed media jewelry or something even simple, like package embellishment, make book marks, tiny tree ornaments, add to cards… the list of possibilities is limited only by your imagination!
Such a fun idea starting with 2 of the same Art Mechanique hobnail bezels as the foundation!
You are invited to watch as ICE Resin Design Team member John Creighton Petersen shows you how to make a book become a necklace…
Are you ready to work on your art journals?
Grab some:
Art Mechanique™ Essential Collage Papers Pack One or Pack Two
Art Mechanique™ Shattered Opal
Art Mechanique™ German Glass  Glitter
Your fave Stampendous or Indigo Blu stamps
Staz-On Inks
Oil Pastels
and get ready to rock your mixed media journal pages.
Polly Hendrickson will share some techniques.
Artist Jen Cushman is an engaging instructor who has been sharing her love of mixed media for the past 5 years with students across the county who want to break out fo the mold in colorful and exciting new ways.
Here she is showing our friend Terri O how to make druze bangles: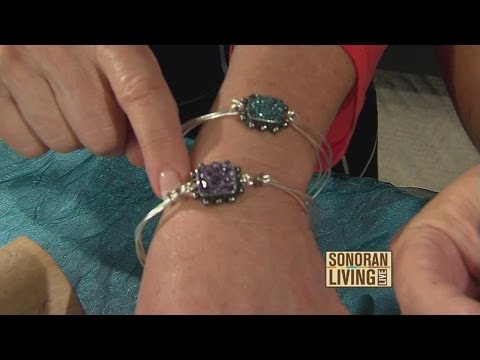 .
And here's Jen sharing how to make resin paper as part of  Stampington's Guest Artist Series.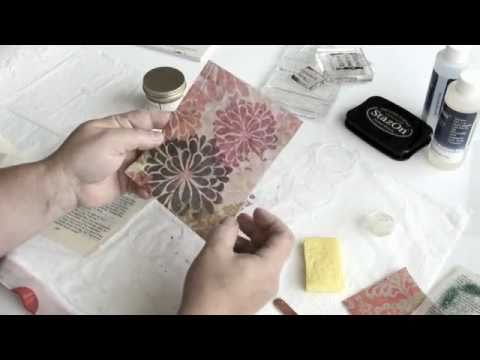 Register for upcoming classes with Jen: CHA in Anaheim, California and To Bead True Blue in Tucson, AZ.
Welcome to the 4th Annual Handmade Holidays Blog Hop! A few years ago we were looking online for handmade gift ideas and thought it would be great if there was a resource dedicated JUST to handmade gift ideas. Enter the Handmade Holidays hop! We've gathered over 100 of our creative blogger friends in the craft industry as well as some of our fellow product manufacturers to bring you a plethora of inspiring gift ideas you can make now to give to your friends, family, and colleagues. Pin and bookmark these ideas for this holiday season and to use throughout the year! Each day of the hop features approximately 30 gift projects and you can "hop" from one blog to another to check them all out.
Light Up the Season Lantern
by Baerbel Born, ICE Resin International Creative Team
Supplies and Tools:
ICE Resin custom made molds
Art Mechanique Heart Bezel
Graphic 45 Paper and Brads and Cardboard Christmas Stickers
ColorBox Classic Pigment Ink
Rowluxe Illusion Film – cut desired shape
Sizzix die 658058, Box Square
LED Light with Batteries
Instructions:
1.  Gather you custom made ICE Resin molds. Here is the link for how to make these foam molds; http://wp.me/p1MCno-38w
2.  Cut your Graphic 45 paper and Rowluxe Illusion film per kit instructions.
3.  Assemble light box and watch it shine!
Are you ready for lots more creative handmade gift ideas and projects??
Simply click on each of the links below to be taken to that post with additional information and photos on how to create a handmade gift project. Have fun and pin away!
Rina Gonzales – Mothership Scrapbook Gal
Therm O Web – Amanda Niederhauser
Yana Smakula – My Cardmaking & Scrapbooking
The Buckle Boutique – Shawn Mosch
Eileen Hull Designs – Eileen Hull
Angela Muir – Handmade in the Heartland
Krista Winters – eat, knit & d.i.y.
Scrapbook Adhesives by 3L – Erica Houghton
Elizabeth Craft Designs – Karen Aicken
Jeanie Hevener – Create & Babble
Ellison Educational Equipment – Hilary Kanwischer 
Follow our Handmade Holidays Gift Ideas Pinterest board for even more inspiration!
Follow Jennifer Priest of RainMaker Media Works + Hydrangea Hippo's board Handmade Holidays on Pinterest.
A huge thank you to our sponsors for this hop – please visit their blogs below and follow them. And be sure to come back tomorrow for another 30+ amazing Handmade Gift Ideas!
Clearsnap || Ellison Educational Equipment || Walnut Hollow || Graphic45 || Westcott || ICE Resin || Therm O Web || Rowland Industries || Scrapbook Adhesives by 3L || Pink and Main || Elizabeth Craft Designs || The Buckle Boutique || Neat and Tangled
Additional Sponsorship provided to bloggers by:
Sakura || Fairfield Processing
With ICE Resin you can create stunning shapes with almost every material you can think of. For this year's Halloween costume I made some funny spiderweb earrings out of plain thread. The tutorial is easy to follow and the result is unusual. All you need is a needle and some sturdy thread, plus ICE…
Have fun!
Baerbel Born
Are you still holding onto staple bezels and not sure what to do? Polly Hendrickson from the ICE Resin Creative Team shows you just how simple it is to make a focal for a necklace with these unique bezels.
There are still some in stock:
Small pair of  staple bezels: triangles, circles, almond-shaped, as well as medium circles and large almonds.
Or they are available as a special order product in sets of a dozen.
Here's a blast from the past using an almond staple bezel: Carol La Valley and Jen Cushman made it a few years back. IT's called EYE in the SKY.
Kinda Halloweenish don't you think?
John Creighton Petersen shares how  to use a bezel without solid sides by using metal tape for a quick fix for using more unique hardware and findings as bezels for you next project.
Are you ready to pour some ICE Resin?
keep looking »