It's nearly officially spring and the butterflies are winging your way!
Tatiana Allen is going to show us how to make a cool stamp using ICE Resin in a mold.
ICE Resin takes 6 to 12 hours to dry — it's ready to wear as jewelry. IT is fully cured in 72 hours.
No bracelet mandrel, no problem!
A hammer, a towel, a rolling pin and one of the Art Mechanique Silhouettes is all you will need to follow along as Clare Horner shapes the focal for her bracelet.
Make sure this is your "studio" rolling pin and not the one from your kitchen.
Shadows from the backside show though when you cover vintage paper with ICE Resin.
In this video, Candy Rosenberg shares her technique for resining the page of a vintage book.
You are lucky in love!
You get to construct an accordion-style mixed-media book in this video tutorial by our "ICE Prince" John Creighton Petersen.
A delightful Valentine's gift with Iced Enamels Raspberry Relique, Art Mechanique bezels, paper and embellishments.You will need 3 hobnail bezels–a heart and 2 rectangles.
Even if you have never used ICE Resin before, John makes this project accessible!
Let's get started.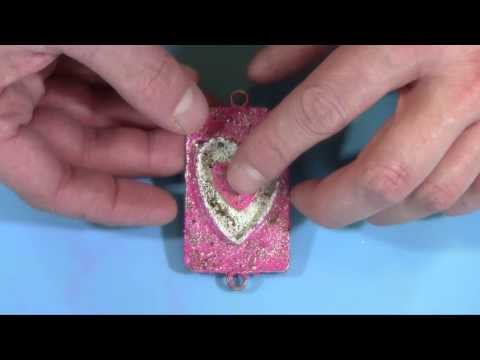 You can see more of John's work right HERE.
The mold making technique Baerbel Born is sharing in this video  uses:
foam sheets, rubber cement, hair wax, ICE Resin and Paper. Enjoy!
English:
German:
ICE Resin Creative Team 2014 Member, Kim Williams, gives tips and techniques on how to enhance the back of open back bezels using decorative paper.
Next time Kim will share haw to use ICE Resin'd paper on the back of a bezel so stay tuned and we will be happy to welcome you back!
If you can't wait to see another project by Kim now: Memorial Candle Charms.
Jamie Dougherty shares her latest technique – using ICE Resin, a rubber stamp and chalk ink to create an embellishment for a mixed media piece, scrapbook page or jewelry.
Enjoy!
Tune in next Tuesday for another technique from another of our skilled Creative Team members.
In the meantime, here's ONE and ANOTHER of Jamie's mixed media art!
Have you ever cut metal with tin snips aka metal shears? Totally different than cutting paper. ICE Resin International Team Member Jen Crossley shows you how to use the four different snips in her arsenal and shares tips for finding a pair that work with your hands. Fab tips in just a few minutes!!
Susan Walls from the ICE Resin 2013 Mixed MediaTeam shares a quick tip:
The 2014 Creative Team will have a host of new tips just for you starting on Tuesday January 7.
Grab your Bracelet Mandrel and follow along as Jen Crossley shares tips for making the focal piece of a bracelet using a bezel from Kristen Robinson's Rue Romantique Line.
Jen Crossley, A Mark in Time
keep looking »