Join John Creighton Petersen from the ICE Resin 2014 Creative Team as he uses a bolt, packing tape, ICE Resin, a jewel, Raspberry Mica Flakes and Shattered Fire Opal to make this "found" object into an open back bezel.
Have you ever made an old pocket watch back and face into a deep bezel?
Candy Rosenberg shares a couple of steampunk watches she is working on layering and how to use ICE Resin as a glue to make a deep well for all of her inclusions.
An optical lens and Art Mechanique paper are transformed under Jen Crossley's hands:
The papers Jen is using were mostly gathered in France by Susan Lenart Kazmer and reimagined as a part of our Essentials Papers.
Ever used our fab Art Mechanique 2-part molding putty?
Did you know you can mold organic and inorganic objects?
Jamie Dougherty shares how to mold just about anything for your mixed media jewelry and collage!
Want to have mini-bezels for detail areas in your jewelry or mixed media work? Here is a way to use jump rings as a bezel for your Ice Resin projects! All you need are needle nose pliers and duct tape!
You can use the bezels for paper arts, buttons, mixed media, jewelry and other imaginative projects.
Note: The video is sped up where Kathy is mixing ICE Resin. You want to mix and fold gently. Please do not whip it!
It's nearly officially spring and the butterflies are winging your way!
Tatiana Allen is going to show us how to make a cool stamp using ICE Resin in a mold.
ICE Resin takes 6 to 12 hours to dry — it's ready to wear as jewelry. IT is fully cured in 72 hours.
No bracelet mandrel, no problem!
A hammer, a towel, a rolling pin and one of the Art Mechanique Silhouettes is all you will need to follow along as Clare Horner shapes the focal for her bracelet.
Make sure this is your "studio" rolling pin and not the one from your kitchen.
Shadows from the backside show though when you cover vintage paper with ICE Resin.
In this video, Candy Rosenberg shares her technique for resining the page of a vintage book.
You are lucky in love!
You get to construct an accordion-style mixed-media book in this video tutorial by our "ICE Prince" John Creighton Petersen.
A delightful Valentine's gift with Iced Enamels Raspberry Relique, Art Mechanique bezels, paper and embellishments.You will need 3 hobnail bezels–a heart and 2 rectangles.
Even if you have never used ICE Resin before, John makes this project accessible!
Let's get started.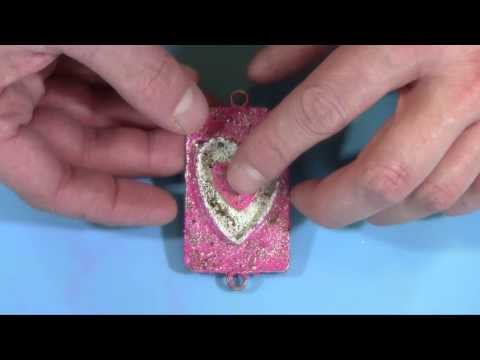 You can see more of John's work right HERE.
The mold making technique Baerbel Born is sharing in this video  uses:
foam sheets, rubber cement, hair wax, ICE Resin and Paper. Enjoy!
English:
German:
keep looking »