Posted on | February 13, 2014 | No Comments
All those pretty spoon jewelry pieces I saw last year made me think how I can adapt them to my personal taste.
My mother hoarded some vintage silver spoons and I have been lucky to get some from her. I added paper flowers and moss, both bathed in ICE Resin before adding it to the spoon. This makes all embellishments sturdy and long-lasting. I covered the inside of the spoon with Iced Enamels 'Relique Glitz Silver' for a shimmering base, then poured resin in the mold and added the embellishments. The spoon works like a bezel for me and holds all the findings I want to expose.
Materials:
ICE Resin®
Iced Enamels™ Relique Glitz Silver
Rue Romantique™ ribbons
dried moss, paper flower, pearls, rhinestones.
My tip: If you work with ICE resin, always keep some findings near, like the moss or the flower. With the remaining resin you always can cover the embellishments and save for later use. The hardened charms can be used right away in any future project.
Baerbel Born, Inspire
Posted on | February 12, 2014 | 6 Comments
You are lucky in love!
You get to construct an accordion-style mixed-media book in this video tutorial by our "ICE Prince" John Creighton Petersen.
A delightful Valentine's gift with Iced Enamels Raspberry Relique, Art Mechanique bezels, paper and embellishments.You will need 3 hobnail bezels–a heart and 2 rectangles.
Even if you have never used ICE Resin before, John makes this project accessible!
Let's get started.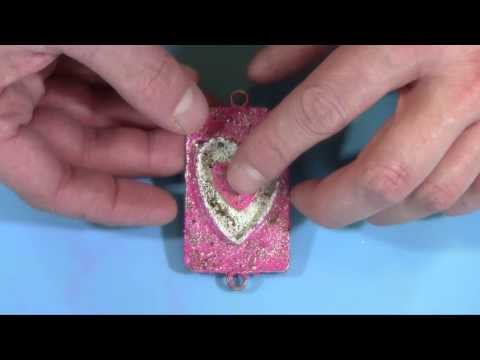 You can see more of John's work right HERE.
Posted on | February 11, 2014 | 7 Comments
The mold making technique Baerbel Born is sharing in this video  uses:
foam sheets, rubber cement, hair wax, ICE Resin and Paper. Enjoy!
English:
German:
Posted on | February 8, 2014 | 7 Comments
Susan Lenart Kazmer LLC is pleased to announce a brand new collaboration between Vaiva Style™ and Susan Lenart Kazmer™. These two visionary fashion designers and businesswomen have teamed up to bring the couture jewelry of Susan Lenart Kazmer on the runway at Trump Tower as part of New York Fashion Week Winter 2014.
Vaiva Tuckuviene is well-known in the exciting and intricate world of fashion, both as a designer and show producer. Born in Lithuania, Vaiva began modeling began in 1991 while visiting New York, where her grace and beauty landed her a contract with Total Model. While signed, she was introduced to runway and the business side of modeling. Her independent and entrepreneurial nature led her to establish her own modeling agency, Vaiva Studio, in Lithuania in 1994, where she quickly opened studio branches in several cities. She became the official representative in Lithuania for Metropolitan Model Agency in Paris, France. Vaiva Studio was more than a modeling agency, but a successful clothing design studio as well. Her modeling agency, Vaiva Models, is now based in Los Angeles, California, as well as her newest business venture Vaiva Style, where she represents up and coming designers. She's also authored her first book, "The Road to Modeling Success."
Vaiva Style is the official representative of the innovative and exciting couture jewelry of Susan Lenart Kazmer, a formally trained silversmith and internationally known mixed-media artist, author and instructor. Trained in fashion and conceptual art at the prestigious Art Institute of Chicago, Kazmer's work is found in museum holdings and private collections throughout the world. Her piece titled "The Energy Talisman" was part of a traveling art exhibition with the Smithsonian Museum of Art in 2004, and in 2006 she was awarded "Most Innovative Use of the Medium" by Bead International. For the past decade, Kazmer has been a beloved art educator, author and inventor of ICE Resin®, a jeweler's grade resin used by artists and jewelers throughout the world. She is the author of "Resin Alchemy" and "Making Connections; A Handbook of Cold Joins for Jewelers and Mixed Media Artists". Her work is inspired by her travels in the early 1990s to Southeast Asia, Central America, Costa Rica and Africa where she bought rare and indigenous beads made by tribal artisans and brought them America for study and documentation of cultural Talisman and sacred objects. Attracted to spiritual studies, she infuses her work with positive energy, sacred symbology, gypsy magic and healing. Not only do her collectors look amazing, but they feel extraordinary wearing Susan's unique and distinctive original jewelry.
This collaboration between these two visionary women is sure to bring fresh excitement and energy to the Fashion industry.
*For more information, please visit the websites of vaivastyle.com and susanlenartkazmer.net
Posted on | February 5, 2014 | Comments Off
I love finding ways to use ICE Resin in my paper-crafting projects. I received this beautiful box and spray painted it with Glimmer Mist to give it a deep walnut effect then added some old circa 1900 papers that were covered earlier in ICE Resin. Then added a new piece of circa 1909 accountants page to the top and covered entirely with ICE Resin again. I added a few small watch parts to give it a vintage look.
Candy Rosenberg, The Altered Life
Tools and Materials:
ICE Resin
Wood Box (Walnut Hollow)
Glimmer Mists
Vintage Papers
Watch Parts
Technique:
1. Measure and mix 1/2 oz. ICE Resin
2. Cover top of wooden box once paint has dried.
3. Add papers and watch parts while resin is still wet. Let dry.
Posted on | February 4, 2014 | 2 Comments
ICE Resin Creative Team 2014 Member, Kim Williams, gives tips and techniques on how to enhance the back of open back bezels using decorative paper.
Next time Kim will share haw to use ICE Resin'd paper on the back of a bezel so stay tuned and we will be happy to welcome you back!
If you can't wait to see another project by Kim now: Memorial Candle Charms.
Posted on | February 2, 2014 | 1 Comment
Front row: Pamela Hawkins, Editor, Bead design Studio Magazine, Phyllis Giberson, Allison Hammond-Murray. Back row: Linda Hartung from A La Carte and designer Christi Friesen, Susan Lenart Kazmer and Bruce Olgivy from Garlan Chain..
For the past year and issues of Bead Design Studio Magazine, artists across the country have hones their jewelry, metal work, beading and mixed-media skills as they created a necklace  following the techniques of the 25+ years metalsmith Susan Lenart Kazmer.
 Bead Design Studio Magazine wrapped up the SLK Contest this morning (Sunday, Feb.2) at SLK's (Susan Lenart Kazmer's Resin Alchemy Class.
To follow what fabulous jewelry Bead Design Studio Magazine  is  showcasing next, subscribe HERE.
To follow what Susan Lenart Kazmer is doing or attend a class she teaches, you can look HERE and HERE.
If you are interested in taking one of Susan's classes at To Bead True Blue you can sign up directly at the ICE Resin booth at the bead show!
FIRST Place: Phyllis Giberson 
SECOND Place: Allison Hammond-Murray
We would like to give a shout out to Gold Sponsor: Garlan Chain
Bronze Sponsors: Parawire, T Beads, and Elephant Eye Beads
Jewel Sponsors: Bead My Love, Kabela Design, and the Urban Beader
Product Sponsors: Create Your Style with Swarovski Elements, ICE Resin, Spellbinders, WireLuxe, Alacarte Clasps & Wire Lace, Tsukineko, Tierra Cast, JHB, MyElement, christi friesen, Lisa Pavelka, Impress Art Metal Stamps, and The Lilac Wind Lampwork Beads
These generous jewelry products companies supplied treasures that went into each winner's basket.
Posted on | February 1, 2014 | 8 Comments
ICE Resin is thrilled to announce that Kathy Cano-Murillo has joined our 2014 Creative Team!
Kathy Cano-Murillo is a writer, artist and founder of the award-winning site, CraftyChica.com. Her "Mexi-boho" style crafts have been carried by hundreds of retailers, including Bloomingdales, Target, and Michaels.
She is a former entertainment reporter for The Arizona Republic, and has authored nine books, including Crafty Chica's Art de la Soul and the novels, Waking Up in the Land of Glitter and Miss Scarlet's School of Patternless Sewing.
She has been profiled in The New York Times, The Washington Post, USA Today and NPR, and now has an extensive Crafty Chica product line.
Kathy lives in Phoenix, AZ, with her husband, two kids and four Chihuahuas. Her mission is to spread positivity through creativity!
It's pretty easy to discover more about the Crafty Chica:
Her Website: http://www.craftychica.com/site/
Facebook: https://www.facebook.com/kathycanomurillo
Twitter: https://twitter.com/craftychica
You Tube: http://www.youtube.com/craftychica
Pinterest: http://pinterest.com/craftychica
Instagram: http://instagram.com/craftychica
Tumbler: http://craftychica.tumblr.com/
Posted on | January 31, 2014 | 12 Comments
The month of romance is upon us and has Kristen Robinson ICE Resin and Cloth Paper Scissors / Interweave put together a Valentine for the jewelry enthusiast in your life — or maybe you just need to love yourself!
Kristen selected a bevy of strikingly talented jewelry designers to help realize the projects in this eBook:
The instructions and photos for these bracelets, necklaces, brooches and earrings will fill you with savvy, trendy ideas for adorning yourself in romance.
The artists in order of appearance: Kristen Robinson, Diane Cook, Polly Hendrickson, Ruth Rae, Cindy Cima Edwards, Jennifer Priest, Carol La Valley, Lexi Grenzer, Jen Crossley, Vicki O'Dell, Jen Cushman, John Creighton-Petersen, Pamela Huntington, and Lesley Venable.
Can you match the sneak peek with the designer?
What are you waiting for?
Explore your romantic side with the ICE Resin® artists in The Romance of Mixed-Media Jewelry eBook. Find a variety of mixed-media jewelry with a romantic antique flare that will have you inspired to create your own romantic mixed-media jewelry.
One random person who comments on this blog post between now and midnight  February 14th will win a sweet prize package!
Did you guess right? Scroll down…
1 Pamela Huntington
2 Lexi Grenzer
3 Lesley Venable
4 Ruth Rae
5 Cindy Cima Edwards
6 Jen Crossley
7 John Creighten Petersen
8 Polly Hendrickson
9 Carol La Valley
10 Vicki O'Dell
11 Jennifer Priest
12 Jen Cushman
13 Dinae Cook
14 Kristen Robinson
Posted on | January 30, 2014 | 3 Comments
A delicately imprinted card with buttons still stitched on it magically appeared on my workbench. I am sure it was thrift store find at some point in my travels. I liked the card so much I wanted to use just as it was.
I thought the architectural connection between the Rue Romantique Jet Fire Polish chain and the plain brass chain gave the necklace another antique element.
The woman in the photo must be dreaming. Is it a lost love? OR maybe the man who tipped his hat to her in the park?
Of course in years gone by people did not smile in the photo because it was easier to hold a straight face for the second it took to process the plate, than to smile. Do you ever look at old photos and wonder what the person would look like if only they smiled?
Jen Crossley, A Mark in Time
To make the pendant in this piece you will need: ICE Resin, an Art Mechnique large square hobnail bezel, a card of buttons, a small ornate bezel as a frame and a photograph.
Layer the card of buttons and the small bezel with the photo already glued into it inside of the hobnail bezel. Mix ICE Resin per manufacturer instructions and drip into bezel with your craft stick. Let dry.
Tip: Because of the layers in this project you will need to watch that air bubbles do not get trapped as you pour. Use your craft stick to nudge the resin into any nooks and crannies. You can pop any trapped bubbles that appear with a toothpick.Enjoy!
Jewelry Affaire  published my necklace ART in the Winter 2014 issue and I have a double sided bracelet and my necklaces "Shattered" and "Studio" are  is in The Romance of Mixed Media Jewelry ebook by Kristen Robinson and ICE Resin.
« go back
—
keep looking »