Posted on | January 6, 2015 | 6 Comments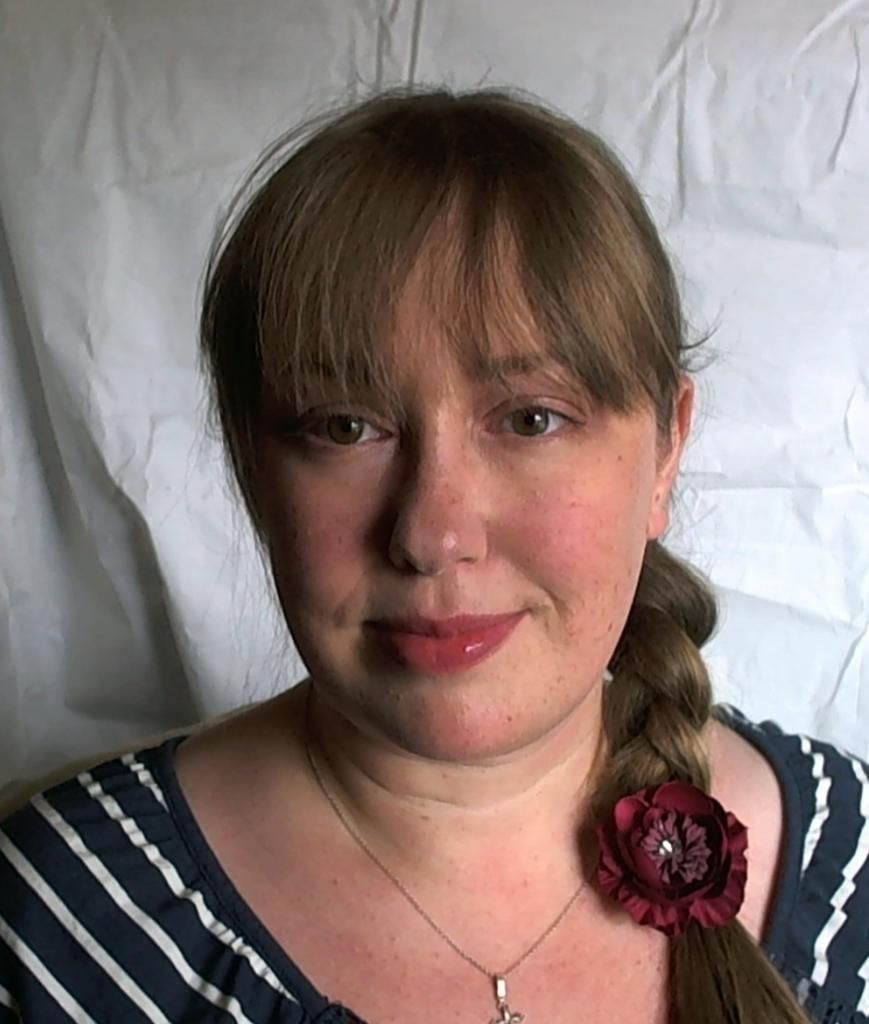 Hi I am Clare, universally known as Gotpaintinmyhair. For as long as I can remember I have always had paint in my hair. Turning empty box's into dolls houses, graduating to fully furnished cardboard dolls houses and now onto the mixed media pieces I create today.
As my passions for making treasures out of trash grew I tried my hand at a number of things, from painting, drawing, paper crafting and jewellery making then onto more advanced techniques such as soldering, metal manipulation and resin. My current focus over the last few years has been mixed media. I have bent it, painted it, inked it, broken it and if that hasn't worked I have taken a hammer to it, while having an amazing time all along the way.
Presently I live in rural Yorkshire with my other half and four crazy rescue kitties who think that we are kitties too and often try to get us to come on adventures in the fields surrounding us. In my spare time I enjoy day trips to interesting places and visiting craft shows.
Currently I attend college and am well into my 2nd year of Silversmithing. The combination of being on the 2014 ICE Resin team and College has taken me to a whole new level of metal manipulation that has blown my mind! I can't wait to combine my new skills with the 2015 ICE Resin team. I hope you enjoy the journey into this new found creativity with me!
You can find me blog: HERE
My twitter: HERE
MyYoutube: HERE
My UStream: HERE
And on Facebook: HERE
Thanks for Visiting
Clare
Posted on | January 5, 2015 | 3 Comments
Since childhood, I've been compelled to create in many different media, but jewelry is the one that stuck and became my passion. I started out working in gemstones, and I love gems – so much so that I became a gemologist and mineral consultant – but eventually gems alone weren't fulfilling my creative impulses. In 2010, I took several classes that completely changed my art practice. One of them was an ICE Resin® class with Susan Lenart Kazmer. ICE Resin® rocked my world. I couldn't believe all the things I could do with it.
At that point, my design focus shifted. I'm obsessed with layers and process, and find detail work meditative. I love working with non-traditional materials, and using everyday items in new ways. My jewelry often includes an element of surprise either in terms of material or process or both. For me, there's nothing better than giving the viewer/wearer a surprise, on top of falling in love with a piece of jewelry for purely aesthetic reasons.
I've spent most of the last 16 years living in Africa and Asia with my husband and two children, which impacted my perspective and made me very flexible. I've never believed in rules when it comes to art. Accordingly, everything is a source of inspiration, even garbage on the street. Broken windshield? Helllllo giant glass glitter! My jewelry is constantly evolving, created in a studio that's a combination art space and science lab. I'm very excited to be part of the 2015 ICE Resin® Design Team, and to have the opportunity to share ICE Resin® with the world, and connect with new artists and craftspeople at all stages of their artistic journey.
Website: http://www.huwbijoux.com/
Blog: http://gemfabulous.com/
Facebook: https://www.facebook.com/huwbijoux
Instagram: @HUWBijoux
Twitter: #HUWBijoux
Posted on | January 4, 2015 | 3 Comments
I have the assignment today of introducing myself to you. For me this is a daunting task, for me I am most comfortable and happy to tell you about the LOVE's of my life- my husband, my children, my parents, my home (in the great state of Texas) and my faith and even my love of coffee!! But Me…. hmm, let's see how far back should we go…."I was born on a cold December day in 19__"…NO that's too far back. Let's fast forward a little bit to when I was around 8,
crocheting (1st LOVE), knitting and embroidering sitting right there with my teacher, my mother (who was born and raised in France). She instilled in me the love of working with my hands and the incredible feeling that comes with the words "Handmade" or "Made with Love." I watched and learned collage, candle making, sewing, painting and so many other art forms from my mom, my best friend and I still continue to learn with and from her. Let's fast-forward again to my 20's when I added to the skill set more embroidery such as, silk ribbon embroidery and smocking but also came into view apparel art and jewelry making (LOVE). Then came the explosion of the scrapbooking world, my love of paper and collage (LOVE even more) was fed. Even though I do not create scrapbooks, I do create memory moments. Can I just pause here and say how I love all the avenues of art that I have worked with- some more than others but I see the potential in all and therefore, my art studio and sewing room are evidences of that love!
Okay, I think you get a sense of my past, let's fast forward to present day…My love for handmade and heartfelt hasn't diminished over the years, it has become even more of a passion for me, more of a way of life. When you or I create from our heart, our dreams, our inspirations – no matter the medium, our home, our family and our friends receive a part of us. And we have accomplished the incredible feeling of creating joy in our journey.
When my girls were old enough, we began just as my mother did with me. Instilling the love of handmade in their precious hands. They are 20 and 13 now and both have their own passions, which include – knitting for one along with art and the other the love of crocheting and they both have a deep appreciation for the time and talents of others.
My style has been described as a pairing of sweet sentiment with unexpected treasures – putting all my LOVE's together. Being on the ICE Resin® Design Team is an amazing opportunity and I want to bring to your art what it has brought to mine. I hope in the coming year that I will share with you not only the "how to's" but the "how you's" – how you can put your heartfelt, hopes into works of art -no matter your choice of medium, no matter your sense of style- for we all have a little piece of our heart to share.
Chantal Johnson is a mixed media artist and teacher living in Rowlett, Texas. She is married and has three children. Her work has been featured in Haute Handbags, Belle Armoire, Sew Somerset, Apronology, Somerset Home, Green Crafts and Somerset Studio. She is also a 15 time ribbon winner for the State Fair of Texas in the Creative Arts competitions in categories such as collage, crocheting and embroidery. For teaching engagements, you may contact her directly at chantal515@verizon.net. Visit her blog at Wishblooms
Posted on | January 1, 2015 | 9 Comments
This is a close-up of  Susan Lenart Kazmer's Talisman necklace "Energy".
Wishing you all the energy you need to accomplish your creative goals in 2015!
Posted on | December 31, 2014 | 179 Comments
ICE Resin is proud to be a part of the Seasons Givings Blog Hop where many loyal customers get the chance to win prizes from the blogs/manufacturers they love.
Thank you for bringing beauty into the world through your art works.
Thank you for keeping our business healthy by purchasing items to make those intensely creative pieces.
Thank you for being open to trying new products.
Thank you for being excited to share and sell your handiwork.
Thank you for your feedback and questions so we get better.
May your 2015 be the best year you can imagine!
Enter to win!!
The rules:
You must comment by specifically telling us how giving someone a piece of jewelry you created made you feel.
Two winners will be chosen at random and will each receive an ICE Resin plunger, an Art Mechanique Silhouette pack, 2 Iced Enamel Inclusions and Medium (not necessarily the ones pictured above.)
ICE Resin's give away closes at midnight MST January 3.
Winners will be notified via email on or about January 4. If we have not heard back from you by the 11th, we will chose another winner.
You can make amazing things with ICE Resin. Here are just a  few of our fave projects from 2014:
Want more chances to win? All of these wonderful folks are sharing the love too!
Scrapbook Adhesives by 3L
https://www.scrapbook-adhesives.com/blog
Lawn Fawn
Spellbinders Paper Arts
https://spellbinderspaperarts.com/Community/Blog.aspx
Reverse Confetti
Clearsnap
Ice Resin
My Favorite Things
http://www.mftstamps.com/blog/
Technique Tuesday
http://techniquetuesday.typepad.com/
Paper Smooches
http://papersmooches.blogspot.com
Sweet & Sassy Stamps
http://sweetnsassystamps.blogspot.com/
Stamp Simply Ribbon Store
http://notimetostamp.blogs.splitcoaststampers.com/
Avocado Arts
A Jillian Vance Design
http://blog.ajillianvancedesign.com/
Latina Crafter
http://latinacrafter.blogspot.com
Die-Versions
Unity Stamp Company
http://theunitystampco.blogspot.com
Splitcoast Stampers
Verve Stamps
Latisha Yoast
http://crafteebee.blogspot.com
AJ Otto
http://thewillowgarden.blogspot.com
Vera Yates
http://lingshappyplace.blogspot.com
Julia Stainton
Judy Hayes
http://judyhayesdesign.blogspot.com
Kim Watson
http://kj-starre.blogspot.com/
Yana Smakula
http://www.zrobysama.com.ua/?lang=en
Chari Moss
Taheerah Atchia
http://littlemisst-papercraft.blogspot.com/
Shemaine Smith
http://shemainesmith.blogspot.com
Emily Spahn
Kimberly Crawford
http://kimberly-crawford.blogspot.com/
Lee Murphy
http://www.luvleestamper.blogspot.com/
Lovely Linda
http://lovelylindascraftcentral.blogspot.com.au/
Laura Williams
http://www.lauralooloo.blogspot.com
Lori Tecler
http://inkingaloud.blogspot.com
Chaitali Narla
http://cutscropscreativity.com
Darsie Bruno
http://craftingwithdarsie.blogspot.com/
Lydia Fiedler
http://understandblue.blogspot.com/2014/12/one-last-gift-for-2014.html
Giovana Smith
http://giovana-believe.blogspot.com/
Teri Anderson
http://terisplace.wordpress.com/
Beth Pingry
Dina Kowal
Daniela Dobson
http://danieladobson.blogspot.com
Lisa Adametz
Piali Biswas
http://touchofcreation.blogspot.com/
Kelli Green
http://cajunstampingqueen.blogspot.com
Keri Lee Sereika
Jocelyn Olson
http://redballooncards.blogspot.com/
Julee Tilman
http://poeticartistry.blogspot.com
Michelle Woerner
http://stopandstamptheroses.blogspot.com/
Lori McAree
http://smilingwhilestamping.blogspot.com/
Theresa Momber
http://craftingtheweb.blogspot.com
Anita Autore
http://cardsandcoffee.blogspot.com/
Melody Rupple
http://apapermelody.blogspot.com
Sean Fetterman
http://fettermandesigns.blogspot.com/
Bunny Vance
http://www.bunnyrunswithscissors.com/
Tricia Traxler
http://simplystamping.blogspot.com/
Lisa Arana
Lorena Cantó
Amy Tsuruta
http://tsurutadesigns.blogspot.com
Jodi Collins
www.stampingalatte.blogspot.com
Tenia Nelson
Http://jazzypaper.blogspot.com
Kelly Klapstein
Jill Cornell
http://jillcornell.blogspot.com/
Emily Leiphart
http://www.leiphartonart.blogspot.ca
Becky Williams
http://onescrappinmama.blogspot.com
Margie Higuchi
http://www.margieh.blogspot.com/
Lee Ann Barrett
www.greytpapercrafts.blogspot.com
Lisa Hoel
http://creativejuicefreshsqueezed.blogspot.com/
Heather Campbell
Lisa Henke
http://mylittlecreativeescape.blogspot.com
Sheri Holt
http://www.myshericards.blogspot.com
Michele Kovack
Ashley Harris
Sharon Harnist
http://paperfections.typepad.com
Lori Craig
Nicole Nowosad
Laurel Beard
Michele Boyer
http://papercuts.blogs.splitcoaststampers.com/
Christiana Reuling
http://christygetscrafty.blogspot.com/
Laurie Schmidlin
www.justgivemestamps.typepad.com
Jennifer Priest
Stacey Schafer
http://stampinwithstacey.blogspot.com
Heidi Blankenship
http://embellished-dreams.blogspot.com/
Heather Pulvirenti
http://heatherpulvirenti.blogspot.com
Anita Madden
http://www.anitasdesigns.blogspot.com/
Gloria Stengel
http://www.gloriascraps.blogspot.com/
Sarah Gough
Rachel Kleinman
Natalie Dever
Lorine Mason
Loretta Lock
http://lovetocreate.blogspot.ca/
Meihsia Liu
Sarah Martina Parker
Angeline Choo
http://scrappyscrappy.blogspot.com
Christine Emberson
Karen Hightower
http://karenscreativemess.blogspot.com
Sabrina Alery
Debbie Seyer
http://www.debbieseyer.com/my_weblog/
Dana Joy
http://www.gotjoycreations.blogspot.com
Cat Tidwell
Deborah Saaranen
http://deborahlynnesdreamincolor.blogspot.com
Ceal Pritchett
Simplybeautifulcreations.blogspot.com
Lisa Lara
http://lisaslifelines.blogspot.com/
Colleen Schaan
Anabelle O'Malley
Megan Hoeppner
http://www.meganhoeppner.com/blog
Monika Davis
Marisa Ritzen
http://rosemary-reflections.blogspot.ca
Wanda Guess
http://www.ablogcalledwanda.com/a-blog-called-wanda/
Jenny Peterson
http://mylittlestampinspot.blogspot.ca
Annette Allen
http://myclevercreations.blogspot.com
Gracie Chavez
http://gracielliedesign.blogspot.com/
Christina Griffiths
http://flowersribbonsandpearls.blogspot.co.uk
Niki G.
http://notjustgreetingshawaii.blogspot.com/
Kristi Schurr
http://kristispapercreations.blogspot.com/
Jennifer Ingle
http://justjingle.blogspot.com
Karolyn Loncon
http://www.karolyns-paperkraft.blogspot.com/
Camille Robinson
http://cammierobinson.blogspot.com
Lindsey M-P
http://bashfulblogging.blogspot.ca
Kathy Clement
Maria Levine
http://riacreations.blogspot.com
Savitri Wilder
Savannah O'Gwynn
www.savannahland2.blogspot.com
Teresa Horner
www.victorianpaperqueen.blogspot.com
Laurel Seabrook
http://want2scrap.blogspot.ca/
Libby Hickson
http://stampinlibby.blogspot.com/2014/12/seasons-givings-blog-hop.html
Yvonne Van de Grijp
Alice Wertz
‪http://aliceslittlewonderland.blogspot.com
Leigh Penner
Lisa Lee
‪http://inchiearts.typepad.com/_
Tina McDonald
‪www.tinamcd-mysanity.blogspot.com
Nina Yang
Angel Johns
Posted on | December 30, 2014 | 3 Comments
THANK YOU!
It is always so difficult to say goodbye to our outgoing team members. They have worked tirelessly for ICE Resin and have inspired thousands and thousands of people with their unique voices and design aesthetic. Thank you Jen Crossley, Jennifer Wynn Cabic, Polly Hendrickson, Kathy Cano-Murillo, Tatiana Allen, Kim Mallet Williams, and Baerbel Born  for your dedication and commitment. You all rock in every way!
Jen Cushman, ICE Resin VP
As ICE's content manager it has been my pleasure to work with each of you. Thanks for bringing beauty to light, and sharing your gifts!
Carol La Valley
Posted on | December 29, 2014 | 1 Comment
To me, New Year's Eve is all about the bling and twinkling lights and I've always associated this fun evening with silver. And what better way to help usher in 2015 than with this simple, yet eye catching necklace complete with a clock holding 2015? I would call this a "one and a half pour" project, meaning that the majority of the work is done in the first pour or resin, with just adding some highlights for the second application. Don't worry, it's still a simple project for any skill level and can be easily customized by just changing the color of the German Glass!
Supplies:
ICE Resin®: ICE Resin®, Iced Inclusions Mica, Iced Inclusions German Glass Silver, beaded chain (for necklace), Hobnail Rectangle Bezel, Paper Sealer, paint brush, resin mixing tools
Prima Marketing®: small black watch
Authentique Paper™: number stickers
Miscellaneous: small scrap of white cardstock
Directions:
1. Mix resin following instructions.
2. Add a small layer of resin to the bottom of the bezel, just enough to coat the bottom of the bezel completely.
3. Cover the hole in the back of the small watch, then place into the bezel.
4. Add mica pieces to the bottom of the bezel, using the resin as the adhesive to hold them down.
5. Spread another thin layer of resin into the bottom of the bezel and liberally sprinkle silver German Glass pieces on top of the mica. I wanted a more "raw" look to the German Glass so I made sure to not cover it with resin. You may find it helpful to lightly push down onto the German Glass to make sure there is good adhesion with the resin.
6. Place a small amount of resin into the blank watch and add silver German Glass.
7. Allow resin to cure.
8. Mix a small batch of resin – just enough to fill the watch and a tad bit extra.
9. While waiting for the resin to set up, apply number stickers to a piece of white cardstock. Trim to size, then seal with Paper Sealer on both sides and around the edges.
10. Lightly coat just the top edge of the bezel with resin and add silver German Glass.
11. Add '2015' to the watch and fill with resin.
12. Allow the resin to cure and add the bezel to a decorate necklace chain.
Happy New Year's to everyone, and best wishes for an amazing 2015!!!
Posted on | December 28, 2014 | 6 Comments
After much deliberation, and tough decision making, we are pleased to announce the members of our 2015 ICE Resin Design Team.
Please welcome our fantastic artists!
They will be introducing themselves and their marvelous new projects beginning in January.
Posted on | December 27, 2014 | No Comments
Collage right? When we first saw this in our team's photodrop. we thought, nice, Tatiana is making one of her wonderfully inspiring mixed media canvasses.
We had to let go of that notion, right away.
After all, we did challenge her to make an amazing piece of jewelry for New Year's Eve.
Supplies:
vintage scrap metal
Iced Enamels® Medium
Iced Enamels® Ivory
Iced Enamels® Raspberry
Rue Romantique Heart Bezel
Rue Romantique Small Scrolled Ovals
Art Mechanique Connections
Art Mechanique Charms
old rhinestone tiara
wing shapes
measuring tape
gears
heat gun
Instructions:
1. Cut out the shape of your tiara's base from vintage scrap metal.
2. Apply a small amount of Iced Enamels Medium onto a brush.
3. Brush a thin layer of Iced Enamels Medium over heart and wings.
4. Sprinkle Iced Enamels Raspberry over top of heart and Ivory onto wings.
5. Tap off excess powder and fuse Iced Enamels with a heat gun. (To make these permanent cold enameled pieces you will need to apply a layer of ICE Resin and let it dry.)
6. Attach Small Scrolled Ovals to measuring tape with Connections.
7. Use same Connections to attach the heart, gears and spinner to tiara.
8. To secure the wings, rhinestone scroll and base to the tiara use wire.
9. Once completed slightly bend the base of the tiara so it is slightly rounded.
Now you are ready to dress up and have Fun!
Have a super happy New Year!
Tatiana Allen, Crafty Cutie
Posted on | December 26, 2014 | 3 Comments
I usually don't do anything spectacular for New Year's Eve, but my husband and I occasionally go out to dinner with friends. I wanted a piece of jewelry with just enough bling to wear with a dressy outfit, but then I wanted to also have a piece that could really spruce up a pair of jeans and a t-shirt. Voila! I have just that! I also thought this would be a nice piece for my final Creative Design Team project. Thank you to all! It was such an honor to be a part of this team with such talent!
Tools and Materials:
ICE Resin®
Medium Mixed Metal Hobnail Shield Bezel
Iced Enamels™ Relique Glitz Glitter
Iced Enamels™ German Glass Silver Glitter
Iced Enamels™ Medium
Disposable paint brushes
Premo Sculpey clay in 5101 Pearl, 5129 Silver and 5038 Peacock Pearl
Pasta Machine
Toaster Oven (dedicated only to polymer clay)
Rubber Stamp
18 gauge Sterling Silver Wire
20 gauge Sterling Silver Wire
24 gauge Sterling Silver Wire
Leather cord
Liver of sulphur
Acrylic paints (blue and black)
E6000 Glue
Wire cutters
Needle files
Tweezers
Round-nose pliers
Chain-nose pliers
Steel bench block
Ball peen hammer
Craft Heat gun
Torch
Bowl of water
Technique:
1. Apply Iced Enamels™ Medium with disposable paintbrush to hobnails of bezel. Dip into Relique Glitz Glitter, tap off excess and melt with heat gun. Let cool.
2. Condition Sculpey clay in pasta machine and blend colors together to get the look/gradation you want. Use firm pressure to make impression with rubber stamp.
3. Flip bezel over and use it like a cookie cutter to cut out the portion of the clay you would like to use. Tear part off from top to bottom to make an interesting shape/edge. Bake in toaster oven according to manufacturer's directions. Let cool.
4. Paint the cooled clay with acrylic paints, slightly removing some with a damp paper towel so the color of the clay shows through.
5. Mix ICE Resin® according to manufacturer's instructions. Pour a small amount into the bezel and fill bottom with glass glitter. Let glitter settle, then insert painted clay into bezel. Also use disposable paintbrush to paint a thin coat of resin over the enamels on the hobnails. Let dry for 24 hours.
6. Cut different lengths/gauges of sterling silver wire. Draw a ball on one end of each if you desire with a torch. Liver of sulphur if desired. Wire wrap bezel and beads onto leather. Create clasp and attach with wire onto ends of leather.
7. Apply small amount of E6000 along top and edge of clay in the bezel and adhere rhinestone chain.
« go back
—
keep looking »