Posted on | September 22, 2015 | 3 Comments
There is nothing like taking advantage of ICE Resin's inherent transparent qualities. Today, 2015 Design Team Member John Creighton Petersen teaches you how to do photo transfers on metal pendants and seal with ICE Resin.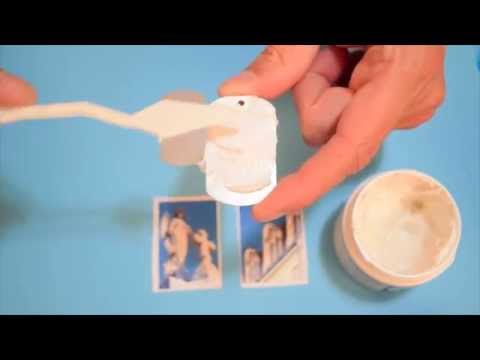 Love John? Find out more about his at his website Art New Wave
Posted on | September 17, 2015 | No Comments
Those little words Contrast and Color create a conflict within me. Harmony and  complimentary are two words/attitudes/elements I try to achieve not only in my home, but in my art as well. However, those two little words (contrast and color) can also create a challenge for not only me, but for those who are like me. And so they did- challenge won over conflict as soon I found just the right mix of color, contrast and harmony after trying 2 failed projects. Sometimes art and life are like that- try, fail, try, fail, try, and succeed!! The key is to keep on going and try something different until we get it just right. This necklace began from a pair of earrings that I found on one of my treasure store hunting days.   Yes, this heart dangled from a small French wire.   After taking the earrings apart, I knew that ICED Enamels were the perfect way to go with this project. With the distinct colors Ivory and Pewter from the ICED Enamels Relique Powders, the heart can be contemporary or classic. With the pop of Raspberry, the heart comes alive. Add the stamped sentiment creates a definition and a focus without taking away from the contrast in color. Sealing with ICE RESIN® creates that glass-like finish, strong durability and a vibrancy for the ICED Enamels.  Finishing with the copper wire and leather, this Texas cowgirl is happy. And now this necklace is the perfect compliment to that little black dress or the faded denim shirt. Let's get started –
Gather
Metal base such as a bezel, or a flat back metal embellishment, or repurposed metal
ICED Enamels Relique– Ivory, Raspberry and Pewter
ICED Enamels Medium
Disposable brush
Heat gun
Craft mat
Small tile coaster
ICE RESIN®
Disposable cups/stirrer
Plastic glove
White tissue paper
Stazon ink
Stamp with sentiment
Leather cording
14-16 gauge copper wire
Flush cutter pliers
Round nose pliers
Adhesive such as Ultimate or E6000
Heart bead or Bead of choice
Small mandrel or dowel
Make
Brush a layer of ICED Enamels Medium in a small area of the metal. Pour one color of Relique over the medium. Tap off excess. In different areas on the metal, repeat with a layer of medium and continue with the same color.
Repeat step 1 with 2nd color and tap off excess.
Repeat step 1 with 3rd color and tap off excess.
Using heat gun, heat and melt the Relique powder until it is smooth and all little bits of powder have melted. Set aside to cool.
With Stazon Ink, stamp sentiment or image onto white tissue paper. Tear or cut a small border around the image.
In the disposable cup, stir together equal parts of Part A and B of ICE RESIN®. Gently stir for 2 minutes. I then let mine sit for 5 minutes to let all the bubbles dissipate.
Using another disposable brush or stirrer, brush/spread a thin layer of ICE RESIN® on top of you ICED Enameled piece.
Lay the small stamped tissue paper on top of the wet ICE RESIN. Then coat the entire metal piece with another layer of ICE RESIN. Set aside on a craft mat or a small trash bag and let dry 8-12 hours.
Once dry, it is time to finish the piece. For this necklace, I chose to use two strands of leather cord and create my own closure with copper wire.
*Cut two strands of leather cord to desired length, adding 1-2 inches for finishing. Thread through metal piece and tie an overhand knot at one end. Dab a little adhesive inside the knot to secure.
*Bring together the cords at the top of the metal piece. Holding them together, using a piece of copper wire, wrap the 4 strands together. As you are wrapping, add the heart stone/bead (that has been threaded onto a headpin and a loop has been created). Finish wrapping the wire and tuck the ends to the back.
To create the closure, cut a longer piece of wire (10-12 inches) and wrap around the small mandrel or dowel to create a circle that the knotted end (of the cord) can fit through but won't slip out.
Then continue to wrap the wire around the circle, creating a "bird's nest" with an opening.
Tuck the end wires around the "nest". Slip the two strands of leather through the circle and lay about 1 inch of the ends onto the longer length. Add a dab of glue to hold these in place while you wrap a piece of copper wire around the ends as you did for the leather at the top of the metal piece.
Chantal Johnson lives in Rowlett, Texas and is married to Scott. They have three children, 3 dogs and 6 sweet little hens. Her work has been published in Somerset Studio, Somerset Home, Sew Somerset, Apronology, Haute Handbags, Belle Armoire and Green Craft.   She is currently on the ICE Resin® 2015 Design Team. For teaching engagements, you may contact her directly at chantal515@verizon.net. Visit her blog at chantaljohnson.blogspot.com or become her friend on Facebook to see her latest inspirations and see the joy in daily living.
Posted on | September 9, 2015 | 2 Comments

I'm always looking for new ways to work with ICEResin®, and this month's theme was the perfect opportunity to incorporate one of my favorites. I love the look of hand-marbled paper, and Mother Nature's swirled agates and granites, and wanted to find a way to incorporate that look directly into ICEResin®. One thing I really like about this technique is that it's not limited to jewelry, my usual medium. While this project features work in a bezel, you can use the same technique to produce much larger works, simply by mixing more ICEResin® and pouring it directly onto your non-stick work surface, rather than into a bezel. You can incorporate the sheets into mixed media projects, book binding projects, or whatever you would like.
The theme this month is "Heat of Summer." I've been fortunate to have visited several beautiful, hot places this summer for work and fun. When I looked through the photos I'd taken of these destinations, the summery colors really stood out, especially bright beaches and golden sunsets. Armed with that imagery, I focused this project on warm tones in reds, oranges, and yellows.
Materials List
ICEResin®
Mixing Cups & Stir Sticks
Art MechaniqueTM Open-Back Yellow Bronze Bezel
Acrylic Paints
Clear Packing Tape
Bamboo Skewers
Paint Palette
Drinking Straw
Non-Stick Work Surface
First, prepare your bezel. Mount it on the sticky side of the packing tape, and burnish the edges to seal the tape to the bezel and prevent the ICEResin® from leaking out during the first pour.
Mix a small amount of ICEResin® according to the package instructions. Pour it into the bezel, filling the bezel only halfway up to the top of the bezel.
Place a small amount of each acrylic color onto your palette.
Do not let the ICEResin® cure at all. While the resin is still freshly poured, dip the pointy end of a bamboo skewer into the first color you want to use, and place it into the ICEResin® in the bezel. If the paint doesn't come off the skewer easily, use a second bamboo skewer to gently help push the paint off the first skewer into the top of the resin. You do not need to push the paint into the ICEResin® deep in the bezel; keep it as close to the top of the resin as possible. The paint may try to stay clumped in the ICEResin®, so use the two skewers to pull it away from itself, stretching it into a line.
Repeat with the remaining colors. The lines do not need to be perfect, or to touch. Alternating the colors to create contrast will help create pleasing marbling.
As soon as you've added all the paint you desire, take a clean bamboo skewer and drag the skewer through the paint, gently swirling the colors and resin.
Let the marbled layer cure for 24 hours to let the ICEResin® set well, and let any paint on the surface dry.
Mix another batch of ICEResin® and pour onto the first layer, sealing the paint layer, and creating a dome top.
Let the domed layer set overnight, and peel from the packing tape.
There are two options for finishing the bezel. You can leave it "as is" after removing the tape, or you can sand it gently with rough sandpaper, wipe off the sanding dust, and apply another layer of ICEResin®. This will restore a shiny surface to the back of the bezel, and make the bezel back transparent.
If you add another (second) layer of ICEResin® to the back of the bezel to create a domed finish, you can have a reversible pendant wearable with either the front or back visible.
There is another option when using this technique. You can do more than one layer of paint. To add a second layer of paint marbling, let the first layer of marbling set up, and then add a second layer of ICEResin®, filling the bezel to just under the top of the bezel. Add paint as before, and drag a skewer through it to marble as before. Let the second paint layer set up overnight, and then add a final doming layer of ICEResin®. If you do the second paint layer, I recommend finishing the back of the bezel as described above, because the front and the back will look completely different.
Let the bezel cure fully, as many as three days, depending on the humidity levels in your workspace, and incorporate into a finished piece of jewelry.
Posted on | September 8, 2015 | 1 Comment
Posted on | September 2, 2015 | No Comments
The one thing I always miss about summer is being able to wear a watch and a fancy bracelet with my short sleeved summer clothing. Usually the two just don't go together, they get uncomfortable or you worry about scratching your watch face or scratching your lovely piece of jewellery, or they get tangled up and its just a whole heap of annoying! Now I do one or the other but never both. Today I have solved that problem, and you can do it what ever colour you fancy. Follow my tutorial and make yourself a cool and practical summer accessory. I hope you enjoy my project and leave me a comment, I love to hear what you think or suggestions of what you would like me to do next
Thanks for Visiting
Supplies:
Iced Enamels™: Relique Powder Raspberry, Medium.
Art Mechanique®: Silhouette, Connections, Jump Rings.
Ranger Alochol Ink: Raspberry, felt applicator.
Other Supplies: Silk cord, Recycled Sari Silk, Watch Face, Ribbon ends, Clasp, Renaissance Wax.
Tools: Crop-o-dile, Pliers, Heat gun, Cut n Dry foam, scissors, bracelet bending bar.
Instructions:
1: Flood a small amount of Alcohol Ink onto the felt and dab all over the watch face avoiding the glass. Clean any excess ink off the glass.
2: Once dry work Renaissance Wax into the watch with a paper towel, some of the ink will be removed in this process. Buff with a cloth.
3: With a crop-o-dile or metal punch, punch a hole in each edge of all the pieces where they will connect. A crop-o-dile will NOT cut through the solid base brass pieces only the thinner top pieces of the silhouettes.
4: Bend the pieces into a bracelet shape with a bending bar or a rolling pin.
5: Infuse a small piece of cut-n-dry foam with the enamel medium and dab all over the brass pieces. Cover all the pieces with the enamel powder and place excess back into the pot.
6: Heat the enamel with a heat tool until molten. Set aside to cool naturally.
7: Lightly connect the large silhouette to the two small silhouettes with brass eyelet connectors. These need to move, squeeze gently.
8: Place an eyelet in the end two holes for aesthetics only, these do not need to move.
9: Thread silk cord through the watch face and then through the eyelets. Knot in place from behind.
10: Knot in place the sari silk ribbon and repeat on the outer edge.
11: Tidy away the ends of the silk cord and sari ribbon in ribbon end caps.
12: Add closure and wear.
Many thanks to my other half who is mercilessly made to model girly pink things because I cant photograph them on my own arm!
« go back
—
keep looking »