Posted on | January 26, 2016 | 1 Comment
OH MY STARS!!! is the perfect expression that we use quite often here in Texas (along with "y'all" and "fixin' to…") to describe CHA, the Craft and Hobby Association's trade show. For me it was the "Creative Heaven for Artists!!" I first heard about CHA in the early 90's when Carol Duval, a wonderful crafter and TV personality, would go and show us through video all the great new inspirations and products that would be coming to our local craft stores in the coming months. As I sat there glued to the TV, I watched Carol walk the showroom floor and talk with all of the people, the celebrities (for me), and show all the new products. The creativity was so evident, and everyone was sharing ideas, demoing new techniques and products! It seemed to be heaven on earth…and I wanted to go.
Fast-forward to January 8th this year. I walked into the Anaheim Convention Center, and picked up my name tag and my info packet to attend the CHA MEGA Conference and Trade Show. It was the beginning of a dream come true….
Going as a Creative Professional allowed me to tour the showroom floor; visit with incredible designers from not just the USA, but also France, Japan, Canada; and see inspiration and creativity everywhere. And of course get a first look at the new products that will begin to roll out as early March.
Being an ICE Resin® Design Team member was the highlight of my time at CHA. I was able to help both Susan Lenart Kazmer and Jen Cushman in their workshops. I met the wonderful Ranger team. It was so fun to know that they all create too!!
I had the privilege of meeting for the first time face-to-face one of my team members, Susan M. Walls-Beverly. Instant Friendship!! She and her friend April took me under their wing, as this was my first time at CHA. We even had the most wonderful time at the ICE Resin® booth, sharing the creative possibilities of ICE Resin® while demoing the new products, including the new ICE Resin® Tints, Milan bezels, Foils, Molding Putty, and a host of other great products and accessories! I loved meeting all the people who stopped and visited with us! Another highlight was taking two workshops with the ICE Prince, John Petersen! He is so energetic, funny, talented, and creative!! I love that these two Design Team members, along with Susan and Jen, are forever friends!!
Touring the CHA Floor was impressive. All the booths are created with incredible displays and products, and are so inviting to those that attend. "Make and Takes" are at nearly every booth. There are giveaways, book signings, and more. Workshops run for four days, and are broad in scope —  from business courses, to product debuts and new techniques — there is something for everyone! It takes a full two days to see everything and absorb it all.
Here are a few photos of the two ICE Resin® workshops taught by Susan Lenart Kazmer and Jen Cushman.
One of the most special booths was Charity Wings, a nonprofit organization, where the Arts and Crafts Community gather, give back, and create.   They had created a blackboard for everyone to write what they would take time to create. It was an inspiration.
My one regret was not taking enough pictures. Everyone was snapping pictures with everyone, and I think I was so in the moment that I forgot, and at times, I was in awe as I saw these wonderful designers and artists — Sandra Evertson, Heidi Swapp, Traci Bautista, and Cathie Filian, to name a few — sharing their creativity, their time, and their heartfelt products. I wanted to soak it all in. At the end of each day, I thought, "I should have taken more."
I know that this first CHA will be the most memorable, as I fulfilled one of my artist dreams:  to not only attend, but to be able to share and be a part of the ICE Resin® family.
CHA was filled with star power with designers, artists, manufacturers, and companies that are working to get the best products to you, so that you can create without limits and reach your star potential.
Chantal lives in Rowlett, Texas and is married to Scott. They have three children, 3 dogs and 6 sweet little hens. Her work has been published in Somerset Studio, Somerset Home, Sew Somerset, Apronology, Haute Handbags, Belle Armoire and GreenCraft.   She is currently on the 2016 ICE Resin® Design Team. For teaching engagements, contact her directly via email. Visit her blog or become her friend on Facebook  to see her latest inspirations and the joy in daily living.
Email: chantal515@verizon.net
Blog: ChantalJohnson.blogspot.com
Facebook: Chantal Johnson
Posted on | January 19, 2016 | 2 Comments
As I write this last design project for the 2015 ICE Resin® Design Team, My girls are watching the Dolly Parton Coat of Many Colors Christmas Special. It is fitting that they talk about being together as a family to weather all the storms and sunshine of life. Although the members of this design team are not family by blood, we are a creative family who inspire each other, share the ups and downs, victories and failures in our art endeavors and over the year, the joys and yes, even the sadness of life. It's amazing how art brings us together and keeps us together.
There is a saying that goes like this-   "It takes a village or a family to raise a child."
Another saying that is fitting when talking of family or a village is "You are truly home when you have found your tribe." A tribe is a group of people who are connected by a shared interest and a way to communicate.
For me, this design team is part of my creative tribe, we share the love of creating and we communicate through our experiences, which shape our art. Thank you to Susan (Lenart Kazmer), Jen, John, Sandy, Heather, Clare and Susan who have inspired me this past year and I know will continue to do so in the future.
My project combines the love of paper, texture and color with wired wrapped components finished with either leather or a combination of sari, silk and suede ribbon. I created two looks one with a tribal feel and one with an elegant damask texture with a sentiment to Dream Big.   Using texture paste and stencils, the layering and texture can be a single focal point or a raised dimensional blending of images. With perfect pearls powder, fluid acrylics and stickles, the colors can be vibrant or muted, blended or stand-alone. And of course, I love to stamp on tissue paper and watch ICE Resin® do it's magic as the inked image appears to be floating in the bezel.
Taking varying wire lengths, drawing a bead at both ends and creating a circle that is hammered and textured is the perfect component to attach to the leather necklace. With the Dream Big Bezel, the wire is wrapped in a free form pattern to create the loop for the sari ribbon. The closure for this necklace is a small bezel knotted to the ribbon and a lobster claw added.
No matter the technique for finishing, the textural patterns created, the colors blended and the ICE Resin® poured creating the glass like finish, this necklace will become a statement piece, sharing a bit of who you are, and even perhaps the tribe your from….
Gather
ICE Resin®, disposable cups, stirrer
Craft Mat or plastic bags
Art Mechanique Metal Bezels or bezels of choice
Manila folder or cardstock
Ranger Texture Paste
Palette knife
Tim Holtz stencils or stencils of choice
Perfect Pearls, colors of choice
Fluid Acrylics – Lumiere colors used metallic gold, metallic bronze, metallic bronze
Small blending sponge, paintbrush
Stickles by Ranger – Color of choice
Stamped sentiment or stamped image
White tissue paper
Black Stazon ink
16-gage wire in brass
Wire cutters
Round nose pliers
Flat nose pliers
Torch, pliers, work glasses, bowl for water, file to clean and sand the edges.*
Ring mandrel or round dowel
Leather necklace- either premade or handmade**
Sari ribbon
Silk ribbon
Black suede ribbon
1 lobster claw
1 jump ring
*If wanting to draw a bead on both ends. If you do not want to use a torch, you can just tuck the cut ends behind the wire wrapped circle or for the connector.
**If you would like to make your own necklace, cut multiple lengths of leather ribbon, using E6000, apply glue to end caps and push leather strips into the caps. Set aside to dry.
Make Textured Dimensional Bezels
Using a palette knife, take a nice amount of texture paste and put it into a disposable cup. Stir in a small amount of perfect pearls powder. Keep adding the powder until desired color is achieved.
Place stencil on manila folder or cardstock. Hold in place and with palette knife spread texture paste on top of stencil. Carefully lift the stencil and set paper aside to dry. Make sure to wash the paste off of the stencil.
Once dry, begin to add color with a small brush or a blending sponge. Blending several colors in various areas will create interest and dimension, be careful not to blend into a muddy effect.
Once dry, spread stickles over the textured piece, if desired.
Once textured piece is dry, cut to desired size to fit in the Bezels.
5.. Stamp sentiment or image onto white tissue paper with Stazon ink. Trim to fit inside the Bezel and place onto the texture piece.
**If using the ribbon necklace, make a small bezel for the closure
To give a highlighted effect to the Bezel, spread a little of the texture paste around the inside edges of the Bezel. Place textured piece in the Bezel.
Mix ICE Resin® – in a disposable cup, pour equal amounts of Part A and Part B. Stir gently for 2 minutes. Let rest for 5 minutes.
Using stirrer, drip ICE Resin® into the Bezels. Let dry 8-12 hours or overnight.
Make Necklace components
Hammered wire circle
Cut several (5-7) varied lengths of brass wire.
File both ends if you are not going to draw a bead with a torch.
If using a torch, set up work area with a bowl with water, safety glasses, a soldering brick or ceramic tiles (just for a work space).
With needle-nose pliers, hold one wire end (at a time) in the propane flame. The tip of the wire should be at the tip of the blue part of the flame. Hold it until the wire begins to melt and draws up into a ball***. Count to 4 and remove wire from flame and place it in a water bowl to quench. If you wait too long the bead may fall off. If this happens, place wire back in flame and draw another bead. Repeat the process on the other end of the wire.
***Excerpt from Making Metal Jewelry by Jen Cushman
Once all wires are finished. Clean with a file or steel wool. Set aside 1 wire for the connector between the wired circle ad the leather necklace.
Using a ring mandrel or a dowel, take beaded wires and bend around overlapping ends, to create a circle.
Weave ends of wire around the circle in a free form pattern. Using a hammer and an anvil or steel bench block, hammer the circle flat or until the desired look is achieved.
With the wire that was set aside, wrap one end around the circle creating a wrapped closure. With other end, create a loop that will accommodate the leather necklace and wrap the remaining wire around the loop.
–If using the ribbons for finishing, create this wire connector by attaching this directly to the Bezel and continue as mentioned above.
Make Ribbon Tassel
Tassels are fun, easy and a joy to make. They can be made from a variety of fibers including ribbon, suede, yarn, leather, and wire. When deciding how many fibers to use, match the thickness of the fibers with the "weight'   of your piece. If using thin gage wire or smaller bezels, then the tassel should contain lighter textures and fibers.
Determine how long the tassel will be. When cutting ribbon, cut twice the length needed and fold in half.
Place the fibers on the wire; bring the two sides of the wire up around the fibers (at the half way point of fibers). Cross the wires at the top of the fiber. Lay the fibers on a tabletop and tie a knot with the fibers just below the wire.
With one end of the wire, slip it through the loop at the bottom of the Bezel, cross wires and begin to wrap around the tassel in a free-form pattern. Take the other end of wire and wrap around tassel also.
To thread the ribbon necklace,
*Cut desired length plus a little extra for knotting (if desired).
*Thread ribbons through the wire connector at the top of the Bezel.
*Make simple knots along the ribbon
* Thread 1 large jump ring on one side of the ribbon and tie a knot
*On the other end of the ribbon, thread a small metal bezel and knot at one end.
*Using a jump ring, attach a lobster claw to other end of the small bezel.
Chantal Johnson lives in Rowlett, Texas and is married to Scott. They have three children, 3 dogs and 5 sweet little hens. Her work has been published in Somerset Studio, Somerset Home, Sew Somerset, Apronology, Haute Handbags, Belle Armoire and Green Craft.   She is currently on the ICE Resin® 2015 Design Team and will also be on the 2016 ICE Resin® Design Team. For teaching engagements, you may contact her directly at chantal515@verizon.net. Visit her blog at chantaljohnson.blogspot.com or become her friend on Facebook to see her latest
Posted on | January 15, 2016 | No Comments
For all of that learn better by seeing and doing here is the video of how this bracelet comes together.
Remember!! Don't be afraid to try something new! ICE Resin® is incredibly easy…you just need to do it!
Enjoy and show us what you make!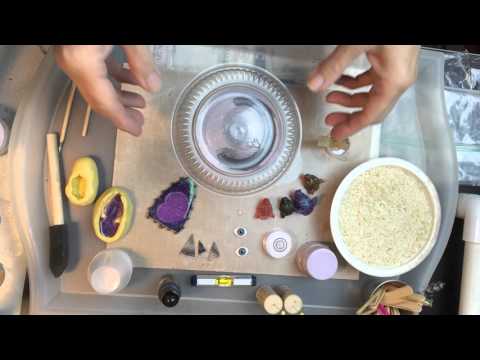 Posted on | January 12, 2016 | 2 Comments
The bracelet is pretty big. It is a solid cuff with an inverted shape across the top. This is probably the largest piece I've cast and it turns out to be really easy to accomplish.

PLEASE keep your safety in mind at all times while doing this!! Safety glasses protect your eyes from flying material…a face mask keeps you from breathing any resin dust…tie your hair back to prevent getting it caught in the drill…and keep your fingers out of the way!
Isn't it a great look!?
Posted on | January 7, 2016 | 2 Comments
In today's video tutorial I show you how I created a solid sheet of ICE Resin from a rubber stamp. This simple process can be used in many ways. My full finished project can be seen in the previous blog post published on the 5th of January 2016. I love to see what you create too so don't forget to share what you have made with this technique.  I hope you enjoy my video and leave me a comment.
Thanks for visiting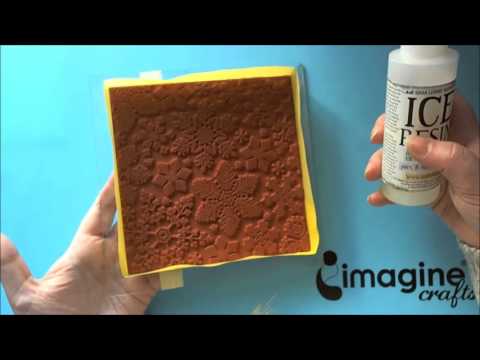 « go back
—
keep looking »