Posted on | February 10, 2015 | 4 Comments
Inspiration for this necklace came from my experimenting with patinas. Susan Lenart Kazmer's Art Mechanique Silhouettes make a great surface to play around. Use your favorite colors and make one for each day of the week!!
Sandy Martin, Sweet Pea Jewelry
Materials:
ICE RESIN®
Oil paints-white, pink, red
Gilders paste-patina
16 G bronze wire
Organza ribbon
Small Rhinestones
Small wooden heart
Art Mechanique House Silhouette
Non-stick craft mat
E 6000
Technique:
I started by roughing the surface of the house with sandpaper. I then painted layers of oil paint, letting each layer dry between colors. Once the paint was dry, I used sand paper to remove some layers. I painted both sides of the house.
Mix Ice Resin per package instructions. Take a small amount of resin and place it in a second mixing cup. Add a small amount of gilders paste to the ice resin to color. (you can use oil paint, pastels, acrylic or ink to color the resin) I scrape a small amount of gilders paste with my Popsicle stick then use the stick to mix the color. Using the Popsicle stick, drop a small amount onto the wooden heart and set aside to dry. Use the clear resin to cover the back side of the house and let dry.
Once the house and the heart are dry, Glue the heart to the front of the house. Just use a dab of glue to hold the heart in place. You only need enough glue to hold it in place, not to secure it, the Ice resin will do that!. Mix a small amount of Ice Resin and cover the entire piece. Place a small rhinestone on the heart. The resin will secure it in place.
Once the piece is dry, drill a hole in the top. If the resin has spilled over, you can clean it up easily with an xacto knife.
Cut a 3 to 4 inch piece of 16G wire. You can ball one end for added interest. Hammer wire flat. Create a loop at the top and wrap wire the remaining wire. Create another loop and thread it through the hole in the house. You can ball the other end of the wire at this point if you like, finish wrapping the remaining wire. Using the E 6000, glue a few rhinestones onto the flat wire.
I created the necklace from torn organza ribbon and a piece of leather. I tied the ends to a handmade hook and eye clasp. You can use a pre-made ribbon, chain or wire necklace if you like.
Posted on | February 7, 2015 | 5 Comments
Divya N describes here style as "Indian Contemporary", and her jewelry is "Designed to please your soul".
Her longing for pretty baubles led her through a degree in design to stepping out into her own with business, Sayuri. (Click to learn all bout what that word means to Divya.)
Her blog posts are thoughtful and give the reader insight into another culture and what it is to be an artist and vibrant colors adorn her work. You can check out her blog:  www.jewelsofsayuri.com
Pahlakhara Necklace
Phalak means a slab or colored glass and Phalakhara refers to a traditional mutlistrand bead necklace which was connected with slabs of glass and was popular in the Satvahana Empire in ancient India. As a design educator and a history buff, I have always been drawn to costumes and jewelry worn in the ancient times so here I have recreated a traditional design with modern materials and a contemporary approach.
Materials
ICE Resin® (resin – Part A & B, mixing cup, stick, old brush)
Hobnail rectangular bezels small- 2
German Glass Glitter – sky blue
German Glass Glitter – amethyst
Green ceramic beads
12mm Green glass beads -2
8mm Hot pink compressed glass beads – 2
Cedarwood copper beads -2
Beading wire
Textured gold tone bead cap – 2
Gold tone eyepins – 4
Altered clasp*
Crimps
Nose pliers
Nippers or wire cutters
The antique brass clasp was altered by applying Nail polish (pink and blue) color on it and then sealed with resin
Method
Mix equal quantities of Part A & B in a cup as per instructions
Apply a thin stroke of resin in the bezels and fill one half with blue inclusions and the other half with amethyst. Pour resin gently on top to cover. Cover with a dust cover and set to dry and cure for atleast 24 hours
String 19 small green beads onto the beading wire and crimp both sides to a gold tone eyepin each. Repeat with 21 and 23 beads on a line each ending up with a cluster of 3 strings.
Add a bead cap each on either side and make a wrapped loop and connect to one side loop of the altered bezel. Repeat for the other side
Loop one 12mm green bead, followed by a pink bead on a gold tone eyepin connecting to the bezel. Repeat for the other side
String 14 small green beads onto a piece beading wire, first connected to the looped beads, followed by one copper bead and crimp ends to the clasp. Repeat for the other side
Discover more about Divya N:   Facebook page – www.facebook.com/JewelsofSayuri     Twitter – @jewelsofsayuri   Etsy Store – www.etsy.com/in-en/shop/JewelsofSayuri
Posted on | February 4, 2015 | 1 Comment
For some of us a real diamond on a whim for Valentines is a far off luxury that is not attainable or a reasonable request of our other halves, so if you like me don't want to ask for the real thing, then ask for the next best thing, and make yourself an ICE Diamond, after all a handmade gift is far more precious than anything bought from a shop.
When I saw a local company who makes laser cut wood shapes had this gorgeous wooden cut diamond I instantly fell in love, and hoarded it for just the right project. I knew I wanted to fill it with ICE Resin® at some point but then what I was not sure. While looking for some gems for smithing I toyed with the idea of buying myself a real diamond. To get a decent one, of good clarity and colour I quickly realized that would be well out of my price range so my plan started forming. I wondered what would happen if I combined ICE Resin® and Shattered Opal……… A match made in heaven itself, Cupid would be impressed!
Thanks for Visiting
Clare Horner
Supplies:
ICE Resin®
Iced Enamels: Shattered Opal™
Packing Tape
Paint Brush
Fernli Designs Laser Cut Diamond Shape
Treasure Gold in Pewter
Bone Folder/Burnisher
Mixing cup and wooden stirrer
Soft Cloth/Tissue
Silver Ball Chain
Large 10mm Jump Ring
Crop-o-dile
1: Take an old paint brush and cover the wooden piece inside and out on all edges with a good coating of Treasure Gold in the Pewter colour. Buff off any excess with a soft cloth/tissue and create a high shine.
2: Take a suitable length of packing tape and stick it to what will be the back side of the diamond shape. Make sure every part of the diamond is covered and burnish down really well making sure all edges are adhered to the tape.
3: Following the manufacturers instructions mix a small amount of ICE Resin®. Once mixed, set aside for two minutes to let any air bubbles rise and pop on their own.
4: Using a small spoon drop a small amount of Iced Enamels Shattered Opal™ into the mixed resin. Mix in carefully, add more until you are happy with the reflectiveness. Remember you can always add more you cannot take away.
5: Gently drip the resin mix into each of the openings of the diamond shape so they are all level. Set aside to cure for 6 to 8 hours or over night. Pour any excess resin into a mould or make resin paper.
6: Once cured gently pull the packing tape off the back of the piece then punch a hole into one corner of the piece with a sturdy hole punch such as a crop-o-dile. Attach a large jump ring and thread with ball chain. Wear your piece.
Posted on | February 3, 2015 | 6 Comments
You can make this  fun and funky dazzling diamond pendant.
ICE Resin's crystal clarity allows the light to shine through the Shattered Opal  flakes!
Posted on | February 1, 2015 | 5 Comments
Susan Lenart Kazmer is thrilled to announce her new Milan Bezels.
They will premier and be available for purchase first in the ICE Resin booth at the To Bead True Blue show in Tucson.
These beautifully textured open back bezels come shaped as hearts, teardrops, squares, circles, rectangles, triangles, and ovals. They range in price from $8 to $16.
Posted on | January 29, 2015 | 1 Comment
Hi! John Creighton Petersen here, and I am excited to be teaching at the Tucson Bead Show next week!
Susan will be teaching her Resin, Relics and Ancient Artifacts class along with Enameling and Forging classes (to name a few) while Jen will be amazing her students with her  Over the Moon Cast Resin Charm Bracelet class, not to mention her Vivid Wire Links class and other great learning opportunities.
 View and sign up for all of Susan and Jen's classes at To Bead True Blue Show in Tuscon.
If these amazing classes weren't enough to get you excited to work with ICE Resin, how about joining me, the ICE Prince, John Creighton Petersen, for more adventures in working with the ICE Resin and it's endless possibilities? Just a short (free) shuttle ride away from the To Bead True Blue Show where Susan and Jen will be teaching, the ICE Prince will be holding classes at the Radisson Suites.
 Learn how to incorporate ICE Resin, along with German Glass to create an amazing beaded cabochon in John's Double Bezel Cabochon class.
 Want to learn how to make an open back bezel with a stunning crystal braided necklace? Then check out the Woven Chain Window Bezel class.
Or upcycle old metal slide mounts to create a stunning necklace using Iced Enamels with ICE Resin in the Slide Mount Mixed Media class. View all of John's classes at the Tucson Bead Show here.
The ICE Resin Team can't wait to see you next week in Tucson, either in class or at our booth!
Posted on | January 28, 2015 | 1 Comment
What's better than color? Layers of color! Create a series of windows to highlight a focal area where you can feature an image, word or symbol that's meaningful to you. My focal point is a small heart-shaped window of sparkly ICED Enamels™ German Glass Glitter, but the options are endless!
Supplies
Art Mechanique™ Mixed Metal Hobnail Heart Bezel, large
ICE Resin®
Iced Enamels™ in Garnet Relique & Turquoise Relique
Iced Enamels™ German Glass Glitter in Silver, Salmon, Chartreuse, Sky Blue & Amethyst
Iced Enamels™ Shattered Mica in Bronze & Chartreuse
Laminating plastic
Modge Podge
Permanent marker
Mixing cup & stir stick
Scissors
Disposable paint brush
Place bezel face-down on laminating plastic; trace around edge of bezel. The laminating plastic is what you're going to use to form each of the layers in the bezel. Cut the plastic to fit bezel, and use the plastic as a template to trace and cut as many — or as few — layers as you want to place in your bezel.
Place the first layer of plastic into bezel; draw a "window" onto the plastic. The "window" is the part of the plastic layer that you will ultimately cut out to reveal the layers below, so the first window needs to be small, with subsequent windows growing bigger as you add each layer of plastic. Place the second layer of plastic on top of the first; draw a slightly larger window using the layer underneath as a guide. Repeat for each layer. In the photo above, there are eight sheets of plastic stacked on top of each other. Remove all of the layers from bezel, and cut out each window inside the lines you drew; set aside.
Paint the inside of the bezel with Modge Podge. Coat with silver glass glitter and shake off the excess.

While the base glitter layer dries, paint the first plastic window layer with Modge Podge; coat with ICED Enamels™ Garnet Relique. Do NOT heat the Iced Enamels™. For this project, the Iced Enamels™ are functioning as a powdered coloring agent, rather than their normal cold enamel function. Repeat for each layer & color.

Mix a batch of ICE Resin®; paint a thin layer on the glass glitter in the bezel. Place the first window layer — the smallest window — in the bezel and press gently to release any air pockets or gas bubbles. Let it rest for 15 minutes.
Paint a thin layer of resin on the first window layer, gently press as before to release air pockets, and apply the second window layer.
Repeat until all the layers are in the bezel.
Paint a thin layer of resin on the top layer. Leave the bezel open to highlight all the textures (as I did), or fill & dome with resin.
Thanks for reading about my colorful windows project; they make great picture frame layers, too! See you at the next project!
–Heather
Posted on | January 27, 2015 | 3 Comments
Heather Widener shares how with just a little patience and some laminating film she deeply layers her bezels with sparkle and rich color.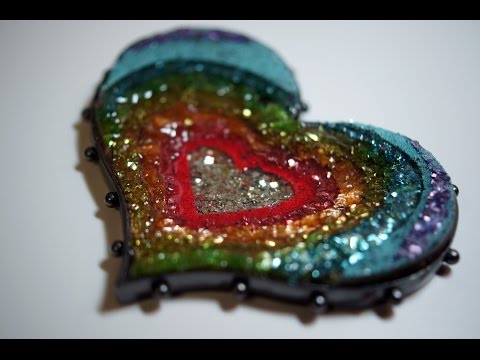 Check out the blog tomorrow for step by step instructions for a layered heart.
Posted on | January 21, 2015 | 3 Comments
Seeing for the first time what happens when white ephemera (tissue paper and feathers, to be specific) and ICE Resin® meet, was both magical and tragic.   Tragic in the sense that when I put one of my little hens' white feathers in as a element in a pendant it disappeared as if it wasn't even in there! Trust me, I'll only do that once. But the magic happens with white tissue paper and stamped sentiments or images that are embedded or coated with ICE Resin®. It as if the stamped image is floating in the ICE Resin® and the viewer is able to see what is in the background. Coating the tissue paper with ICE Resin® both front and back to make resin paper, you can create translucent tags or dangles in any art or jewelry project. Trust me again; I'll do this over and over!
As a gatherer of the natural elements from the ocean shores, my shell collection is vast and it is housed in beautiful glass jars all through out my home. I do pick many to be used in jewelry pieces, home décor and even for saltcellars and candle holders. To me, keeping the integrity of the shells is important- I don't usually paint them different colors as I believe the Creator's paintbrush is far superior to mine- So in keeping the natural, I found that a little tissue paper stamped sentiment and ICE Resin® can impart a timely word and keep the shell timeless. Using the ICE Resin® to adhere the tissue and then allowing it to cure, the shell has a beautiful gloss that won't discolor over time and the natural beauty is in tact.
In my first design team project, I combined the love of the natural, the love of tags, wire and words, and the love of ICE Resin® to create tissue paper magic.
Have fun!
Chantal Johnson, Wishblooms
Gather-
Disposable measuring cup
Wood stirrer
Sponge
Small paintbrush
Disposable gloves
Craft mat or plastic trash bags
White tissue paper
Stazon Ink pads – your choice of color
Stamps
Seashells
Wire 26-28 gauge
Scissors
Round nose pliers
Small beads, charms,
Vintage seam binding Ribbon
Eyelets and eyelet setter such as a Crop –a- dile
Lay out tissue paper and select stamps and sentiments.
Using Stazon ink, stamp images onto the tissue.
**I work with smaller pieces of tissue so I can create small collages or word choices. Leave a border around the stamped images so once coated and cured with ICE Resin®, you will be able to cut around the image
Once images are stamped, set up the craft mat or trash bag in a clear area with a constant temperature. I use the kitchen counter, as my studio gets too cold.
Mix ICE Resin® according to directions, using equal parts A and B.   Set a timer to stir for 2 minutes if needed and then let it rest for 5 minutes – I use a timer for both and my results are fabulous!
To create sentiments on seashells or various elements, use the paintbrush to paint on a thin coat of ICE Resin®, and then place the trimmed tissue stamped image or sentiment onto the object and brush on another layer of ICE Resin®.
Allow to dry for 12 hours. I like to do this step at night so I will not touch my projects to see if they're dry. When I wake up in the morning, it's all finished!!
To create the ICE Resin® Tissue paper, prepare the paper as in Steps 1- 4.
Then beginning on the backside of the paper, using the sponge, spread on the ICE Resin®. Once the back is coated, repeat the process on the front of the paper.
Place the coated tissue paper on the trash bag and allow curing.
**Once dried, be careful and remove the tissue paper slowly from the trash bag/craft mat.
To create the tags,
Trim the ICE Resin® tissue paper to desired size.
Using eyelet setter- set an eyelet for the ribbon and ephemera
Using handheld punches, punch out desired shapes from tissue paper.
With the thin gauge wire, create beaded dangles and ICE Resin® tissue paper charms.
Can you imagine the stamps and colors you will use to make your own?
Posted on | January 20, 2015 | 1 Comment
To what use would you put a plain ceramic tile as you are cold enameling with ICE Resin® and all of our lovely Iced Enamel™ Relique Powders?
Watch Susan Walls' tips: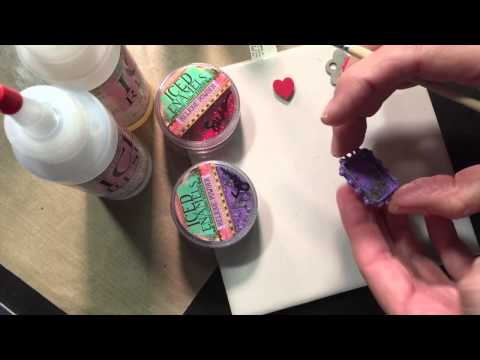 Make her From the Heart  necklace.
What are you inspired to design for one you love?
« go back
—
keep looking »