Posted on | May 16, 2016 | No Comments
Hi! A. Marie here today and I thought I'd give you a little sneak peek of a Work in Progress painting that I'm doing with ICE Resin and various techniques to color it. This is what's on my desk today.
And here's a little creative tip. This is something I remind myself often about when I'm in my studio:
* Remember you can follow more of A. Marie's adventures here on the ICE Resin blog and also on her personal blog at http://fromthebreathofdaydreams.blogspot.com/
Posted on | May 13, 2016 | No Comments
In this quick video tutorial, Chantal Johnson shows how easy and fun it is to mix ICE Resin® with Ranger Alcohol Inks into an ICED Enameled Bezel to create unique and inspired colors and movement.  You may also want to try this technique with our new ICE Resin® Tints as well.  Here is one place where you will truly dream in color.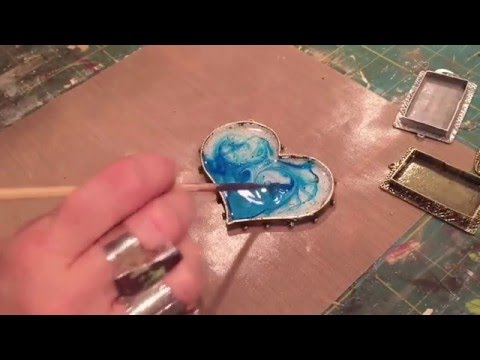 Chantal lives in Rowlett, Texas. To learn more about her, please visit:
Blog – http://www.chantaljohnson.blogspot.com
Email – chantal515@verizon.net
Posted on | May 12, 2016 | No Comments
Have you tried doodling right on to cured ICE Resin? Yep, works like a charm. It's also a fun and artsy way to add a personal word or image to your charms and resin pendants.
Did you know that Dyan Reavely's Dylusion Paint Pens by Ranger Ink work perfectly on resin? Cool, right? They're not just for paper and paints.
Susan Lenart Kazmer's gorgeous sterling silver hammered heart features the new ICE Resin Tints and Foil Sheets by Ranger Ink but notice how she wrote "Possibilities" and an arrow doodle in her own handwriting directly onto the cured resin? It's the perfect mixed media touch to her piece.
Last year, Jen made a dozen simple necklaces using the heart silhouettes and Iced Enamels as end-of-year gifts for her daughter's kindergarten teacher and a few other favorite school educators. They were thrilled with presents of handmade jewelry. What better way of saying "Thanks for doing the most important job" than doodled charms? Sure beats an apple!
What do you think? There's still time left in the school year to whip up a batch of unique teacher gifts.
Here are some important tips for doodling and drawing on to resin:
Make sure ICE Resin is completely dry before you doodle on it. Yes, it's a slick surface for sure, but any pens that work on glass will also work on resin.
If you hate your doodle you just drew, grab Tim Holtz Adirondack Alcohol Blending Solution to remove. You can also use an alcohol wipe.
Do not let alcohol sit for any length of time on the resin. It's a corrosive to epoxy resin.
Be sure to apply an additional top layer of ICE Resin to your jewelry component after you've done your doodling. Unless you seal it, the writing/drawing will rub off.
Posted on | May 11, 2016 | No Comments
Chantal Johnson back again on the ICE Resin® blog to give you some instruction on how to use Iced EnamelsTM along with the ICE Resin® Tints to create unique and colorful jewelry. Hopefully you saw my post from yesterday where I explain my inspiration for this necklace. If not, please scroll down to take a look.
I hope you enjoy this tutorial!
Gather your supplies:
1 large bezel of choice
2 small bezels
ICE Resin®
ICE Resin® mixing cup, stirrer
Iced EnamelsTM Medium
Iced EnamelsTM angled brushes
Iced EnamelsTM Relique powder in Ivory or color of choice
ICE Resin® Tints and/or Ranger® Adirondack® Alcohol Inks, color of choice
ICE Resin® German Glass Glitter
ICE Resin® Studio Sheets
Craft/Heat Gun
For the charm hangers:
18 gauge dead soft bronze and/or copper wire* cut into 14 – 16 pieces of varying lengths
5 pieces of 14-gauge copper, cut to 2-inch lengths and hammered flat
Small hammer
Small anvil
Small filing block
Wire cutters
Round nose pliers
8 shells with natural openings, or found objects of choice
2 turquoise-inlaid medallions, or 2 found objects of choice
For the necklace (or use a pre-made necklace of your choice):
Leather cording, 2 end clasps, hook and jump ring
Ranger® Glossy Accents or leather adhesive of choice
Directions:
Using the angled brush, brush the Iced EnamelsTM Medium onto the inside edges and bottom of large bezel.
Place bezel on a piece of paper and pour the Iced EnamelsTM Relique powder into the bezel. Tap it all around as if you are flouring a cake pan, making sure to cover the entire inside of bezel. Tap off excess onto paper, and then pour back in the container.
Place "powdered bezel" onto studio sheet or glass tile. Using a craft/heat gun, heat around the metal and then moving so gently back and forth above the bezel to melt the powder. Continue this until the powder is melted and looks smooth. Set aside to cool.
Prepare ICE Resin®. In the mixing cup, pour equal parts A and B into cup and gently stir for 2 minutes. Set aside for 5 minutes to allow some of the bubble to dissipate (the rest will dissipate as it dries).
Slowly pour the ICE Resin® into a portion of the bezel. Now with the color of tint selected, very carefully add one drop to the edge of the ICE Resin® and allow it to react and wick into the resin.
Repeat this step until the ICE Resin® has filled the bezel. Making sure to leave areas without color.
Allow bezel to dry 8-12 hours.
Preparing the wire and hammered threads:
Cut varying lengths of bronze and copper wire.
Using a hand held torch, draw a bead on both ends of each piece of wire cut. (If you do not want to use a torch, when wire wrapping the shells be sure to tuck the ends of the wire to the back of the wrapping so as to protect clothes, and the wearer.)
Sand and polish the wires and remove the fire scale if desired.
To create the bronze wrapped dividers, hammer a 2-3 inch piece of copper wire until flat, round the ends with file or hammer. Sand to remove any rough edges.
Putting it all together
Using the drawn-bead wires, loosely wrap each wire around bezel and shell or object of choice. Also connect turquoise inlaid medallion to druzy-inspired bezel with wire or jump ring
Once all pieces are wrapped, place all pieces in the order of the necklace and prepare the leather necklace.
Cut three lengths of leather cord to create the necklace (sizes will vary). Using the Glossy Accents, place a few drops in end caps and then press leather into each cap. Set aside to dry.
Attach clasp to each end cap.
Beginning with the large bezel, loosely wire-wrap the other end around the leather cords and then repeat with all pieces.
6. Once all pieces are on the leather cord, take your hammered dividers and wrap them around the leather cord in the positions you would like.
Congratulations you did it!! With inspiration and (I hope) affirmation from me, you created your necklace!!
Chantal lives in Rowlett, Texas. To learn more about her, please visit her:
Blog: ChantalJohnson.blogspot.com
Facebook: Chantal Johnson
Email: chantal515@verizon.net
Posted on | May 10, 2016 | No Comments
Inspiration and Affirmation are two of the most important elements in not only our art journey, but also daily living as well. As we look for inspiration, it can be anywhere and everywhere. We just have to have the eyes to see it; it can be as simple as a new color of spring, a hint of dew on the leaves or a broken shell on a beach. Other people can inspire us through their art, words, and deeds.
Affirmation comes a little differently. When we seek affirmation (think – Sally Fields' famous Oscar acceptance speech, "You like me, you really like me."), we are looking for someone to validate our efforts, give us the green light to go ahead, or just the right push to get us going. It, like inspiration, can be in other areas also – a little found treasure, an unexpected gift in the mail, just the right words from a devotional or inspirational journal. With all the social media, we can read something that resonates to our soul and gives us that little encouragement we need.
So what does this have to do with this necklace?? Everything. Drawing inspiration from the quiet and refreshing places to the renewal of ideas through learning and sharing from others is where this necklace began.
I recently  took four classes in Tucson from Susan Lenart Kazmer, our ICE Resin® creator. Susan sets out to show us her thought process and her amazing techniques, but she truly imparts courage to hammer with conviction, to hold the torch with a steady and confident hand, and inspiration to take the process, and create from the heart.
This piece is inspired by three things: our class on metal working; bringing your heart into the process; and of course, playing with color with the new ICE Resin® Tints and Ranger® Adirondack® Alcohol Inks is always inspiring. I began with Iced EnamelsTM , the hint of color, and the bezel. When that was complete, the colors and movement created took me to where my heart often goes: to the water, the waves, and the shore.
We enjoy spending time at the water's edge in Florida, and I am refreshed that there is always something new in every step I take on that sand- and seashell-filled shore. Each shell in this necklace was hand picked, as my girls and I walked and talked each morning. Precious, wonderful, memory-filled mornings.
As I completed the necklace with an organic wire wrapping, adding the turquoise inlaid treasures and the Druzy-inspired charms, I wasn't quite sure that itwas what I wanted to submit for the Design Team, but then affirmation came in the form of an unexpected gift. While opening an order of charms I had purchased on Etsy, the sweet seller enclosed a free charm as her way of saying thank you. It read "Dreaming of the Sea." Inspiration, Affirmation all came together with a hint of color, and if you listen very carefully, a hint of the waves beckoning us to dream.
Please visit the ICE Resin® blog again tomorrow to see the tutorial of how this I made this necklace. For now, I hope you enjoyed my artistic process and the meaning behind the piece itself.
Chantal lives in Rowlett, Texas. To learn more about her, please visit her at her:
Blog: ChantalJohnson.blogspot.com
Facebook: Chantal Johnson
Email: Chantal515@verizon.net
« go back
—
keep looking »