Sew fabulous with these rings!
No bells needed on your toes.
Start with 3 Susan Lenart Kazmer™ for Spellbinders® Media Mixáge™ in the shape of your choice bezels.
Cut a circle of fabric and do a running stitch around, 1/4″ in from the edge.
As you pull thread to cinch up the circle, stuff in batting. Pull tight and knot.
Fill bezel 3/4 full with ICE Resin® and sit cushion in it, stitching side down (or cork).
Dry over night.
Attach wire through each loop on the bezel to form a ring (half circle) and you're done!
Tip: If you find it easier to add the wire for the ring before adding the cushion or cork you can put some rice in a cup and set your ring in. This way it will remain level when you pour your resin.
JoMama
Fun, Friendly and Colorful 
More sewing projects HERE and HERE.

Go behind the scenes with Team ICE on October 2!
The beautiful Rue Romantique large filigree oval bezel deserved the most romantic touch I could give it! Multi strands were a must and the Daisy-Diamonds made perfect the links!
Cindy Cima Edwards
Materials and Tools:
ICE Resin®
Materials:
ICE RESIN®
Rue Romantique Large Filigree Oval, antique silver tone KR101
Rue Romantique Small Daisy-Diamond, (2) antique silver tone KR112
Rue Romantique silver chain
Rue Romantique Bezel Templates, template #0001 Krtemp
Paper Sealer
Scrapbook paper
Swarovski crystal flat backs
Angelite rounds 8mm (10)
African jade rounds 8mm (14)
Blue swirl glass rectangles 14x11mm (7)
Silver 20 gauge wire
Silver jumprings and toggle clasp
Craft glue
Technique:
1. Use template to trace image from desired scrapbook paper image. Cut out image and glue into bezel. Paint a coat of paper sealer onto image. Prepare ICE Resin and pour into bezel. Let dry over night. Glue Swarovski crystal flat backs onto desired areas on top of image and bezel.
2. Cut a length of silver 20 gauge wire and make a simple loop. String a African Jade round and make a simple loop. Repeat 13 times.
3. Repeat step 2 for 10 Angelite rounds and 7 blue swirl glass rectangles.
4. Connect 5 of the desired beaded links from steps 2 and 3 together and connect to the pendant with a silver jump ring. Connect the other end of the beaded chain to the side of a small daisy-diamond. Repeat for other side of the necklace.
5. Cut small links of Rue Romantique silver chain. Connect 5 desired beaded links or pattern shown to the small chain segments to create the middle strand. Connect middle strands to the sides of the small daisy-diamonds. (keeping the middle strand to the inside).
6. Connect 7 beaded links together using silver jump rings. Connect to the top of the small daisy-diamond using a silver jump ring. Repeat for the other side of the necklace.
7. Connect a toggle bar to one side of the necklace using a silver jump ring. Connect a silver toggle circle to the other side of the necklace using a silver jump ring.
Blue Rose Cafe… it sounds like a place I would meet the rest of the ICE Resin Creative Team members for crumpets with lemon curd while we sip Earl Grey tea (Kristen ordered a pot – it's her fave)—oh there goes Carol ordering Constant Comment with cream and honey and Pamela Huntington politely asked for white tea. Hope the waitress does not mind special orders. As long as no one comes in with moustaches we will be ok. (team dinner CHA 2013)
Oh no! There's more.
I am loving green these days as fall approaches and I know the leaves will change and fall colors will grace the trees.
But it is still technically summer!
I made this necklace for a summer night on the town with my honey!
Materials and Tools:
ICE Resin®
Blackened Steel Wire 20gg, 22gg, 18gg WIREBS
2 Susan Lenart Kazmer™ for Spellbinders® Media Mixáge™ Squares Two Bezels (bronze, antique silver)
Susan Lenart Kazmer™ for Spellbinders® Media Mixáge™ Turtles One MB6-006
Spellbinders® Media Mixáge™ Squares Two dies MB2-505
Spellbinders® Media Mixáge™ Texture Plates Grate Works Two MT1-003
Gunmetal chain, two sizes: SLK Industrial Chic
Swarovski crystal bicone 6mm, peridot
Swarovski crystal bicone 4mm, peridot
Gunmetal etched beads 12mm
Wood rounds 10mm
Green adventurine faceted rounds 6mm
Crystal rondelles, green 4mm
Seedbeads #6, green
Recycled Sari ribbon, light green and dark green
Jumprings, black
Metallic rub-ons, green
Cardstock, light green and dark green
Handmade Hook Clasp
Craft glue
Craft Cup and Stir Stick
Jewelry Pliers
Spellbinders® Artisan Explorer Machine™
Technique:
Use the Artisan X-plorer machine to cut shapes from cardstock for the bezels and the turtle with the die templates. Emboss with texture plate and use green metallic rub-ons to go over embossed areas using fingertip. Glue cardstock into bezels and turtle with craft glue.
Fill bezels with resin and apply resin to the turtle.
After resin dries (6 to 12 hours), drill or punch hole in turtle. (Sometimes it is better to drill or punch the hole in the turtle before applying resin. I did not do this and the hole messed up the look of the leg a bit so I used jumprings to decoratively cover my mistake.)
Place two jumprings over the leg of the turtle then use a jumpring to connect a small length of chain and the turtle to the bottom loop on one of the bezels. Connect the top loop of the bezel to the other bezel using 2 jumprings. (Slide a seedbead onto one of these jumprings before attaching.)
Connect two jumprings at the top of the pendant to two more jumprings. (Slide a seedbead onto one of two jumpring on the top of the bezel before attaching.)
Fabric beaded links: Cut a length of 20gg wire and make a wrapped loop on both ends of wire. (the entire link should be approximately 1″). Wrap a length of dark green Sari ribbon around the link, hold in place while wrapping a length of 22gg wire ( strung with 3 crystal 4mm rondelles) around the ribbon then wrap the wire around the the  wrapped loops to secure. Repeat with light green Sari ribbon and green seedbeads.
Create 4 more beaded links with desired beads. Connect beaded links together for both sides of the necklace using black jump rings. Connect each side of necklace to pendant using black jump rings. Cut two desired lengths of chain and connect to each side of the necklace using jumprings. Connect hook clasp to one side of necklace using a jumpring.
Ready to wear on your night out! with a matching turtle bracelet.
Have fun!
Cindy Cima Edwards
Adore women with fearless, delightful style?
Fond of hats?
Have an ICE Resin filled bezel that is just waiting for the perfect place to be showcased?
You have come to the right Zine.
One of the most fun things about having a design team is giving each individual an assignment and seeing what they imagine, or in this case, re-imagine.
Remember Susan M. Walls' "Snarky Princess and her Ladies in Waiting", those oh so expressive faces captured in bottle caps, embellished with crowns and wings, from a January post?
Wellm we asked her to make a video where she incorporated them into a project. Susan delivered us something to to behold!
A darling Mini Top Hat.
Cue Drumroll!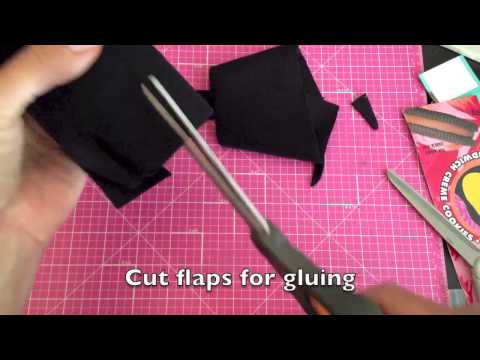 Whew! That was fast and fun!
Need more? Check out her website: Susan's Art Circus
The romance continues – for me that is with Kristen Robinson's wonderful Rue Romantique Line of lovelies!!!! I love incorporating these pieces with bits of antique lace as I feel that they have such a story to tell and they are just so reminiscent of days gone by.
Supplies Used:
Rue Romantique Bezel
Rue Romantique Chain – Rhinestone
Rue Romantique Bezel Stencil
SLK Chain
Ice Resin
WeldBond
Vintage Gem Tintype
Vintage Lace and Fabric
I again chose to incorporate an antique gem tintype along with the stunning bling of the Rue Romantique Chain. The chain added another layer of beauty and just the right amount of bling to brighten and further romanticize this piece. Rusty chain was used as the remainder of the necklace as I did not want to detract from the focal point of the necklace.
I used my sewing matching to create a beautiful little fabric base for my bezel, adding antique lace and a bit of ribbon at the top to be able to tie my bezel to the finished piece. A jump ring was stitched at the top two corners on the reverse side for the chain to be attached to. I also stitched a length of ribbon to be the part of the necklace that lays around your neck.
The stencil allowed me to cut my vintage tintype to just the right size/shape before gluing into the bottom of the bezel using WeldBond. I also used just a bit of WeldBond on the bottom of the chain to adhere it to the bezel as well. When the adhesive was dry I sealed the image with Ice Resin and allowed it to cure for 24 hours. The finished bezel was then tied onto the prepared necklace. I love the combination of the old rusty chain, the bling of the Rue Romantique Chain, the old of the lace and image and the beautiful bezel it is house in.
Lesley Venable
You've layered ICE Resin and inclusions in a bezel.
Now, follow along with this Technique Tuesday video as Pamela Huntington shares a little different creative project with us — making banners in Photoshop or Photoshop Elements.
Go forth and use your newly gained knowledge of layering to collage all sorts of elements.
Don't you just love mixed media art?!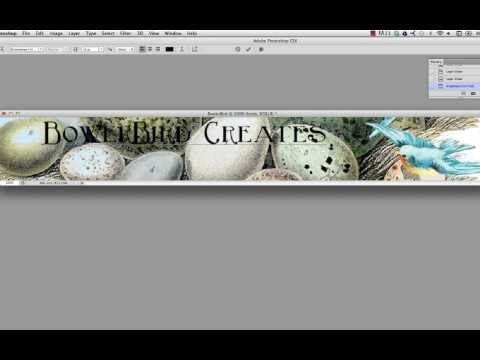 Good day!
I feel ever so much more social in a hat. Maybe it's a talking point, maybe it's a shield, either way I adore wearing hats. It was not until I entered this art and craft world that I understood it was allowed, nay encouraged, creatively improve on items by reconstructing them. For instance I found this straw hat in the thrift store for $3 with the original JCPenny tag on it at $27, marked down to $12. Must have hung in someone's closet? The original arrangement of yellow and pink mums and the black satin bow were faded.
It made me happy to enliven it with a new flower bezel and a fresh satin ribbon tied on via a removable bow so I can match it to my outfit with a different romantic embellishment.
Supplies and Tools: Hat, Rue Romantique Large Etched Oval KR109 in oxidized brass, ICE Resin®, Green Tissue Paper, IndigoBlu rubber stamp, Flitter and Flitter Glue, Silk Flower, Ribbon, Scissors, Wire Cutters, File, Craft Cup and Stir Stick, Bezel Template, E6000 Glue, and a Safety Pin.
Instructions: Stamp inside of bezel with desired stamp, add flitter, Stamp tissue paper with same stamp, add flitter. Use the template to cut out the paper to fit the bezel. Snip the loop off the bezel and file the edge. Mix ICE Resin per manufacturer instruction and drip it into the bezel with a craft stick until it domes. Allow 6 to 12 hours to dry. The double stamp now has a ghostly effect as the light hits. Glue bezel to center of silk flower. Cut a length of ribbon to go around the hat twice plus enough to tie a bow. Pin bezel/flower to ribbon and the hat is ready to adorn you head!
Bye for now. I've work to do although, I ordered the perfect steampunk hat at the Highland Games and Kristen Robinson's Rue Romantique bezels are calling me to hat them in an unusual way… or I could make a yellow-themed band for my summer straw.
Wishing you a life filled with jewelry-making joy,
Carol La Valley
We know that when you were in elementary school learning about how primary colors mix to make other colors that yellow and blue made green, but in the case of ICE Resin®, the yellow hardener and the blue resin are clear when combined per instructions.
Customers will often see their Part B hardener turn yellow and assume that it's gone bad, but this isn't necessarily true. What is true is that one of the things that makes ICE Resin non-toxic when cured is that we don't add any harmful chemicals to our product to extend the shelf life like some other craft resins. This means the hardner will turn yellow and the resin will form tiny crystals in it over time. The best way to ensure this doesn't happen is to use ICE within one year of opening the bottles or the plunger.
So how do you know if your ICE had really gone bad? Simple. Simply mix the two parts together according to directions. If the mixed resin isn't crystal clear in the mixing cup, do not pour it into a bezels. Whatever it looks like in the cup is what its going to look like when poured. What we wanted to show you here is a picture of the bottles Susan recently used for pieces in her upcoming Resin Alchemy book with Interweave. As you can see, the hardener is quite yellowed and yet here is one of the bezels Susan made from it. Crystal clear. Beautiful. Just like ICE.
Oh the vintage Valentine forever holds a special place in my heart. Decorating shoe boxes with paper doilies, paint and construction paper and making Valentine cards for all your class mates and loved ones. It's just as sweet as can be. Hug someone you love today!
Lexi Grenzer
p.s. You can shop your local JoAnn store for Susan Lenart Kazmer™ for Spellbinders®  Media Mixáge™ bezels a bit later this month!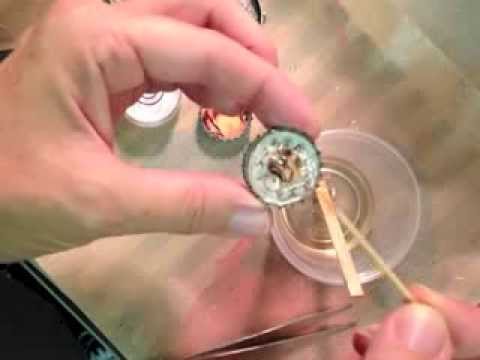 Toothpicks, sandwich sticks, craft sticks, long flat sticks (cut in half) are Susan M. Walls' favorite tools for placing, dripping and nudging ICE Resin exactly where she wants it to go in a bezel.
You can discover more about Susan on her Charming Trinkets blog.
keep looking »