ICE Resin will be in booth 647 at CHA.
Da, Da, Dan, Ta Da…(can you hear the trumpets sound???) ICE Resin® is going to the Primetime Emmys!
That's right! Celebrities who are part of the 65th Annual Emmy Awards will have a brand new opportunity to show off their creative talents in DIY jewelry making.
The ICE Queen; Susan Lenart Kazmer, will be at the Connected Gift Lounge, where she will be showcasing her jaw-dropping, award-winning, mixed-media designs and showing the celebs how to make ah..mah…zing ICE Resin® jewelry. This Make and Take event is being sponsored by CHA and the North American Bead Association. ICE Resin is one of a select group of jewelry-making manufacturers who are proud to be participating in this star-studded crafting event.
Susan, her business partner Jen Cushman, and artists of the ICE Resin 2012-13 Creative Team – Jen Crossley, Cindy Cima Edwards, Lexi Grenzer, Thespoena McLaughlin, Lesley Venable, Pamela Huntington, Josephine Jones, Sandy Martin, and Susan Walls – are busy in their studios designing fabulous pieces for the nominees and event using our wide range of ICE Resin and Art Mechanique bezels, charms, components and more! Kristen Robinson, of Rue Romantique, will be joining the art making, as will a few of our super inspired team members; Carol LaValley, Misty Grosse and  Jennifer Priest.
Stars attending the Emmys will receive a bursting Swag Bag filled with bling from all of the sponsors. We're working on our part of the presentation now.
In the weeks leading up to the event there will be Twitter chats you can join, contests you can enter, prizes to win, and lots more surprises.
ICE Resin will be sharing LIVE from the event and YOU will be able to be a virtual, vicarious part of the fun! Keep up with the ICE Queen and her Court on Facebook, Twitter, YouTube, Instagram,Google+, and Pinterest. We're kicking off the fun with a Facebook chat featuring the ICE Queen herself – join in on August 14, 2013 at 6pm PST for a chance to win a copy of her new book, Resin Alchemy, and chat with us about the upcoming Emmy's gifting event. RSVP for the event here – don't miss one minute of the excitement! https://www.facebook.com/events/369890143138074/

Here's the badge for your own blog you can left click and download or use the code.
We are pleased to announce that Cindi Bisson has agreed to continue on our 2012-13 Special projects Team!
"Dare to Be Different" is her motto and her busy studio is proof.
Cindi is a delightful person and a talented mixed media and jewelry artist. But that is far from all…
Home decor? Yes. Upcycle? Of course! Paper crafts? You bet. Rubber stamps? Her own line premiered through Stampington in '06. Teacher? Yes. You may have enjoyed her classes online, When Creativity Knocks, at CHA, Maker Fairs, Scrapper's Dream Vacations and many others. Writer? Check her out in Bella Crafts Quarterly, Scrap n Art, and The Polymer Arts Magazine.
Cindi's blog is Behind These Eyes. She was our Superstar Saturday guest when this blog was not quite new, she also hopped with Industrial Chic earlier in 2012, you can find technique videos and beautiful projects she made by searching this blog.
Jen (our Marketing and Education Director) made this ornament for the CHA Giving Tree for Charity Wings. It was auctioned off at CHA 2012.
Jen hand cut an acrylic house, added vintage sheet music paper coated with ICE Resin and colored the paper with alcohol inks. The saying is magnetic poetry and vintage rhinestone chain in ICE Resin®. The heart is hand formed from paper clay and painted. The wings were forged and formed from copper wire. A little silk sari and bead dangle and a cute brass crown finished the piece. She created the hanger with forged copper and drew a bead on the ends to hold the ornament in place with a proper cold connection.
Just before Christmas (because you're as good as you can be) Jen has a new book coming out!
Terri O of Super Simple and the ICE Queen got together at CHA to talk about how easy it is to create jewelry and decor using ICE Resin® along with paper, mica, bezels, fiber and putty (for molds).
A whirlwind of stylish energy entered our booth at CHA and her name was Traci Bautista. In point of fact, her name still is Traci Bautista. She is our Super Star this Saturday, here to  tell you about herself and her new book, "Doodles Unleashed".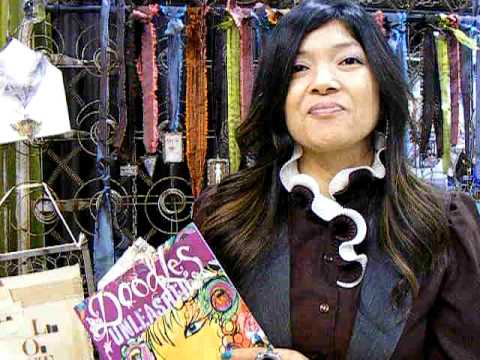 If you want to know more about how Traci dreams big, check out her web site.
We adore our ladies extraordinaire who weave art into the fabriqué of our lives.
One is dressed for a masquerade while her friend wears a red hat and a chocker of black velvet ribbon adorned with a pearl. A butterfly dared to land in her sister's hair…perhaps the winged creature thought her fan was a flower and wanted to get a closer look. A penchant young miss with a rose in her hair writes in her diary (…Perhaps of a certain young man and the new fashions with their masculine lines which her parents would never approve and why does she need approval anyway? She is has her own dreams!)
Just who are these continental travelers, these women magnifiqué dressed in the glamour of a world a century and more gone by?
Is it their beauty we are drawn to? The wistful expressions captured on canvas and early photographs that give a mere hint of a smile because a) you had to stay still for a photograph, or b) you had to strike the same pose for the artist with his brush day after day, or c) that corset didn't allow for laughter that swelled from your belly?
Where might you find them to converse with over chocolat truffles and high tea?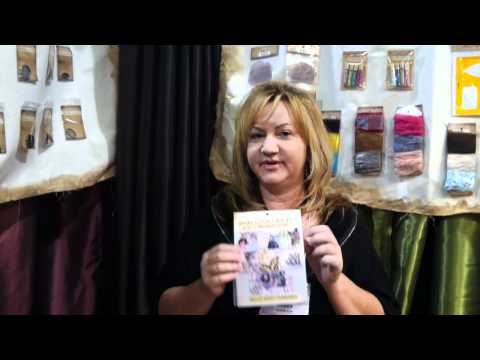 France, my friends.
The South of France is where Susan teaches Ruins, Relics and Resin and France is the country where we took our inspiration for our new Belles Dames Francaises paper pack.
Carol, Susan's social media gal here.  The nice thing about being on the other side of the camera is getting to see and hear everyone's reaction.
In this case, the waiter, the waitress, the other restaurant patrons, the people in buca di beppo who were there for a business meeting and NEVER expected the ICE Queen and her retinue.
"What is that?"
"It's a moustache."
(They got it when she ripped the moustache off.)
I know you don't recognize our mysterious women in disguise. That's (l to r, back row) Creative Team member Patina Marie, the ICE Queen, our friend Kelly, (front l to r) Jen our Director of Education, CT member JoAnnA and CT Coordiantor Kristin.
Way too much fun after an awesomely productive day at the Craft and Hobby Association's Winter Show.
And we were celebrating Creative Team member JoAnnA's birthday, so of course there was more than one toast, followed a bit later by singing wait staff.
We're back in the room now and I have to stop writing soon and join the slumber party.
Find a different perspective and candy for the eye at the ICE Resin® booth.
Gaze up through the chandelier.
Dream of necklaces divine! (These were made by our fabulous Creative Team Coordinator Kristen Robinson and our our Director of Education, jazzy Jen Cushman.)
And… a mixed media art  project by Kristin: "The Story of Mary Marquerite" ( a lovely Irish lass who was a diminuative 4'10").
You're most cordially invited to stop by booth 1029 if you are at CHA!
keep looking »