We won!!
Our combined set of Imagine Create Explore, Volumes 1, 2 and 3, won a Silver eLit award in the Arts and Crafts category for
ILLUMINATING DIGITAL PUBLISHING EXCELLENCE
and we'd like you to help us celebrate!
The eBook is FREE on Amazon from July 11 – 14, 2014 and features splendid mixed media jewelry and home decor pieces of ICE Resin's 2011-12  Creative  Team members: Andrea Ring, JoAnnA Pierotti, Cindi Bisson, Cat Kerr, Tina Schiefer, Kathy Thompson, Lesley Fisher & Michael Jack.
The fifth annual (2014) eLit Awards are a global awards program committed to illuminating and honoring the very best of English language digital publishing entertainment.
The eLit Awards are an industry-wide, unaffiliated awards program open to all members of the electronic publishing industry.
The contest is presented by Jenkins Group Inc., a Michigan-based book publishing and marketing services company that has operated the popular Independent Publisher Book Awards contest since 1996.
The eLit Awards celebrate the ever growing market of electronic publishing in the wide variety of reader formats. Hail the revolutionary world of e-books and join the awards program that's highlighting the best in electronic reading entertainment!
Here's a peek a the enormous variety art contributed by these talented former team members:
Gettin' hitched.
Wedded bliss.
Dreaming of the DAY.
Crafting elements of your wedding will add a special meaning to the day and keepsakes beyond the ceremony.
Here are a few ideas:
Wouldn't this be a pretty post-wedding necklace for the moms and grandmothers of the bride and groom?
This wedding cake topper also serves as a keepsake memento or ornament to remember the couple's special day.
Fun with bridesmaids!
T'was many days before Christmas and I was planning my list
of sweet gifts to make and ornaments of bliss.
I'd need resin — clear ICE, and bezel from Rue
 for that Romantique look, so Victorian and true!
I'd need rhinestones and charms and oh so pretty papers
photos of loved ones up and down through the ages.
My kitchen table is full of my tools:
jewelry pliers, paint brushes and magical glue.
Wait! I need glitter and scissors and such
I'll invite a friend over! A working coffee clutch!
Lovely things will appear as as we laugh and create
our Rue Romantique Christmas is going to be great!
Welcome to Day 1 of our 3 Day blog hop. We have the best team of designers and they have gone all out to make ornaments that will be cherished for years to come. We are sure you will discover ornaments that will inspire your holiday spirit. Thanks for stopping by!
Friday, Nov. 8
Kristen Robinson
http://kristenrobinson.typepad.com/kristenrobinson/2013/11/rue-romantique-christmas-blog-hop.html
Jen Crossley
http://amarkintime.blogspot.com/2013/11/rue-romantique-christmas-ornament-blog.html
Cindy Cima Edwards
http://www.cindycima.com/2013/11/08/rue-romantique-christmas-blog-hop-the-merry-duck/
Cindi Bisson
http://fatcatcreations.blogspot.com/2013/11/ice-resin-rue-romantique-christmas-blog.html
You can look forward to these ornaments:
Saturday, Nov. 9
(ICE Resin site) Carol La Valley http://wp.me/p1MCno-2W3
Lexi Grenzer http://lexigrenzer.blogspot.com/2013/11/rue-romantique-ornament-blog-hop.html
Pamela Huntington  http://pamelahuntington.typepad.com/february_2007/2013/11/handmade-holiday-blog-hop.html
Susan Walls  http://www.susansartcircus.com/christmas-with-ice-and-santa/
Jen Cushman  http://wp.me/p1lhEq-Gb
Sunday, Nov. 10
Lesley Venable
http://flatwoodsfolkart.typepad.com/lesley_venable/2013/11/a-very-rue-romantique-christmas.html
JoMama http://www.shopjomama.com/blog/rue-romantique-ornament-blog-hop
Sandy Martin http://sweetpeajewelry1.blogspot.com/2013/11/rue-romantique-christmas-blog-hop.html
Susan Weckesser http://mysweetearth.blogspot.com/2013/11/rue-romantique-bloghop.html
Do you carry a journal around with you to jot down ideas when your muse flits upon your shoulder and whispers in your ear?
This mixed-media journaling book is small enough to be kept in a purse and used to capture ideas whenever creative inspiration strikes!
Cindy Bisson
Behind These Eyes
Materials and Tools:
ICE Resin®
Spellbinders® Media Mixáge™ Bezels designed by Susan Lenart Kazmer™ – large Fleur de Lis
Opaque Silk Ribbon Bundle – Muted Multicolor
Stained glass chips
Rowlux® Illusion Film – Dark Blue Moire
Zutter Bind-It-All and silver binding coils
Silver eyelets
Gun metal jewelry chain
We R Memory Keepers™ Crop-A-Dile punch
Platinum Planet Brilliance Inkpad
Marvy Heat Tool
"Inspiration" and "fleur-de-lis" rubber stamps
Silver jump rings  – found in the jewelry aisle at Hobby Lobby http://www.hobbylobby.com/StoreLocator/
Jewelry pliers
Instructions:
Fill Fleur de Lis bezel with chips of stained glass.
Mix ICE Resin® according to instructions and fill bezel.  Let dry.
Cut front and back journal covers from Rowlux® film.  Cut pages to insert into journal.  Punch pages and covers with Zutter® Bind-it-All.
Ink "Inspiration" and "fleur-de-lis" stamps with Platinum Planet Brilliance inkpad.  Stamp "inspiration" at top of cover, and fleur-de-lis at bottom of cover.  Heat set with heat tool.
Punch 4 holes as shown in cover.  Add silver eyelets.
Measure and cut gunmetal chain to fit through holes on top and bottom of cover, along inside of back and back through holes to front to attach to fleur bezel with silver jump ring.  Mount fleur bezel.
Assemble journal and add binding.
Add bundle of silk ribbons, tied through the binding coils.
What is your muse telling you right now?!
I love decorating with pieces with an Americana theme – in fact my kitchen and living room are designed in shades of muted reds and blues. My collection of flag baskets and Americana decorative items comes in handy for July 4th celebrations too! ICE Resin® adds dimension and seals the embellishments in place to create an interesting charm to enhance an inexpensive basket and make it something truly unique. I plan to use this basket to hold silverware at this year's celebration.
Cindi Bisson – Behind These Eyes
Materials:
ICE Resin®
Rectangular Hobnail Bezel
ART Mechanique Paper Sealer
Blumenthal Lansing Buttons Parchment paper
Inkjet printer
Flag ribbon
Basket
E-6000 Adhesive
Instructions:
A rectangular hobnail bezel was filled with red and white buttons to create stripes for a flag motif. Blue and white star buttons, oversized, were added to the top edge of the bezel. "America" was printed onto parchment paper with a vintage style font, then sealed with ART Mechanique Paper Sealer. The bezel was filled with ICE Resin®, and ICE Resin® was carefully poured over the star buttons. Once cured, flag ribbon accents were added to the loops on the bezel and the finished piece was mounted to the front of the basket with E-6000 adhesive.
This wedding cake topper also serves as a keepsake memento or ornament to remember the couple's special day.
Materials:
A man without a wife is like a vase without flowers. ~African Proverb
Cini Bisson designed a simply elegant wedding cake topper.
Here is what you will need and how she did it:
ICE Resin
Large hobnail heart bezel
Rhinestones
Small pearls
Black & white photo of sunflowers
White silk flower petals
Jacquard Lumiere 3D paint – Steel
Impress Art Metal Stamps – Newsprint
Gold foil tape
White organza ribbon
Instructions:
1. Print photo and trim to fit inside large hobnail heart bezel.
2. Add row of pearls around inside edge of bezel over photo.
3. Add row of rhinestones next to row of pearls.
4. Cut white flower petals to mimic sunflower petals in photo.
5. Use Lumiere 3D paint (also adhesive) to mount petals to part of flower image, resulting in a 3D effect.

6. Use Lumiere 3D paint to add textured center to flower with silk petals.
7. Follow manufacturer instructions to stamp FOREVER and the date onto gold foil tape.
8. Mount inside bezel over flower photo.
9. Mix ICE Resin according to manufacturer instructions, pour into filled bezel and let cure.
10. Add white organza ribbon.
If you would like to see more of Cindi's designs, check out her Behind These Eyes blog.
Inspired by the adorable daughter of a friend, I wanted to create something special for her for Mother's Day. Photos of Autumn, flower beads, and stamped metal initials and date of birth, are sealed with ICE Resin® in a bezeled bracelet.  A bit of crystal bling adds to the "girly factor."
Materials:
ICE Resin®
Bezel Bracelet
Photos
Impress Art Metal stamps – Newsprint
Silver flower beads
Connie Crystals in 3 sizes
Silver foil tape
Silver head pins, jewelry pliers
Instructions:
1. Measure bracelet blank openings to determine photo size.
2. Print 6 photos and trim to fit.  Mount inside first six bracelet blanks.
3. Follow manufacturer instructions to use metal stamps to stamp initials and date of birth onto metal foil tape.  Insert into last bracelet blank.
4. Add flower bead to 3 of the photos.
5. Mix ICE Resin according to instructions an fill each blank.  Let cure.
6. Mount assorted crystals on silver head pins, use jewelry pliers to add to spaces between each photo, allowing to dangle loosely.
Happy Mother's Day to all the Mom's out there!
Cindi Bisson
A mixed media box
with a feminine touch is
the perfect place for storing
treasured love notes and such!
ICE Resin®, Belle Dames
and crystals in gold,
it shimmers and glimmers
as the story is told…
Sage green for the trim
pearls for the feet
a finial mold
sprinkled with Turquoise Relique!
Cindi's her first
a Special Team Member
with creativity she bursts!
We are pleased to announce that Cindi Bisson has agreed to continue on our 2012-13 Special projects Team!
"Dare to Be Different" is her motto and her busy studio is proof.
Cindi is a delightful person and a talented mixed media and jewelry artist. But that is far from all…
Home decor? Yes. Upcycle? Of course! Paper crafts? You bet. Rubber stamps? Her own line premiered through Stampington in '06. Teacher? Yes. You may have enjoyed her classes online, When Creativity Knocks, at CHA, Maker Fairs, Scrapper's Dream Vacations and many others. Writer? Check her out in Bella Crafts Quarterly, Scrap n Art, and The Polymer Arts Magazine.
Cindi's blog is Behind These Eyes. She was our Superstar Saturday guest when this blog was not quite new, she also hopped with Industrial Chic earlier in 2012, you can find technique videos and beautiful projects she made by searching this blog.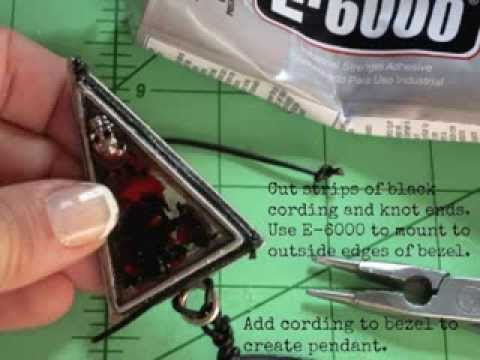 Cindi brings us a quick lesson in how to make a Gothic Pendant using Layered, Swirled Pigment. you'll need this triangle bezel to create this project.
You can learn more about Cindi on her Fat Cat Creations blog.
keep looking »