We are pleased to announce that Cindi Bisson has agreed to continue on our 2012-13 Special projects Team!
"Dare to Be Different" is her motto and her busy studio is proof.
Cindi is a delightful person and a talented mixed media and jewelry artist. But that is far from all…
Home decor? Yes. Upcycle? Of course! Paper crafts? You bet. Rubber stamps? Her own line premiered through Stampington in '06. Teacher? Yes. You may have enjoyed her classes online, When Creativity Knocks, at CHA, Maker Fairs, Scrapper's Dream Vacations and many others. Writer? Check her out in Bella Crafts Quarterly, Scrap n Art, and The Polymer Arts Magazine.
Cindi's blog is Behind These Eyes. She was our Superstar Saturday guest when this blog was not quite new, she also hopped with Industrial Chic earlier in 2012, you can find technique videos and beautiful projects she made by searching this blog.
We caught up with bead expert, Michal Rainsbarger. She teaches ICE Resin® jewelry and other classes at the Ben Franklin Store in Grass Valley, California.
She loves watching her students create! We love her enthusiasm and the great earrings she is wearing!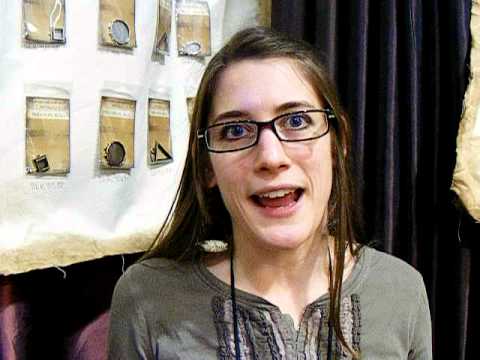 Julie is a whimsical irreverent mixed media artist and has a background in as a graphic illustrator.  You can find her in Bisbee, Arizona at the shop, Bliss Bee, but we caught up with her at Winter 2012 CHA.
Click the links to find out more about Julie and Bliss Bee.
Are you planning to be in Tucson, Arizona for the To Bead To Be True Show in February?
If you are, then you can have some fun classes planned just with you in mind!
FREE Introduction to Glass Casting workshop with Cheri Lenart, sculpture artist.
Jan. 31, from 2:30 to 3 p.m.
This is an intro to glass casting using the glass poet glass casting kits! We will not be firing in this short demonstration, but we will discuss the firing schedule.
Kits will be available for purchase. Contact Cheri at cheri@iceresin.com to register or for more information.
Resin Basics: Come play with our own ICE Resin® Instructors and see why ICE Resin® has taken the jewelry world
by storm! Students will relax to a demonstration showing ICE Resin
in all its applications then will be guided through a project, step by
step, to get the feel of it themselves and walk away with a finished
jewelry component! The workshop fee is $20 and all materials are provided. Feb.1, from 3 to 4 p.m.
Contact Cheri at cheri@iceresin.com to register or for more information.
Hope to see you there!