By The ICE Prince, John Creighton Petersen
With St. Patrick's Day quickly approaching, I decided to get creative with some of my favorite ICE Resin® supplies to make a fun Celtic bezel necklace that could be worn anytime of the year besides March 17th. I've been working with embossed, colored metals lately in my work and thought I would share this with everyone on the blog. This technique can be easily changed using different embossing folders that are used with die cutting machines, and it's simple enough to use different colors with this project.
Instructions:
1. Cut metal down to shape – for this bezel, I used a circle die through a die cutting matching that's the same size of the bezel. If you cut after the metal has been embossed, the pattern will be flattened out.
2. Use the Celtic Knot embossing folder to emboss the cut piece of metal.
3. Color the metal using StazOn inks with GlazOn layer protectant. With an InkBlusher, color the entire piece of metal with StazOn Cactus Green and allow to dry. Apply a thin layer of GlazOn. Repeat (alternating StazOn followed by GlazOn) with Emerald Green and Forest Green, then highlighting with Metallic Gold.
4. Mix ICE Resin® following instructions.
5. Use stir stick to apply a thin layer into the bottom of the bezel. Coat the back of the colored metal piece with a light layer of resin and then place into the bottom of the bezel.
6. With a brush, apply a thin coat onto the inner sides of the bezel.
7. Sprinkle inner sides of the bezel with Chartreuse German Glass. Tap off excel and allow to set.
8. Mix a second batch of resin, enough to fill the bezel.
9. Apply a thin coat of resin onto the back of your inclusion and place into the bezel.
10. Fill the bezel with ICE Resin® and sprinkle with Gold Glitter. Allow to cure.
11. Embellish bottom of bezel and add to necklace chain.
You can change the look of your bezel very easily simply by changing the colors used. Instead of a gold bezel, switch to a silver colored bezel. Once the same green StazOn colors were used to color the metal, slightly sand off some of the color to expose the metal.
Supplies:
ICE Resin®: ICE Resin®, ICED Inclusions Chartreuse and German Silver, ICED Inclusions Gold Glitter, Susan Lenart Kazmer's Art Mechanique®  Circle Hobnail Bezel Medium sized, stir sticks and measuring cups
IMAGINE Crafts featuring Tsukineko: StazOn (Cactus Green, Emerald City, Forest Green, Metallic Gold), GlazOn, InkBlushers, Fantastix
Celtic Knot embossing folder, circle die cut
Other Supplies: rivet and brad (inclusion used in project), ball and chain with DMC floss for necklace
Divya N describes here style as "Indian Contemporary", and her jewelry is "Designed to please your soul".
Her longing for pretty baubles led her through a degree in design to stepping out into her own with business, Sayuri. (Click to learn all bout what that word means to Divya.)
Her blog posts are thoughtful and give the reader insight into another culture and what it is to be an artist and vibrant colors adorn her work. You can check out her blog:  www.jewelsofsayuri.com
Pahlakhara Necklace
Phalak means a slab or colored glass and Phalakhara refers to a traditional mutlistrand bead necklace which was connected with slabs of glass and was popular in the Satvahana Empire in ancient India. As a design educator and a history buff, I have always been drawn to costumes and jewelry worn in the ancient times so here I have recreated a traditional design with modern materials and a contemporary approach.
Materials
ICE Resin® (resin – Part A & B, mixing cup, stick, old brush)
Hobnail rectangular bezels small- 2
German Glass Glitter – sky blue
German Glass Glitter – amethyst
Green ceramic beads
12mm Green glass beads -2
8mm Hot pink compressed glass beads – 2
Cedarwood copper beads -2
Beading wire
Textured gold tone bead cap – 2
Gold tone eyepins – 4
Altered clasp*
Crimps
Nose pliers
Nippers or wire cutters
The antique brass clasp was altered by applying Nail polish (pink and blue) color on it and then sealed with resin
Method
Mix equal quantities of Part A & B in a cup as per instructions
Apply a thin stroke of resin in the bezels and fill one half with blue inclusions and the other half with amethyst. Pour resin gently on top to cover. Cover with a dust cover and set to dry and cure for atleast 24 hours
String 19 small green beads onto the beading wire and crimp both sides to a gold tone eyepin each. Repeat with 21 and 23 beads on a line each ending up with a cluster of 3 strings.
Add a bead cap each on either side and make a wrapped loop and connect to one side loop of the altered bezel. Repeat for the other side
Loop one 12mm green bead, followed by a pink bead on a gold tone eyepin connecting to the bezel. Repeat for the other side
String 14 small green beads onto a piece beading wire, first connected to the looped beads, followed by one copper bead and crimp ends to the clasp. Repeat for the other side
Discover more about Divya N:   Facebook page – www.facebook.com/JewelsofSayuri     Twitter – @jewelsofsayuri   Etsy Store – www.etsy.com/in-en/shop/JewelsofSayuri
Heather Widener shares how with just a little patience and some laminating film she deeply layers her bezels with sparkle and rich color.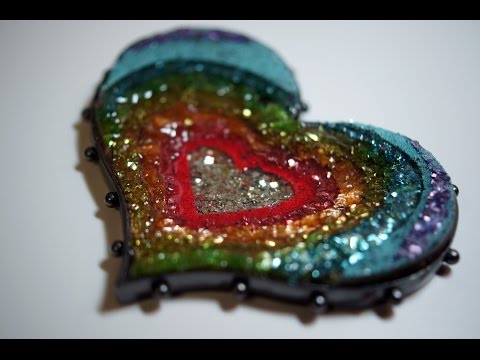 Check out the blog tomorrow for step by step instructions for a layered heart.
To me, New Year's Eve is all about the bling and twinkling lights and I've always associated this fun evening with silver. And what better way to help usher in 2015 than with this simple, yet eye catching necklace complete with a clock holding 2015? I would call this a "one and a half pour" project, meaning that the majority of the work is done in the first pour or resin, with just adding some highlights for the second application. Don't worry, it's still a simple project for any skill level and can be easily customized by just changing the color of the German Glass!
Supplies:
ICE Resin®: ICE Resin®, Iced Inclusions Mica, Iced Inclusions German Glass Silver, beaded chain (for necklace), Hobnail Rectangle Bezel, Paper Sealer, paint brush, resin mixing tools
Prima Marketing®: small black watch
Authentique Paper™: number stickers
Miscellaneous: small scrap of white cardstock
Directions:
1. Mix resin following instructions.
2. Add a small layer of resin to the bottom of the bezel, just enough to coat the bottom of the bezel completely.
3. Cover the hole in the back of the small watch, then place into the bezel.
4. Add mica pieces to the bottom of the bezel, using the resin as the adhesive to hold them down.
5. Spread another thin layer of resin into the bottom of the bezel and liberally sprinkle silver German Glass pieces on top of the mica. I wanted a more "raw" look to the German Glass so I made sure to not cover it with resin. You may find it helpful to lightly push down onto the German Glass to make sure there is good adhesion with the resin.
6. Place a small amount of resin into the blank watch and add silver German Glass.
7. Allow resin to cure.
8. Mix a small batch of resin – just enough to fill the watch and a tad bit extra.
9. While waiting for the resin to set up, apply number stickers to a piece of white cardstock. Trim to size, then seal with Paper Sealer on both sides and around the edges.
10. Lightly coat just the top edge of the bezel with resin and add silver German Glass.
11. Add '2015' to the watch and fill with resin.
12. Allow the resin to cure and add the bezel to a decorate necklace chain.
Happy New Year's to everyone, and best wishes for an amazing 2015!!!
Are you ready to work on your art journals?
Grab some:
Art Mechanique™ Essential Collage Papers Pack One or Pack Two
Art Mechanique™ Shattered Opal
Art Mechanique™ German Glass  Glitter
Your fave Stampendous or Indigo Blu stamps
Staz-On Inks
Oil Pastels
and get ready to rock your mixed media journal pages.
Polly Hendrickson will share some techniques.
ICE Resin makes thin paper translucent, durable enough for jewelry yet you can still tear it! Just imagine the art journal possibilities. In this video you will see Jennifer Cabic show you how to add resin to paper and how to place eyelets in resined paper for any mixed media art project you feel inspired to create!
ICE Resin makes thin paper translucent, durable enough for jewelry yet you can still tear it! Just imagine the art journal possibilities. In this video you will see Jennifer Cabic show you how to add resin to paper and how to place eyelets in resined paper for any mixed media art project you feel inspired to create!
Are you ready for your paper to "resinate"? We have Belle Dames, and two glossy paper packs. You can find them here. In addition to Silver, our German Glass Glitter comes in 5 more colors: Amethyst, Sky Blue, Chartreuse, Chocolate, and Salmon.
It is easy to use ICE Resin® and  German Glass Glitter, create a gorgeous bracelet!
Start with Art Mechanique™ small hobnail bezels designed by Susan Lenart Kazmer in bronze and pewter.
Mix your Ice Resin and coat the inside of each bezel. Then pour in the glitter.
Before the pieces cured, I added in Crystal Clear Gem Brads, then I let  all the pieces dry overnight.
Connect the pieces with jump rings to complete the bracelet.
Kathy Cano-Murillo, the Crafty Chica
To make pretty jewellery with my crochet hook I have been looking for the perfect product to stiffen my yarn. ICE Resin can do the job!
I turned a crocheted flower into a piece of jewellery in no time just by adding ICE Resin.
Tip!! Like paper, the yarn will become slightly translucent if resinated. But as you can prepare your paper before resinating, you also can prepare yarn: Use some good old laundry starch in a high concentration on the yarn and let dry before you put your resin on. The yarn won't soak the resin and won't become translucent.
Baerbel Born
Materials you will need:
Cotton yarn: any crochet flower pattern you like
Laundry starch
Imagine Crafts / Tsukineko 'All Purpose Ink'
Fanstsix pens
German Glass Glitter by Art Mechanique
Jump Rings and Extra Long  Brass Chain from Art Mechanique by Susan Lenart Kazmer
optional: Craft mat by Imagine Crafts / Tsukineko
Fireworks light up the sky when we celebrate our Country's Birthday on July 4th. These earrings I made remind me of the clear white cascades of little specks of light that shower down just following that loud boom and the whistle of the rocket as it soars in the sky. Suspended in the night sky for a mere second before is begins its intended decent in a pattern of orchestrated delight and then merging with the next lacy pattern of light. It is hard not to wish the display could go on forever. I am completely mesmerized with Iced Enamel's German Glass Glitter and wanted to make the silver glitter the most important element in these dangle earrings.
Kim Williams, Historically Haute
Materials:
2 Small Hobnail Bezels
2 Any barrel drilled natural stone beads of your choice
ICE Resin®
Directions:
Mix ICE Resin® according to package directions and fill bezels to capacity. Allow resin to cure for 6 hours, checking for a solid hold in the bezel with a tacky top layer. When the top layer for resin is very sticky. Dredge the filled bezel in the glitter. Use your fingers to press the glitter into the curing resin. Baby wipes will clean up sticky fingers. Allow the resin to cure completely for about 48 hours. Mix a very small batch of ICE Resin® and use it to paint a topcoat on the bezels and allow to dry for 8 hours. Wire 2 barrel cut beads with 20 gauge wire of your choice and attach to the ring on one end of the bezel. Fashion 2 ear wires using 20 gauge sterling silver wire and attach the bezels to the ear wires. Polish sterling silver to desired look. Remember to smooth the end of the wire to assure putting the earring on is comfortable.
When rhinestones sink into ICE Resin they will loose some of their lustre. The German Glass Glitter keeps the sparkle and reflects every sun ray perfectly fine, even when covered with resin. Check Baerbel Born's video for the amazing glitter effect.
What color is your favorite?
What colors would it please your eye to mix?
keep looking »