What's better than color? Layers of color! Create a series of windows to highlight a focal area where you can feature an image, word or symbol that's meaningful to you. My focal point is a small heart-shaped window of sparkly ICED Enamels™ German Glass Glitter, but the options are endless!
Supplies
Art Mechanique™ Mixed Metal Hobnail Heart Bezel, large
ICE Resin®
Iced Enamels™ in Garnet Relique & Turquoise Relique
Iced Enamels™ German Glass Glitter in Silver, Salmon, Chartreuse, Sky Blue & Amethyst
Iced Enamels™ Shattered Mica in Bronze & Chartreuse
Laminating plastic
Modge Podge
Permanent marker
Mixing cup & stir stick
Scissors
Disposable paint brush
Place bezel face-down on laminating plastic; trace around edge of bezel. The laminating plastic is what you're going to use to form each of the layers in the bezel. Cut the plastic to fit bezel, and use the plastic as a template to trace and cut as many — or as few — layers as you want to place in your bezel.
Place the first layer of plastic into bezel; draw a "window" onto the plastic. The "window" is the part of the plastic layer that you will ultimately cut out to reveal the layers below, so the first window needs to be small, with subsequent windows growing bigger as you add each layer of plastic. Place the second layer of plastic on top of the first; draw a slightly larger window using the layer underneath as a guide. Repeat for each layer. In the photo above, there are eight sheets of plastic stacked on top of each other. Remove all of the layers from bezel, and cut out each window inside the lines you drew; set aside.
Paint the inside of the bezel with Modge Podge. Coat with silver glass glitter and shake off the excess.

While the base glitter layer dries, paint the first plastic window layer with Modge Podge; coat with ICED Enamels™ Garnet Relique. Do NOT heat the Iced Enamels™. For this project, the Iced Enamels™ are functioning as a powdered coloring agent, rather than their normal cold enamel function. Repeat for each layer & color.

Mix a batch of ICE Resin®; paint a thin layer on the glass glitter in the bezel. Place the first window layer — the smallest window — in the bezel and press gently to release any air pockets or gas bubbles. Let it rest for 15 minutes.
Paint a thin layer of resin on the first window layer, gently press as before to release air pockets, and apply the second window layer.
Repeat until all the layers are in the bezel.
Paint a thin layer of resin on the top layer. Leave the bezel open to highlight all the textures (as I did), or fill & dome with resin.
Thanks for reading about my colorful windows project; they make great picture frame layers, too! See you at the next project!
–Heather
Heather Widener shares how with just a little patience and some laminating film she deeply layers her bezels with sparkle and rich color.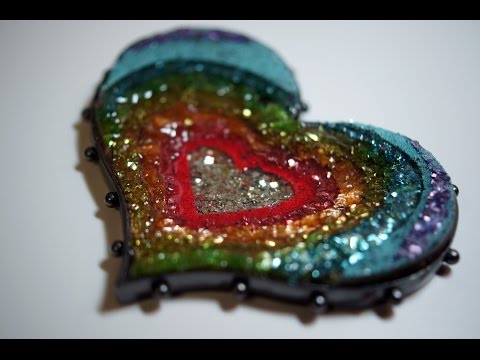 Check out the blog tomorrow for step by step instructions for a layered heart.
Seeing for the first time what happens when white ephemera (tissue paper and feathers, to be specific) and ICE Resin® meet, was both magical and tragic.   Tragic in the sense that when I put one of my little hens' white feathers in as a element in a pendant it disappeared as if it wasn't even in there! Trust me, I'll only do that once. But the magic happens with white tissue paper and stamped sentiments or images that are embedded or coated with ICE Resin®. It as if the stamped image is floating in the ICE Resin® and the viewer is able to see what is in the background. Coating the tissue paper with ICE Resin® both front and back to make resin paper, you can create translucent tags or dangles in any art or jewelry project. Trust me again; I'll do this over and over!
As a gatherer of the natural elements from the ocean shores, my shell collection is vast and it is housed in beautiful glass jars all through out my home. I do pick many to be used in jewelry pieces, home décor and even for saltcellars and candle holders. To me, keeping the integrity of the shells is important- I don't usually paint them different colors as I believe the Creator's paintbrush is far superior to mine- So in keeping the natural, I found that a little tissue paper stamped sentiment and ICE Resin® can impart a timely word and keep the shell timeless. Using the ICE Resin® to adhere the tissue and then allowing it to cure, the shell has a beautiful gloss that won't discolor over time and the natural beauty is in tact.
In my first design team project, I combined the love of the natural, the love of tags, wire and words, and the love of ICE Resin® to create tissue paper magic.
Have fun!
Chantal Johnson, Wishblooms
Gather-
Disposable measuring cup
Wood stirrer
Sponge
Small paintbrush
Disposable gloves
Craft mat or plastic trash bags
White tissue paper
Stazon Ink pads – your choice of color
Stamps
Seashells
Wire 26-28 gauge
Scissors
Round nose pliers
Small beads, charms,
Vintage seam binding Ribbon
Eyelets and eyelet setter such as a Crop –a- dile
Lay out tissue paper and select stamps and sentiments.
Using Stazon ink, stamp images onto the tissue.
**I work with smaller pieces of tissue so I can create small collages or word choices. Leave a border around the stamped images so once coated and cured with ICE Resin®, you will be able to cut around the image
Once images are stamped, set up the craft mat or trash bag in a clear area with a constant temperature. I use the kitchen counter, as my studio gets too cold.
Mix ICE Resin® according to directions, using equal parts A and B.   Set a timer to stir for 2 minutes if needed and then let it rest for 5 minutes – I use a timer for both and my results are fabulous!
To create sentiments on seashells or various elements, use the paintbrush to paint on a thin coat of ICE Resin®, and then place the trimmed tissue stamped image or sentiment onto the object and brush on another layer of ICE Resin®.
Allow to dry for 12 hours. I like to do this step at night so I will not touch my projects to see if they're dry. When I wake up in the morning, it's all finished!!
To create the ICE Resin® Tissue paper, prepare the paper as in Steps 1- 4.
Then beginning on the backside of the paper, using the sponge, spread on the ICE Resin®. Once the back is coated, repeat the process on the front of the paper.
Place the coated tissue paper on the trash bag and allow curing.
**Once dried, be careful and remove the tissue paper slowly from the trash bag/craft mat.
To create the tags,
Trim the ICE Resin® tissue paper to desired size.
Using eyelet setter- set an eyelet for the ribbon and ephemera
Using handheld punches, punch out desired shapes from tissue paper.
With the thin gauge wire, create beaded dangles and ICE Resin® tissue paper charms.
Can you imagine the stamps and colors you will use to make your own?
I am beyond thrilled to have the opportunity to return to the ICE Resin Creative Team for another year of fun and adventure! The past year has brought so many opportunities for me to grow as an artist, and being part of this team is a huge contributing factor. I was absolutely beside myself last year when Jen Cushman asked me to apply for the team, and I have to admit quite intimidated because I'd been following the blog and all of the amazing artists and their projects and would have never thought that I had the caliber of work to be part of the team. But I think that all my doubts were put aside when I met Susan in person last year at CHA and when she saw the project above that I created, she kept it!
Over the past year I've expanded my working with resin into so many different directions, many of which I've shared with you on the ICE Queen Blog and also on my personal blog, ArtNewWave. And the more that I've experimented with resin into new applications, I've progressed into other areas including metal smithing, metal etching and casting. I have learned so much from both Jen and Susan over the past year, and their encouragement and guidance have been just like them – authentic and inspiring.
My background is from the paper arts world, and it's so exciting to be able to incorporate ICE Resin into my bookmaking and paper projects! Above is an example of a piano hinged book that features book covers created from embossed metal that was colored with StazOn inks, then sealed with ICE Resin with of course some ICE Enamel highlights, mica, glitter and German Glass.
Because of my work with ICE Resin, I've had many new doors open this year for me including the opportunity to teach classes using ICE Resin. I will be teaching at the Tucson Bead Show this upcoming February, and in June I will be teaching at the Bead and Button Show in Milwaukee.
I look forward to sharing with you new projects and adventures in the next year! I invite you to join me on my other social media channels to see what I'm working on:
Hello everyone! I am so excited to be able to introduce myself today!
Can't wait to start with the team for 2015.
You can find out more about me and all my goings on at the following links:
My website: Susan's Art Circus
My blog: Art Circus Blog
Find me on Facebook: Susan's Charming Trinkets
Etsy shop for Jewelry Pieces: Charming Trinkets
Etsy shop for Supplies: The Cre8ive Circus
Pinterest: Susanmwb Pins
Instagram: @Susanmwb
Twitter: @Susanmwb
Google+: Susan Walls-Beverly
YouTube: Susan Walls-Beverly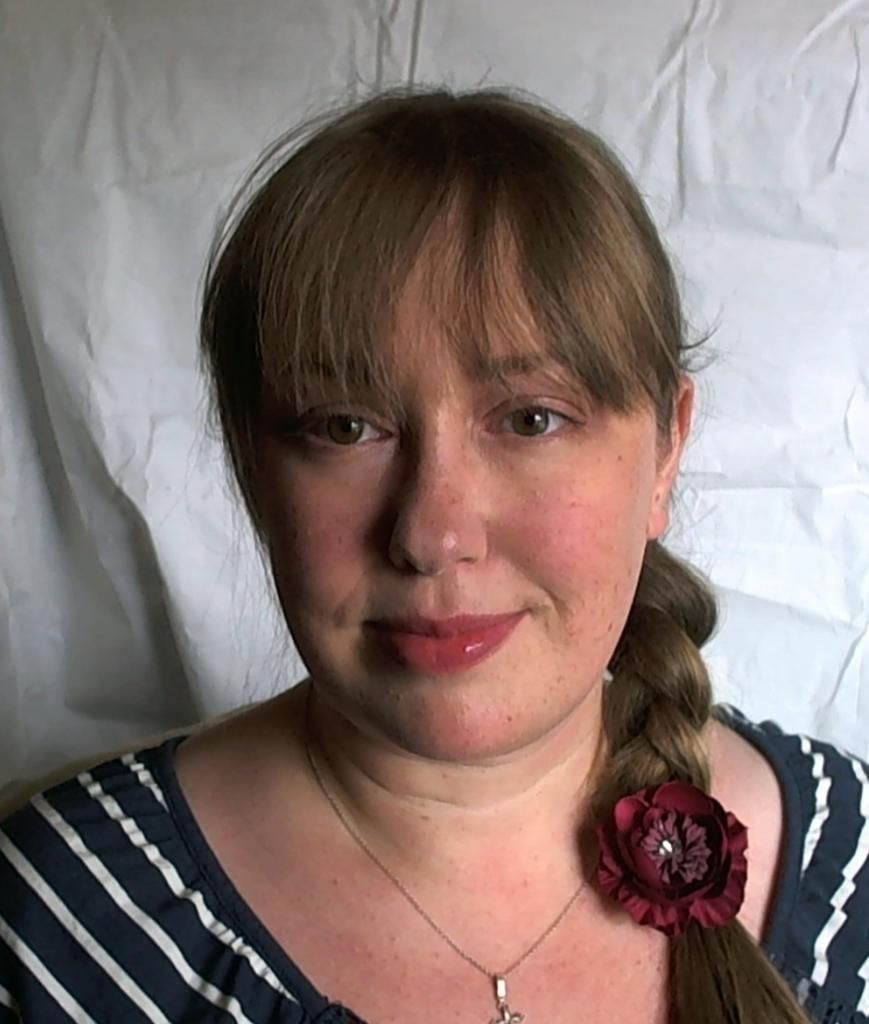 Hi I am Clare, universally known as Gotpaintinmyhair. For as long as I can remember I have always had paint in my hair. Turning empty box's into dolls houses, graduating to fully furnished cardboard dolls houses and now onto the mixed media pieces I create today.
As my passions for making treasures out of trash grew I tried my hand at a number of things, from painting, drawing, paper crafting and jewellery making then onto more advanced techniques such as soldering, metal manipulation and resin. My current focus over the last few years has been mixed media. I have bent it, painted it, inked it, broken it and if that hasn't worked I have taken a hammer to it, while having an amazing time all along the way.
Presently I live in rural Yorkshire with my other half and four crazy rescue kitties who think that we are kitties too and often try to get us to come on adventures in the fields surrounding us. In my spare time I enjoy day trips to interesting places and visiting craft shows.
Currently I attend college and am well into my 2nd year of Silversmithing. The combination of being on the 2014 ICE Resin team and College has taken me to a whole new level of metal manipulation that has blown my mind! I can't wait to combine my new skills with the 2015 ICE Resin team. I hope you enjoy the journey into this new found creativity with me!
You can find me blog: HERE
My twitter: HERE
MyYoutube: HERE
My UStream: HERE
And on Facebook: HERE
Thanks for Visiting
Clare
Since childhood, I've been compelled to create in many different media, but jewelry is the one that stuck and became my passion. I started out working in gemstones, and I love gems – so much so that I became a gemologist and mineral consultant – but eventually gems alone weren't fulfilling my creative impulses. In 2010, I took several classes that completely changed my art practice. One of them was an ICE Resin® class with Susan Lenart Kazmer. ICE Resin® rocked my world. I couldn't believe all the things I could do with it.
At that point, my design focus shifted. I'm obsessed with layers and process, and find detail work meditative. I love working with non-traditional materials, and using everyday items in new ways. My jewelry often includes an element of surprise either in terms of material or process or both. For me, there's nothing better than giving the viewer/wearer a surprise, on top of falling in love with a piece of jewelry for purely aesthetic reasons.
I've spent most of the last 16 years living in Africa and Asia with my husband and two children, which impacted my perspective and made me very flexible. I've never believed in rules when it comes to art. Accordingly, everything is a source of inspiration, even garbage on the street. Broken windshield? Helllllo giant glass glitter! My jewelry is constantly evolving, created in a studio that's a combination art space and science lab. I'm very excited to be part of the 2015 ICE Resin® Design Team, and to have the opportunity to share ICE Resin® with the world, and connect with new artists and craftspeople at all stages of their artistic journey.
Website: http://www.huwbijoux.com/
Blog: http://gemfabulous.com/
Facebook: https://www.facebook.com/huwbijoux
Instagram: @HUWBijoux
Twitter: #HUWBijoux
I have the assignment today of introducing myself to you. For me this is a daunting task, for me I am most comfortable and happy to tell you about the LOVE's of my life- my husband, my children, my parents, my home (in the great state of Texas) and my faith and even my love of coffee!! But Me…. hmm, let's see how far back should we go…."I was born on a cold December day in 19__"…NO that's too far back. Let's fast forward a little bit to when I was around 8,
crocheting (1st LOVE), knitting and embroidering sitting right there with my teacher, my mother (who was born and raised in France). She instilled in me the love of working with my hands and the incredible feeling that comes with the words "Handmade" or "Made with Love." I watched and learned collage, candle making, sewing, painting and so many other art forms from my mom, my best friend and I still continue to learn with and from her. Let's fast-forward again to my 20's when I added to the skill set more embroidery such as, silk ribbon embroidery and smocking but also came into view apparel art and jewelry making (LOVE). Then came the explosion of the scrapbooking world, my love of paper and collage (LOVE even more) was fed. Even though I do not create scrapbooks, I do create memory moments. Can I just pause here and say how I love all the avenues of art that I have worked with- some more than others but I see the potential in all and therefore, my art studio and sewing room are evidences of that love!
Okay, I think you get a sense of my past, let's fast forward to present day…My love for handmade and heartfelt hasn't diminished over the years, it has become even more of a passion for me, more of a way of life. When you or I create from our heart, our dreams, our inspirations – no matter the medium, our home, our family and our friends receive a part of us. And we have accomplished the incredible feeling of creating joy in our journey.
When my girls were old enough, we began just as my mother did with me. Instilling the love of handmade in their precious hands. They are 20 and 13 now and both have their own passions, which include – knitting for one along with art and the other the love of crocheting and they both have a deep appreciation for the time and talents of others.
My style has been described as a pairing of sweet sentiment with unexpected treasures – putting all my LOVE's together. Being on the ICE Resin® Design Team is an amazing opportunity and I want to bring to your art what it has brought to mine. I hope in the coming year that I will share with you not only the "how to's" but the "how you's" – how you can put your heartfelt, hopes into works of art -no matter your choice of medium, no matter your sense of style- for we all have a little piece of our heart to share.
Chantal Johnson is a mixed media artist and teacher living in Rowlett, Texas. She is married and has three children. Her work has been featured in Haute Handbags, Belle Armoire, Sew Somerset, Apronology, Somerset Home, Green Crafts and Somerset Studio. She is also a 15 time ribbon winner for the State Fair of Texas in the Creative Arts competitions in categories such as collage, crocheting and embroidery. For teaching engagements, you may contact her directly at chantal515@verizon.net. Visit her blog at Wishblooms
keep looking »