For all of that learn better by seeing and doing here is the video of how this bracelet comes together.
Remember!! Don't be afraid to try something new! ICE Resin® is incredibly easy…you just need to do it!
Enjoy and show us what you make!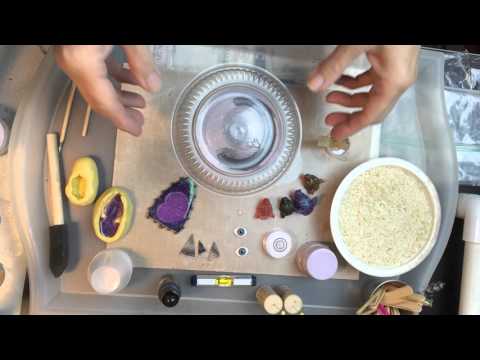 In today's video tutorial I show you how I created a solid sheet of ICE Resin from a rubber stamp. This simple process can be used in many ways. My full finished project can be seen in the previous blog post published on the 5th of January 2016. I love to see what you create too so don't forget to share what you have made with this technique.  I hope you enjoy my video and leave me a comment.
Thanks for visiting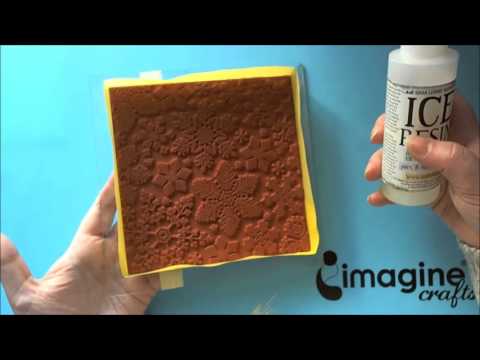 Happy New Year!!! To all our wonderful followers from the ICE Resin Team.
I am so pleased to be ringing in the new year for the amazing ICE Resin Team. From those of use leaving the team this year I would like to say a big thank you to everyone who has supported us on our journey with ICE Resin and welcome in the new team. ICE Resin have some amazing things planned for 2016 and some amazing products coming your way so stay tuned and watch this space closely! I am so excited I could squeal but alas I must keep my mouth shut for now! Enough waffling from me and onto my project…… I decided this year, I would knuckle down and actually record some Christmas day memories, what better way to do it than create a solid slab of resin as a book cover and make a little book ready to fill with pockets for storing all my memorabilia like gift tags and bad cracker jokes. Tune back in on the 7th for the full video tutorial on how to create the plate. I look forward to seeing how you record your memories this year and hope you will share with us what you created with ICE Resin over the holidays.
Thanks for visiting
Supplies:
ICE Resin®
Inkssentials: Foil Tape Sheet
Hero Arts Snowflake Background stamp
Other Supplies: Painters tape, plasticine, decorative paper, double sided tape, number die, Lawn Fawn Christmas border die, book rings, Kraft card, Stazon Blue Hawaii ink pad, measuring cup.
Tools: Die cutting machine, crop-o-dile or drill, paper trimmer, score board, file.
Disclosure: This ONLY works with rubber stamps, do not use this technique on clear stamps. Your stamp must be immaculately clean, any ink or dirt will transfer to the resin.
Instructions:
1: Attach a clean rubber stamp to a suitable sized acrylic block.
2: Create a wall around the stamp with painters tape, burnish well to the sides of the stamp.
3: If the tape is having trouble adhering to the stamp crate a wall with plasticine on the outside edge to hold it in place.
4: Mix ICE Resin to manufacturers instructions. For a large 6 inch stamp you will need a full measuring cup.
5: Slowly pour the resin onto the stamp. Bubbles will get trapped in a highly detailed stamp. Tease them to the surface with tooth pick.
6: Leave to cure for 8 to 12 hours or overnight.
7: Once cured, remove all supporting walls and acrylic block.
8: Carefully tease the stamp away from the resin by the rubber, don't pull the supporting foam, it will come away from the stamp.
9: Die cut enough letters and number to write Christmas 2015 from the foil card.
10: Colour all the foil parts with a solvent based ink, set aside to dry.
11: Place the resin plate onto an acrylic block and adhere the words
12: Mix ICE Resin to manufacturers instructions, a full mixing cup full for a 6inch square stamp.
13: Pour on top of the plate and leave to self dome and cure for 8 to 12 hours.
14: Punch two holes for your book rings with a drill or a crop-odile and file an excess resin.
15: Cut several sheets of Kraft card to 5 3/4 inch by 7 3/4 inch.
16: Score the 7 3/4 inch length 2 inch from the bottom.
17: Decorate as desired.
18: Tape the outside edge of the scored flap and stick down to create a pocket for your Christmas day memorabilia to be tucked in.
19: Create a sturdy backing page from card and decorate as desired.
20: Punch holes in all pieces and put together with book rings.
Your book is now ready to decorate with your Christmas pictures and add in your gift tages and anything else you might want to keep from the day.
The weather has finally turned cold, one source of inspiration for this project. I love to explore the scientific possibilities of ICE Resin®, and it's optical characteristics provided another source of inspiration. ICE Resin®, when formed into a dome, creates a magnifying effect on whatever is under it, and this project takes advantage of the magnification phenomenon to highlight a mix of tiny snowflakes.
Supply List
ICE Resin®
Mixing cups & stir sticks
Art Mechanique(TM) Mixed Metal Hobnail Bezel
Disposable paintbrushes
Silicone dome mold
Transparency sheets
Acrylic paint in several colors of your choosing
Metallic paper
Scissors
Cut a piece of metallic paper to fit in the bottom of the bezel. Mix a batch of ICE Resin® according to the package instructions, paint a very thin layer into the bottom of the bezel, and press the cut paper into the bezel, taking care to ensure the edges are sealed. Let it cure for at least 45 minutes.
Pour the rest of the mixed ICE Resin® into your molds, and let it cure for at least six hours, or until quite firm.
While the molds cure, create your snowflakes. I printed mine on transparencies made for my inkjet printer, and cut them out. I printed a mix of two sizes to fit the flat tops of the molds. You can create your snowflakes by any means you like. If you prefer to draw them by hand or print them on paper, that works, too. Just make sure they fit the flat top of your molds.
Mix a small batch of ICE Resin®, and divide it among four cups, one for each color you want to use in your project. Tint each cup with a tiny amount of acrylic paint.
Pour each color of tinted ICE Resin® into the bezel, one at a time, taking care to keep the colors separate. I poured each of the four colors into a separate quadrant of the bezel.
Carefully tilt the bezel to spread the resin to the edges of the bezel. To create a swirled effect in the tinted resin, tilt the bezel in a rolling circular motion. Take care not to over mix the colors, or they will become muddled. Let the tinted resin cure overnight.
Mix a small batch of ICE Resin®, and apply very small amounts on the molded domes, to act as an adhesive layer for the snowflakes.
Use the stir stick to pick up and place each snowflake on the flat top of each molded dome. Center the snowflakes on the domes.
Place a very small drop of ICE Resin® on top of each snowflake, to seal it onto the domed resin. Let the snowflakes cure overnight.
When the snowflakes are cured to firmness, pop the domes out of the mold.
Mix a very small amount of ICE Resin® and paint a thin layer into the bezel, on top of the swirled paint layer. This thin layer of resin will act as an adhesive for the snowflakes.
Carefully place each snowflake dome onto the wet resin, and press gently to secure them.
Once all the snowflake domes have been placed, press the domes onto the resin periodically during the first one or two hours of curing to ensure a good seal between the snowflake domes and the ICE Resin® in the bezel. Let the bezel cure overnight.
You can incorporate the finished bezel into an ornament, as done here, or a piece of jewelry.
To see more of my work and what inspires me every day, go to HUWBijoux on the web,  Facebook,  Instagram, and Twitter.
Ever struggled squeezing out Part A once the weather has turned and winter is setting in? Struggling with your cure or bubbles behaving differently in the cold season and dont know why? Then let Clare Horner help you out with a few quick tips for combating the winter resin blues.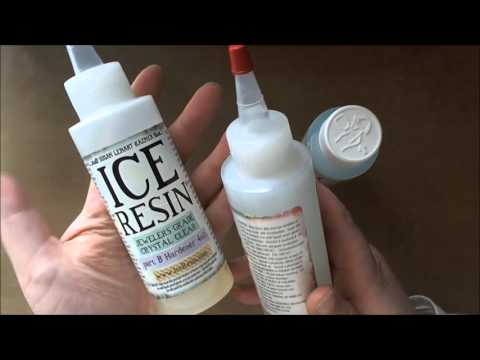 keep looking »