Susan Lenart Kazmer was recently in the studio of Beads, Baubles and Jewels filming for an upcoming show. For those of you who're fans of this show, you know Susan has been a semi-regular guest over the years, demonstrating her innovative silver smithing, resin and mixed-media jewelry techniques. She was back at it again this time teaching brand new techniques for dirty casting and creating cast glass effects using ICE Resin, Tints in her brand new Susan Lenart Kazmer bezels by Ranger Ink.
While Beads, Baubles and Jewels has been an award-winning show for a number of years, some of you may not know what it's about. Hosted by Jewelry Artist and Author Katie Hacker. Beads, Baubles and Jewels is a favorite public television resource for jewelry making, beadwork and metalwork. With 24 series, BBJ has been serving up education and inspiration for a long time! The industry's leading jewelry designers and educators appear on the show, along with Katie to bring viewers fresh ideas. Want to see Susan in action? Here is a past episode from 2005 when she was showing how to make stone effects in bezels.
We don't have an official air date as if yet, but stay tuned to the ICE Resin blog for more information and an upcoming sneak peek video of Susan on the set. For now, here are some great behind-the-scenes photos along with a look at some gorgeous inspiration pieces she built for the episode.
For more information on Beads, Baubles and Jewels head on over to their website. If you have a DVR, do a search on PBS for it and think about recording the show. You can watch an episode online every Friday now too.
Do you have loads of lovely handmade necklaces in your home or studio that are just too beautiful to be hidden away? We bet you do!
Display, organization and storage of jewelry is always an issue for those of us who create wearable art. Trust us, we have entire Pinterest boards focusing on clever display ideas. When we spied this simple and elegant do-it-yourself necklace display board from our dear friend Suze Weinberg (jewelry-maker extraordinaire) , we immediately sent off an email asking her to share her idea with our ICE Resin peeps.
All this requires is some wood paneling, some great knobs (love Suze's eclectic look) and a few basic drill skills. Here's how she made it, with a little help from her wonderful husband and crafty sidekick Lenny.
Jewelry Display Board by Suze Weinberg:
1. We went to home improvement store and bought a 24X24 board with a nice finish. Lenny sanded edges. I opted not to stain but he felt we should have! (still can!)
2.  Carefully measured five spots on bottom for the first set of decorative knobs (found all at Hobby Lobby), marked them with pencil dots (all done on the back). Then measured four spaces in the offset spaces above the five and so on.
3. Then, again on the back, we made a grid and Lenny drilled the holes out. The screws were too long on the knobs so Lennys cut them down and secured with washers.
 4.Then you begin hanging your lovely jewelry, realizing how much you've actually accumulated (because this is only one of my hangers….Oy!)
Notice that Suze says she is hanging her "accumulated" jewelry? Don't let her fool you. She is a necklace-making machine…well when she and Lenny stay home for a few weeks that is. Seriously, these two kids are always off somewhere traveling the world — Vietnam, Russia, Cambodia, Italy….who can keep track?! Only Suze's Facebook followers; that's how we know where she is.
On that note, here's how to follow Suze and see more of her lovely ICE Resin pieces and all types of mixed-media jewelry. Also, stay tuned here. She has some new Susan Lenart Kazmer Milan bezels and new tints in hand and we cannot wait to show you what she does with them in a future post.
I love real crystals.  Beyond the beliefs many people have for their healing powers, I think they are just beautiful.  The fact that they may be helpful is only a huge plus.  I love to collect natural things such as crystals, stones, shells, twigs and such for use in designs, but I am a bit on the frugal side.  Crystals are a treat I don't often splurge on.  However, once I saw the new ICE Resin® Tints, I knew I could make unlimited crystals in any color I choose.  I am thrilled to share this video on how to make your own molds for making personalized crystals with ICE Resin®.
I would love to hear how you are using ICE Resin® in your own work!
Brooke Bock lives and creates with her husband and daughter in rural Pennsylvania. She shares her home and studio with 2 dogs, a cat, a few fish in ponds and tanks and a flock of chickens. She collects things old, rusty and intriguing.  She is a regular contributor to many Stampington & Company publications.
Learn more about Brooke Bock:
Blog: artisticendeavor101.blogspot.com
Pinterest: brookebock96 and artistendeavor 
Facebook:Artistic Endeavors 101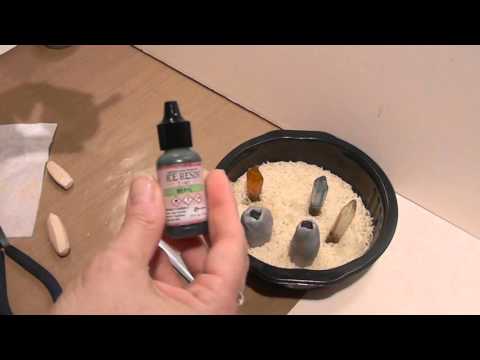 Take a peek over on the Ranger Ink blog today to see me (Jen) showing how to use molding putty of make molds of found objects for resin castings. I also wax poetic a little bit about my love for the Susan Lenart Kazmer Studio Sheets from Ranger. Seriously, they are the bomb diggity when using with ICE Resin. Nothing else quite works as well as these studio sheets.
And as a little additional eye candy, here are some finished cast resin work from Susan Lenart Kazmer and myself. A few years ago, Susan cast a lock and when I saw it, I went crazy for the technique. This photo is a piece of SLK fabulous jewelry she did for her bestselling book Resin Alchemy. She is teaching this technique in her workshops this year called Casting: Resin, Relics and Artifacts. The second photo is a lock I recently made for a mixed media journal workshop called Peep Pie Journal that I'm teaching.

I hope you give mold making and resin casting a try. What are you inspired to create today? 
Did you know that you can use organic and natural elements in ICE Resin? Take a peek over on the Ranger blog in celebration of 2016 Earth Day to see where we made some pretty jewelry using dried flower petals, resin and the brand new Susan Lenart Kazmer Milan bezels.
As a little added Earth Day bonus take a peek at this necklace recently created by Susan. She's been collecting sticks, pebbles, leaves and interesting natural elements during her morning walk in the woods. Look how she coated a a dried seed pod in ICE Resin and then used it as an innovative element wire wrapped to the bottom loop of her focal bezel.
We hope this gives you a little inspiration today as you think about art, beauty and our most generous of mothers – Mother Earth.
keep looking »