Today we have a very special Guest Post from Jolee Jane, a wonderful artist with a big beautiful heart. She's president and founder of an art non-profit and is here to tell you a little bit about what she does. We hope you are inspired by Jolee as we are!
***
Hello there! My name is Jolee Jane Pollock and I'd like to take a moment to introduce my non-profit organization, Art Takes a Village. Founded in January of 2007,  Art Takes a Village is a public charity organization focusing on providing therapeutic art programs in a variety of settings. Our mission is to provide an art therapy program in areas lacking the ability and or funding. Our program reaches out to at-risk youth and adults by providing them with instructor-led art projects, which allow them to look within themselves in a positive way, as well as gain confidence through learning a creative outlet.
I've been facilitating an art therapy class at a local woman's drug rehab center for over 2 years. I can't express how fulfilling this interaction is, to be even a small part of their recovery is life changing. I want to share this experience with fellow artists – the gifts we have been given in our patience filled skills and design approach are meant to be shared and expressed! This is why I structured a non profit to support just that. Our goal its to bring the joy of mixed media and paper crafts to those who need to reconnect with the inner artist free of charge and your support will provide just that! Any class or item purchased through Art Takes a Village will monetarily support the classes taught at the shelters, this means 100% of the profit made goes into the program.
One of our most popular classes has been making jewelry with charms I created from wire and ICE Resin. As an artist, I create vessels for my found object art and I always seal and protect them with ICE Resin. The First time I used ICE Resin, I was inspired by the ease of its application and pure JOY I felt when it hardened I couldn't wait to share with my students.  I love the outdoors, especially hiking in the trees, some of my workshops involve outings where we go to the forest and gather organic treasures to showcase in our handmade vessels. They are always so beautifully enhanced when sealed in resin.
Please visit our website Art Takes a Village to learn more about how to contribute to our organization. Please follow my blog for even more artistic inspiration. Be sure to "Like" Art Takes a Village on our Facebook Business Page.
Mixed Media Artist A. Marie from the 2016 Design Team has a great video today on how to create rubber stamped images on thin copper sheeting with heat patina. The cool part about her video is that for those of you who might be a tad fearful about using a torch, she shows you how to get a great effect with a simple craft heat gun. She's also teaching embossing and debossing and cold enameling techniques using the Susan Lenart Kazmer Relique powders. It doesn't matter if you're a jewelry maker, card maker, scrapbooker or textile artist; this video's techniques are applicable to everyone.

A. Marie is a mixed media, jewelry artist, and poet, who lives in Texas and spends most of her time chasing daydreams in her studio and trying to spread love and healing with her ever-the-vociferous muse guiding her.  Learn more about her below.
Website:  From the Breath of Daydreams
Blog:  fromthebreathofdaydreams.blogspot.com
Facebook: facebook.com/AMarieFromtheBreathofDaydreams
Twitter:  twitter.com/FTBODD
Instagram:  Instagram.com/fromthebreathofdaydreams
Pinterest: pinterest.com/fromthebreathof
Words to Grow By
(excerpt from Making Connections A Handbook of Cold Joins for Jewelers and Mixed Media Artists by Susan Lenart Kazmer)
Exploration came naturally to Susan, who grew up with four sisters whose hijinks were overseen by an understanding mom. Whether she built towers. heaved snowballs or rolled around in the snowy yard of her Chicago home, she was always free to dare as a child. As an artist, she explored dozens of media en route to becoming a multi-media jeweler.
"Looking back over a 20-year career, I remember a few key phrases that actually changed the direction of my life. During a beading class I took early early on in collage, I wanted to use an object that had a hole in it. My instructor said 'If there is a hole, utilize it. Don't let that be unintentional. Everything in your work has to be intended.' I realized then that everything in my work should be utilized and that even negative space has to be intentional," says Susan.
"My teacher at the Art Institute of Chicago used to say 'Make each piece your own.' Important advice I emphasize in my classes. If you paint right from the tube, you have what everybody else has, but if you mix your color that is your own. When I take a found object – a ruler or protractor, for example – and alter it in the slightest degree, I am making it different than what anyone can buy in the store, and I am making it my own."
Take a peek at Susan's Instagram blog. As an artist, she loves photo storytelling. Here's a look of recent images. For more, follow Susan on Instagram at https;//instagram.com/SusanLenartKazmer 
Hi! A. Marie here today and I thought I'd give you a little sneak peek of a Work in Progress painting that I'm doing with ICE Resin and various techniques to color it. This is what's on my desk today.
And here's a little creative tip. This is something I remind myself often about when I'm in my studio:
* Remember you can follow more of A. Marie's adventures here on the ICE Resin blog and also on her personal blog at http://fromthebreathofdaydreams.blogspot.com/
In this quick video tutorial, Chantal Johnson shows how easy and fun it is to mix ICE Resin® with Ranger Alcohol Inks into an ICED Enameled Bezel to create unique and inspired colors and movement.  You may also want to try this technique with our new ICE Resin® Tints as well.  Here is one place where you will truly dream in color.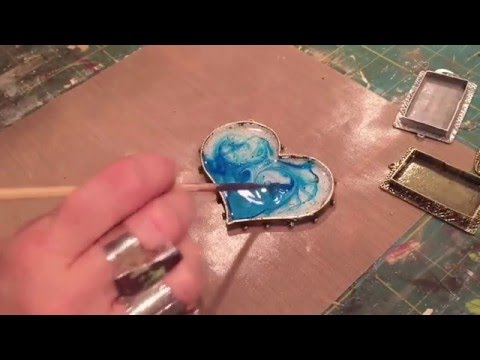 Chantal lives in Rowlett, Texas. To learn more about her, please visit:
Blog – http://www.chantaljohnson.blogspot.com
Email – chantal515@verizon.net
keep looking »