Contrast, contrast, contrast!!
What comes to mind? For me it will always be black and white. I love it!
Ingredients:
Paper, pencil, and eraser for sketching out your designs
White shrink plastic prepared for use
Scissors
Circle punch
Ice Resin
3 Mixing cups, stir sticks, and toothpicks
Acrylic paint in white
Adirondack alcohol ink in Pitch Black
Packing tape
Cotton cord
Silk ribbon
Jewelry findings
Working with one of my favorite materials, shrink plastic, I was inspired, not only by the prompt but, but by graphic shapes.
I started by sketching and coming up with a template. Tracing that onto the plastic cut it out twice. Perfect circles were a must so I grabbed a 3/4″ circle punch.
Shrink your designs in a toaster oven or using a heat gun.
Allow to cool. Paint each one on one side only.
Using the packing tape place each onto a slightly larger piece. Fold over the side of the tape to give yourself easy handles for lifting and moving around. Burnish the back with a stir stick around your openings to insure you won't have any leaks.
Mix Ice resin according to instructions. Separate some of the resin into your extra cups.
Add drops of your ink into one for black, white paint into the other cup. Mix until incorporated.
Very carefully with a toothpick drop your white resin into the holes of the black piece and the black resin into the holes on the white piece. Do not overfill as the resin will overflow and the trick is to keep the resin inside the openings.
Let cure overnight or at least 12 hours. Once cured you can remove the tape and paint the backs of your pieces.
Gather your jewelry findings and assemble two necklaces. Or make it into one! Let your creativity reign!
If you've been following the ICE Queen eZine for a while now, you will know that our amazing Design Team members are always pushing the envelope with this magical, jeweler's grade medium. In today's video Susan Walls challenges you to think outside the box. Take a peek and let us know how is your favorite way to use ICE Resin?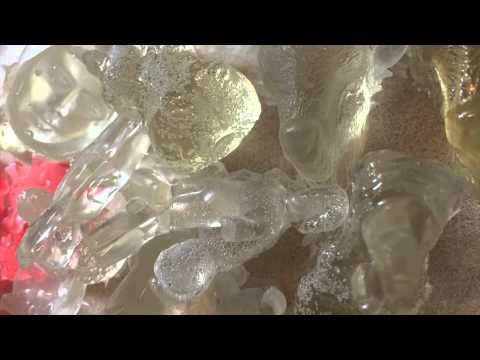 Susan creates and travels with her wearable art company Charming Trinkets and you can find her blog at: Susan's Art Circus Blog!
by The ICE Prince, John Creighton Petersen
When we were given the creative theme of "Contrasts" for this project, I automatically began to think of obvious things like light/dark, black/white, hot/cold et al. Then the light bulb went off in my head and I remembered back to my college days experimenting in the darkroom with a similar idea of creating contrasting prints that were actually opposites. Let me explain a little….
On the left is a photograph I took of Gasworks Park in Seattle, capturing the grunge with the bright paint and the city in the background. I almost always shot all of my images on slides back in the day when cameras actually took film LOL Images captured on slides are a positive in CMYK, while those images on film are a negative in RGB. When I was bored one day in the darkroom, I thought that I would 'experiment' a little bit and I decided to try developing a print from a slide but with the process for film (negatives). The result was the image to the right, an opposite contrasting print!
With this process in mind, I thought that I would go back to my photography roots and create a project for this theme using image transfers onto metal, sealed with ICE Resin®. I imported some images from a trip to New Orleans into Photoshop. To create the contrasting opposite of the images, I used the "Invert" command and then flipped the image 180˚ to create the mirrored image (optional). I then combined the images onto one page and made color copies. Your images have to be toner based for this project so don't use your inkjet prints. And remember that if your images have any text in them, make a mirrored copy on the color copier so that the words won't be backwards when you're finished.
Spread Creative Medium evenly over the surface of the dog tag.
Place the dog tag face down onto the image that is facing up. I found it easiest to do it this way so that you can line up the image best.
Carefully lift up the dog tag placed onto the image and turn over. Use a Mini Squeegee as a brayer to ensure that the image is adhering to the dog tag while at the same time this will remove any excess Creative Medium. Allow to fully dry.
Once dry, place the dog tag and image into a shallow container filled with warm (preferable) water and allow to soak in the water until the paper is transparent enough the the image is showing through. Once this has happened, use your thumb with light pressure to begin rubbing away the paper.
Once all the paper has been removed, your image should look like this. If you're finding that the image is coming off of the dog tag, try using less pressure or allowing more drying time for the Creative Medium before placing into the water.
Allow the image to fully dry onto the dog tag. Use a small hole punch to remove the paper that is over the hole in the dog tag. Mix ICE Resin and apply from the edges inward, paying close attention around the hole. Let the resin fully cure.
These are the contrasting images that I used for a couple of the dog tags I created showing the front and backsides of the tags. The process is the same for creating double sided dog tags for the image transfers, with applying the resin to one side and allowing it to set before applying onto the other side of the tag.
Supplies:
ICE Resin® ICE Resin, mixing supplies
Imagine Crafts Creative Medium, Sheet Metal Dog Tags, Palette Knife, Mini Squeegee, Craft Mat
Other Supplies toner based images, shallow container with water
Do you make jewelry for holiday art shows? The season is right around the corner and now is the time to stock up on Susan Lenart Kazmer's unique and beautiful jeweler's grade bezels. Great prices on Sterling Silver bezels. These backless sterling and bronze bezels showcase ICE Resin's inherent glass like quality to the best of its abilities, and are the perfect little canvases for your art jewelry work.
Have you seen or own a copy of Susan's first book, Making Connections; A Handbook of Cold Joins for Jewelers and Mixed Media Artists. Susan used many of these bezels in her stunning pieces as she was creating art and writing her book.
This is a limited close out special on our SLK Components Etsy shop. First come first served. Once the bezels and components are gone, its Sayonara, baby.
Susan has been a prolific jeweler in her 20+ years of her career. She was one of the first artists to create and sell open bezels to use with non-traditional materials and innovative jewelry techniques other than setting cabochons. Because she is the inventor and founder of ICE Resin, Susan knows how to create bezels that are the exact depth for use with resin. Paper, glitter, inclusions, charms, etc. are able to be beautifully collaged inside her bezels with still enough room for a lovely high resin dome that's nearly impossible to accomplish with shallow bezels. Her copyrighted designs ensure that your works of art are unique and special.
Also included in this sale are her tassel bezels. These cones, caps and wrapped bezels are gorgeous when you add ribbons, fibers, leather and more to them. They can finish off your leather ends to offset a clasp, or used as a ribbon tassel embellishment hanging at the end of your resin-filled bezels. For more ideas, head over to Susan's website and look under the jewelry collections tab.
Here's a peek at some of the styles:
Technique Tip: To use a backless bezels, place a piece of packing tape (use a good quality brand to minimize glue residue) and place it on the back of the bezel, sticky side facing up. Be sure to burnish the edges well with your fingers or a bone folder, spoon or craft stick to keep the ICE Resin inside the inner bezel wall. Mix up at least 2 oz or half of the calibrated mixing cup of ICE Resin and drip a small amount into the bottom of the bezel, creating a layer of resin on top of the tape. Add your images and inclusions and then fill bezel to the top and put aside for 6 to 10 hours to dry. Once the resin is dry to the touch, pull the tape off the back, and viola! beautiful charm.
*** Remember, these are NOT sold on our ICE Resin site. This limited edition, closeout special of Sterling Silver and Bronze jeweler's grade bezels are only found at the SLK Components Etsy shop.
***
Terms and Conditions: Bezels and components are limited edition. There are no new editions of SLK sterling silver and bronze bezels being produced at this time. NO RETURNS. Shipping of orders will be done once per week.
There is nothing like taking advantage of ICE Resin's inherent transparent qualities. Today, 2015 Design Team Member John Creighton Petersen teaches you how to do photo transfers on metal pendants and seal with ICE Resin.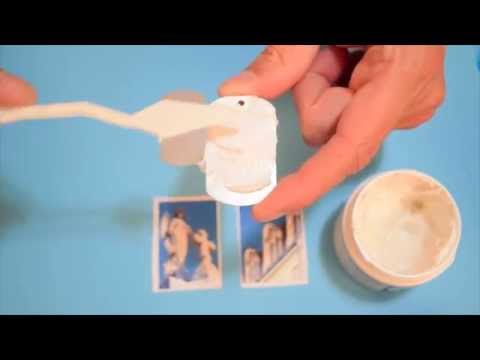 Love John? Find out more about his at his website Art New Wave
keep looking »