I have the assignment today of introducing myself to you. For me this is a daunting task, for me I am most comfortable and happy to tell you about the LOVE's of my life- my husband, my children, my parents, my home (in the great state of Texas) and my faith and even my love of coffee!! But Me…. hmm, let's see how far back should we go…."I was born on a cold December day in 19__"…NO that's too far back. Let's fast forward a little bit to when I was around 8,
crocheting (1st LOVE), knitting and embroidering sitting right there with my teacher, my mother (who was born and raised in France). She instilled in me the love of working with my hands and the incredible feeling that comes with the words "Handmade" or "Made with Love." I watched and learned collage, candle making, sewing, painting and so many other art forms from my mom, my best friend and I still continue to learn with and from her. Let's fast-forward again to my 20's when I added to the skill set more embroidery such as, silk ribbon embroidery and smocking but also came into view apparel art and jewelry making (LOVE). Then came the explosion of the scrapbooking world, my love of paper and collage (LOVE even more) was fed. Even though I do not create scrapbooks, I do create memory moments. Can I just pause here and say how I love all the avenues of art that I have worked with- some more than others but I see the potential in all and therefore, my art studio and sewing room are evidences of that love!
Okay, I think you get a sense of my past, let's fast forward to present day…My love for handmade and heartfelt hasn't diminished over the years, it has become even more of a passion for me, more of a way of life. When you or I create from our heart, our dreams, our inspirations – no matter the medium, our home, our family and our friends receive a part of us. And we have accomplished the incredible feeling of creating joy in our journey.
When my girls were old enough, we began just as my mother did with me. Instilling the love of handmade in their precious hands. They are 20 and 13 now and both have their own passions, which include – knitting for one along with art and the other the love of crocheting and they both have a deep appreciation for the time and talents of others.
My style has been described as a pairing of sweet sentiment with unexpected treasures – putting all my LOVE's together. Being on the ICE Resin® Design Team is an amazing opportunity and I want to bring to your art what it has brought to mine. I hope in the coming year that I will share with you not only the "how to's" but the "how you's" – how you can put your heartfelt, hopes into works of art -no matter your choice of medium, no matter your sense of style- for we all have a little piece of our heart to share.
Chantal Johnson is a mixed media artist and teacher living in Rowlett, Texas. She is married and has three children. Her work has been featured in Haute Handbags, Belle Armoire, Sew Somerset, Apronology, Somerset Home, Green Crafts and Somerset Studio. She is also a 15 time ribbon winner for the State Fair of Texas in the Creative Arts competitions in categories such as collage, crocheting and embroidery. For teaching engagements, you may contact her directly at chantal515@verizon.net. Visit her blog at Wishblooms
We are looking for a few fabulous designers who love creating jewelry and
mixed media art with ICE Resin®.
If you have personal goals as a designer and want to expand your talents within an incredible team, you are invited to apply for a year-long position on the 2015 ICE Resin® Design Team!
NEW: Former team members are welcome to apply.
How to Apply: Please cut and paste the questions below into an email, answer them, and send along with 3 photos of your creative designs using ICE Resin to Carol@iceresin.com.
Deadline is Monday, December 8, 2014. 
+++++++++++++++++++++++++++++++++++
ICE Resin® 2014 Creative Team Application:
Name:
Physical Address:
Mailing, if different:
Phone/cell:
Email address:
FB:
Twitter:
Pinterest:
Blog:
Website:
Google+:
Other:
Please tell us what your design experience is (whether it is simply creating for yourself and others or publishing, etc.) and what you prefer to create—jewelry, mixed media pieces, paper, etc.
Why would you like to be part of the the Susan Lenart Kazmer™ ICE Resin® Design Team?
Have you been published? If so, please list publications. Also, what are your publishing goals?
How long have you been working with resin?
What is your experience with resin in addition to ICE Resin®?
Are you comfortable in front of a camera?
What are your goals in the Arts and Crafts industry?
Teaching experience – please list any venues or retreats where you have taught or will be teaching in 2015.
How often do you post to your blog? Other social media platforms? Are you open to posting for business purposes?
How do you feel about cross promoting on your blog?
Are you able to meet publication deadlines?
If selected, you are committing to 9 projects per year with instructions, step-out photos and a matching technique video, plus a 3-6 blog hop opportunties as they arise. Does this work with your lifestyle and goals?
As an artist based company ICE Resin offers our team members: Generous product packages shipped directly to your home, compensation for publication, trade show designs and the support of our social media.
Please cut and paste these application questions into an email, answer the questions and send it along with
3 photos of your resin work and a link to a video you have done
to Carol@iceresin.com by Monday, December 8, 2014.
New Creative Team Members will be notified by Friday, December 19.
We're so glad you could join us this weekend for the Stampendous Stamps, ICE Resin® and Imagine Crafts®/Tsukineko® Blog Hop! Oh my goodness it has been so much fun seeing all of the excellent projects!
Carol La Valley here, ICE Resin's Content Manager. As some know, I write fiction on the side. How to find a literary agent was the topic of a workshop I was listening to a few weeks ago and a partially formed idea for this collage piece popped into my head.
The "Vintage Press" stamp from Stampendous was perfect.
I love the vibrant, jewel-tone colors of the StazOn minis and that indented side makes them easy to hold. I used Gothic Purple for the telephone and dial  and Emerald City inks for the edge accents. I put a couple of spacers underneath to add dimension and simply secured then in my layer of ICE Resin.
The underside of the phone I made with Iced Enamels Ivory Relique on an Art Mechanique circle blank. I fussy cut the dial so the Ivory would show through in the center. The wishbone charm is from ICE Resin and has a bit of Turquoise Relique added to the tips.
At one time I made cards and created scrapbook pages and I had some torn pieces of paper leftover from another project in a baggie  — because if you craft with paper, you know, it is so hard to toss out the bits and pieces because one day you are certain you will find a use for them. Words ton from the Art Mechanique collage image packs became the background. Susan Lenart Kazmer, creator of ICE Resin, likes to stack paper in her work (guess what SLK, I was paying attention),  so I tied stacks of paper torn from the Belle Dames Francaise paper pack with a string to represent an old-timey manuscript submission. There is a little bit of Opal Shattered Inclusions scattered around the canvas to represent the dream.
I have to admit the red pencil was an afterthought. I felt like my collage was bottom heavy and even after I added the Rue Romantique Rhinestone chain, it still needed… Aha! (There is not much I can't find on my messy desk if I look long enough) The red pencil is from UC San Diego's writing program and was in a swag bag. Snapped it represents the frustration of waiting.
I have art hanging all over my walls, so I do not know whether this piece will find it's way into an empty space or if I will give it away to a writer friend, but I sure had fun making it.
Let's get hoppin! Here's who else is posting today:
Stampendous
ICE Resin
Imagine Crafts
***Blog Hop Hint – if you click on a link that takes you to a page saying something like, "Sorry this page cannot be found," just click on the header at the top of the blog (usually a picture, or the blog's name), and it will take you to that blog's most recent post. That post *should* be our hop. If not, you can probably scroll down a short way to find the hop post.
If you missed any of the posts, you'll find them by clicking on the names of the artists:   Jennifer Dove      Rhea Weigand      Misty Grosse      Tatiana Allen      Linda Lucas      John Creighton Petersen      Jennifer Dove      Kristine Reynolds      Polly Hendrickson      Jen Cushman      Cathy Andronicou      Sharon Morrison      Asia King       Debbie Cole      Jamie Dougherty      Maureen Cronin
We know you are going to love making your own jewelry, and to make that easy we're offering a nice prize package this week! Three lucky winners will receive a package with:
• 2 – Stampendous Perfectly Clear Stamp™ sets with designs sized for jewelry or small project making
• 2 – StazOn™ permanent ink pads by Tsukineko® courtesy of Imagine Crafts® – yummy Ganache and the must-have Jet Black
• 1 – 30ml package of ICE Resin Jeweler's Grade Self-Doming resin
• 1 – pkg Suzan Lenart Kazmer Art Mechanique Silhouettes in Heart Shape
• 1 – pkg Kristen Robinson Rue Romatique bezel(s) (styles vary). WOW!! You'll be crafting some awesome jewelry in no time!

How to Hop:
Each day we'll post the designers participating in the Blog Hop. Click on each one and check out their project. Leave a comment on their blog that lets them know you really looked at their project. We 'll draw three blogs at random from the four days, then randomly draw one commenter from each blog. You must have a U.S. mailing address to win, but we'd love for everyone to hop and comment! You can check out the Official Rules for all Stampendous contests if you have questions. We'll draw winners on Monday, May 5 and announce them Monday or Tuesday, so be sure to come back and check for your name!
Katie Hacker welcomed Susan Lenart Kazmer into her Creativity Lab on Beads Baubles and Jewels to share
Cold Surface Work
Susan says: "This is surface work on metal that looks like enameling. I call it cold enameling."
Check out the video to see how she uses surface treatments on metal to achieve the look of her signature jewelry.
Susan also shared techniques with ICE Resin in the Jewelry Lab. Love druze stones but not the price? You can make your own.
The shows air the week of May 1. Here's are a couple of handy links:
With more than 40 awesome projects to bead and gift, the December 2013 issue of Bead Design Studio Magazine is the perfect holiday shopping companion!
It goes on sale tomorrow, November 12, 2013 but we bet you want a sneak peek. Here is the link: http://www.beaddesignstudiomag.com/sneakpeek/
Tons of bracelets (bangles, charm bracelets, and cuffs) make great stocking stuffers, two fabulous lampwork projects will keep your hands warm, and flatback-encrusted Crystal Clay™ will help you celebrate the sparkle of the season.
Don't forget about our FABULOUS creative adventure & contest with Susan Lenart Kazmer! Join in on The SLK PROJECT for a chance to be creative and WIN BIG! Visit the SLK Project Contest Page  for details.
You must register by December 1, but you have a few more days after that to upload your final project.
If you get busy in your studio there is still time to make your mixed media jewelry projects and enter to win a fabulous trip to take all 4 for Susan's classes at To Bead True Blue in sunny Tucson, Arizona in February!
Looking for thoughtful, handmade gifts?
Want inspiration from the heart?
Want to learn how to use products in innovative ways?
Hop on in!
The Third Annual Handmade Holidays Blog Hop starts right here, right now!
ICE Resin will choose one random prize winner who comments on the Handmade Holidays Hop November 1, 2 or 3. That person will win ICE Resin a bezel and Susan Lenart Kazmer's Resin DVD.
Each day, from November 1 through November 3, 2013, we'll be posting a brand new list of blogs to hop to. Comment on each blog, share your favorite posts over social media, and then use the Rafflecopter widget at the bottom of each post to enter to win the Grand Prize, a gift basket filled with crafty swag from the companies on the hop! We're ready to inspire, share, and create.
Our own JoMama, a member of ICE Resin's Mixed Media Team made something that goes with something to eat. Have a look right HERE .
Lexi Grenzer from ICE Resin's Creative Team went mad for this hop and made not one but 4 projects for your holiday crafting pleasure. Check it OUT.
But wait! There is more! So much more! Wait until you see!
Clearsnap http://blog.clearsnap.com
Craft Attitude  http://www.jonathanfongstyle.com/blog/
Smoothfoam http://www.smoothfoam.com/blog/
Donna Salazar Designs  http://donnasalazardesigns.blogspot.com/
Walnut Hollow http://walnuthollowcrafts.wordpress.com/
100 Proof Press http://www.100proofpress.com/_blog/Blog
Graphic45 http://g45papers.typepad.com/
ICE Resin You are already here :)
Stampendous http://stampendousblog.wordpress.com/
Sizzix – Eileen Hull Designs http://eileenhull.blogspot.com/
Donna Salazar Designs – Mistra Hoolahan http://mistrabutterfly.blogspot.com/
100 Proof Press – Elise Durenburger http://mamacowcreations.blogspot.com/
Graphic 45 – Rhea Freitag http://starrgazercreates.blogspot.com/
Clearsnap – Debbie Cole http://debbiecole.com/handmade-holidays-blog-hop-santa-mouse-plaque-by-debbie-cole/
Smoothfoam – Vicki O'Dell http://www.vickiodell.com
100 Proof Press – Teresa Abajo  http://thetamarisk.blogspot.com/
Sizzix –  Amy Bowerman http://pluckingdaisies.com/
Smoothfoam – Lisa Fulmer http://lisalizalou.blogspot.com/
Click the link below and you can enter to win:
If jewelry was cake, then Stampington's Autumn 2013 Issue of Jewelry Affaire is extraordinarily delectible Chambford buttercream icing!
Now, you know, this is the ICE Queen Zine, so I did open Jewelry Affaire first to see what pages might hold goodies made by team members–current and former– and by art friends, but there are sweet new discoveries to be made always.
I am linear, except when I'm "knot" so here goes:
Light and Life, a simply darling bracelet by Cindy Cima Edwards also from our current design team is on page 43. (In fact, I am liking this bracelet trend I am seeing!) You can find an example of  Cindy's pure stylish beading on page 89 — Pearls of Wisdom.
A 20's Revival necklace by 2013 design team member Lexi Grenzer is on page 111. Once you see this Rue Romantique necklace you may swoon and recover only to begin longing for an elegant party to attend!
Ooh La La, a necklace by ICE's Veep Jen Cushman is cheerfully displayed on page 126. What a fun design form Susan Lenart Kazmer's corsett silhouette is proving to be.
Photographer Johanna Love might humbly think that she is playing with rustic wire and ICE Resin on pages 58-59, but her snowy owl pendant is stunning. Her lovely Indigo Moonrise is a treat on page 93.
Debbie Cole is an artist I have had the pleasure of getting to know just a tiny bit through emails, but somehow I'd missed seeing her finished jewelry. Absolutely worth the wait! Her steampunk flight bracelet blew me away. I am so tempted to email her and tell her I need to own it.
I was happy to see 2011-12 Creative Team member Tina Schiefer's work in metal and texture on pages 94-97. Great job Tina!
The first page the magazine fell open to was picture of Ozden Kayisoglu's crochet necklaces. Simple and elegant in black, red, eggshell and pink! See pages 44-46.
Loved Veronica Kurian's Women of the 20th Century on pages 76-77.
I will certainly be looking through this issue many times for inspiration!
Jewelry magazines are keepers, don;t you think? I even found some back issues at my local thrift store for 50 cents each. Foolish pricer. Lucky me!
If you are not quite that lucky at this moment you can head on over to www.stampington.com and find current issues and back issues to satisfy your hungry artist's soul.
When school began, my daughter was looking for an interesting way to give memorable gifts to her friends commemorating the start of a new year. Here's what we dreamt up using scrap fabrics, Art Mechanique Silhouettes and Iced Enamels:
Friendship Bracelets
You'll need:
* Scrap pieces of fabric cut to wrist size and 2 in wide
* Half inch end clasp findings
* Jumprings
* Art Mechanique small bezels and silhouettes
* Assorted paper ephemera
* ICE Resin®
* Scissors
* Sewing machine (can be hand sewn)
* Iron
* Pliers
* Beads (optional)
* Jewelry tools
* Thread
* Art Mechanique Paper Sealer
Instructions:
1.  Cut fabric into desired wrist size width and 2 inches wide. Fold both long sides one half inch towards center and iron. Fold down the middle and iron again.
2.  At sewing machine or by hand, sew decorative stitching lengthwise on each bracelet. Trim threads.
3.  Insert end into clasp. Use pliers to flatten, encasing the fabric.
4.  Chose paper ephemera to fit a small bezel. Seal into place using Paper Sealer.
5.   Mix ICE Resin according to instructions. Poor into bezel. Allow to dry overnight.
6.  Using jumprings to attach bezel to bracelet end. Add extra jumprings to fit, then add lobster clasp for closure.
Good ideas!
Make lots of them!!!
Cutting out several bracelets at a time, sewing multiple pieces, and finishing with clasps means you can make lots if bracelets in very little time.
Also remember that making multiple bezel pieces saves time too!
Susan Walls
What could you make with your daughter? or Son? or Grandchildren?
Interested in more mother-daughter projects? Check out these stunning bookmarks by Susan Walls, this memory with Tina Schiefer, and this moment between another Susan and her daughter.
Lexi aka The Shabby Calevera, shares a "soft", "easy" technique for wire wrapping ribbon and sari silk to incorporate them into your mixed media jewelry.
She says: "You are going to have serious wire addiction!"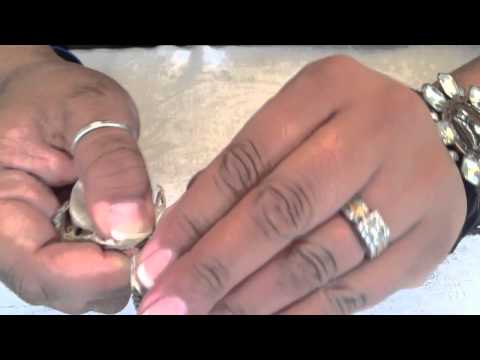 You may recognize the necklace just above from a few weeks ago. Lexi's post about Frieda is here. If you want to see the cute Valentine necklace that matches the top photo, it's here.
keep looking »