To what use would you put a plain ceramic tile as you are cold enameling with ICE Resin® and all of our lovely Iced Enamel™ Relique Powders?
Watch Susan Walls' tips: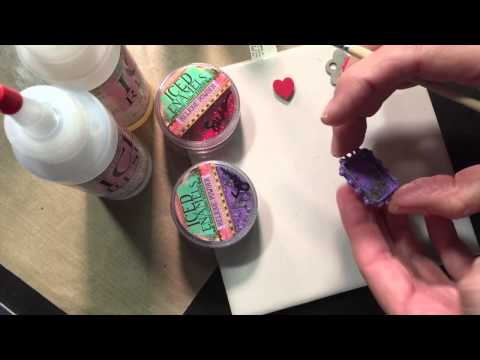 Make her From the Heart  necklace.
What are you inspired to design for one you love?
Hello everyone! I am so excited to be able to introduce myself today!
Can't wait to start with the team for 2015.
You can find out more about me and all my goings on at the following links:
My website: Susan's Art Circus
My blog: Art Circus Blog
Find me on Facebook: Susan's Charming Trinkets
Etsy shop for Jewelry Pieces: Charming Trinkets
Etsy shop for Supplies: The Cre8ive Circus
Pinterest: Susanmwb Pins
Instagram: @Susanmwb
Twitter: @Susanmwb
Google+: Susan Walls-Beverly
YouTube: Susan Walls-Beverly
Gettin' hitched.
Wedded bliss.
Dreaming of the DAY.
Crafting elements of your wedding will add a special meaning to the day and keepsakes beyond the ceremony.
Here are a few ideas:
Wouldn't this be a pretty post-wedding necklace for the moms and grandmothers of the bride and groom?
This wedding cake topper also serves as a keepsake memento or ornament to remember the couple's special day.
Fun with bridesmaids!
This little mixed media giraffe seems to be saying hello to the 2014 ICE Resin Creative Team — the  members will be announced December 13.
Sandy Marin made the body and legs of this so so fashionable critter  out of an upcycled wooden box, paint, a ruler, an tulle for the skirt.
The body is cast ICE Resin using Art Mechainque Molding Putty.
"Hello" or "Good-bye" we, Susan, Jen, Kristen and Carol want to give a round of applause, several really loud cheers, hugs all around, and warmest wishes to (in no particular order):
Sandy Martin, Sweet Pea Jewelry
JoMama, ShopJoMama
Lexi Grenzer, Shabby Calavera
JoAnna Pierotti, Moss Hill Studio
Cindi Bisson, Behind These Eyes
Lesley Venable, Flatwoods Folk Art
Thespa McLaughlin, Vintiquities Workshop
Susan Weckesser, My Sweet Earth
Jen Crossley, A Mark in Time
Susan M Walls, Charming Trinkets
Pamela Huntington, Pam Huntington
Cindy Cima Edwards, Live to Design
These creative women were truly  awesome, supportive, and every-ready. We will miss them,  hold them in our hearts, and most certainly see them around!
We hope you won't forget to keep following all the wonderful projects on their blogs!
Susan M Walls grabbed her dremel plus a bit, her file and safety glasses to finish this lovely molded bracelet.
See how she did it:
My daughter has long hair…I mean really long hair almost to beyond her hips! She hates traditional hair ties, goofy ribbons, and all things boring or too girlie. But she is an art fan and LOVES one of a kind things. Lately she's been asking me to braid her hair and I surprised her with this!
Materials and Tools:
* Art Mechanique Medium Hobnail Bezel – Round
* Flat button with shank
* fabric covered hair tie
* Assorted paper ephemera
* ICE Resin® , craft cup and stir stick
* Scissors
* Art Mechanique Paper Sealer
* gem or crystal to bling it out
* ribbons of your choice
Instructions:
Mix a small batch of ICE Resin according to instructions. Use it to glue the button upside down to the back of the round bezel. Allow to cure.
Cut a circle to fit bezel from your choice of papers. Using ModPodge glue in place then coat 2 to 3 times to seal. Let dry completely.
Prop bezel into a small cup full of rice or beans until level. Mix another batch of Ice resin according to instructions and fill bezel until you get a beautiful dome. allow to cure.
Attach fabric hair tie to the button shank by looping it back onto itself. Cut small lengths of ribbon and tie to each side of the bezel, glue a crystal or gem on the front.
You now have a one of a kind hair art piece!
Susan M Walls
When school began, my daughter was looking for an interesting way to give memorable gifts to her friends commemorating the start of a new year. Here's what we dreamt up using scrap fabrics, Art Mechanique Silhouettes and Iced Enamels:
Friendship Bracelets
You'll need:
* Scrap pieces of fabric cut to wrist size and 2 in wide
* Half inch end clasp findings
* Jumprings
* Art Mechanique small bezels and silhouettes
* Assorted paper ephemera
* ICE Resin®
* Scissors
* Sewing machine (can be hand sewn)
* Iron
* Pliers
* Beads (optional)
* Jewelry tools
* Thread
* Art Mechanique Paper Sealer
Instructions:
1.  Cut fabric into desired wrist size width and 2 inches wide. Fold both long sides one half inch towards center and iron. Fold down the middle and iron again.
2.  At sewing machine or by hand, sew decorative stitching lengthwise on each bracelet. Trim threads.
3.  Insert end into clasp. Use pliers to flatten, encasing the fabric.
4.  Chose paper ephemera to fit a small bezel. Seal into place using Paper Sealer.
5.   Mix ICE Resin according to instructions. Poor into bezel. Allow to dry overnight.
6.  Using jumprings to attach bezel to bracelet end. Add extra jumprings to fit, then add lobster clasp for closure.
Good ideas!
Make lots of them!!!
Cutting out several bracelets at a time, sewing multiple pieces, and finishing with clasps means you can make lots if bracelets in very little time.
Also remember that making multiple bezel pieces saves time too!
Susan Walls
What could you make with your daughter? or Son? or Grandchildren?
Interested in more mother-daughter projects? Check out these stunning bookmarks by Susan Walls, this memory with Tina Schiefer, and this moment between another Susan and her daughter.
Love the diffusion of color that happens when light hits crystal facets and explodes? We do too!
Jen Cushman wire wrapped two Connie Crystals to accent an Art Mechanique Hobnail Bezel with a vintage stamp image.
Our creative team had a few Connie Crystals after the Emmys and decided to do a few projects. You can see Susan Walls' and Thespa McLaughlins' on their blogs today. We are sure they wold love it if you popped on over and took a look!
Thespa McLaughlin – Vintiquities Workshop
keep looking »