Something I keep hidden about my creative process is my love of the dark side. The underbelly, the richly textured, and the suggestion of all things scary. My current jewelry line is full of funny, light, lovely pieces that make my clientele smile. Little do they know as they wander through my creations that I have a penchant towards the creepy. But as things would have it there are two sides to every story when setting out to make a "dark" piece and sometimes things don't turn out the way you planned.
My muse for this project is the new, and old, Mad Max movie. The new trailer is full of imagery. Gas masks, skullery, sand, fibers, exaggerated teeth, hair slathered into Mohawks, and lots and lots of dirt! I've watched it at least twenty times. If you lived in a world gone "mad" how would you adorn yourself? What would be available? How would you go about putting something together? The following will show you how my answers manifested.
An Ice Resin not so quick tip today by Susan M Walls. Nature? Nurture? I really couldn't decide so I did several projects to help you find your "natural" creative inspiration. Some salt, a branch, and some dried flowers and there you have it! Hope you enjoy it!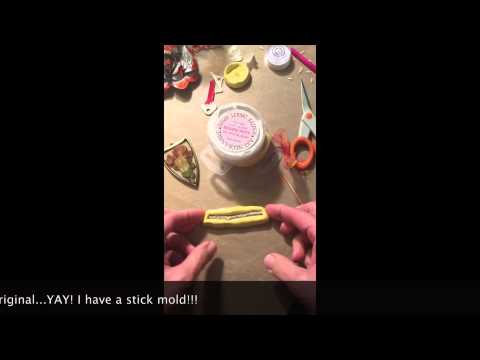 Ummm…Nature or Nurture?
Battling with this concept I decided to allow my nature to take over and make whatever it wanted. Which is several projects instead of one. Could I have settled on just one? Ummm…honestly? No. Could I have done less than what I came up with? Probably, yes. But I just went with it.
Here we go…and I'm leaving the question with you. Is it nature…or is it nurture?
Just recently I spent five days at a painting retreat and since painting is about all I really want to do now that I've returned.  One of the techniques is done with wet paints and salt crystals. As the salt dried it sucks up some of the paint color but also repels some of the color floating in the water.
While looking at this happening I thought, "wow, that might be quite incredible with resin." So…
…that's exactly what I did.
Collect the colored crystals or  work with them just as they come out of the box. Mix ICE Resin according to instructions then pour a shallow layer into the bezel. Lay in the salt crystals until your happy with the results. Let dry overnight. the next day you can use your bezel as is or coat the tops with more resin. Whichever look you like best!
On any given day my studio is definitely a work in progress with items all over the place. As I was working on the salt crystals I noticed that I left some older spices from my kitchen on the table. Knowing the project due had the word nature in it I thought, "hmmm…maybe working with natural ingredients in the resin would produce something fun."
Taking curry powder and cayenne powders I mixed up some ICE Resin. Use about 1/4-1/2 teaspoon of your selected spice and mixed it into the resin. My spices made these…
This is just an idea to get you started and the pieces are plain as I haven't  put them to use yet.. I'm thinking of maybe placing them into bezels or the faces might make fabulous rings. What do you think? Does it make you re-think your spice cabinet?
Those are good ideas but I felt like they weren't "the" idea for the project so I trudged on. Deciding to take a break I went out and pruned a few trees. The branches had these fascinating patterns. Small criss-cross detail, tiny little nubs. Again I thought, "I wonder if these little details would show if I cast the branches in resin?"
Guess what happened next? :)
Running inside I grabbed the Art Mechanique Molding Putty and made a mold of the branch. While that cured I searched my stash (hoard) of bezels and came up with one from quite some time ago. A backless shield. Perfect! Also saved (hoarded) I went in search of a dried flower or leaf that I could put into the bezel. I have a waist high pile of old phone books that I've put different plants into the pages to dry. For this I chose a flower and some small leaves to accompany it.
To the branch some brass wire, vintage parts and some older Czech glass beads. Voila a beautiful nature piece! Or did nurture get me here? Hmmm…
Susan creates and travels with her wearable art company
Charming Trinkets and you can find her blog at:
It is so much fun to recycle things that would normally find themselves in the trash bin. Have you played with soda cans? They are thin aluminum that doesn't rust, is thin enough to cut with simple scissors, and a die cut machine easily turns them into all kinds of shapes. You can see how with a few simple techniques you can make great jewelry pieces with soda cans.
keep looking »