This project may look a bit familiar as I did one similar to it last time I was on the ice Resin team back in 2013. But this time I wanted to showcase how versatile ICE Resin is as an adhesive and a collage material.
It is so much fun to recycle things that would normally find themselves in the trash bin. Have you played with soda cans? They are thin aluminum that doesn't rust, is thin enough to cut with simple scissors, and a die cut machine easily turns them into all kinds of shapes. You can see how with a few simple techniques you can make great jewelry pieces with soda cans.
Ingredients:
Part one:
Soda cans cleaned
Pages from a vintage book
Metal shears
Safety glasses
Work or leather gloves
Cuttlebug or Sizzix or Artisan Xplorer die cut machine
Heart and butterfly cutting dies in two sizes
ICE Resin and appropriate supplies for mixing
Small sponge brush
Latex gloves
Garbage bag
Collect some cans and make sure to rinse them out. REMEMBER: use your safety gear! Safety glasses and gloves are a must for this project! With those in place use your heavy metal shears and clip off the top of the can. I clipped through the drinking hole into the softer metal then maneuvered around to clip off the entire top. Then cut down the seam or towards the back and clip off the bottom. Now you have a flat piece of metal. Rinse or clean as necessary and be careful the edges are sharp. (Use a medium grit sand paper to remove any loose pieces or sharp burrs)
Mix up your resin according to instructions. While you wait for the bubbles to clear lay out a garbage bag for your wet pieces, grab your gloves, sponge brush, and your vintage pages. Pour or dip your brush into the resin and onto the can metal sheets. Be sure to coat all the way to the edges then press your pages down on top. Pour more resin and using the brush coat liberally. Lay on your bag to dry. Continue with all your can sheets until done.
Leave to dry for 24 hours. (You just collaged paper to metal with ICE resin!!)
When dry ready your die cut machine with heart dies and cut a minimum of five large petals and three medium sized for the flower pin. Cut a few butterflies from any extra collaged can pieces.  Your medium grit sandpaper can be used to remove sharp edges.
Iced Enamels in Carnelian, Turquoise, and Ivory
Iced Enamels Medium
Small paintbrush
Heat gun
Small round hobnail bezel
Clipart
Small hole punch
Metal hole punch
Micro screw
Medium grit sandpaper
Three Tim Holtz ideaology pen nibs
White glue, like ModPodge, for paper sealing
More ICE Resin
Starting with the larger petals place five onto the micro screw. Follow with three of the  medium petals. Punch holes in your pen nibs and place those on top. (I used a Cropodile) Screw the nut into place, I used jewelry pliers, as tightly as you can get it. The nibs may bed bending to fit into the petals. I also bent the petals with my fingers to mimic flower petals.
Brush some medium onto the flower petal edges and dip in the enameling powder. Heat with embossing gun until melted. Continue with all your petals. With the butterflies I did some edges and some of the can designs to hide them, picking enamel colors that I liked as I went.  (I actually did my enameling after I assembled the pieces. You can do either, before or after.)
Now you're ready to mix up another batch of ICE Resin. With a sponge brush seal all your enameling and pour resin into your bezel piece. Also coat the butterflies and you can also use the resin to glue the pin backs in place. Just dribble a bit on the butterfly and place your pin. The resin will do the rest! You can also put some resin in the center of the flower piece then drop your bezel into it. For my example I used some tiny heart shapes,which I added last, to steady the bezel piece while it dried.
Voila! You have lovely recycled butterflies and a flower pin to show off your love of the literary!
Until next time,
Susan M. Walls
Here's a couple of ideas to jump start your creativity to use ICE Resin for all your collage projects! Join me, Susan M. Walls, as I adhere paper to re-cycled soda cans and beyond!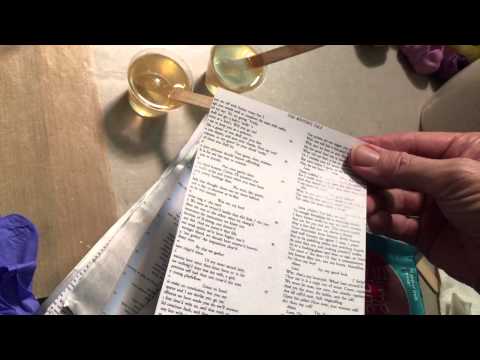 Another tip: Paper fibers absolutely adore resin, so if you want to seal your paper first, it will soak in less resin.
To what use would you put a plain ceramic tile as you are cold enameling with ICE Resin® and all of our lovely Iced Enamel™ Relique Powders?
Watch Susan Walls' tips: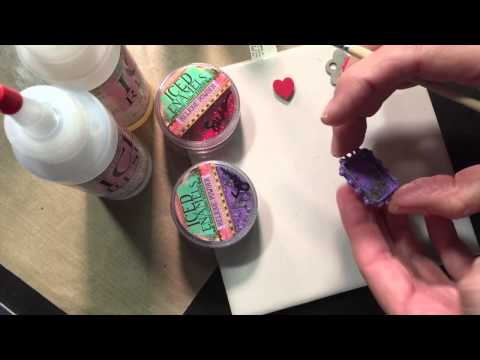 Make her From the Heart  necklace.
What are you inspired to design for one you love?
Isn't Valentine's full of romance? A time of love renewal and giving your heart to another?
How about a glittery enameled vintage version for your neck?
I love vintage pieces and parts. Sometimes I buy them when I find them even though I haven't a clue how I might use them. They end up in the studio staring back at me for months. These are bank safety deposit keys that called to me during a visit to a local flea market. Flat and perfect for Iced Enamels!
Necklace Ingredients:
Iced Enamels medium
1 tiny wooden heart
Red glitter (i used basic craft glitter that I had)
About 1 yard of silk ribbon (Mine was white then i dyed it with spray ink)
Words cut from a vintage dictionary
1 vintage safety deposit box key
Embossing gun
Miscellaneous jump rings and brass wire
Vintage beads and crystals from my hoard
Appropriate tools
Using enamels brush a light coat of medium all over your rectangle bezel, all over! Then dip into enamel powder, tap off excess. I put Amethyst Iced Enamels everywhere but the back of the bezel.  Brush medium on the tooth section of the key and dip that into Garnet enamel, shake off excess. Normally I work over a sheet of paper so that any excess powder can be easily swept back into the container.
With your embossing tool heat each piece until enamel melts. Be careful they get hot! Leave until cool. Tip: Work over an inexpensive ceramic tile found at any home improvement store! Saves your counter top from marring with too much heat.
Glue/seal your dictionary words onto the key with two to three coats. Brush white glue onto your wooden heart then dip into red glitter, let dry. Place your third tiny glittered heart into the bezel.
Prepare your ICE resin according to direction. I am using the 8 ounce bottles of ICE resin so I need to mix equal parts in a small cup. Before pouring I always add line with marker to let me how much I need. Those little lines disappear fast when the liquid hits the cup!
Pour resin into and over glitter heart making sure you coat all areas that have enamel to seal and give you that shiny enamel look. Coat over enamel portion of key. Allow to dry a minimum of 12 hours.
When it's cured use your favorite beads and embellishments to put together a romantic, from the heart necklace!
I hope you get a chance to make one for yourself!
Until next time,
Susan
Hello everyone! I am so excited to be able to introduce myself today!
Can't wait to start with the team for 2015.
You can find out more about me and all my goings on at the following links:
My website: Susan's Art Circus
My blog: Art Circus Blog
Find me on Facebook: Susan's Charming Trinkets
Etsy shop for Jewelry Pieces: Charming Trinkets
Etsy shop for Supplies: The Cre8ive Circus
Pinterest: Susanmwb Pins
Instagram: @Susanmwb
Twitter: @Susanmwb
Google+: Susan Walls-Beverly
YouTube: Susan Walls-Beverly
Gettin' hitched.
Wedded bliss.
Dreaming of the DAY.
Crafting elements of your wedding will add a special meaning to the day and keepsakes beyond the ceremony.
Here are a few ideas:
Wouldn't this be a pretty post-wedding necklace for the moms and grandmothers of the bride and groom?
This wedding cake topper also serves as a keepsake memento or ornament to remember the couple's special day.
Fun with bridesmaids!
This little mixed media giraffe seems to be saying hello to the 2014 ICE Resin Creative Team — the  members will be announced December 13.
Sandy Marin made the body and legs of this so so fashionable critter  out of an upcycled wooden box, paint, a ruler, an tulle for the skirt.
The body is cast ICE Resin using Art Mechainque Molding Putty.
"Hello" or "Good-bye" we, Susan, Jen, Kristen and Carol want to give a round of applause, several really loud cheers, hugs all around, and warmest wishes to (in no particular order):
Sandy Martin, Sweet Pea Jewelry
JoMama, ShopJoMama
Lexi Grenzer, Shabby Calavera
JoAnna Pierotti, Moss Hill Studio
Cindi Bisson, Behind These Eyes
Lesley Venable, Flatwoods Folk Art
Thespa McLaughlin, Vintiquities Workshop
Susan Weckesser, My Sweet Earth
Jen Crossley, A Mark in Time
Susan M Walls, Charming Trinkets
Pamela Huntington, Pam Huntington
Cindy Cima Edwards, Live to Design
These creative women were truly  awesome, supportive, and every-ready. We will miss them,  hold them in our hearts, and most certainly see them around!
We hope you won't forget to keep following all the wonderful projects on their blogs!
Susan M Walls grabbed her dremel plus a bit, her file and safety glasses to finish this lovely molded bracelet.
See how she did it:
My daughter has long hair…I mean really long hair almost to beyond her hips! She hates traditional hair ties, goofy ribbons, and all things boring or too girlie. But she is an art fan and LOVES one of a kind things. Lately she's been asking me to braid her hair and I surprised her with this!
Materials and Tools:
* Art Mechanique Medium Hobnail Bezel – Round
* Flat button with shank
* fabric covered hair tie
* Assorted paper ephemera
* ICE Resin® , craft cup and stir stick
* Scissors
* Art Mechanique Paper Sealer
* gem or crystal to bling it out
* ribbons of your choice
Instructions:
Mix a small batch of ICE Resin according to instructions. Use it to glue the button upside down to the back of the round bezel. Allow to cure.
Cut a circle to fit bezel from your choice of papers. Using ModPodge glue in place then coat 2 to 3 times to seal. Let dry completely.
Prop bezel into a small cup full of rice or beans until level. Mix another batch of Ice resin according to instructions and fill bezel until you get a beautiful dome. allow to cure.
Attach fabric hair tie to the button shank by looping it back onto itself. Cut small lengths of ribbon and tie to each side of the bezel, glue a crystal or gem on the front.
You now have a one of a kind hair art piece!
Susan M Walls
keep looking »