2105 Design Team Member Susan Walls shows us how to create your very own polymer clay focal for a gorgeous snowflake ICE Resin necklace. Join Susan's on her tutorial journey:
Be sure to check out Susan's work at Susan's Charming Trinkets and also Susan's Art Circus!
What would you do with a Charming Trinket?
This gal with the crown, snarky princess that she is, wouldn't stand for mayhem she did not instigate her own sweetly-tart self. She has no idea she appears this way because of the creative mind and hands of Susan M. Walls (and might not admit it, except to her closest confidants, if she did.)
Here she is, joined by her Ladies in Waiting, all captured in ICE Resin®. Pray tell, what shall be their fate?
Would you link Her Highness with a jump ring to a chain with royal purple beads, or a royal purple ribbon? (Oh my, the ladies are arguing over who gets what color ribbon.)
Art journals anyone? Cards? Tags? Scrapbook page? Lamp decoration? Tops for push pins?
Maybe 2 could be made into earrings and the rest a bracelet – but best take care when choosing the women for earrings as they may chatter non-stop. LOL
Right now, the lady with the full-on smile  is going on and on about Prince Charming and her frenemie (teeth bared) is disagreeing, "He's a Toad." (Do you think she is really jealous?)
What are The Ladies in Waiting saying to you right now?
Which Lady is that butterfly poised to carry away?
Want to see more of Susan Walls' creations? Dance your way over to her Art Circus.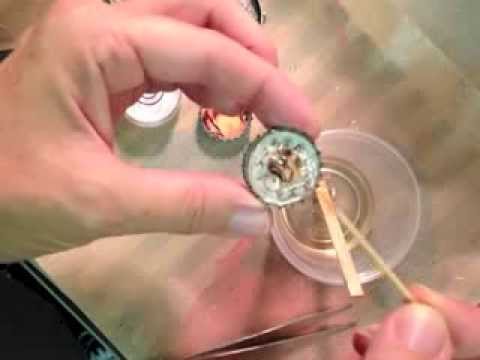 Toothpicks, sandwich sticks, craft sticks, long flat sticks (cut in half) are Susan M. Walls' favorite tools for placing, dripping and nudging ICE Resin exactly where she wants it to go in a bezel.
You can discover more about Susan on her Charming Trinkets blog.
Susan M. Walls  has been involved in arts and crafts ever since she was little. She was sewing by the time she was 6, painting tempera wildlife scenes soon after that, and has created countless handmade gifts for friends all her life.
During college she took a left turn into the restaurant business and stayed there for the better part of 20 years but her dream of living a more creative life won out in the end.
Now several years later with 2 children and 3 other art related businesses, "Charming Trinkets" is the main focus of Susan's attention.Susan is a one woman show, designing and hand creating each jewelry piece herself. Her distinctive themed pieces allow you to show off your crazier side and all the things you love. Susan's motto is to never create anything too serious and hopes everyone that comes in contact with her jewelry will find a reason to smile.