Talented Thespa McLaughlin was part of our Creative Team in 2012 and we were lucky enough to run across this "lost" video.
Watch Thespa share how she preserves dried 4 leaf clovers with ICE Resin!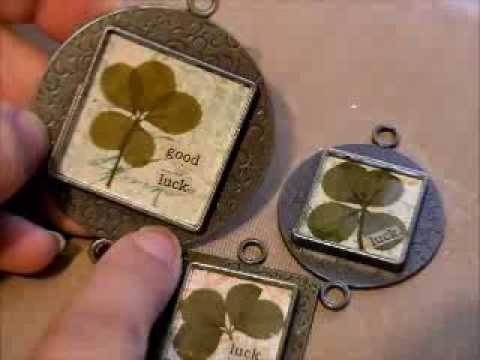 Discover more about Thespa on her Vintiquities blog.
Crochet with Resin by Baerbel Born

Using Fabric in a Bezel by Thespa McLaughlin 2012 Creative Team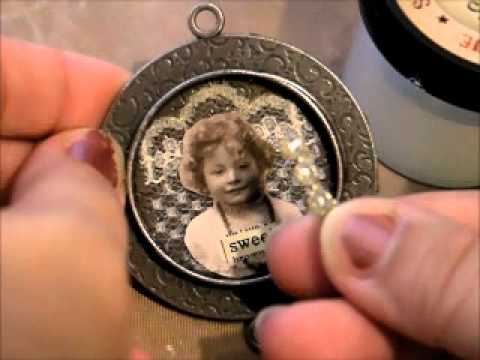 Shabby Chic Cuff by Kathy Thompson 2011 Creative Team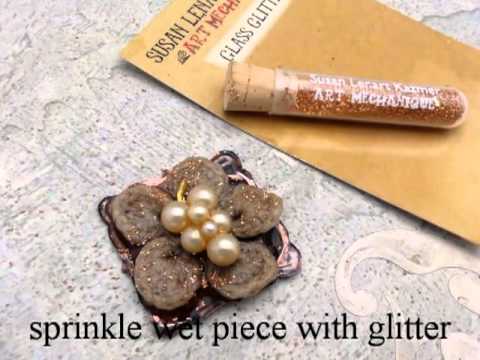 Ribbon or lace, vintage fabric or new? Are you going to try a new technique?
Tissue paper goes translucent under Susan Leanrt Kazmer's signature product – ICE Resin.
It's great for art journal projects like the one author, artist and designer Kristen Robinson shares.
Here is a tutorial on how 2012 ICE Resin Creative Team member Thespa McLaughlin resined tissue paper.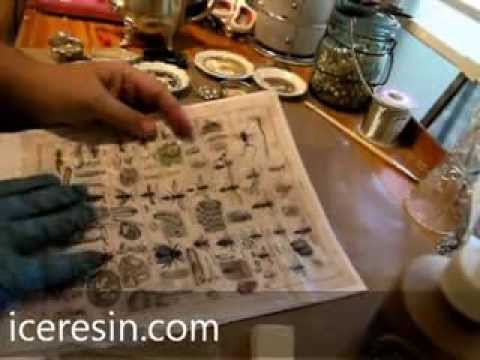 You will need a non-stick craft mat, gloves and cut up piece of kitchen sponge or a disposable paint brush to paint ICE Resin on both sides.
Tip: if you want to use your resin tissue paper to make fairy wings, you can use a regular kitchen trash bag to make a big enough surface for a full sheet of tissue paper.
This little mixed media giraffe seems to be saying hello to the 2014 ICE Resin Creative Team — the  members will be announced December 13.
Sandy Marin made the body and legs of this so so fashionable critter  out of an upcycled wooden box, paint, a ruler, an tulle for the skirt.
The body is cast ICE Resin using Art Mechainque Molding Putty.
"Hello" or "Good-bye" we, Susan, Jen, Kristen and Carol want to give a round of applause, several really loud cheers, hugs all around, and warmest wishes to (in no particular order):
Sandy Martin, Sweet Pea Jewelry
JoMama, ShopJoMama
Lexi Grenzer, Shabby Calavera
JoAnna Pierotti, Moss Hill Studio
Cindi Bisson, Behind These Eyes
Lesley Venable, Flatwoods Folk Art
Thespa McLaughlin, Vintiquities Workshop
Susan Weckesser, My Sweet Earth
Jen Crossley, A Mark in Time
Susan M Walls, Charming Trinkets
Pamela Huntington, Pam Huntington
Cindy Cima Edwards, Live to Design
These creative women were truly  awesome, supportive, and every-ready. We will miss them,  hold them in our hearts, and most certainly see them around!
We hope you won't forget to keep following all the wonderful projects on their blogs!
The new Rue Romantique bezels by Kristen Robinson are so amazing! The Large Etched Oval with Narrow Frame bezel is perfect for an elegant cameo pin.

1. Use the Rue Romantique bezel template to cut an oval out of "The Paper Studio" cameo stickers.
2. Peel the back off the cameo sticker and place it inside the bezel.
3. Seal with Art Mechanique Paper Sealer. Let Dry.
4. Mix ICE Resin® according to package instructions and pour into bezel. Add a rhinetone to wet resin. Let dry.
5. Tear apart a store bought silk flower and relayer with bits of lace and tulle.
6. Stitch together with "The Paper Studio" rhinestone bead.
7. Glue a pin back to the back of the flower with E-6000 adhesive.
8. Stitch your finished cameo to the bottom back of the flower.
Now you are ready to wear your  lovely New Year's Eve brooch.
I hope your 2014 is magical!
Thespa McLaughlin
keep looking »