Talented Thespa McLaughlin was part of our Creative Team in 2012 and we were lucky enough to run across this "lost" video.
Watch Thespa share how she preserves dried 4 leaf clovers with ICE Resin!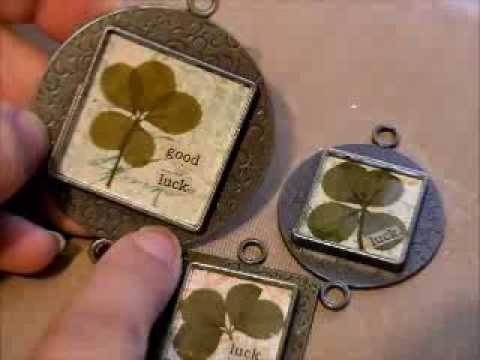 Discover more about Thespa on her Vintiquities blog.
Crochet with Resin by Baerbel Born

Using Fabric in a Bezel by Thespa McLaughlin 2012 Creative Team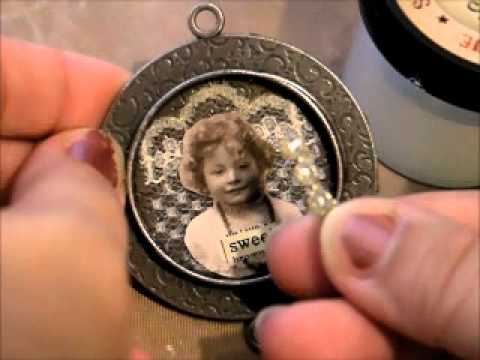 Shabby Chic Cuff by Kathy Thompson 2011 Creative Team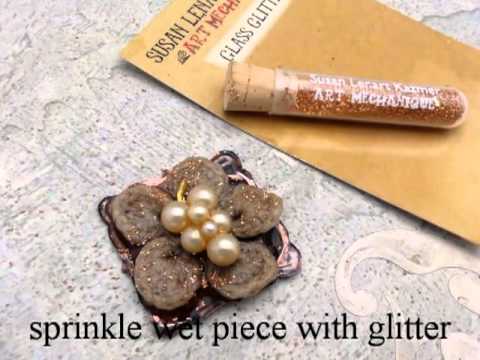 Ribbon or lace, vintage fabric or new? Are you going to try a new technique?
Tissue paper goes translucent under Susan Leanrt Kazmer's signature product – ICE Resin.
It's great for art journal projects like the one author, artist and designer Kristen Robinson shares.
Here is a tutorial on how 2012 ICE Resin Creative Team member Thespa McLaughlin resined tissue paper.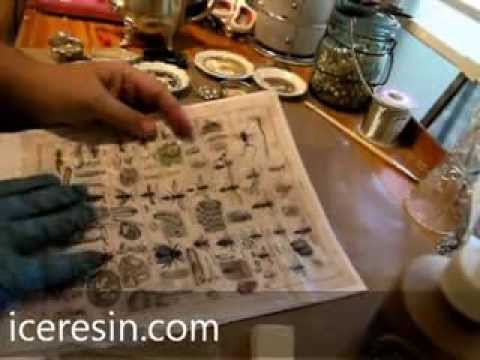 You will need a non-stick craft mat, gloves and cut up piece of kitchen sponge or a disposable paint brush to paint ICE Resin on both sides.
Tip: if you want to use your resin tissue paper to make fairy wings, you can use a regular kitchen trash bag to make a big enough surface for a full sheet of tissue paper.
This little mixed media giraffe seems to be saying hello to the 2014 ICE Resin Creative Team — the  members will be announced December 13.
Sandy Marin made the body and legs of this so so fashionable critter  out of an upcycled wooden box, paint, a ruler, an tulle for the skirt.
The body is cast ICE Resin using Art Mechainque Molding Putty.
"Hello" or "Good-bye" we, Susan, Jen, Kristen and Carol want to give a round of applause, several really loud cheers, hugs all around, and warmest wishes to (in no particular order):
Sandy Martin, Sweet Pea Jewelry
JoMama, ShopJoMama
Lexi Grenzer, Shabby Calavera
JoAnna Pierotti, Moss Hill Studio
Cindi Bisson, Behind These Eyes
Lesley Venable, Flatwoods Folk Art
Thespa McLaughlin, Vintiquities Workshop
Susan Weckesser, My Sweet Earth
Jen Crossley, A Mark in Time
Susan M Walls, Charming Trinkets
Pamela Huntington, Pam Huntington
Cindy Cima Edwards, Live to Design
These creative women were truly  awesome, supportive, and every-ready. We will miss them,  hold them in our hearts, and most certainly see them around!
We hope you won't forget to keep following all the wonderful projects on their blogs!
The new Rue Romantique bezels by Kristen Robinson are so amazing! The Large Etched Oval with Narrow Frame bezel is perfect for an elegant cameo pin.

1. Use the Rue Romantique bezel template to cut an oval out of "The Paper Studio" cameo stickers.
2. Peel the back off the cameo sticker and place it inside the bezel.
3. Seal with Art Mechanique Paper Sealer. Let Dry.
4. Mix ICE Resin® according to package instructions and pour into bezel. Add a rhinetone to wet resin. Let dry.
5. Tear apart a store bought silk flower and relayer with bits of lace and tulle.
6. Stitch together with "The Paper Studio" rhinestone bead.
7. Glue a pin back to the back of the flower with E-6000 adhesive.
8. Stitch your finished cameo to the bottom back of the flower.
Now you are ready to wear your  lovely New Year's Eve brooch.
I hope your 2014 is magical!
Thespa McLaughlin
Love the diffusion of color that happens when light hits crystal facets and explodes? We do too!
Jen Cushman wire wrapped two Connie Crystals to accent an Art Mechanique Hobnail Bezel with a vintage stamp image.
Our creative team had a few Connie Crystals after the Emmys and decided to do a few projects. You can see Susan Walls' and Thespa McLaughlins' on their blogs today. We are sure they wold love it if you popped on over and took a look!
Thespa McLaughlin – Vintiquities Workshop
Salutations!
Thespa McLaughlin here to share a necklace inspired by a paint texture technique I came up with a while back.
I wanted to see if I could incorporate it into a bezel to resemble stone. I've always loved the blue of Lapis Lazuli with it's random inclusions of sparkle.
To create this faux stone effect mix turquoise acrylic paint with water and pour into bezel (the ICE Resin will make the paint look darker). Add piles of corn starch until all the paint mixture is soaked up. Let dry overnight. The next day, gently brush off the dried excess corn starch with a paint brush. Mix up some ICE Resin and brush and drop the ICE Resin onto the dried paint, making sure to fill all crevices and gently brush over all surface areas. Sprinkle some copper colored German Glass Glitter from the Carnivale set and mix into the wet ICE Resin with paint brush pushing it into crevices to create the look of random inclusions of sparkle. Let ICE Resin dry overnight.
Are you planning Halloween? Did you know you can use spices from your kitchen cupboard in ICE Resin? Here is a simple necklace that combines both!
Need more Halloween ideas? Check out:
Eye of Newt necklace by Thespa McLaughlin,
Creepy Boo-tiful Bling  and The Blood Moon from a couple of Art Friends,
Treat yourself to a bit of vintage inspiration.
Stay tuned for tomorrow's necklace by Lexi Grenzer. We assure you, it will be a completely awesome HOOT!
Tomorrow is our Team's Mixed Media Jewelry webinar!
Hope you can make it!

Click here to register or cut and paste the link below into your browser.
Do you know someone who needs a little encouragement, that needs to know you are thinking of them and hoping the best for them? Making a piece of jewelry may be better than a card especially if you make an encouragement medal.
1. Fill a Rue Romantic bezel with Tattered Mica and fill the bezel with ICE Resin®
2. Cover a flower shaped metal blank  from the Susan Lenart Kazmer™ for Spellbinders® Media Mixáge™ line with Iced Enamels Medium and cover with Ivory Relique Powder, heat with a heat gun.
3. place a piece of fabric and a word or a number cut from an old book in the center hole of the flower and glue together with E-6000.
4. Glue a piece of costume jewelry on top and fill with ICE Resin®, once the ICE Resin® has cured glue the finished flower on top of the resin filled Rue Romantique bezel.
5. Create the top of your medal using found objects, fabrics, and costume jewelry. Place a pin back behind your layers and glue in place with E-6000.
6. Use wire wrapping to combine all the elements of the medal.
Thespa McLaughlin
p.s. Flowers are nICE for encouragement too! Lesley Venable from the Creative Team made this one.
Cloth Paper Scissors will host the ICE Resin Team on October 2.
Go behind the scenes with Team ICE!
There are only 1,000 seats at the live event, so be sure to register early!
The Love Note Locket is the perfect place to keep small messages of affection. The locket is created using two different bronze bezels a hobnail and a flat edge heart that Susan Lenart Kazmer created for Spellbinders® Media Mixáge™ Line (available at JoAnn Fabric and Craft Stores).
1. Fill the heart bezel with Iced Enamels™ Tattered Mica.
2. Mix ICE Resin® according to package instructions and pour into bezel. Let dry.
3. Wire the two bezels together at the top.
4. Make a tassel out of chain, fabric strips and a bronze Hobnail Capped Tassel Bezel, Small,  by wrapping wire around your strips of fabric and chain and thread it through the hole in the tassel bezel. Create a loop at the top.
5. Create a hook clasp our to wire and attach to the top loop of the tassel.
6. Glue a rhinestone embellishment to the top bezel with E-6000 adhesive.
7. Hook tassel clasp through the bottom of the locket to hold it shut.
8. wire some lace strips to the top of the locket.
Now you have a pretty place to save a photo, or love notes, or anything small enough to fit inside.
Thespa McLaughlin
Still daydreaming of love?
keep looking »